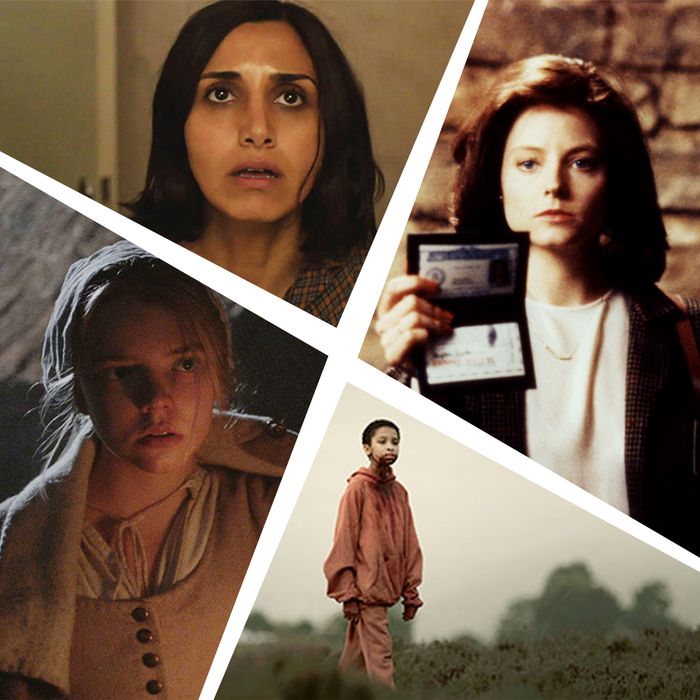 It can be oddly comforting to watch a terrifying movie. You can indulge in the adrenaline rush of anxiety and scariness while knowing you have complete control over your participation in it — whether the TV is on or off, muted or un-muted. It provides a comfortable thrill. This is so scary, oh my God, and yet, at a moment's notice, you can get up and get a seltzer.
But a bad terrifying movie provides only the horror of wasted time, just like a bad movie of any other genre. To help you with that, we've rounded up the 15 best scary movies currently available to stream on Netflix. Have fun watching and remember: it's just a movie.
… Or is it?
1. The Silence of the Lambs (1991)
Did you know the famous line "hello, Clarice" isn't in the beloved film Silence of the Lambs, as it is often misremembered to be? It is, instead, in the not-beloved 2001 sequel Hannibal. (Jim Carrey also misquotes it in Cable Guy.) When Anthony Hopkins calls Jodie Foster at the end of Silence of the Lambs he actually says, "Well, Clarice." Huh. Just something boring to notice while you're streaming one of the greatest horror movies of all time.
2. Sinister (2012)
In Sinister, Ethan Hawke plays a true-crime writer who finds a box of footage depicting gruesome murders in the attic of his family's new home. As he investigates further, he finds they all might be in danger. Sinister is a super scary, super weird movie you may have missed, and one that is definitely worth your time. (Plus Ethan Hawke is great.)
3. The Blackcoat's Daughter (2015)
Emma Roberts, Kiernan Shipka, Lucy Boynton, a prep school, the dead of winter, solitude, a creepy horror movie you may not have seen from the fantastic independent production company A24. If those tick any boxes for you, go ahead and give The Blackcoat's Daughter a watch.
4. Under the Shadow (2016)
This Iranian horror film, set in the '80s against the Iran–Iraq War, got tons of critical acclaim and accomplishes something the horror genre can do very well: use the supernatural as a vehicle for social commentary. Narges Rashidi stars in Under the Shadow as a young woman attempting to deal with oppression both outside and inside her home; the latter being of the more demonic variety.
5. The Witch (2015)
The Witch, another from the indie producer A24, was whispered to be one of the scariest movies of all time when it hit theaters in 2015. You can decide for yourself whether or not that is true, but regardless, it is a spectacular look at Puritan paranoia during the Salem witch trials, and a seriously great horror film.
6. Train to Busan (2016)
Sang-ho Yeon's spectacular horror-thriller Train to Busan follows a group of strangers stuck on a train while a zombie apocalypse hits South Korea. The zombie element is thrilling and terrifying, but the most impressive thing about Train to Busan is how each of the characters is developed. A good one if you want to watch a movie with a friend who thinks they don't like horror.
7. Killer Klowns From Outer Space (1988)
Killer Klowns From Outer Space is a horror camp classic. You'll know when you're in the mood for it, and it will be there for you, waiting … dressed like a killer klown.
8. Cargo (2018)
Cargo is another, slightly different take on zombie movie genre. Martin Freeman is stranded with his baby in rural Australia after being infected during a zombie-creating pandemic. Before he succumbs, he has to find a way to keep her safe.
9. The Girl With All the Gifts (2016)
And another zombie movie! We highly recommend The Girl With All the Gifts, a movie you likely haven't seen but absolutely should. When a disease turns humanity into zombie cannibals, a group children kept in an underground school might be the cure. Then one escapes. Just trust us and watch it.
10. Cape Fear (1991)
If you haven't seen it, it might be time to watch the classic Martin Scorsese psychological thriller Cape Fear, a remake of the also-classic 1962 original. You'll never want to see Robert De Niro again!
11. The Endless (2017)
The Endless picks up a decade after two brothers (Justin Benson and Aaron Moorhead, who also produced, directed, wrote, and edited the film) escape a UFO death cult. Then they receive a message prompting them to return. Oh no. Don't do it!
12. Hush (2016)
A twist on the slasher genre, Hush, which takes place over a single night, tells the story of a deaf writer who has moved to woods in search of solitude. Her plan is interrupted when a masked killer appears in her window and begins trying to break in.
13. It Comes at Night (2017)
It Comes at Night comes from Trey Edward Shults, the director of 2019's acclaimed hit Waves. In this post-apocalyptic film, two families are forced to come together and share a home after a pandemic leaves few members left of the human race. They struggle together to survive keep the evil outside from getting in, and the paranoia inside from destroying them.
14. Session 9 (2001)
If you're looking for something truly terrifying, this is it. Session 9 follows a group of asbestos-removal workers working to remove the asbestos in an abandoned psychiatric hospitals. You can imagine how this goes awry. Adding to the spookiness is the fact that it was, indeed, filmed almost entirely inside Danvers State Mental Hospital in Danvers, Massachusetts, which was partially demolished a few years after the film's release.
15. Shutter (2004)
Shutter, from Banjong Pisanthanakun and Parkpoom Wongpoom, is a spooky supernatural horror film out of Thailand, about a photographer haunted by mysterious images in his photographs. (Just make sure you don't accidentally watch the 2008 English-language remake of the same name.) You'll never look at your selfies the same way again.