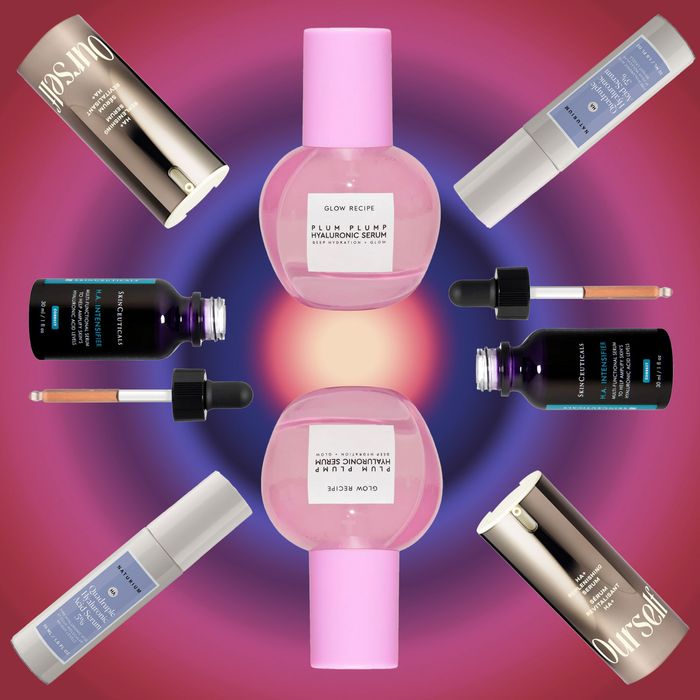 Photo-Illustration: by The Cut; Photos: Retailers
For more of the Cut's favorite fashion, beauty, and home finds, sign up for the weekly Cut Shop Newsletter.
As a shopping writer, I review beauty products for work, which means my skin-care routine changes regularly. However, there's always one constant in my routine besides sunscreen. No matter the season, no matter what products I'm testing or my geographical location, I always use a hyaluronic acid serum. Needless to say, I have tried a lot of hyaluronic acid serums (I go through a bottle of the serum nearly once a month), so below I've rounded up my favorites and everything you need to know about this ingredient according to experts, since hyaluronic acid is sort of polarizing for some.
FAQS
According to Dr. Ashley Magovern, a board-certified dermatologist and the medical director of Dermstore, hyaluronic acid is a water-retaining molecule with many dermal benefits. Not only does it moisturize, hydrate, and plump the skin, but it also reduces the appearance of fine lines, scarring, and increases skin elasticity. However, without added moisture some find the ingredient drying. Which leads to the next question….
You'll want additional moisture in your routine to keep your skin from drying out. I usually apply it on damp skin or spray a hydrating toner first. Dr. Magovern recommends pressing your serums onto damp skin and sealing in that moisture with a hyaluronic acid-infused moisturizer.
How often can it be used?
The ingredient is safe to use daily and nightly so feel free to layer it on.
Is it safe for all skin types?
While some find the ingredient drying, Dr. Magovern explains that it's safe to use. "With age, the body's natural reserve of hyaluronic acid decreases, so the ingredient is a great addition to your skincare routine," Dr. Magovern explains. "Hyaluronic acid is safe for all skin types, including sensitive skin."
Is it safe to use with other ingredients?
Don't let the name fool you: Unlike actives such as retinol and exfoliants such as AHA/BHA, hyaluronic acid is safe to use with other skin-care ingredients. In fact, Dr. Magovern says, "if you have sensitive skin, you should apply a hyaluronic-acid serum prior to applying harsh ingredients, like retinol or vitamin C, which can cause dryness, burning, or irritation."
If you're not into serums, she explains, the ingredient can also be found in moisturizers and even in hair-care products.
The Best Hyaluronic Serums
The Overall Winner
Ever since I tried this serum, I've found it nearly impossible to use anything else. I'm dreading the day I finish this bottle. The intense serum is a mix of HA and botanical extracts to aid in hydrating and plumping the skin. It's also the one with the most immediate results. My skin looks glossy and feels hydrated immediately after applying.
The Plumping One
This one is like a sheet mask in a bottle and probably one of the most underrated Glow Recipe products. It has hyaluronic acids at different weights that can penetrate different layers of the skin according to the brand, the results are super hydrated and plump skin.
The Affordable One
Photo: Courtesy of the Inkey List
If you need something quick, easy, and on a budget then try The Inkey List. The serum hydrates pretty well, sinking into the skin without feeling like a weird filmy layer. After picking this up at Sephora multiple times, my biggest gripe with this serum is the packaging which dispenses way too much product.
The Replenishing One
Featuring a cocktail of ingredients like vitamin C and niacinamide that make it worth the extra money, this serum is about as thick and deeply hydrating as your favorite moisturizer. I went through this pretty quickly but with the thicker texture, absorption, and additional ingredients you can skip a few other skincare steps.
The Drugstore One
Like Glow Recipe this has multiple weights of hyaluronic acid (four to be exact) but at a fraction of the price. It's a slightly thicker more gel-like texture but it absorbs into the skin and feels just as hydrating as pricier serums. I've bought multiple bottles of this from Target's beauty section.
The Best Alternative
It's not a hyaluronic acid serum exactly but one of the key ingredients is sodium hyaluronate a humectant derived from hyaluronic acid. To put it plainly, if you need another hydrating, moisturizing option I swear by this serum for hydrated, glass skin. It has a blend of anti-inflammatory ingredients and moisturizers for very, very dry skin.
The Best Two-step Serum
If your skincare routine is extra this two-step hyaluronic acid serum should be part of it. The serum activates a concentrated pill that features HA along with squalane, once the pill dissolves, the result is a serum with a somewhat syrup-like texture but it absorbs into the skin without feeling sticky and feels weirdly cooling as it plumps your skin.
Another Affordable Option
Much like The Inkey List serum, this is a decent, affordable hydrator that falls victim to lackluster packaging. The dropper helps you get the right amount of product but it's always pretty messy anyway.