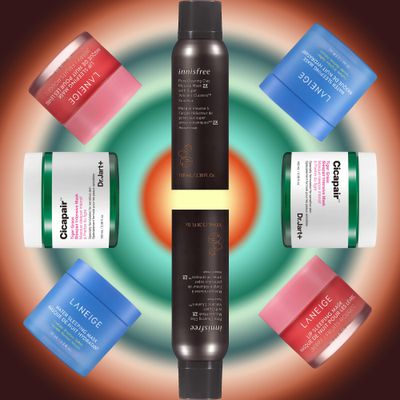 Photo-Illustration: by The Cut; Photos: Retailers
For more of the Cut's favorite fashion, beauty, and home finds, sign up for the weekly Cut Shop Newsletter.
Sheet masks tend to be a great gateway product into Korean beauty. In theory, you need only a few dollars and 20 minutes to get dewier, glowier (and damper) skin. In practice, however, if you want a more sustainable beauty routine, you may want to reduce your use of sheet masks and dive into other Korean-beauty face masks like popular overnight formulas and lip masks that help smooth, brighten, and hydrate skin while saving you time.
FAQs
What is the criteria for a good Korean face mask?
"When it comes to skin care in Korea, it's all about cooling and calming," Charlotte Cho, the co-founder of Soko Glam, told the Cut. Each of these masks is like a mini-facial in a bottle, and fan-favorite sleep masks put in the work while you catch those Z's — i.e., you'll wake up looking refreshed with a clearer complexion. The K-beauty market has expanded beyond sheet masks and snail mucin, and there are also other brands that use Korean-inspired practices like leaving harsh exfoliating acids and retinol out of formulas in favor of hyaluronic acid, ceramides, and natural ingredients to give skin that glasslike glow.
Are K-beauty masks effective?
Yes. Although K-beauty is known for its ten-step skin-care routine, that can be time consuming and overwhelming. If you use a Korean face mask after cleansing, you get the benefits of renewed skin and a more even texture without applying countless products. From a top-rated watermelon night treatment to Sephora's most reviewed lip mask, Korean masks deliver on results using gentle, naturally derived ingredients, so they're great to use for those who have more sensitive skin.
To round up the best Korean face masks out there, not only we spoke with Cho and other K-beauty experts like Alicia Yoon, founder of Peach & Lily, to hear about their favorites in the market, but we also put them to the test and reviewed them individually.
The Cut Shop's Tried-and-True Korean Face Masks
The Best Korean Lip Mask
Technically, this is a "mask," but you could also just call it a deeply hydrating lip balm. It's truly loved on the internet for its ability to soothe cracked and parched lips. It has over 11,000 five-star reviews on Sephora.
The Best Overnight Korean Mask
A good sleeping mask does all the work for you. This intensive formula from Cicapair's tiger-grass line is best for anyone looking to up their sleeping game. The green gel also balances out redness, and reviewers with rosacea and eczema say it worked wonders to even out their skin tone and texture.
The Best Korean Face Mask for Oily Skin
We all want our masks to make us look more moist, but sometimes we'd like them to target a few other skin nuisances while they're at it. This pore-clearing mask has won over many fans (including Meghan Markle's makeup artist) because it harnesses the powers of volcanic ash from Korea's Jeju Island and salicylic acid to deep clean without stripping skin dry in the process. And unlike every other mask on this list, it comes in a mess-free can that dispenses the formula right onto your fingertips — though it's more of a thick clay than an extra-fluffy mousse.
The Best Korean Cooling Mask
This product became cult in Korea because it was one of the first sleeping masks ever. Allegedly, one is sold every 12 minutes. It doesn't feel creamy or cloying — it's nice and cooling. It has a watery gel texture, and applying it before bed feels like the equivalent of placing a glass of water next to the nightstand. From personal experience, if you have a red bump emerging and need it banished, slather this on your face the night before and you just might wake up with it gone.
The Best Korean Collagen Mask
Your skin will feel plump and renewed with a biodegradable sheet mask that boosts collagen production in just 20 minutes. The hydrogel mask also has tiny holes in it to help it smooth out over the curves in your face and lock it in place. No sliding around here.
The Best Korean Hydrating Mask
The name says it all. Parched skin will love a cooling "aqua bomb" sleep mask from this Korean-inspired brand, which uses herbs to smooth skin and reduce inflammation. And it's packed with hyaluronic acid for intense hydration and a dewy sheen. Some reviewers say it can feel sticky, but most say it leaves no residue, and it has a solid 4.5-star rating on Sephora.
The Best Korean Five-Minute Mask
Despite the descriptor, you wash away the formula instead of peeling it off. The sesame milk delivers a powerful dose of smoothing action. It also has enzymes to gently exfoliate skin and slough off any dead cells, leaving you with a noticeably renewed complexion in just five minutes. You only need a small amount to apply a fine layer over your face, so this product will last you a long time.
The Best Korean Brightening Mask
Pearl extract has brightening and anti-aging benefits, which pretty much explains why this Lapcos mask, made with eco-friendly natural fibers, is so popular. Place it over your face after you cleanse and tone and let the probiotic bacteria (yes, you read that right) work its wonders by balancing your skin's biome.
The Cut Shop's Other Picks
The Best-selling Mask in Korea
If you still want to try a sheet mask, why not go for the best-selling one in Korea? The brand allegedly sells five sheet masks every second and has even partnered with the mega-popular K-pop band BTS on an exclusive line of BTS products. Amazon reviewers love how great these masks make their makeup look as well as their hydrating and glow-enhancing powers. The Cut's beauty expert Rio particularly recommends the tea-tree-oil version for sucking up the redness of zits.
The One That Smells Like Citrus
The best part about a sleeping mask is that it requires zero work. "On super-packed days, sleeping masks require zero extra time. Apply like a night cream and wake up effortlessly with a stunning glow," says Yoon. "In the Saturday Skin Yuzu Vitamin C Sleep Mask, vitamin-C-rich yuzu and niacinamide brighten skin and leave you glowing and looking well rested." Plus it smells better than the actual fruit.
The Best Mask to Use After a Long Flight
If your face feels especially thirsty, rough, or as if it just needs to spend some quality time encased in a hydrating cloud, try this creamy mask that is known for its revitalizing powers. The formula of conditioning rice extract and brightening niacinamide leaves all skin types feeling deeply moisturized but never greasy. Smooth it on before you hit the hay, and you'll wake up with soft, dewy skin.
The One to Prep for a Big Day
The jellylike consistency of this wash-off mask from Peach Slices is sure to leave your skin feeling refreshed. Yoon recommends it on days you need to prep for an event: "If you're preparing for a big day, the trick to a camera-ready glow is using ingredients like snail mucin and cica that'll help keep breakouts at bay and plump skin up with hydration while soothing skin."
The One That Smells Like Candy
If you love the best flavor of Jolly Ranchers (watermelon, obviously), then this is for you. It contains real watermelon extract (rich in aminos), hyaluronic acid, and AHAs gently hydrate and exfoliate. This is a night treatment with a gel texture that you put on over your moisturizer and wash off in the morning.
The One That Smells Like Roses
Photo: Courtesy of the Vendor
According to Cho, this "professional grade facial mask makes a little go a long way." It's blended with glycolic and lactic acids, which work together to lift dead skin cells, leaving the texture of skin immediately feeling softer and happier.
The Best for Acne-Prone Skin
This under-$20 mask features tea tree, Centella asiatica, and licorice to help soothe and calm sensitive and irritated skin, making it perfect for someone prone to acne.
The Best Mask for Sensitive Skin
Photo: Courtesy of the Vendor
If you hate scented sheet masks, these are for you. Since Yoon has eczema, it was important for her to create skin care she could use, so these are formulated to be especially great for sensitive skin. They're free of denatured alcohol, synthetic fragrances, parabens, sulfates, mineral oil, and formaldehyde.
The Splurge-Worthy One
If you have $200 to spare, this sleeping mask from Sulwhasoo has highly concentrated Korean red pine that makes skin firmer and more radiant.
The Best Mask to Calm Any Skin
This sheet mask is one of Cho's favorites. Made to calm and hydrate any type of skin, it comes divided in two for a guaranteed comfy fit around your face and spalike results.
The Post-Beach One
Formulated with 17 ingredients, this mask is one of Cho's favorites and a best seller at Soko Glam because "it manages to soothe sensitive skin but also keep your skin barrier healthy and moisturized," Cho says.
The One That Guarantees a Good Glow


Vitamin C is arguably one of the most important ingredients to have in your skin-care routine. A daily dose of vitamin C does wonders. And when your skin is looking a little dull and in need of a glow-up, this mask is rich in antioxidants and will brighten, resurface, and balance the skin. The clay texture will gently exfoliate while boosting moisture and ridding your skin of excess oil. Trust that your skin will feel squeaky clean and refreshed post-use.
Hence the name, this mask will make your skin feel like it just drank a tall glass of green juice. It's meant to be worn overnight for optimal beauty sleep, thanks to vitamin E, which quenches dry skin with maximum moisture. It also contains niacinamide, which has regenerative properties.
Our experts: