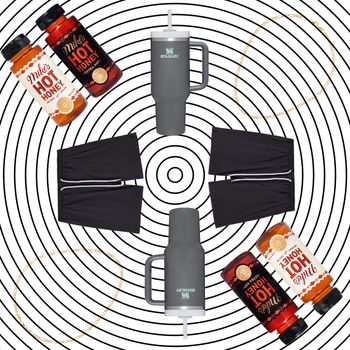 Photo-Illustration: The Cut; Photos: Retailers
For more of the Cut's favorite fashion, beauty, and home finds, sign up for the weekly Cut Shop Newsletter.
Father's Day is a week away, and like a true procrastinator, you still haven't found the best Father's Day gift out there. It's okay. While you're not obligated to gift your parent, who doesn't enjoy receiving a little something something? Plus, just because you waited until the last second to purchase said gift doesn't mean it won't be a good one.
That's where I come in. As an editor who already has her gift secured (this year, I'm going with the sunglasses in this roundup), my pro tip to finding the best last-minute Father's Day gifts out there is that when in doubt (and short of time), always resort to practical gifts. You play it safe, but you know they'll be useful. In some cases, the new practical gift will fix past gifting misses or even enhance a past present.
If subscription services or gifts you know he won't be able to resist aren't within your budget, we've rounded up a handful of last-minute Father's Day gifts that will surely arrive on time — if you order them at least five days (max!) before June 18, that is.
For the grandpa who refuses to wear SPF
My grandpa used to love tending his plants and garden. He did so right around noon when the sun is burning him to a crisp. I've gifted him some sunscreen in the past, but he always forgot to actually use it. However, when I gifted him a wide-brim hat, he always used it. That's why, if your fatherly figure is like mine, you should upgrade his hat situation with this one that has a neck flap for added protection.
For the dad who actually does Carhartt sh*t
We've all seen the meme. If your dad actually works with his bare hands and loves a good DIY project, gift him a garment from a brand that reflects that and not just going for a coffee run in Bushwick.
For the dad who loves some R & R
What does foot cream have to do with some rest and relaxation? Well, a pedicure works wonders to decompress, but chances are you've already gifted him something along those lines in the past. A foot cream is a great re-up for this past gift since it's something he'll use on the daily.
For the dad who's secretly your fashion icon
Birkenstocks, white sneakers, baseball caps, short-sleeve linen shirts, white crew socks, the list goes on. If you find yourself adding to your outfit equations elements that your dad will surely wear, get him these Oakley shades that you would also look great in.
For the dad who loves condiments
If there's never a dull meal on your dad's plate, gift him Mike's Hot Honey. His grilling game would benefit from this gift, too.
For the dad who loves a good sandwich
Look at this and tell me it won't make amazing sandwiches. The precision! The craft! Thank you to whoever decided to create this, because dads everywhere will rejoice at their sandwich-making skills with this gadget.
For the dad who's always washing his car
Or maybe has an affinity for fishing, who knows. These under-$100 swim trunks are closet staples that he'll surely wear over and over again.
For the dad who doesn't quite get tech
Why would you gift him something tech, then? Well, at most, the Apple Watch does many things, but stripped down, it's still a watch. Rather than approaching the device as something foreign, chances are he'll slowly but surely discover all it can do.
For the dad who's always wearing a chain
If your dad is like mine, he has a chain for every occasion. One for everyday, one for work, one for events, you get the idea. The chances he's had those chains since the dawn of his dad days are very likely, too. Switch it up for him with the solid under-$100 chain options currently available at the Ssense sale. Plus, Ssense's shipping is notoriously fast, so you'll most likely get it in time.
For the dad who likes to stay cozy while watching his games
Watching his favorite team play is almost a ritual of sorts. Allow him to be as cozy as possible with a weighted blanket that will make him become one with the couch.
For the dad who needs a new wallet
It's about time he replaces that old leather wallet with one that is just as durable but will aesthetically withstand the test of time.
For the dad who always forgets where he left the remote control
The remote control loves to go on little adventures around the nooks and crannies of the sofa. Avoid having to join the search team every time by buying this sofa-armrest organizer. From his TV snack to his headphones, this organizer will store everything and look good since it's available in multiple colors.
For the dad who's a bit bossy
"Hey, Google, what's the weather today? Hey, Google, how many cups of water do I need to make rice? Hey, Google, turn on the kitchen lights. Hey, Google, play my classic-rock playlist." Grant him all the tech without him struggling to find the search bar with the Google Nest Mini. Simply set it up and he'll be entertained. My dad loves to learn new dad jokes from his. Do with this information what you will.
For the dad who cares for his joints
And his plants! This gardening-stool set will allow him to care for his garden without compromising his knees.
For the dad who's always traveling
Your dad can use those AirPods you gifted him last year instead of wired headphones to watch his favorite in-flight movies. However, if he isn't tech-savvy, I recommend you skip this one altogether. You don't want him calling you to help pair it up every time.
For the dad who quit caffeine
Decaf coffee is a game changer. You get all the flavor of the buzz bean without the actual buzz.
Or still can't get enough of it
We'll say it again and again: Subscription services make for the best last-minute Father's Day gifts.
For the dad who always wears these
Whether it's your dad, your grandpa, or an uncle, there's always a fatherly figure who wears a tank under their button-down shirts. It's an affordable gift that's always a hit.
For the dad who's always on the go
Whether it's for sipping his decaf coffee on the porch or on the way to run some errands, a tumbler is always a safe bet.
For the dad who keeps his pearls shining
Another gift to complement all the past teeth-related gifts you've given your dad in the past. If you've checked off the list the electronic toothbrush and the water flosser, now it's time to gift him some whitening strips.
For the dad who thinks cleaning is therapy
While cleaning isn't a cop-out for therapy, help him work through his inner thoughts while using Bissell's Little Green deep cleaner.
For the dad who loves luxury
If he has an affinity for the finer things in life, like a fancy Scotch, our very own senior writer Sangeeta Singh-Kurtz recommends this spirit for your fatherly figure.
For the dad who's trying to quit drinking soda
I love fooling my dad with food alternatives. Trust me when I say he would never even taste the difference between Olipop's tonic and the real deal. Plus, he'll get nine grams of prebiotic plant fiber with every can.
For the dad who has everything already
He can never have enough socks. Bonus points if they are colorful.
For the dad who's always combing his hair
Until last year, my dad had had the same crusty, dusty pocket comb (no offense, Dad). Now, he can't stop raving about the foldable pocket comb I gifted him.
For the procrastinator
The procrastinator is you. If none of these gifts convinced you, just get your dad a gift card before closing this tab. Simple as that.