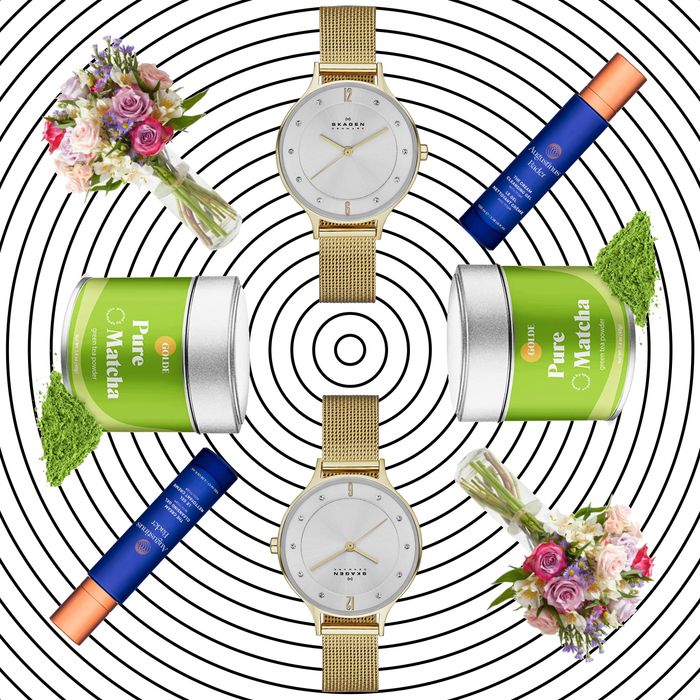 Photo-Illustration: by The Cut; Photos: Retailers
For more of the Cut's favorite fashion, beauty, and home finds, sign up for the weekly Cut Shop Newsletter.
Okay, so you procrastinated. Mother's Day is May 14, and you don't have a gift yet. There's no need to panic. Just because you waited until the last minute doesn't mean there isn't time to get a great last-minute gift. It happens. For some, the best gift ideas come when they least expect them, and others just need some help from a quick roundup.
Luckily, we've done the research for you. Express shipping can be worth the extra amount if you don't want to stress about your present arriving at your doorstep late, but other retailers like Sephora and UrbanStems can do local, same-day delivery depending on your location. You can also opt to order online and then do a free in-store pickup if you don't want to feel like waiting for the higher powers of FedEx, UPS, and USPS to decide your fate. Or you can always play it safe with picks from Amazon Prime. Don't spiral just yet — you have options!
From products for every type of mom to some out-of-the-box options, read on to see 35 picks that say, "I completely thought this through and did not actually leave it until the last minute."
Best Last-Minute Mother's Day gifts Under $25
For the mom who always moisturizes
Everyone raves about Sol de Janeiro's creams, and so will your mom once she tries this top-rated collagen-rich one. It has cacay oil, which is a gentle alternative to retinol, and leaves skin looking radiant.
For the mom who's tired of puzzles
Your mom doesn't need another puzzle. Instead, consider gifting her these embroidery kits that include everything she needs to start a new hobby. You can choose from a number of pretty patterns including Van Gogh paintings, flowers, and plants.
For the mom who wants to be pampered
This forbidden whipped cream features skin-soothing colloidal oatmeal and shea butter as it's main ingredients to nourish even the driest, eczema-prone skin. It's also vegan and halal.
For the mom who needs to be reminded of her water intake
It's easier to remember to drink water when you always have it around. Help Mom remember with this gallon-size bottle that she can take on the go or keep in the house.
For the mom who loves some FaceTime
Keep Mom safe by gifting her this adjustable car mount that attaches to the dashboard or the windshield of her car for plenty of opportunities to safely catch up. There's also a magnetic cord organizer to keep her cords neat and her phone charged.
For the mom who's picky about her caffeine
Any mom who loves coffee will appreciate this pour-over coffee maker. While it's slower than the standard machine, this chic maker brews up a flavorful cup of coffee.
For the mom who's over old-school mugs
We're sorry to the mug you got her last year, but these very cool glasses will be replacing it. They feature a double wall so she can enjoy hot and cold drinks.
For the type-A mom
Moms alway have a way of finding the items we misplace. Continue to nurture her organizational skills by gifting her these minimalist labels. The set includes all the standard spices, expiration labels, and blank labels.
For the mom who loves chocolate chip cookies
If Maman's cookies are good enough for Oprah, they will also make the best gift for your mom. Take it to the next level by gifting her the cookbook from the beloved bakery Maman. It features a hundred recipes from savory sandwiches and salads to the iconic chocolate chip cookie. She'll appreciate the new ideas, and you'll get to bond with her while making them in the kitchen.
For the mom who carries everything in her purse
Photo: retailer
You know what your mom most likely doesn't have in her purse yet? A reusable cutlery set. You may have already gifted her metallic straws, but help her ditch plastic flatware for good by gifting her this all-in-one set. Along with the basic spoon, fork, and knife, it features chopsticks, reusable straws, and a brush to clean them. Store them in this pouch that fits in any bag.
Best Last-Minute Mother's Day Gifts Under $50
For the mom who loves her eyewear
Snag her these bold-shaped sunnies from Vogue Eyewear's collab with Hailey Bieber, and she'll feel so fashionable blocking out those summer rays.
For the mom who keeps it cool and casual
Your mom has been wearing Birkenstocks since way before you, so gift her a new pair this year.
For the mom who's into scrapbooking
This sleek camera fits into her purse and instantly prints two-by-three-inch color photos she can easily use in her scrapbooks or stick anywhere from the fridge to her desk.
For the mom who loves gardening
Gift her everything she needs to tend to her garden this spring and summer. This kit included all the essential tools, gloves, and handy bag to keep them all in.
For the mom who loves traveling light
This affordable favorite makes the perfect carry-on. It features multiple pockets and compartments for everything she needs.
For the mom who loves fresh flowers
It might be just as hard to get a last-minute bouquet around Mother's Day as it is on Valentine's Day. Deliver this stunning bouquet to your mom's door and avoid the last-minute store run.
For the mom who's in a rush
The viral voluminizer has been a consistent favorite for easy hairstyling. The all-in-one dries hair, which makes it easy to style and add texture.
For the mom who just got into matcha
This alternative to coffee wakes you up without making you jittery. Plus, it's full of antioxidants and amino acids. Gift this to Mom along with a whisk, and she can replace her morning coffee with matcha lattes.
For the mom who loves dinner parties
This marble-and-wood board is ideal for prepping and serving cheeses and more, making it perfect for charcuterie. Mom will want to grab this anytime she has guests.
Best Last-Minute Mother's Day Gifts Under $100
For the mom who loves nice skin care
If she already loves luxe skin products, she's probably heard all about the "rich cream" from Augustinus Bader, but the brand's cleanser is just as praise-worthy. It boasts the benefits of cellular renewal, is fragrance free, and foams into a gentle lather to remove makeup while keeping the skin barrier intact.
For the mom who lives in leggings
If she hasn't experienced the softness of Beyond Yoga's Spacedye leggings, then she hasn't truly lived. Change the game for her with a pair of these babies, and choose from delightful colors like yellow and purple or stick to neutrals like black and beige.
For the mom who needs a spa day
Why gift her just one spa day when you can gift her the equivalent of having a masseuse 24/7? This massager features nodes that knead deep into sore and tired muscles and heat to help soothe any aches. Reviewers love how affordable it is and how well it works even on the toughest knots.
For the mom who travels
Frequent flyers will appreciate this little gadget that helps connect their AirPods to the in-flight television and is small enough to fit into their carry-on. It also pairs with gym and gaming equipment for wireless listening.
For the mom who's over toilet paper
If your mom is always looking for ways to be more sustainable around the house, the next step is to gift her a bidet. According to the product description, Tushy cuts your toilet paper usage by 80 percent, saving you money and saving trees.
For the mom who has a sweet tooth
Owning an ice-cream maker is a game changer. This is one of those gifts where everybody in the family wins.
For the mom who loves working out
Kettlebells are great weights for at-home workouts, but let's be honest: They are not the prettiest. Gift your mom this Bala Power Ring so she can take next workout to the next level — physically and aesthetically.
For the mom who loves a good clog
To be worn while gardening, running errands, or just around the house, your mom will love this clog from Hunter.
For the mom who loves a good hoop
Did you know Amazon carries one of our favorite jewelry brands? Well, now you do. If your mom has plenty of gold hoops, switch it up by gifting these fun silver ones from Justine Clenquet.
Best Last-Minute Mother's Day Gifts Under $200
For the tea-drinking mom
Upgrade her stove kettle that takes forever to heat with this stylish, sleek electric one. It can double as a centerpiece for her countertop and will heat water for her tea faster than you can say "Earl Grey."
For the mom who uses olive oil constantly
There's an olive-oil battle waging, have you heard? Whichever side you fall on, though, we can all agree that a set of basil-, garlic-, chili-, and lemon-infused oils will get a lot of use in the kitchen. She won't want to go back to any regular ol' ones after using these.
For the mom who never misses a beat
While you may be used to checking the time on your phone, some moms still depend on their wrist watches to be on top of it. If your mom needs a new watch, consider this great $100 option from Skagen.
For the mom with a long TBR list
Nothing will beat reading a physical book. However, an e-book makes a great gift to all the moms who are avid readers, no matter the format.
For the mom who loves smoothies
Your mom won't mind this blender taking up counter space thanks to its chic design.
For the mom who already has too many candles
Your mom probably doesn't need another candle. So instead of opting for the safe scented route, gift her this Vitruvi Diffuser. It will last longer than a candle and it has an automatic safety shutoff feature so she doesn't have to worry about any fire hazards.
For the stylish mom
When two of our favorite brands collaborate, you get this: an elevated sneaker perfect for gifting.