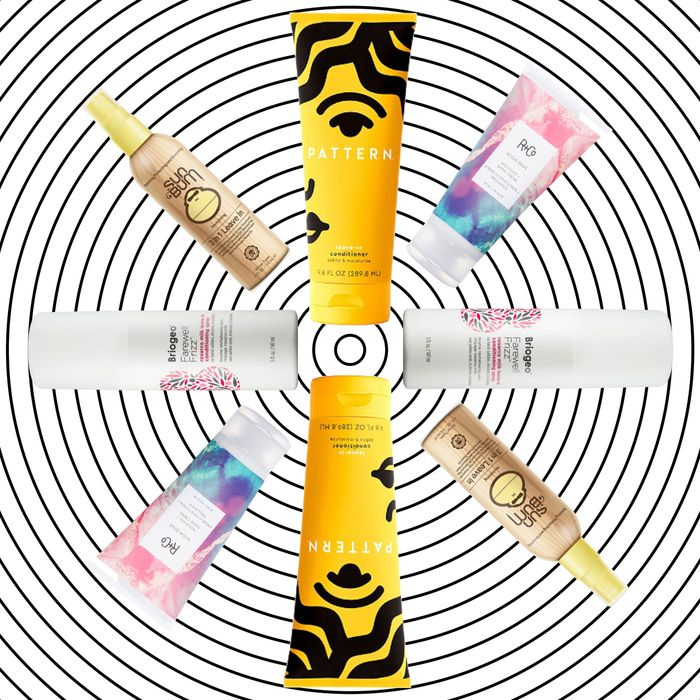 Photo-Illustration: Courtesy of the Retailers
If your hair isn't cooperating lately, there's a good chance it just really wants a quality leave-in conditioner. Leave-in conditioners may sound extra (especially if you're already using a rinse-out one), but that's because they are, and in the best way possible. Consider everything your hair endures once you step out of the shower: rough towels, rough pillows, combing, brushing, heat styling, twirling, tying, possibly bleaching — it's the perfect recipe for dryness and damage, and leave-in conditioners are one of the easiest ways to shield your hair from it all. Here, 19 helpful leave-in conditioners that will leave your hair smoother, shinier, healthier, and happier in the long run.
The Best Drugstore Leave-in Conditioner
Gwen Stefani has had this product in her hair every day of her platinum life. Technically, it's called a "combing creme," but it's more like a "smooth and supersoft hair cream." Her hairstylist, Danilo, uses it for styling and conditioning, dabbing a little on each strand before he curls it.
The One That Won't Weigh Curls Down
This lighter-weight leave-in is a nice pick-me-up for curls that are a little bent out of shape. It infuses curls with just enough hydration to get them back to their usual, bouncy selves, instead of overloading them with extra weight and residue. Every subsequent hair flip will waft a clean, refreshing scent you'd usually find in a fancy candle.
The Best Leave-in Conditioner for Tighter Curls
Anyone with curly hair will tell you that a leave-in conditioner is nonnegotiable. This rich blend is loaded with ample moisturizers, including perennial favorite shea butter, so tighter curl patterns, thicker textures, and heat-styled hair can fight frizz and breakage — without having to go through an entire bottle of product in one use.
The Cult Classic
This leave-in ascended to cult-favorite status thanks to its ability to do a million things (smooth, detangle, add shine, color-protect, heat-protect) in very convenient spray form. Great for on the go, it can be spritzed on damp or dry hair to quickly deliver benefits in dire times of need. Case in point: Multiple cool surfer girls credit it for saving their hair from sun, wind, and salt damage once they're back on land.
The Best Leave-in Conditioner for Waves
This leave-in treatment from the curl experts at Ouidad is on the lightweight side, making it well suited for looser curls and waves that have a hard time living up to their potential, especially when annoying things like humidity get in the way.
The One That Does Damage Control
If you're suffering from brittle strands and breakage, my condolences, and please get in contact with this leave-in cream. It's a member of the cult-favorite hair-repair system loved by professional stylists, celebrities, and reviewers alike, thanks to its ability to relink the hydrogen-sulfur bonds that can break whenever you heat style, chemically style, color, or bleach your hair. A little of this stuff goes a long way, and you'll want some in your corner if you're dealing with damage that's more serious than the occasional split end or two.
The One That Smells Like Vacation
This detangling and UV-protecting formula is like a delicious, tropical smoothie for thirsty hair that's hungover from heat styling or one too many dips in the pool. Just a few spritzes of coconut oil– and banana pulp–infused formula not only nourishes strands on the verge of split ends but instantly transports you to somewhere sunny, even if you're stuck inside the house.
The Best Natural Leave-in Conditioner
This natural leave-in spray is the perfect way to lightly and evenly distribute the moisturizing and repairing benefits of coconut oil without greasing your hands up or weighing your hair down in the process. It also contains rose hip oil to protect from UV damage if wearing big hats outside isn't your thing.
The Overachiever
This leave-in spritz boasts an impressive 25 benefits, ranging from heat-protecting to damage-repairing, but its true superpower lies in being a nongreasy miracle potion for basically every hair type and texture. It's achieved cult status among those with fine hair, straight hair, coarse hair, curly hair, and everywhere in between.
The One That Handles Air-Drying Well
The One That Handles Blowouts Well
Leave-in conditioners get a lot of credit for hydrating and repairing, but they're also great for styling. This fancy cream doubles as a glossy heat protectant and disguiser of split ends, making it the perfect prep for an at-home blowout that could use some finessing.
The Salon Experience in a Spray
Spritz this multitasking conditioner through damp hair and proceed to heat-style to your heart's desire. Once you unplug, you'll end up with the touchable softness, high shine, and, most important, expensive smell you expect to carry with you every time you step out of the salon.
The One That Cares About Your Scalp, Too
I'm very pro-scalp when it comes to healthy hair-care routines, and this leave-in conditioner aligns with that sentiment. If your hair is struggling, there's a good chance your scalp is too. Tea tree oil and rosemary and peppermint extracts make this tonic a tingly treat for your head. It also tames painful tangles and encourages hair growth. So many wins for all involved.
The One That Helps With Length Retention
If longer hair is what you seek, work this intensely moisturizing leave-in into your routine. It infuses fragile, damaged, and shrinkage-prone curls with rich castor oil and black seed oil, so your strands can better resist breakage and retain their length over time.
The Best Leave-in Conditioner for Fine Hair
If additional product translates to "greasy grease" on your hair, try this spray. It's extremely lightweight, making it a great option for fine to very fine hair that needs some help in the breakage, manageability, or color-retention department. And rest assured, the chic packaging comes with an equally chic, unisex scent that's usually reserved for very expensive candles.
The Extremely Hydrating One
This fizz-fighting leave-in is infused with hyaluronic acid, the moisturizing darling of the skin-care world. IGK's take is delivered via an all-encompassing, lightweight mist that forms a moisture barrier for deep hydration, allowing the thirstiest hair to be thoroughly quenched.
The One That Gets You Heartthrob Hair
The Milky One
As weird as "hair milk" sounds, this one contains shine-boosting roucou oil (a plant oil some say is even better than argan oil), and hair loves it. If a silky, commercial slo-mo hair shake situation is what you seek, regular use of this smoothing leave-in spray will help get you there.
The Strengthening One
If your hair feels like it needs more help than just a hit of hydration, call this mist in for reinforcements. The nourishing formula is infused with amino acids (more fondly referred to as the building blocks of protein), collagen, and seaweed extracts to help strengthen fragile, dull hair over time, making it softer, smoother, and more resilient.
This article was originally published August 14, 2018. It has been updated throughout. If you buy something through our links, New York may earn an affiliate commission.