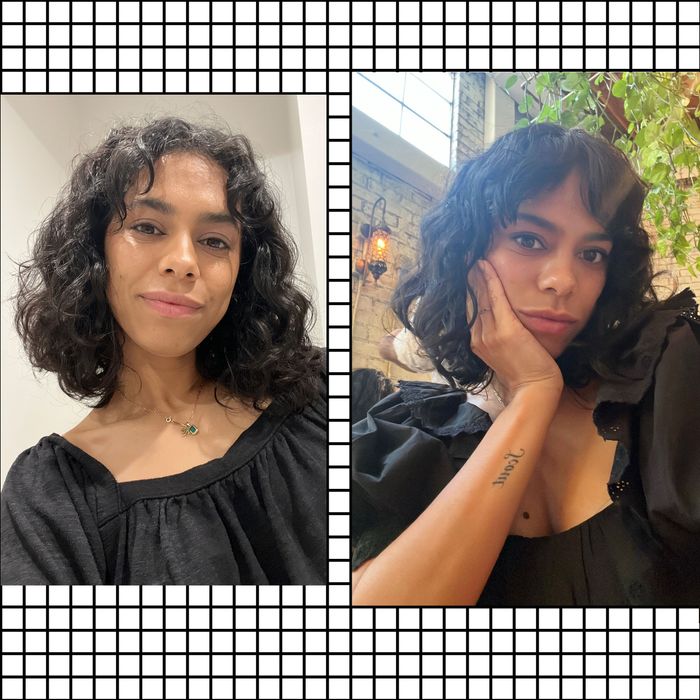 Photo-Illustration: by The Cut; Photo: Shanna Shipin
For more of the Cut's favorite fashion, beauty, and home finds, sign up for the weekly Cut Shop Newsletter.
If your hair isn't cooperating lately — or, frankly, never has — there's a good chance it just really wants a quality leave-in conditioner. Leave-in conditioners may sound extra (especially if you're already using a rinse-out one), but that's because they are, and in the best way possible.
Consider everything your hair endures once you step out of the shower: rough towels, rough pillows, combing, brushing, heat styling, twirling, tying, possibly bleaching — it's the perfect recipe for dryness and damage, and leave-in conditioners are one of the easiest ways to shield your hair from it all.
FAQs
What does a leave-in conditioner do?
"Leave-in conditioners provide extra moisture and hydration to the hair as well as protect it from heat, environmental factors, and breakage — all while detangling," says Sky Barbarick, a Los Angeles–based hairstylist. Michael Dueñas, celebrity hairstylist and founder of Veluer Creative, adds that leave-ins bring conditioning effects to the hair: "It is left on longer [than conditioner], so it penetrates into the hair instead of rinsing right off, achieving healthier and more manageable hair over time."
Brendnetta Ashley, hairstylist and artistic educator with the Salon by Instyle, says leave-in conditioners can come in spray or cream formula. For finer hair types, she recommends sprays, while medium and coarse hair can use either. "Regardless of your hair type (straight, wavy, curly, coily), leave-in conditioner is a step that shouldn't be missed," says Ashley.
What should you look for in a good leave-in conditioner?
Barbarick says if you have fine hair, you'll want something lightweight, while damaged, overprocessed, or curly hair can benefit from a richer, more nutrient-dense formula. Some things that can help nourish the hair are panthenol (a hair emollient that Dueñas looks for) and glycerin (which Ashley says helps keep and maintain hydration). Barbarick notes that the formulation and how all of the ingredients work together is the most important factor, but she tends to stick to products that prioritize natural hair-care favorites, like aloe vera, squalane, and plant-based oils.
What's the best way to apply a leave-in conditioner?
All of our experts said the same thing: Apply a leave-in after towel-drying your hair. Barbarick says to apply the leave-in conditioner from mids to ends, then comb through. Ashley agrees, and adds that it's important to focus on this section of the hair since it's been living on the head the longest (so it's in more need of leave-in benefits). She also notes that the amount you spray should be adjusted to your hair type, with two to three sprays for fine hair and four to six sprays for medium to coarse hair.
Leave-ins are loved since they're pretty versatile; some can also be used on dry hair, so always read the directions to see how far you can stretch yours.
The Cut Shop team tests products for a living, and it would be no understatement to say that our hair is going through it (think hormonal changes, the stress of living through pandemic-induced inflation, struggling with hair loss from said pandemic, compulsive style changes, etc.). We can attest that these leave-in conditioners will leave your hair smoother, shinier, healthier, and happier in the long run.
The Extremely Hydrating One
I have looser curls that are prone to falling flat — any product that's seemingly heavier than a fruit fly makes it worse and I end up getting helmet hair real quick. Not with this leave-in, though; it's light as air, smells like it belongs in a boutique hotel (that'll be the bergamot and yuzu combo), and nourishes my simultaneously coarse, parched, and brittle hair — as seen in the image above. Along with Oribe, it is on the pricier end of the leave-in-conditioner spectrum, but if you want a product that will not only make your hair look and feel hydrated but will also look great on your vanity, this one is it —Shanna Shipin, Cut Shop contributor
Pros: Conditions, adds definition, lightweight
Cons: Expensive, some don't like the smell
The Overachiever
This leave-in spritz boasts an impressive 25 benefits, ranging from heat-protecting to damage-repairing, but its true superpower lies in being a nongreasy miracle potion for basically every hair type and texture. It's achieved cult status among those with fine hair, straight hair, coarse hair, curly hair, and everywhere in between.
Pros: Lightweight, nongreasy, and can be used on all kinds of hair (wigs, weaves, natural, relaxed)
Cons: Some people don't like the initial scent, because it includes coconut oil; some find it slippery
The One That Does Damage Control
If you're suffering from brittle strands and breakage, our condolences, and please get in contact with this leave-in cream. Despite the brand's recent infertility controversy, the hair-repair system is still loved by professional stylists, celebrities, and reviewers alike, thanks to its ability to relink the hydrogen-sulfur bonds that can break whenever you heat style, chemically style, color, or bleach your hair. A little of this stuff goes a long way, and you'll want some in your corner if you're dealing with damage that's more serious than the occasional split end or two.
Pros: Top-rated product (nearly 37,000 five-star ratings on Amazon), hydrates and strengthens hair, a good option if most traditional leave-ins have worked for you
Cons: If you want to see the best benefits, you need to buy into the Olaplex system
The One for Fine Hair
If additional product translates to "greasy grease" on your hair, try this spray. It's extremely lightweight, making it a great option for fine to very fine hair that needs some help in the breakage, manageability, or color-retention department. Rest assured, the chic packaging comes with an equally chic, unisex scent that's usually reserved for very expensive candles. In fact, Barbarick opts for this leave-in in part because her clients repeatedly comment on how much they love the scent. Her tip? Go for the intensive version of the leave-in if you have particularly damaged or coarser hair.
Pros: Lightweight, adds volume and body to fine or thin(ning) hair, nongreasy (oil-free)
Cons: Too weightless for medium or coarse hair; some do not like the scent
The One That Gets You Heartthrob Hair
This shine-boosting leave-in conditioner transforms crispy or dull hair into something you'll actually want to touch. Seriously, this is the same hydrating cream stylists use on Timothée Chalamet's heavenly waves, and we all know how much we all want to touch that.
Pros: Smoothes and moisturizes dry hair, adds definition to wavy and curly textures while leaving it soft, a little goes a long way
Cons: It's a styling product that doubles as a leave-in, so some use it as an add-on product; cream may be too heavy for fine hair
The One for Waves
Spritz this multitasking conditioner through damp hair and proceed to heat-style to your heart's desire. Once you unplug, you'll end up with the touchable softness, high shine, and, most important, expensive smell you expect to carry with you every time you step out of the salon. It's true: Barbarick calls this one "perfume for your hair."
Pros: Detangles hair, prevents heat damage, de-frizzes, looks good on your countertop
Cons: Strong smell may be off-putting to some
The Holy Grail
The Cut Shop team put this leave-in to the test and it did not disappoint. While it might be one of the priciest hair masks out there, we all believe it's worth the price since it delivers amazing (and we mean amazing) results on everyone who has tried it.
Pros: Works across all hair, but particularly for damaged hair, a good option if most traditional leave-ins have worked for you
Cons: Expensive, formula is a temporary-use mask (four to six washes, then only as needed) and not an everyday leave-in
The Salon Experience in a Spray
This leave-in treatment from the curl experts at Ouidad is on the lightweight side, making it well suited for looser curls and waves that have a hard time living up to their potential, especially when annoying things like humidity get in the way.
Pros: Adds moisture and definition to curls without leaving hair greasy
Cons: Works best as a primer for tighter curls, thicker texture can be heavy on fine hair
The Best Leave-in Conditioner for Frizz
This natural leave-in spray is the perfect way to lightly and evenly distribute the moisturizing and repairing benefits of coconut oil without greasing your hands up or weighing your hair down in the process.
Pros: Smoothing formula that adds shine and helps ward off frizz
Cons: Leaves a residue, some aren't a fan of the scent
The One That Smells Like Vacation
This detangling and UV-protecting formula is like a delicious, tropical smoothie for thirsty hair that's hungover from heat styling or one too many dips in the pool. Just a few spritzes of coconut oil– and banana pulp–infused formula not only nourishes strands on the verge of split ends but instantly transports you to somewhere sunny, even if you're stuck inside the house.
Pros: Can be used on dry or wet hair, lightweight and smoothing, has UV protection to prevent sun-bleached hair
Cons: Smells heavily of summertime, so may not be the first you reach for in colder months
The Milky One
As weird as "hair milk" sounds, this one contains shine-boosting roucou oil (a plant oil some say is even better than argan oil), and hair loves it. If a silky, commercial slo-mo hair shake situation is what you seek, regular use of this smoothing leave-in spray will help get you there.
Pros: Softens, conditions, detangles, and de-frizzes all hair types
Cons: Tend to need a lot of product (10–15 sprays recommended for even distribution)
The Best Leave-in Conditioner for Color-Treated Hair
Last year, I decided to color my hair for the very first time, and this leave-in conditioner from Amika was my hair's best friend. I already loved the brand's detangling spray but was just as pleased with this product — it really restored the shine and smoothness of my hair. If you have fine hair, though, I do suggest you avoid spraying it too close to your roots to prevent them from getting greasy. —Bianca Nieves, Cut Shop senior editor 
Pros: Lightweight mist that works best for color-treated hair (prevents fading), product design makes for easy application 
Cons: Hair that is in need of hydration may better benefit from amika's Hydro Rush Leave-In
The Go-to
Wavy hair in the front. Curly hair in the back. Frizz everywhere. That's a quick run-through of Nieves's hair. Luckily, this leave-in conditioner from Ceremonia manages to tackle it all thanks to its formula full of safflower extract, tamarind, and avocado, which help strengthen, hydrate, and repair my long locks. It also smells like a dream. —B.N.
Pros: Hydrates, wards off frizz, and virtually everyone enjoys the scent
Cons: Not multitaksing enough for those with coarse hair
The One That Handles Blowouts Well
Leave-in conditioners get a lot of credit for hydrating and repairing, but they're also great for styling. This fancy cream doubles as a glossy heat protectant and disguiser of split ends, making it the perfect prep for an at-home blowout that could use some finessing.
Pros: Intensely hydrates and is heavy enough to actually de-frizz hair
Cons: Cream is too heavy for those with thin or short hair
The Cult Classic
This leave-in ascended to cult-favorite status thanks to its ability to do a million things (smooth, detangle, add shine, color-protect, heat-protect) in very convenient spray form. Great for on the go, it can be spritzed on damp or dry hair to quickly deliver benefits in dire times of need. Case in point: Multiple cool surfer girls credit it for saving their hair from sun, wind, and salt damage once they're back on land.
Pros: Softens and hydrates, trusted formula if you don't want to shop around, can be used on wet or dry hair
Cons: Might leave a residue on fine hair
The One That Won't Weigh Curls Down
This lighter-weight leave-in is a nice pick-me-up for curls that are a little bent out of shape. It infuses curls with just enough hydration to get them back to their usual, bouncy selves, instead of overloading them with extra weight and residue. Every subsequent hair flip will waft a clean, refreshing scent you'd usually find in a fancy candle.
Pros: Moisturizes and defines curls without crunch
Cons: Would be best used with a gel for coily and kinky curls
The Ol' Reliable Leave-in Conditioner
When I cut my hair short at the beginning of the year, it was all fun and games until I washed off my professional blowout. Since I was back home in Puerto Rico, I didn't have my usual arsenal of leave-in conditioners to help my hair air-dry to perfection. Luckily, my aunt had this John Frieda leave-in that she swears by — and now I do, too. It left my now–curlier, shorter hair looking hydrated and as frizz free as hair can be in the humid Caribbean. —B.N.
Pros: Tames frizz and ever-expanding hair (hi, humidity), effectively hydrates, affordable and easy to find
Cons: Those with fine or thin hair will have product buildup over time
The One That Feels Like Skin Care
The Cut Shop team turns to Augustinus Bader's rich cream moisturizer whenever we feel our skin needs drastic saving. This is the equivalent of that for your hair. Made for all hair types, you can count on this leave-in treatment to give much-needed TLC to your split ends and tired strands.
Pros: Detangles well, controls frizz, super lightweight for a cream
Cons: Expensive, you can find similar results with cheaper products
The One to Use on Dry Hair
You're typically instructed to use a leave-in on wet or damp hair, but this is the rare exception. Dueñas likes that he can use it on dry hair before heat styling: "This is vital if I do not have time to blow-dry the hair first." We're guessing you don't have much time to get ready in the morning, so in or out of the salon, this one can come in handy.
Pros: Moisturizes and detangles hair while maintaining body, use on dry or damp hair
Cons: Some are confused by packaging and mistakenly use this as a dry shampoo
The Super Silky One
Dueñas says this leave-in is his "absolute favorite." He says that it not only is incredibly lightweight, but it's amazing at detangling. (Just read through some of the enthusiastic product reviews that say the very same thing.) The best part? "It makes the hair feel like silk." Enough said.
Pros: Smoothes and hydrates hair without added weight, expert detangler, top-rated
Cons: Some don't love the smell
The One for All the Treatments
Don't let the name fool you: Ashley's personal favorite is BLONDME All Blondes Light Spray Conditioner — but it's for all hair types and all hair colors. (Though it's particularly helpful for color-treated, chemical-treated, or generally damaged hair.) "Its lightweight formula has all the benefits that your hair needs without weighing your hair down. Bonus, it smells amazing," she says. FYI, one of the hero ingredients in this one is panthenol, a hair emollient.
Pros: Protects the hair from heat and sun damage 
Cons: Some say the formula is too lightweight
The Best 'Natural' One
"This is my favorite natural option," says Barbarick. "It's great for calming frizz and works across all textures." If you tend to buy clean-beauty products, you'll likely recognize some of the ingredients, like aloe vera, tamanu oil, and honey. The brand is transparent in how the product is scented (instead of relying on the catch-all "fragrance") and enlists sustainable methods in its packaging.
Pros: Moisturizes and detangles, makes hair more manageable
Cons: Some find the scent off-putting
Our experts: