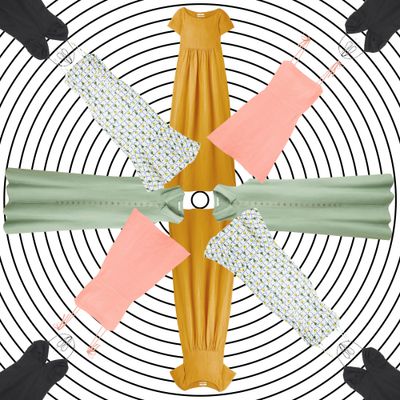 Photo: Courtesy of the Retailers
On summer days when the temperature breaks 90 degrees, getting dressed is a game of figuring out how to leave the house with the least amount of fabric touching your skin. Thankfully linen, especially in the form of easy, breezy dresses, remains a big trend. The best part? Linen actually looks good with wrinkles, so you don't have to fumble with a steamer when it's equally steamy outside. Scroll ahead to shop our favorites in all sizes, from 0 to 24.
An Expensive-Looking Find
Soft pale-green coupled with wooden buttons make this $80 dress look like a designer buy.
Available in sizes 4-8
An Office-Friendly Option
Lightweight enough to get you through a sweaty commute, but covered enough to ward off aggressive office air-conditioning.
Available in sizes 10-20
A Date-Night Option
All you need are heels and pretty hoop earrings.
Available in sizes 14-28
The Ones You Can Wear All Week
Need something that can go from office to weekend to beach? Try this red number — just add a blazer if it's too exposed for work.
Available in sizes 2-8
And if red isn't your thing, this kelly-green dress has a similar vibe.
Available in sizes 0-12
Because You Love Black
Simple, easy, and will look just as good next year.
Available in sizes 10-18
The One to Wear to Brunch
Ideal for sitting outside with a cold, crisp glass of white wine.
Available in sizes 14-28
If You Love a Slip Dress
Why not try a bright cobalt-blue one?
Available in sizes 34-38
If You Want Something Quirky
The retro silhouette coupled with this strange shade of purple is ideal for the woman who isn't afraid to clash colors.
Available in sizes 0-6
For the Minimalist
Tack on Birkenstocks and you're good to go.
Available in sizes XS-L
The Sale Find
Sizing is limited but it's a great deal for a sexy, trendy Jacquemus dress.
Available in sizes FR32-42
If You Love a Fun Print
Cherries? Pineapples? Nah, the next hot fruit print is lychee.
Available in sizes 0-12
For Caftan Fans
An extremely elegant silhouette in a flattering shade of mustard.
Available in sizes XS-M
Because You Want to Show Some Skin
A cute mini in a bright pink is exactly what you'll want to wear on a hot summer night out.
Available in sizes S-L
Because Summertime = Gingham
If you want to take it one step further, add a basket bag.
Available in sizes XS - 3X
This article was first published June 20, 2018. It has been updated throughout. If you buy something through our links, New York may earn an affiliate commission.