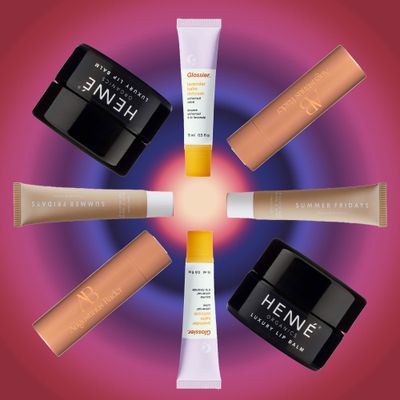 Photo-Illustration: The Cut; Photos: Retailers
For more of the Cut's favorite fashion, beauty, and home finds, sign up for the weekly Cut Shop Newsletter.
Lip-balm preference is extremely subjective. Do you like your balm in the form of a stick, pot, or tube? Do you prefer it gooey? Waxy? Cooling to the touch? Or is a wet blanket of gleaming gloss more to your liking? That said, what most good lip balms have in common are the ingredients. Shea butter is huge, of course, as is cocoa butter; then there's a long list of oils (coconut, olive, chamomile, argan, and so on). But what else should you take into consideration when searching for the best lip balm? We've got you covered.
FAQs
Why do you need a lip balm?
There's a reason you have to keep a lip balm on hand — lips are some of the driest parts of our faces. Board-certified dermatologist David Kim explains, "Our lips have a very thin layer of stratum corneum (a dead layer of the skin that protects it), so it's very susceptible to free radicals from UV rays and other environmental damage."
What ingredients should I look for in a lip balm?
For very dry lips, regular balm just won't do. Kim likes balms with thicker petroleum-based formulas, like Vaseline and Aquaphor, that moisturize and protect. Other ingredients to look for are shea butter and beeswax — emollients that soften and moisturize lips no matter how dry they are. Some ingredients Kim recommends avoiding are artificial fragrances and colors that might put you at risk for contact dermatitis. Don't worry, we have recs without either of those.
Since we know you want to know, we asked about expiration dates. Is that lip balm in your bag still good? There's a good chance it is, Kim explains, "It depends on the product and their expiration dates, but most balm and ointment-based products are good for more than a year." If you're not entirely sure how old it is, we have lots of new balms for you to try.
Below, we've rounded up 22 of our favorites made with high-quality ingredients and having enough variety in texture, form, and shape to satisfy just about everybody.
.

Best Lip Balms
The TikTok Favorite
While this is technically an overnight mask, many people have repurposed it as a lip balm. The sweetly scented mask has a thick layer of ingredients like coconut oil and shea butter that help to nourish and smooth lips overnight.
The One That Helps With Lip Lines
It probably takes at least a few weeks for the hyaluronic acid in this stick to actually diminish lip lines, but it certainly makes lips feel plumper the minute you swipe it on. Maybe it's the tri-peptides working over time at boosting collagen production, or the violet leaf extract's antiseptic properties providing that slight tingle. Comes in an untinted version, too.
The One That's Incredibly Rich
This balm — made mostly of coconut oil, avocado oil, bees wax, and shea butter — might be curiously grainy to the touch, but once it's on your lips, they will feel as though a gentle cashmere blanket has just been draped over them.
When Chic Matters Almost as Much as Clean
Sofia Coppola is a fan of this shea nut oil, olive oil, and beeswax concoction — and Cap Beauty and Goop have both given it high marks. Its variety of shades — from French Melon to Persimmon to the pale gold Fete — offers something for every skin tone, but it's available sans color.
If You Want to Buy in Bulk
Like Vaseline, this is a classic, no-frills, fragrance-free, flavorless formula that will work on even the most chapped lips. Ingredients include shea butter, beeswax, and petrolatum to seal in moisture and soothe very dry skin.
If Your Lips Are Sensitive
After years of seeing patients experience adverse reactions from drugstore ointments, Seattle dermatologist Heather Rogers created this occlusive salve. Made of castor seed oil, caster wax, and glycerin, it feels (and looks) like a petrolatum-free version of Vaseline.
If You Want Shimmer
At first glance, this looks like a standard lip balm with a sheer pink tone, but two elements in its formula —a glow-up oil base and a light-focusing oil — give it a little extra luster when applied to lips, sort of like what highlighter does to cheekbones.
Another Affordable Option
If you like the multipurpose favorite Skin Food cream and its scent, you'll love the lip balm. This nourishing lip treatment has an oilier formula with a slight sheen. It smells just like the brand's signature scent and nourishes just as well. And it costs less than $10.
The Classic We Can't Quit
There's lots of reasons why this beeswax balm has stood the test of time. It instantly soothes lips with the mildest undercurrent of peppermint. It isn't shiny, glossy, or waxy. And a $9 for four, it's still the best deal in town. I have one in my car, one in my purse, one on my bedside table, and one in nearly every jacket I wear.
If You Want to Save Money
A tiny tub of this tried-and-true favorite recommended by Kim will set you back less than $5. This is a thicker balm, so it helps lock in moisture, but if you aren't a fan of the texture, you can just use it at night — like Kim does.
If You Want More Than a Little Tint
If a lip balm and a lipstick had a baby, this cushiony formula would be it. Depositing a little more pigment than most tinted balms, its eight shades range from shimmery sand to a deep wine. Can't decide what you want? Creator Gran makes sheer versions — all you have to do is choose between cinnamon and peppermint flavors.
The Super-Slippery One
Created by spa guru Susanne Kaufmann, this stick feels so slippery, it's surprising that it doesn't come in the form of a butter that you swipe out of a jar. Never fear — despite its soft outer layer, the formula (made of jojoba and castor seed oil and bees wax) is quite sturdy. It will not squish into mush or break off into your hands.
If You Can't Give Up Your Gloss
It comes in a tube, is applied with a wand, and makes lips look glossy — so you'd think it would be called a gloss and not a balm. But the shea and mango seed butters give it a distinctly smooth, whipped, non-lip-gloss feel. As a bonus, the sheer pale pink shade, called Hint Hint, works on every skin tone.
If You Want Something Glossy
The name really isn't an exaggeration — this glossy balm glides on and feels pretty buttery and smooth. It smells really good too. Shea butter keeps your lips nourished, while certain shades add just a hint of color and lots of shine.
The One That Tints Cheeks
This new brand specializes in body, hair, and face oils made from indigenous Caribbean ingredients like Jamaican Black Castor Oil and West Indian blossoms. Its three tints are packed with cocoa butter and coconut oil.
If You Want to Soothe Your Lips and Your Mind
The formula contains not one modicum of tetrahydrocannabinol (a.k.a. THC), nor is it made from weed. But the hemp-derived CBD in this balm imparts a comforting sense of calm, and all three scents — cocoa, peppermint, and rose — are so good that you'll probably want to take a deep whiff every time you apply it.
If You Want to Splurge
Kim loves this splurge-worthy balm for its "rich and supple texture that's not too heavy." Just like the brand's cult-favorite moisturizer, this balm features Augustinus Bader's signature blend of repairing and plumping ingredients — including candelilla wax, which is just as good as beeswax at helping skin stay moisturized, but it's vegan.
If You Like Having Options
Consider this the grown-up version of the Lip Smackers balms you loved as a tween. The multipurpose balm comes in a few different scents worth getting your hands on — like birthday cake, rose, mango, and coconut. The formula includes shea butter and synthetic beeswax to keep lips nourished. These aren't really glossy, but a few scents are slightly tinted.
The Cut Shop Favorite
If you've been on the fence about Hailey Bieber's buzzy lip treatment, let this be the push you need. Eight Cut staffers put this peptide-and-shea-butter-rich lip glaze to the test. The general consensus: Yes, it's a must-buy.
The Multitasker
Cut blogger Danielle Cohen swears by this little tin of multitasking balm to tackle dry lips and even cuticles in a pinch. At just $20, the balm, infused with honey and shea butter, lasts her about a year.
If You Love the Classics
This favorite from Cut managing editor Rachel Bashein nourishes lips without the shine, flavor, fragrance, or waxy feel. It also features some dermatologist-approved ingredients such as shea butter and beeswax.
Another Glossy Option
This gives lips the glossy shine and moisture of formulas like Rhode's without fragrance or flavor thanks to its hero ingredients: shea butter and squalane.
Our Experts