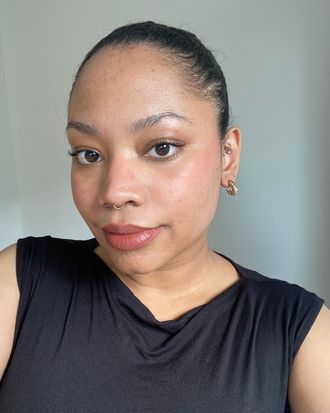 For the perfect lip look, you'll need to find the best lip liner on the market — well, that's easier said than done. The quest to find one that matches your natural lip shade or even your favorite lipstick can be just as hard as matching your foundation or finding a sunscreen that doesn't leave a white cast. Luckily for you, I've been testing all of the above and, of course, lip liners, too, so you know you can trust me. Bookmarking every lip-liner and lip-gloss pairing I see on TikTok, I have worn them through meals, masking, and daily shenanigans. Here are the ones that go on easily, rarely need to be reapplied, and almost never have to be sharpened.
.

Our top picks:
The Best Liner and Lip Pairing
Outside of the fun bright-blue packaging, this is a very good liner and probably one of my favorites. The shade Riche is the perfect nude and has a smooth matte, but not flat, finish. The brand takes some of the guesswork out of lip-liner and lipstick combinations. I recommend splurging on the lip compact, which includes a moisturizing primer and pigmented lip color that pairs perfectly with the liner shades.
The Best Nude Shades
By far my favorite range of pink and brown nudes. The sculpting liner is perfect for shaping the lip or adding color all over. It comes equipped with a smudging brush on one end, but I find it easier to blend with my fingers or just by rubbing my lips together. I keep at least one of these liners in my bag.
The Best Luxe Liner
When it comes to lip liners, makeup artists really get it, and this one from Isamaya Ffrench's line is no exception. The liner has a superthin tip, making it easy to line the lips precisely and allowing the formula to apply without dragging. I find this is best for a more dramatic lip line, but there are more subdued shades if you prefer a different look.
More options:
The Fan Favorite
Ask anyone what lip liner they like and they'll probably pull a gently used M.A.C Cork out of their bag. Cork is a muted brown that fits most skin tones, and the formula blends easily and lasts all day. M.A.C also offers a range of liner colors, from very muted browns to bright, pigmented pinks and reds.
The Drugstore Favorite
NYX's affordable pencils are just as good as M.A.C's, and the brand may even have a dupe of your favorite shade. As the name suggests, this one is long wearing and easy to blend, and NYX probably has one of the best shade ranges out there, with nearly 30 to choose from.
Another Good Drugstore Option
If you don't want to spend a lot, you don't have to. At just under $10, this is a good, easy-to-use, classic pencil liner. It comes in a couple of long-wearing shades, including one reviewers say is close match to Charlotte Tilbury's Pillow Talk.
The Most Underrated Liner
Sephora's underrated in-house line offers one of the best affordable liners. These creamy, pigmented liners are about half the size of a regular one but are good for stashing in your purse or grabbing last-minute before a trip. The shade range is lacking, but Sephora does offer full-size liners in more colors; they'll just set you back a bit more.
The Best Liner Under $5
I'd argue that Wet n Wild is one of the most underrated drugstore brands; the now-discontinued Megalast Lip Color was one of the best lipsticks I've ever tried. However, this liner is pretty good too. If you're over pencil liners (and having to find a sharpener), this is a great option.
The Best Shade Range
Long before ColourPop made its way into stores, I was compiling lists of its vast collection of viral liners and lip colors to buy online. Like NYX, the brand has a solid range of colors to choose from on its site and even more lipsticks and glosses to pair with them. Retailers like Ulta have a good amount of nude shades. At just under $7, it's an easy-to-blend, creamy formula, and if you're willing to spend a little more, you can buy every shade for just under $100. The only caveat is I find it difficult to sharpen.
The Cult-Favorite Liner
This velvety liner is another fan favorite. Pillow Talk is the viral pink-nude shade that fits most skin tones, but there are a handful of other shades to shop, from rich browns to berry pinks. It's likely you'll find a "your-lips-but-better nude," and if you do, this is probably one of the best for overlining and wearing all over.