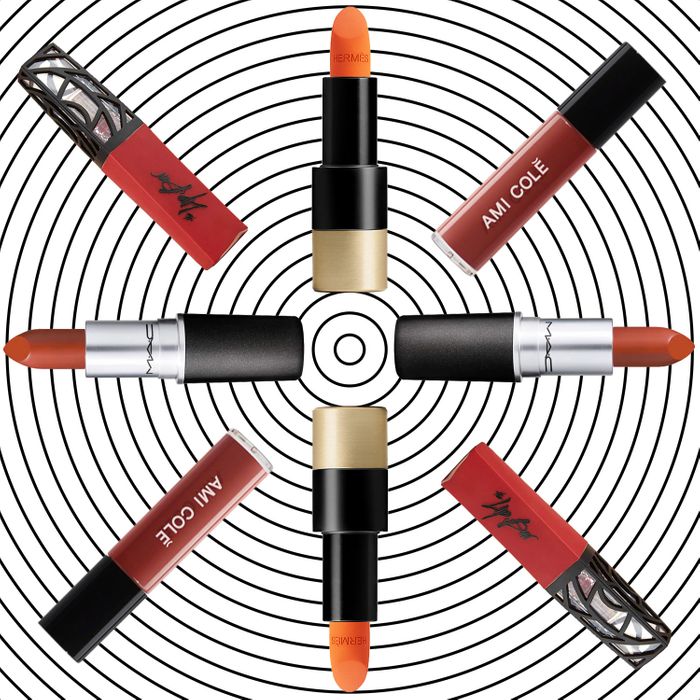 Photo-Illustration: The Cut
There's a national day for basically everything. Today happens to be National Lipstick Day. Go figure! Beauty brands across the industry love to celebrate the occasion in different ways. Some, like MAC and Pat McGrath Labs, have major lipstick sales while others like LYS Beauty launch new products.
However, we don't just celebrate lipstick on July 29. The Cut's style team loves the art of the perfect pout year round — some of us love mattes, some prefer nude hues, and some love cult-favorites. One lip product we all agree on though is: Ami Colé's lip oil, which speaks to how universally fitting the shade is.
Lipstick is a language; a bold lip can empower you, a glossy lip can be flirtatious, and the perfect nude combo is ideal for someone who prefers a no-makeup, makeup look. Overall, lip products are the one makeup product that has something for everyone.
From lip-liner tips and tricks to using other products like blush on our lips, here are our favorite lip combos that are near and dear to us
Asia Milia Ware, beauty and fashion writer
I am a red-lipstick girl. It's my go-to because it makes me feel like a boss and it complements my face so well. The Lip Bar's Bawse Lady has always been my favorite red thanks to it's a brick-like color with blue undertones.
While it dries matte, the application is gloss-like and it leaves my lips feeling smooth. I line it with my favorite creamy NARS liner in a bold siren red. To create a subtle ombré effect, I finish the look with a tiny bit of Lip Bar's Hot Mama (which has a more orange undertone red) in the middle of my lips, and voilà, I have the perfect red that lasts all day long.
When I'm not in the mood for a red lip (or it doesn't fit my outfit of the day), I always opt for the cult-favorite Ami Colé lip treatment oil.
To maximize on the luscious shine and perfect tint, I line my lips with a deep brown on the outer lips and proceed to use a hydrating and deep brown, lip liner on my actual lips.
Not only does it leave me with a universal and sexy nude, but it also brings all the attention to my lips so I don't even have to worry about the rest of my face. Who said a nude lip can't be a bold?
Joanna Nikas, deputy style editor
I rarely even wear lipstick; instead, my go-to lip liner color is Charlotte Tilbury's in Iconic Nude. To apply, I use the Mario Dedivanovic liner trick: Overline the cupid's bow of your lips and then draw the liner slightly in on the corner of your lips.
That way you don't look like you've overlined your lips. I then apply a cream blush to the center of my lips instead of lipstick. Yes, a cream blush.
I usually use Nars' air matte blush in Darling, because it is my lips, but better. Plus: It helps set my liner.
Bianca Nieves, senior shopping editor
I'm a routine type of gal. I stick to the lip recipe that I like and simply switch the "ingredients" as it seems fit.
My current on-the-go lip combo is Buxom's Power Line Plumping Lip Liner paired with Merit's Signature Lip Lightweight Lipstick in Tiger, and Ami Colé's Lip Treatment Oil to top it all off.
It goes with absolutely everything in my closet and it reminds me of the lipsticks my mom used to wear in the '90s. We love a good nostalgia moment.
If I want a statement lip, I always gravitate toward orangey red lipsticks and the one that always gives me the most compliments is the Rouge Hermes Orange Boîte matte lipstick.
Danya Issawi, fashion news writer
As of late, I've perfected my elevated, ride-or-die lip combo: Charlotte Tilbury Pillow Talk Lip Cheat liner (go for a darker shade and do not neglect the corners of your lips when applying!) combined with the brand's Pillow Talk lipstick in the original shade, now top that all off with the Fenty Gloss Bomb Heat plumper in the shade "fu$$y heat." Disclaimer: the Fenty plumper does sting a little, but the makeup artists at Sephora swore to me it was better than the Dior lip oil, and they've never steered me wrong. This combo makes my lips look like two, perfect little cushy waterbeds, just how I like it.
My go-to shade when I'm in a rush is Revlon's Rum Raisin. No fuss, I've been a devotee since high school when my friends who were on the dance team hooked me on it. This shade has got longevity, clearly.
Chinea Rodriguez, shopping writer
One of my favorite lip combos at the moment is a brown lip liner and sheer lip oil. It's such an easy and pretty look even if it fades. I switch back and forth between the Ami Colé Lip Oil and the Dior Lip Oil (yes, the TikTok hype is real!)
For $5, NYX lip liners are also pretty good and they have a ton of brown shades. Sweet Street Cosmetics two-sided lip pencil is also great if you have a bit more of a beauty budget.
MAC's Whirl is probably one of my favorite lipsticks shades of all time. The color is the perfect pink-brown so I don't like to alter it too much with liners. Its matte formula is ideal to layer over a balm and finish it off with a clear gloss. I always use the Fenty Gloss Bomb or Essence's Extreme Shine Volume lipgloss.