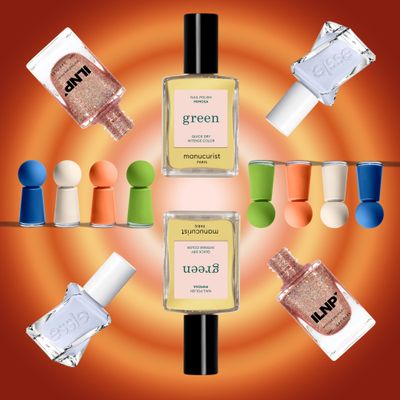 Photo-Illustration: Courtesy the retailers
For more of the Cut's favorite fashion, beauty, and home finds, sign up for the weekly Cut Shop Newsletter.
Confession: The last time I can recall having bare nails was when I was a 5-year-old. When I was 6, my mom painted my tiny nails before a ballet recital, and they haven't been bare since. The shade was Essie's Ballet Slippers (great choice, Mom).
I am a nail-polish obsessive and if you do the math, I've been obsessed for almost two decades. I've had more drunken nail-polish-shopping binges than I care to admit. At home, I wear rubber gloves for more than just washing dishes for fear of ruining my mani. Last week, my manicurist staged an actual intervention: She told me I needed a breather and sent me home with naked nails.
So you can trust me when I say that I've tried every polish on the market. and these are the ones I know won't let me down. I've also rounded up top-rated, no-chip polishes with some of the best feedback from reviewers plus some of the Cut editors' favorites, so read on for my list, broken down by how long each polish lasts.
The Best Long-Lasting Nail Polish, Hands Down
Two coats of this polish will last you up to two weeks while maintaining a great shine. You don't need a base coat, but it's important that you use the brand's Gel Couture top coat for the best results. There are over 50 shades to choose from in the Gel Couture line, and I can say with confidence that any bottle is a reliable investment. — Cleo von Siebenthal
More Long-Lasting Nail Polish Options
The Shiniest Long-Lasting Nail Polish
Butter London claims their new formula has ingredients that promote healthier, stronger, and brighter nails, and I believe them. This has lasted me up to ten days with no signs of chipping and lots of shine. Some polishes leave my nails stained or yellowed, but not this one. — C.S.
The Most Colorful Long-Lasting Nail Polish
You've probably seen these sweet, candy-colored nail polishes on Instagam, on the hands of celebrities like Mandy Moore and others. They arguably made the Skittles manicure a thing (with the help of Harry Styles), and are known for having some of the longest-lasting polishes ever. The brand held a "Mani Marathon" contest and one client said her manicure lasted without chips for 21 days. — Kathleen Hou, former beauty director
The Best Long-Lasting Drugstore Nail Polish
Chips in dark polish stand out much more than in light colors or nudes. This one normally remains chipless for around seven to ten days if you apply two coats plus a layer of the brand's top coat. Miracle Gel polishes were one of the first in the market of UV-free, long-lasting polishes, and they've continued to be an affordable drugstore favorite. (The Cut and the Strategist both love them.) — C.S.
The Best Neutral Nail Polish You Won't Have to Touch Up
Photo: Hudson Cuneo
I can always count on OPI's Bubble Bath to stay intact for days. This is the color I use when traveling, because I won't have to worry about having to touch it up. Just two thin layers will give your nails a nice natural sheen without bubbles or cracks. Some darker OPI polishes chip at the two day mark, but the lighter, sheer shades tend to have longer lifespans. — C.S.
The Best Long-Lasting Cruelty-Free Polish
Ella + Mila's quick-drying and chip-resistant nail polish is opaque and doesn't require multiple coats — unless you prefer to apply more than one. It's also vegan, cruelty-free, and 17-free, meaning it's free of 17 harsh ingredients like formaldehyde and camphor that can be common in some nail-polish formulas. This specific shade has more than 4,000 ratings with a rating of 4.5 out of 5, but if blue isn't for you, there is no shortage of other equally vibrant colors. —Lauren Adhav, Cut Shop contributor
The Best Long-Lasting Nail Polish That Feels Like a Gel
This polish gives gel results without the UV light or the foil-removal process. Do three coats, and it can last up to ten days without a chip. While it does take a little while to dry, the wait is worth it. Note: You can use it with any base and top coat. — C.S.
The Best Sheer Nail Polish to Wear for a Week
Although this polish doesn't claim to be gel-like, it can last up to seven days with two to three coats. It also dries fairly quickly. Pixie is a perfect light-pink gloss that doesn't crack after a few days of wear. What's great about Jin Soon polishes is that they're free of harsh chemicals, have UV filter protection, and are not tested on animals. Jin Soon polishes are also now 10-free, meaning that they are free of formaldehyde, toluene, DBP, formaldehyde resin, camphor, xylene, ethyl tosylamide, triphenyl phosphate, parabens, and lead. — C.S.
The Best Long-Lasting Polish From a Luxury Brand
From personal experience, this gel-effect polish goes on extremely smooth; plus the brush shape and length give you a salon-worthy mani when you're doing it at home, filling even the hard-to-reach areas of your nails with rich color. With the proper base and top coat, it can last about ten days or longer and has a glass-like shine. Yes, it's expensive because it's Dior, but the reviewers also say the price is well worth the wear you get out of a single bottle. —L.A.
The Best Glittery Long-Lasting Nail Polish
This nail polish has close to 2,000 five-star reviews on Amazon. The brand, ILNP (which stands for I Love Nail Polish), is also loved by the Laqueristas, Reddit's nail-obsessive community. Reviewers love its durability and opacity (you only need one coat), and say the colors are so pretty that they wish they could dip their whole bodies in them. — K.H.
The Best Cool Colors
If you tire of pastels, you'll love J.Hannah's "ugly cool" colors — the nail polish equivalent of "ugly pants." Many of the colors are jolie laide like this very striking sludge green, which is called Eames. The brand's Instagram is full of beautiful hands, artfully draped like a 1960s Vogue. — K.H.
The Best Long-Lasting Red Polish
This shade is called "The Perfect Red" for a reason. It's not too cool but not too warm, plus it's bright enough to make a statement but still super-chic. The long-lasting formula is enhanced with nourishing ingredients like bamboo extract, sea-buckthorn oil, and rice-bran oil. — Brooke LaMantia, Cut Shop contributor 
The Perfect Mix-and-Match Pack
Even if you're anti–celebrity beauty brands, believe me when I say this biodegradable and 12-free nail polish by Harry Styles is worth breaking the rule. The colors are flawless and include some of my favorite shades to regularly paint my nails, including royal blue and lilac. The pack is great for those who like to play around and paint every nail a different color. Plus, the formula lasts long enough for me to get plenty of compliments before it's time to try out another color combination. — B.L
Plus a Few More Long-Lasting Favorites From Cut Editors
Nail polish obsessives love this black polish. They praise it as even better and richer-looking than Chanel's Black Satin, the original shade which kicked off the black polish trend in 2006. And you only need one coat. —K.H.
Like Jin Soon, côte is "10-free" – guaranteed to be free of the ten most toxic ingredients found in polishes. If you hate sparkle, you'll like this brand's Farrow and Ball-like approach to matte nail-polish color. —K.H.
These luxurious Black-owned polishes are also 10-free, in addition to cruelty free, and vegan. They apply like a dream, stay just as smooth and chip-free well past the week-mark, and come in unique colors that pop on all skin tones, like this groovy chartreuse that'll transport you straight to summertime. —K.H
When in doubt, paint your nails yellow. The color evokes happiness, so add it to your beauty routine when you're feeling down. This shade from Green is perfect and the polish is shiny and sleek. —B.L.
The brand describes this formula as an "intense plant-based varnish" that boasts a high-shine, glossy finish with a strong staying power. The raving Sephora reviews praising the colorways and the gel-like finish are proof that this splurge polish is worth every penny. Plus, this is the perfect red hue for fall and the holiday season that will flatter all skin tones. Bonus: If you fell in love with this nail shade, Gucci Beauty also makes a lipstick in the exact same color. A win-win! —Maya Allen, The Cut's beauty director-at-large
In 2021 when the luxury French fashion house announced it was launching a nail-care collection, editors and influencers gathered in the downtown Manhattan storefront in anticipation of trying out the new polish. I personally gravitated to moody, vampy plum shade. It reminds me of a full-body Cabernet in polish form. The texture deposits a smooth, streak-free sheen on the nails that last for weeks on end. —M.A.
Our experts: