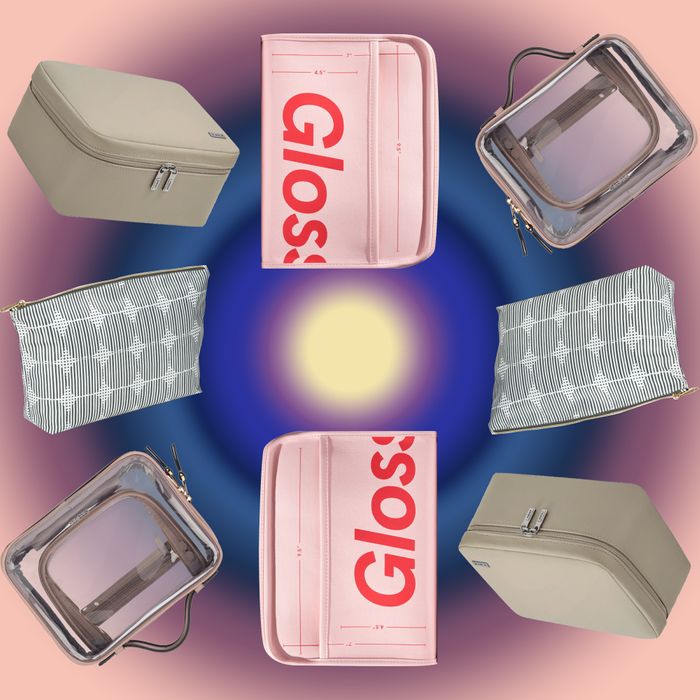 Photo-Illustration: by The Cut; Photos: Retailers
For more of the Cut's favorite fashion, beauty, and home finds, sign up for the weekly Cut Shop Newsletter.
It's a KonMari world and we're just living in it. But if parting with your makeup sends you into a spiral of panic (let's be honest, all 50 of those lipsticks spark joy), consider simply giving your beloved beauty products their own "proper place" — one that isn't "somewhere in that one Ziploc under my bed."
Even if Marie Kondo has shifted away from constant tidiness, a makeup bag is something worth investing in, especially if you're someone who travels often. And these makeup bags picked by experts (including the Cut Shop team) will help create some semblance of organization in your life.
The Vegan Leather One
Shay Mitchell's brand, Béis, has become a favorite when it comes to travel, and its cosmetic case is no different. "I love the cosmetics case," says content creator Ariel Oz. "It's very spacious and fits all my larger items. The removable brush holder is a game changer to stay organized and keep them clean. The best part is that it is spillproof, so it's super easy to clean for any foundation spills. We've all been there!"
The Simple One That's Surprisingly Spacious
Don't let this simple faux-leather case fool you. Inside is a spacious interior pocket for smaller products and a flat bottom that keeps the bag standing up on its own. Plus, it's social-media coordinator Candace Molatore's favorite. "It's large enough to fit skin care and makeup on either side, and the middle pouch is perfect for anything that might want to be kept separate from accidentally leaky powders or face oils."
The Insta-Worthy One
Photo: Courtesy of Glossier
Let's be honest. Anything from Glossier is worthy of a spot on social media. "The removable felt pouch inside is genius, and it helps me organize my makeup by category of eyes, lips, compacts, etc." says New York City–based content creator Vivian Li. "I'm super minimalist when it comes to everyday makeup, so this bag fits everything, and if I'm running late I tend to just grab it and do my makeup on the subway. Gross, I know! But essential for a girl on the go."
The One That'll Make Life Easier
Sometimes you need to see everything to use everything. If that's the case, Calpak's cosmetic case is the answer. Its best-selling case comes in three different sizes for the perfect travel companion and features a full zip-around opening and an ultraspacious zippered pocket on the inside.
Content creator Cyrus Veyssi loves this case because it's convenient and durable: "The dual pouches are perfect because I can easily split skin care on one side and beauty on the other. The material is fabulous, because if anything spills or breaks you can easily clean it up and it doesn't stain," they say.
The One With a Detachable Brush Holder
Created to be the travel bag, the customizable design from Away is the Cut senior shopping editor Bianca Nieves's favorite. The exterior is made from a water-resistant nylon and the bag features a spillproof interior, multiple pouches and storage, and a removable brush holder.
The One You Can Hang Up
"As a long-term digital nomad, I love this Bagsmart water-resistant travel case, which is easy on the eye and has various pockets," says travel writer Rosie Bell. Not only is the bag available in multiple colors, but it has three separate pouches to fit makeup and toiletries, and it can be hung up in bathrooms.
The Neoprene One
If you're looking for a makeup bag that you'd be comfortable pulling out in public, this neoprene pouch is for you. It features a removable air mesh zip-top pouch, inside slip pockets, and three loops for smaller items. It's the perfect middle-of-the-road size for holding the essentials with some room to spare.
The Well-Rounded One
This well-rounded bag comes with two removable zippered cubes, a flat cosmetic pouch, and protected brush holders, making it both a solid way to clean up your sink or vanity at home and a useful travel companion.
The One That Won't Get Squished
To avoid any unnecessary breakage, a hardcover makeup case is a great option. This duo vanity case from Etoile is made from a luxurious faux leather while the inside reveals two separate compartments containing a foldout mirror, a number of pouches, and a detachable divider insert.
The Very Simple One
If you're still struggling to get it together, fake it 'til you make it with this fun contraption. Simply throw all your crap onto the flat circle, tuck a few of the cylindrical things into the straps, then pull the drawstring to create a bag. Once you get to wherever you're going, reflatten the bag to quickly see what you packed without having to dump it all onto a bed.
The One to Overstuff
This makeup bag is perfect for weekend trips and is machine-washable for the ultimate no-worry use. It has a roomy interior and side pockets, but opens wide so you can access all those products you overstuffed.
The One That Feels the Most Professional
This customizable carry-all comes with plenty of pouches and an impressive seven sections. The sections are made up of removable dividers so you can customize and create the seven divisions best suited to your makeup collection or current mood.
The Holy Grail
At the top of Veyssi's wish list is the Dior Vanity Case. Crafted from lambskin, the bag features a band embroidered with the Dior signature. Plus, when our editor-in-chief, Lindsay Peoples, is flying, this Dior case is her makeup bag of choice.
The One That Will Last
Fashion news writer Danya Issawi has had her Vera Bradley cosmetic case since high school. "I don't feel bad roughing it up and wiping extra lipstick on it or spilling in it," she says. "The fact that it's held up for 13 years? I'm getting emotionally attached." While the patterns might have changed over time, the interior pocket and durability make this bag worth a trip or two, even if one of them is down memory lane.
Our Experts: