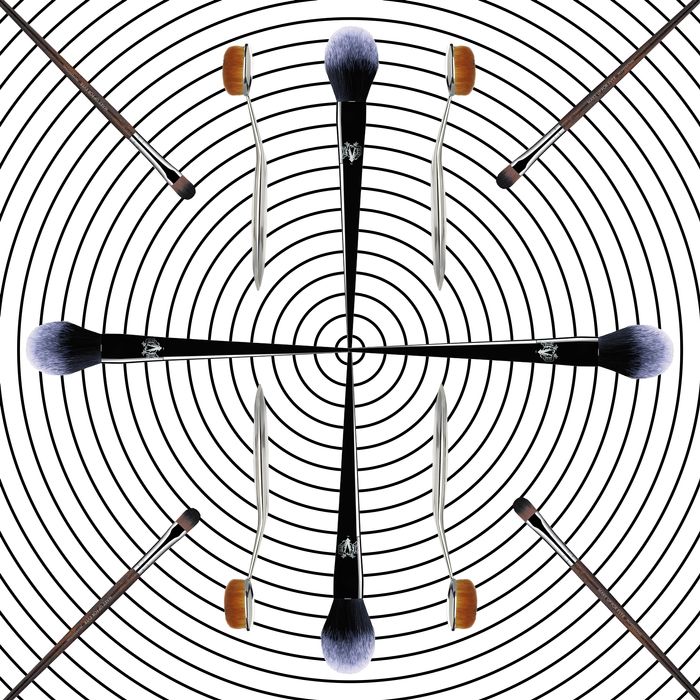 You've already bought the perfect foundation, but now you need to get it on your face. Hold on! The wrong brush, like the wrong foundation, can ruin your entire look. But don't despair: the Cut rounded up the best brushes to enhance your complexion. Read on to discover 11 magnificent makeup tools you should have in your stash, from a fancy Japanese import to the $6 concealer brush you should run to — not walk — to make it your own.
What: Kat Von D Lock-It Setting Powder Brush
What's it for? Loose and pressed powders that you apply all over your face, such as the translucent makeup-setting or mattifying kind.
Why it's great: The soft, long, and flexible synthetic brush hairs move powder around your face really well — you'll never feel like you're tugging at your skin. And the tapered brush head acts like a built-in portion control tool that prevents you from picking up too much product.
What: Hakuhodo Yachiyo Medium Tapered Brush
What's it for? Loose and pressed powders, just like the Kat Von D brush.
Why it's great: Because of their smart design, extensive variety, and plush texture, Japanese Hakuhodo brushes are considered by many makeup artists to be the best in the world. Aside from the difference in appearance, the Hakuhodo brush is even softer than Kat Von D's. Truthfully, it grabs and deposits powder just as well as Kat's, but the impressively soft goat hairs make my beauty ritual feel like a wonderful indulgence. I encourage you to try it yourself, if you don't mind paying $4 more.
What: Make Up For Ever's Medium Powder Brush
What's it for? Loose and pressed powders that you'd like to pack on more densely.
Why it's great: While the Kat Von D and Hakuhodo brushes work well for depositing a thin, even layer of powder, you'll want a brush with a denser collection of bristles if you're applying powder foundation. Make Up For Ever's Medium Powder Brush grabs and distributes a generous amount of product, meaning the color payoff is fantastic, and you won't have to constantly dip your brush in your makeup pot to execute a smooth complexion.
What: Artis Elite Oval 8 Brush
What's it for? Foundations of any texture.
Why it's great: Artis brushes are more expensive than most, but believe me, they are worth it. The Oval 8 in particular is packed with very dense hairs that deliver the most even foundation application I have ever experienced. The brush head is small enough to fit around the corners of my nose, but it's big enough to evenly spread foundation all over my face in about in a minute.
What: Morphe's E10 Tapered Concealer Brush
What's it for? Cream or liquid concealers.
Why it's great: Listen, all concealer brushes are virtually the same. They are typically small, equipped with synthetic hairs, and have a flat brush head. Morphe's brush meets all of those requirements, and it's cheap.
What: Make Up For Ever's Powder Kabuki Brush
What's it for? Loose and pressed powder bronzers.
Why it's great: A good bronzer brush offers a medium amount of coverage, so in the end you look healthily bronzed, and not like an entirely different person. This one does just that; the huge head transfers a conservative (not scant) amount of bronzer to your skin, and a few swirls around your face diffuses the color, so that the tanned effect appears natural.
What: Kat Von D Powder Contour Brush
What's it for? Large areas around your face that you'd like to contour, like around your forehead, or under your chin.
Why it's great: The angled brush manages how much product you can apply on your skin. Sure, it may take a little longer to achieve your preferred level of contour-coverage, but it's much better than a heavy-handed alternative.
What: IT Cosmetics Heavenly Luxe Pointed Precision Complexion Brush #11
What's it for? Smaller areas around your face you'd like to contour, like under your cheekbones or around your nose.
Why it's great: The pointed not-too-big but not-too-small tip makes contouring foolproof (newbies tend to apply too much). Just make sure to blend with a fluffy powder brush afterward so your face doesn't look streaky.
What: Zoeva 105 Luxe Highlight Brush
What's it for? Anywhere on your face where you'd like to add a bit of shine.
Why it's great: A lot of bloggers like to use "fan" brushes to highlight, but I've found that they don't pick up and deposit enough product. Zoeva's tapered brush, however, always delivers the perfect amount of shimmer to my skin. And you can use it with both powder and liquid highlighters, which is helpful when your routine includes multiple formulas.
What: M.A.C's 116 Blush Brush
What's it for? Blush, of any texture.
Why it's great: Occasionally, I will try out a new blush and discover that it is incredibly loosely pigmented and hardly shows up on my skin. Instead of growing frustrated and throwing the blush out, I always reach for my M.A.C. 116. The bristles are really good at gripping onto blush formulas, be it powder, cream, or liquid. All it takes is one brush swirl for me to have bright, rosy cheeks.
What: The Original Beautyblender
What's it for? Foundation, concealer, blush … virtually anything.
Why it's great: This is not a brush, but it is an amazing tool. Working with a cream or liquid foundation? Buff a damp Beautyblender along your face to diffuse the products for an airbrush-like effect. How about powders? Beautyblenders can handle those too; just press a barely-damp one into your skin. Sure, there's a learning curve to overcome, but once you master the Beautyblender, you might not need to use a regular brush at all.
If you buy something through our links, New York may earn an affiliate commission.