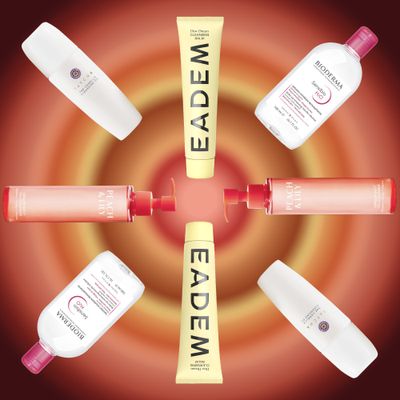 Photo-Illustration: by The Cut; Photos: Retailers
For more of the Cut's favorite fashion, beauty, and home finds, sign up for the weekly Cut Shop Newsletter.
Unless your name is Charlotte Tilbury or Dolly Rebecca Parton, chances are you're haunted night after night by the chore of having to remove your makeup before you go to bed. We've rounded up the best makeup removers out there to make the task slightly less aggravating, speaking to makeup artists and getting the Cut Shop team's input. Whether your removal process takes place above a sink or in the shower, here are 18 makeup removers in various forms (watery, oily, and balm) that get all that stuff off your face without a lot of tugging, scrubbing, skin-stripping, drying, or — most importantly — time.
The Best Micellar Water
Micellar waters are an excellent way to gently and painlessly remove makeup, and this one — which used to exclusively live in French pharmacies — is the mother of all micellar waters. It's capable of correcting flubs backstage at Fashion Week, removing a full face of makeup sans sink, and making even the most sensitive skin feel balanced, and people love it so much that it and its pink cap have ascended to cult status. For makeup artist Marco Campos, it's the one he gravitates toward the most often. "Since it's oil free, once dry, it won't disturb the rest of the makeup, causing it to travel or break down like some oil-base removers do. Pro tip: Use Bioderma Micellar water on a small Muji Q-tip to help clean up and perfect your wing liner."
The Best Cheap Micellar Water
If you're looking for another cleansing water with a pink cap at a single-digit price point, Garnier's formula has found a similar place in the spotlight. Its gentle yet effective formula is so nice, you'll think of this product rather than those lime-green shampoo-and-conditioner commercials with the Transplants song playing in the background whenever you read "Garnier" now, which is truly saying something.
The Best Luxury Makeup Remover
If you want the first step of your nighttime routine to be on the same luxurious level as the rest of your precious skin-care routine, consider investing in this stuff. Though it's just as liquid-y and French-sounding as the aforementioned cleansing waters, this is a cleansing lotion. Once you sweep it across your face, you'll get it — it leaves your skin feeling complete, like you cleansed, toned and did a whole serum situation. Other perks include a light, luxurious scent that makes you feel fancy and a very convenient press-down dispenser top so you never have to lift the bottle.
The Oily One That Means Business
If you're no stranger to eye primers and extensively drawing on and decorating your eyes (who among us isn't these days), this dual-phase remover will be your new best friend, just like it is for makeup artist Jaleesa Jaikaran. It's basically like double-cleansing your sensitive eye area in one fell swoop. The oil phase cuts through all that waterproof mascara and liner with minimal effort, while the water phase gently wipes everything away, leaving the eye area feeling silky and smooth.
The Oily One That's Down for Anything
Photo: Courtesy of Glossier
Glossier's cute l'il Milky Oil is another solid dual-phase remover that will get the job done without burning your retinas or smearing your former cat eye all over your face. But where it truly shines in its convenience and portability. While most liquid removers are homebodies, Milky Oil is a perfect 3.4 ounces, meaning it's always down to be tossed into a carry-on and accompany you on your travels.
The Oil-Free One That's an Oldie But a Goodie
Nostalgia is really in right now, and few things pull on the heartstrings more than seeing this blue bottle continue to thrive. Everything you need to know is right there on the front: This stuff is effective and gentle, and it does remove even waterproof mascara! If you're wary of putting oilier formulas like the dual phase ones mentioned above (and the rich balms that will be mentioned below) on your face, but want something less water-y feeling than a micellar water, this is the solid Goldilocks pick that still won't let you down.
The Cleansing Balm That Does More Than Remove
If you view makeup removal as a physical manifestation of all the day's stress and anxiety being washed down the drain, allowing you to end your day at peace and start anew in the morning, then this luxurious cleansing balm will fit right into your ritual. The rich green formula feels indulgent from first scoop to final rinse off (especially if a muslin cloth is involved). Similar to the fancy cleansing lotion, this leaves your skin feeling like you did a whole lot more than remove makeup and realign your chakras; it's left cleansed, toned, and suspiciously moisturized in one step.
The Cleansing Balm You Can't Believe Isn't Butter
If you have a lot of makeup to melt, rest assured, this will melt it. The extra- rich consistency is not for the faint of heart, oil phobic, or breakout-prone, but one teeny-tiny scoop of this fragrance-free fridge-butter-like formula instantly melts into an oil situation that makes even the blackest mascara literally disappear into oblivion. You'll start to wonder if you ever had it on in the first place.
The K-Beauty Cleansing Balm
This cult-favorite K-beauty cleanser is so light, pleasant, and soft that you truly look forward to hanging out with it. Makeup gets removed with minimal rubbing; add some water to give your face a nice milky cleanse that doesn't leave your skin feeling too oily or too stripped. The lighter consistency of this formula makes it a great introductory cleansing balm for anyone looking to finally dip their toes (or cute little included spatula) in.
The One for Tough Makeup
There's "removing your makeup" pain and then there's "removing your colorful eye look that took two hours to do" pain. Thankfully, celebrity makeup artist Katie Mellinger has a beloved deep-cleaning makeup-removing oil that is perfect for tough looks. "You need to shake this oil-based cleanser before use, but I've never met a product that stands up against this remover," she says.
The Non-Oil Option for Tough Makeup
If you're anti-oil-based cleansers but still need some tough remover, this is Campos's answer. The formula is silky-smooth while also remaining extremely effective. What Campos loves most is that it's so gentle and won't cause any irritation around the eye area that many eye-makeup removers do. He describes it as "a must-have in my makeup kit."
The Cleansing Balm With Tiger Grass
Think no artificial fragrance or dyes, a mixture of skin calming ingredients like tiger balm, and a powerful texture that actually cleans off all traces of makeup. This cleansing balm is hydrating and soothing, making it a perfect remover for those who have sensitive skin like the Cut's senior shopping editor Bianca Nieves. And unlike other balms, this one comes in a tube for easy use.
The Caviar-Infused One
Whether you have expensive taste or just like the idea of a skin-care product containing caviar, this jelly makeup remover from Strip Makeup is worth the hype according to junior beauty writer, Asia Milia Ware. "This remover deeply cleanses the day's dirt, debris, and makeup off my skin while leaving me with a more hydrating and plump complexion, and it's only $49, which is a steal compared to my other caviar-infused skin-care products."
The One That Does It All
If you hate double cleansing, consider using a gentle oil cleanser to both remove your makeup and wash your face for the day. "It melts all my makeup off without leaving my skin oily or greasy, and it rinses off quickly and easily," explains Cut shopping writer Chinea Rodriguez.
The Creamy Cleanser That Feels Like a Cloud
This jelly cleanser from Herbivore works to gently remove makeup and cleanse the skin without drying, which is one of the reasons Mellinger loves it. It's a clean product that's made from a creamy and hydrating base of rose and coconut water. Plus, it's the prettiest pink color that you can find.
The Tried-and-True
If you have extremely sensitive skin, fear not: This tried-and-true facial cleanser from CeraVe can work as makeup remover on top of being a classic cleanser. "After I turned 25, my skin became incredibly acne-prone, and this line is one of the only ones that doesn't make me breakout," explains Cut fashion news writer Danya Issawi. "This is my favorite cleanser, and I always double-cleanse when I'm wearing makeup."
The Perfect 2-in-1 for Sensitive Skin
Tatcha's best-selling cleansing oil is moisturizing enough to use every day without drying out your skin but strong enough to remove all makeup. Even in the form of an oil, it works to melt away excess oil while nourishing your skin at the same time, even if it is hypersensitive. Rachel Bashein, the Cut's managing editor, loves this cleanser: "if it ain't broke, don't fix it."
The One Made With Olive Oil
If you're in the market for an oil cleanser to remove all your makeup without stripping your face and that is light enough to follow up with another cleanser, this is it. It's also another favorite of Nieves — it's her go-to when it comes to traveling. She always stocks up on the travel-size bottles to have them ready whenever a trip arises.