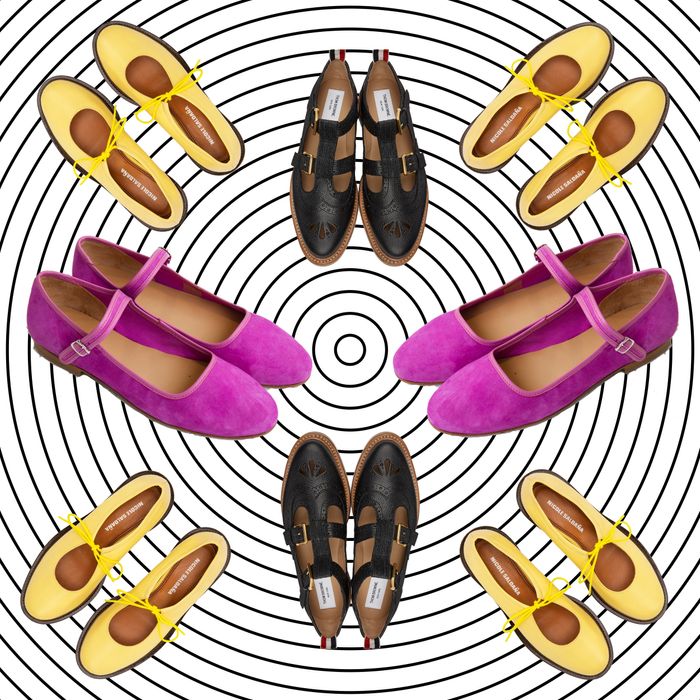 Photo: Courtesy of the retailers.
Where do Mary Jane shoes get their name? As the story goes, the original Mary Jane was a young female character created by the American cartoonist Richard Felton Outcault in 1902 for his Buster Brown comic strip. She was based on Outcault's daughter of the same name, and wore little black shoes with a strap across the front. When Outcault later licensed his characters to the Brown Shoe Company, the name stuck, and they've been seen as a sort of sweet, childish shoe ever since.
Because they've been around for so long, Mary Janes are perennially in style, but also have their moment in the sun every so often. Now is one of those times. Chalk it up to a newfound love of house shoes or a desire for some innocent fun, but they're everywhere again — and in so many sophisticated shapes and sizes and colors that Mary Jane herself would probably be impressed. Read on for 23 of our favorites.
The Affordable Basic
They don't offer much support for trekking around town, but the padded insole is something.
Some Spring Florals
To match your floral face mask.
The Square-Toe Shoe
Sweet, but with some edge.
The Easy Summer Staple
To go with your full-linen Nancy Meyers rom-com look.
The Party Shoe
So that everyone can see your moves on the dance floor.
The Fun Print
With a thick strap for an extra centimeter of flare.
The 'Life's a Party' Party Shoe
Photo: Sungjune Jang
Wear them grocery shopping, or to the office. Why not?
The Satin Theater Shoe
A great WFH shoe that's a little fancier than a slipper.
The Concert Shoe
With a double strap, these sturdy shoes could survive a mosh pit.
The Soft Leather Shoe
This shoe looks way more expensive than it is. It also comes in a mint green!
The Walkable Heel
Camper makes the comfiest shoes.
The Prada Dupes
They look a lot like Prada's Resort 2020 collection, but for much less.
The '90s Throwback
The Colorful House Shoe
Join the wait list if you can't find your size. They restock fairly regularly!
The Platform Disco Shoe
The Colorful Basic
They come in a rainbow of other colors as well, from grass green to sky blue.
The French Girl Go-to
The Lace-up Style
A fun new take on a classic design.
The Art School Shoe
The Double-Strap Heel
The Picnic Shoe
Perfect for your next party in the park.
The Minimalist Dream
Leather like buuuuuuutter.
The Ultimate Splurge
Mary Jane is all grown up, with a lot of disposable income.