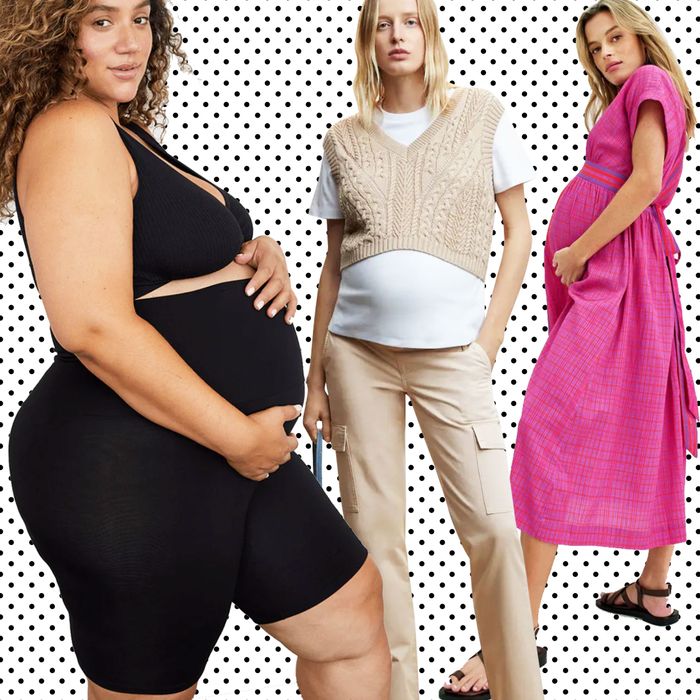 Photo-Illustration: by The Cut; Photo: Retailers
For more of the Cut's favorite fashion, beauty, and home finds, sign up for the weekly Cut Shop Newsletter.
Wherever you land on the spectrum of maternity style — from Old Mother Hubbard to bump-baddie Rihanna — you've got options. The best maternity clothes may already be in your closet (or someone else's!) to start. You can ask around for hand-me-downs or thrift and shop the labels you love in bump-friendly styles. And though you don't need an armoire's worth of new clothing, there's really no way of getting around buying at least a few pregnancy-specific pieces. Ahead are maternity-clothing options to help you waddle toward the finish line.
The Best Maternity Dresses
The last thing you need to do is overspend on clothing you can only wear for a month or two in your life. To avoid that, head to H&M's MAMA section for easy styles like this classic calf-length dress that's relevant now or later (if you plan on getting pregnant again).
Available in sizes XS–XXL. 
Hatch makes elevated maternity (and postpartum) clothing you'll want to wear pregnant or not. This breathable cotton wrap dress is basically a robe with a few structured trimmings — which is great, because at a certain point that's all you'll want to wear. Since it's adjustable with a simple tie-back, you can wear it well after you give birth.
Available in sizes 0 (XS)–4 (XL). 
A puff sleeve midi-dress is a modern motherhood rite of passage, and ASOS makes a shining exemplar. The New Look dress offers comfortable coverage, a flexible ruched bust, and a safe midi length that you can wear anywhere.
Available in sizes US 4–14. 
A mama in mesh is a beautiful thing. This is another not-a-maternity dress that would simply crush at any maternity shoot or baby shower.
Available in sizes XXS–6XL.
This isn't technically a maternity dress, but pleats are your friend when pregnant; the limit does not exist to how big it'll feel you're getting, and this is designed to keep up with your ever-expanding belly.
Available in sizes XS–XL.
Hormonal fluctuations make everything very hot. This effortless chambray shirtdress will air things out.
Available in sizes XS–L.
A simple scoop-neck dress with a hint of stretch will get tons of mileage in your closet. The knit top will work with your changing boobs, and the voluminous dress will hide the bump if you're not ready to share the news.
Available in sizes XXS–XL. 
Dôen, regular-person brand, knows its way around a feminine dress, so it's no surprise the L.A.-based label makes clothing that doubles as a preggo's dream wardrobe. You can shop pretty picks like this Sofia dress from the Pregnancy & Nursing curation now and bookmarks the Family Sets selection later.
Available in sizes XXS–XXL.
Take the "nap while you can!" advice to heart by buying Hill House Home's signature dress. That's what it means, right?
Available in sizes XXS–XXL. 
If you're worried about increased hyperpigmentation and melasma while pregnant, summer clothing can be hard to navigate. This modal twill dress will keep you cool while providing all the coverage you need.
Available in sizes XS–XL. 
Batsheva, for the preggo who resonates with Old Mother Hubbard. P.S.: Pregnancy is the perfect time to start thrifting; you'll want to do the same when you have a kid.
Available in sizes 0–12. 
Pushing your maternity-leave date to the very end? Here's a work-friendly knit dress that can go toe to toe with the meat locker that is your office.
Available in sizes XS–XL. 
The Best Maternity Sets & Skirts
Wear it with or without the cardigan — and with or without child.
Available in sizes XS–XL. 
If Jhene Aiko is your maternity muse, look no further than this ethereal two-piece.
Available in sizes 0–12. 
Mama-to-be's night out. We highly recommend getting it tailored so you can wear it on date nights postpartum.
Available in sizes XS–XXL. 
Bump Biddy makes maternity clothing for "Bumpshells" who want to stay cute while incubating a cutie. The regular selection is limited in sizing, but there's a Maternity Plus section specifically for sizes 1X–3X.
Available in sizes S–L. 
Wrap and tie-off skirts make great maternity clothing that you can keep in your wardrobe forever. This one is perfect for the babymoon you should probably start planning.
Available in sizes XS–XXL. 
If you aren't familiar with Maisonette yet, get acquainted. The multi-brand retailer was founded by two former Vogue editors and envisioned as the Net-a-Porter for kids. Sold! It also carries a great selection of clothing for grown-ups, as well as a mama-and-me line via Maison Me, Maisonette's in-house label.
Available in sizes XS–XL. 
The Best Maternity Leggings
Hard pants? While gestating? Pass. A solid pair of maternity leggings are essentially mandatory since they are capable of moving and growing with you. Girlfriend Collective makes the softest pair; it comes in a range of sizes and two inseams.
Available in sizes XXS–6XL and 28.5" or 23.75" inseam. 
For a pair of maternity leggings with a bit more support around the bump, look to Blanqui. Mom-fluencers love the brand's aesthetic and the fact that the leggings come in a slew of serene colors.
Available in sizes S–XL. 
Sometimes the hot flashes simply don't allow for leggings. Luckily, Storq's bike shorts would look adorable under a flowy button-up shirt or oversize sweater à la mother Princess Di.
Available in sizes Petite–4XL. 
A pregnant woman in a tennis skirt? Name a cuter situation. Beyond Yoga has an expansive maternity collection that's frequently updated, fun, and, above all, comfortable.
Available in sizes XS–XL. 
Sitting somewhere between pants and leggings are these adorable cropped flares from Hatch.
Available in sizes XS–XL. 
The Best Maternity Pants
If you still want to be on-trend while pregnant, Mango has you covered. These cargo pants have a hidden over-the-bump panel that'll actually stay up as you grow.
Available in sizes 2–10. 
You can still wear your favorite Madewell mom jeans with this pair that's actually engineered for moms. The Perfect Vintage Straight is quite literally perfect, especially with the edition of a full-belly panel and a clever high-low waist design.
Available in sizes 23–24. 
While you can absolutely buy designer denim to wear while pregnant, you really don't need to. Old Navy is out here churning out well-fitting maternity jeans in three different band options (low, half, or full panel) and tons of styles.
Available in sizes 0–20 and short, regular, or long inseam. 
Best Maternity Jumpsuits and Overalls
Sometimes hot flashes simply don't allow for clingy clothing, and that's where tailored tents like this breezy cotton jumpsuit come in. Trust, you'll be lucky you have this during toddler playdates, anytime your little one is "helping" in the kitchen, or anywhere there is finger paint.
Available in sizes XXS–XL. 
Reserved for the baddest and boujiest bumps.
Available in sizes XXS–XL. 
Classic maternity style typically includes overalls. Not only are they cute, but the ones that are tighter to the body — like this pair from the Gap — will also support and lift your belly.
Available in sizes XXS–XXL. 
Nom Maternity makes functional pregnancy and nursing clothing, and this best-selling jumpsuit is proof. It features a wrap waist that grows and shrinks as you do and a V-neck for easy access to the boob during breastfeeding.
Available in sizes XS–XL. 
Similarly, this top-rated jumpsuit from Hatch is designed for every trimester but is especially helpful in the third, when you're at your biggest, and fourth, when you'll be snapping the buttons on and off repeatedly.
Available in sizes 0 (XS)–3 (L). 
Are we gardening or gestating or both? These dungarees are made of 100 percent cotton and intended to fit oversize, meaning one thing: airflow.
Available in sizes XXS–XL. 
The Best Maternity Tops
An oversize button-up shirt will instantly help you feel put-together, even though you've probably been wearing the same leggings for over a week.
Available in sizes XS–XL. 
You can't get around peplum tops during pregnancy if you want to really be comfortable. If it's not your style, head to Free People for a more modern take on the cut.
Available in sizes XS–XL. 
Leset partnered with Every Mother Counts (a nonprofit on a mission to make childbirth and pregnancy safe for everyone) on a capsule mommy-and-me collection. This cardigan is part of a gift-worthy set, and 50 percent of the purchase price will be directly donated to the Christy Turlington Burns–founded organization.
Available in sizes XS–XL. 
Think of the Fits Everybody line as hosiery for the body: Formfitting, breathable, and endlessly stretchy.
Available in sizes XXS–4XL. 
Wear it over the bump now, and tuck it into high-waisted denim later.
Available in sizes XS–3XL. 
You won't regret buying a multipack of snug shirts. Wear them with anything, and pack the black one in your hospital go-bag (hi, colostrum).
Available in sizes XS–XXL.