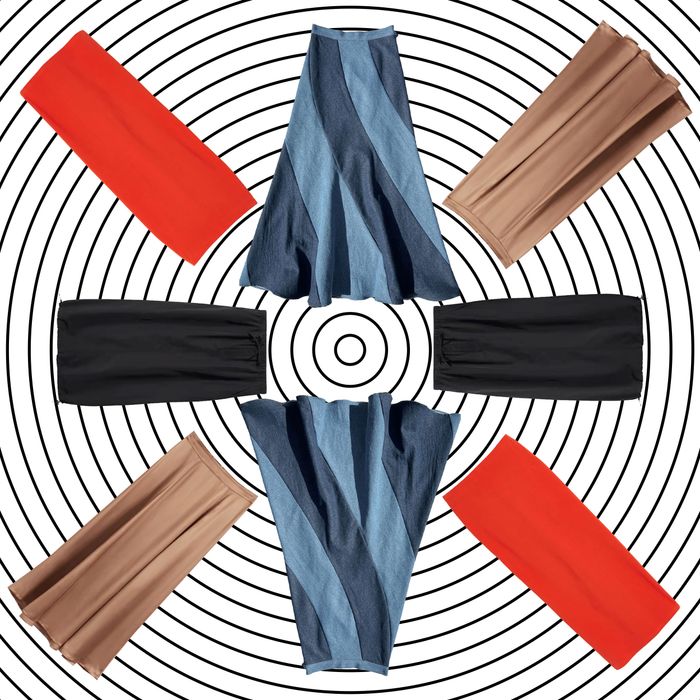 Photo-Illustration: by The Cut; Photos: Retailers
For more of the Cut's favorite fashion, beauty, and home finds, sign up for the weekly Cut Shop Newsletter.
If, like me, you have been anti-skirt for a while, it's time to give maxi skirts a try. It wasn't until I tried a Free People denim maxi skirt back in December (catch the exact one below) that my mind completely changed. The skirt looked just as good as my favorite jeans and pants without feeling as restricting and stiff. And I've been wearing it nonstop since.
Because unlike miniskirts, you don't have to worry about showcasing your underwear for the world to see. A good maxi skirt provides the coverage of a pair of pants with the flow and ease of a dress. Talk about range.
Since developing my newfound love for this garment, I have tried a good portion of the ones currently on the market, so I decided to round up some of my favorites to try to convert you to wearing them too.
Here are the best maxi skirts you'll want to replace all your pants with.
If You Want a Denim Maxi Skirt
The beauty of this skirt is how cool it is. I recommend sizing up to wear it lower on the waist and pairing it with oversize tops. It's surprisingly flowy, considering the denim fabric. All winter, I paired it with oversize sweaters and boots. Now, as the weather warms up, I'll balance it out with platforms and breezy button-down tops and tanks.
If You Want to Show Some Skin
Who needs a miniskirt when you have a super-high slit? Depending on your height, this skirt from Musier Paris can be midi or maxi skirt. For me — I'm five-two — it wears like a maxi skirt.
If You Want Something Size Inclusive
This option from Eloquii is just as chic as the one from Musier Paris but its sizing ranges from 14 to 28.
If You Want to Ditch the Cargo Pants
Try a cargo skirt instead. Local European's cargo skirt is form-fitting and flattering while still being easy to walk in. I've paired this with sneakers just as I would cargo pants, and since the silhouette is still pretty fitted, it looks just as good dressed up with heels and a "going-out" top.
If You Want to Turn Heads
I literally stopped someone in their tracks to find out where this skirt was from. It's just that good. The stretchy knit skirt comes in two colors and features cutouts and tassels. It's a heavier knit, but we're sure you'll get some use out of it before it gets too warm, and you can dress it up and down.
If You Want Something to Wear This Weekend
A slightly more fitted denim maxi that's way unlike the ones you wore in middle school. There's a modest but breezy slit in the back, and it comes up just high enough on the waist that you can comfortably pair it with crop tops for your weekend plans.
If You Want Something Office Appropriate
It's hard to choose from the Frankie Shop's many, many maxi skirts, but this one is a good place to start. The extra-long pencil skirt features pinstripes and looks just as good with blazers and button-downs as dress pants.
If You Want Something Versatile
This is like the T-shirt of maxi skirts, stretchy and fitted in the right places. It will match just about anything. You can pair it with tube tops for when it's too hot to pick an outfit.
If You Want Something Custom
Made of reworked materials, you can customize this utility skirt to your preferred length and colors. It takes some time, but at the end of the process, you'll have a pretty unique maxi skirt.
If You Want Something Sporty
Swap nylon pants for a nylon skirt. You get all the airiness of nylon without all the extra swishy noises. And while this is technically a midi skirt, depending on your height, this could hit mid-calf or fall right to the ankle.
If You Want Something Fun
There are many denim maxi skirts, but none quite like this paneled skirt from Batsheva. It's slightly flared at the bottom, so it feels a little more dressy, and it has a matching top.
If You Want Something Sheer
You'll have to be a little bolder to pull of this sheer cotton skirt. However, think of all the styling options! Layer this over bike shorts and pair it with warm-weather tank tops and blouses or oversize sweaters for chilly summer nights.
If You Want Something Fancy
We'll argue this satin skirt is just as versatile as the jersey one, but it has the upper hand when it comes to dressing a look up when paired with dainty heels.
If You Want Something Fast
This is a little shorter than the other maxis. But if you need something fast, this is your best bet. With prime shipping, you can get the silky slip skirt in one of 15 patterns and colors. A nice intro to the maxi-skirt life.
If You Want Something Affordable
Stretchy, soft, and under $20. What more could you ask for?
If You Want Something Summery
Available in several cool summer shades, this lightweight gauzy maxi is perfect for stashing in your carry-on or weekender bag. It's flowy and breathable and you don't have to worry about wrinkles.