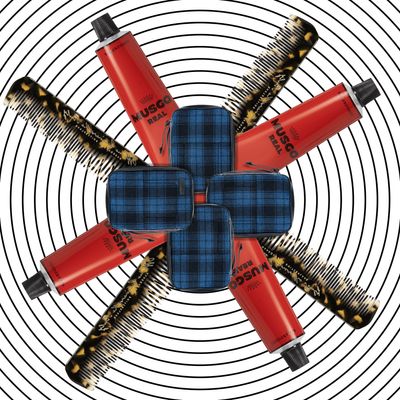 For the man in your life who is into exfoliating his skin and not his friends, allow us to recommend the best beauty gifts of the season. We looked at hundreds of holiday gift sets and combed through the offerings from multiple retailers to find the most useful and high-value products. From an unbreakable tortoiseshell comb to a cannabis candle that smells nothing like a dorm, here's what to buy.
For the Guy Who Needs His Own Skin-Care Routine
This six-piece grooming set includes an entire beauty routine. The minimally scented products include face wash, menthol-and-camphor shave cream, an SPF moisturizer, body scrub, hand cream, and shine-free lip balm. The skull and crossbones design is by Brooklyn artist Jeremyville.
For Making the Apartment Smell Good
The cannabis candle from Malin + Goetz smells upscale and heady at the same time. The unmissable scent of weed is freshened with notes of lemon, fig, sandalwood, and patchouli.
Harry's sets are sleek and affordable. The box includes the Winter Truman handle (praised for its texturized no-slip grip), six German-made steel blades, an after-shave balm, a travel blade cover, and a shave gel or cream. It also comes with a razor stand that can be engraved.
For the frequent traveler, consider this dopp kit-meets-briefcase from Baxter of California and Grayers. The navy-and-black plaid flannel case is equipped with zipper compartments to hold a tablet, chargers, headphones, combs, and lip balm, so even messy guys stay organized. It also comes with an under-eye cream (because men have delicate under-eye areas, too) and a lip balm.
Like a mood ring, this mask changes color over time. It goes on gray straight from the tube, gets speckled once the mud has absorbed oil, and turns light blue-gray when it's fully dry.
A French comb that won't snap or break, even when he puts it in his pocket.
Reviewers say that this Spanish shaving cream "glides like no other," creating a luxurious, fine lather for a razor to effortless glide through.
Three generously sized gym locker essentials including a body wash, face moisturizer, and shampoo. It also includes a case with a Carl Sagan quote, in case he's into one of the greatest astronomers of our time.
An after-shave that's supposed to smell like the fresh ocean as experienced from within a shiny-floored sailboat. Give it to the person who actually understands starboard right and left.
Shiseido's skin-care set is a luxe way to target dark spots and dryness and ward off future sun damage. It includes a cleansing scrub, moisturizer, SPF 40, a concentrate, and an eye cream. More importantly, it's a great deal – the entire kit is a $108 value.
If you buy something through our links, New York may earn an affiliate commission.