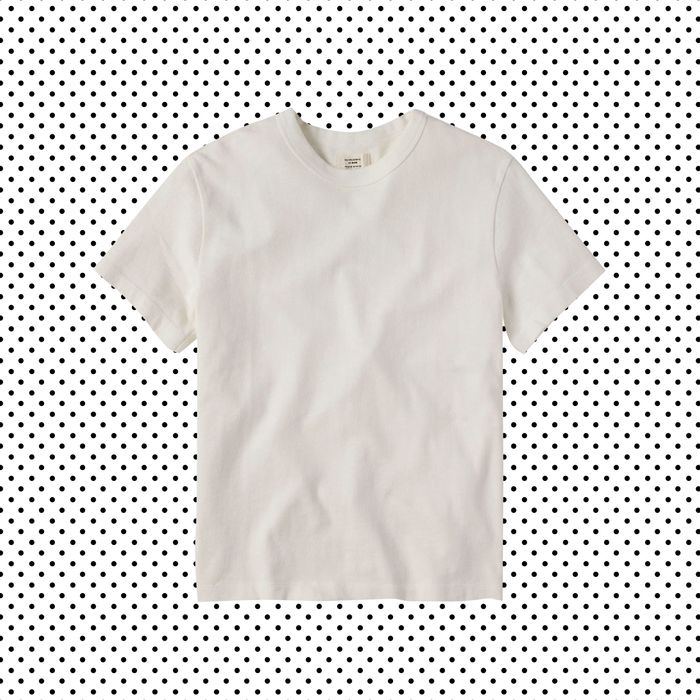 Photo-Illustration: by The Cut; Photo: Retailer
For more of the Cut's favorite fashion, beauty, and home finds, sign up for the weekly Cut Shop Newsletter.
There couldn't be a more symbiotic relationship than guys and white tees. Forget their dog, their preferred protein powder, or their subscription to the Criterion Collection; it's the white tee that's been there for them all along. To commemorate this relationship, we talked to a bunch of men (okay, and one stylist) about their favorite T-shirts. By and large, the responses were straightforward and unsentimental, which is exactly what a plain white tee is all about.
The undershirt
Sightly less exciting but by no means less iconic, Michael Jordan's 30-year-plus (though recently ended) Hanes endorsement thrust Hanes' white tees to legend status, and their appeal remains today. Benny Jackson, a Los Angeles–based creative director and photographer, simply states, "I go Hanes." He adds that they're cheap and comfortable, and, really, what else do you need from a great undershirt?
The one that isn't an undershirt
Buck Mason's Field-Spec Cotton Heavy Tee was a favorite among a number of guys we polled. It's the rare white tee that's weighty enough to wear solo comfortably but also works as a layer under open shirts and chore jackets. "I love that it's durable enough to handle any day, but still looks good," explains Matthew Tompkins, a New York City– and Los Angeles–based cinematographer. He says the boxy cut makes it endlessly versatile, whatever your style is.
The quiet luxury one
Another tee that can stand alone is this pick from AMI, recommended by Alexandra DeRosa, a New York City–based stylist. It'll set you back, but think of the subtle acknowledgment you'll receive when someone spots the brand's tonal Ami de Coeur embroidery on the upper left. DeRosa says the quality of the Parisian brand's tees is something to write home about: "It's a substantial fabric (read: not too flimsy) but still soft and cozy."
The one for skater boys
If your wardrobe is lacking in cool, chill, and somewhat aloof vibes, this tee may be missing from your repertoire. Founded by Brendon Babenzien (Supreme alum and current men's creative director for J.Crew), Noah blends music, skate, and surf subcultures into clothing with a devil-may-care look but a pretty wholesome core. Case in point: This tee, made in the U.S., which is a big deal for the brand and its ethical manufacturing ethos. "The colors have a wash that makes them look not too crisp, but lived-in," says John Finley, a Los Angeles–based creative director and motion designer. Styling tip: "This tee looks good over Stan Rays."
The one that lies about its age
Why spend hours browsing swap-meet aisles when you could just purchase a new tee with a vintage look and feel, sans armpit-sweat stains? Imogene + Willie is a Nashville-based brand that also specializes in USA-made clothing. Matt Varner, an Austin-based graphic designer, says, "The feel of these tees is the best. They are supersoft and fit like that perfect vintage tee that you keep coming back to because it lays on your shoulders better than your other shirts."
The one that doesn't feel like you bought it on Amazon
"The neckband is the perfect width," says Steven Griffin Garcia, a Los Angeles–based creator. Garcia hits on an overlooked but extremely important element of the plain white tee: the neckband. Too big, and it looks clumsy; too small, and it looks like a women's undershirt. On top of that, Garcia says these have a vintage feel to them that suggests a higher price point than the ticket would indicate.
The one (either) Bieber would wear
Coming in as one of the cheapest tees on this list, but with a more expensive feel and look, is this newish drop from Uniqlo. The oversize shirt is loved (on TikTok and elsewhere) for its extra-long sleeves, wider fit, and heavyweight fabric. Finley says he bought this shirt in numerous colors, but that the white may be the single most-worn tee in his wardrobe: "I like that it pulls together any outfit and looks way more expensive than it is."
The elevated one
"This ribbed Lemaire tee is special," says DeRosa. It's all in the details: She notes that the sleeves are a "wee bit" longer, and the ribs are extra-fine—almost imperceptible at first glance. DeRosa says, "It all feels a little more considered and elevates the basic T-shirt look." It's giving gift-worthy for the guy that has everything.
The one to wear on the ranch
"Once you go Pima, you never go back" is, no, not a phrase — but it may catch on after you wear this tee. You may know Tecovas for its cowboy boots, but the Austin-based label makes leather goods and really great apparel with the same focus on comfort, quality, and durability. "These tees fit great and don't get bent out of shape after multiple wears and washes," says Varner.
The slub (not to be confused with slob)
If you're wondering what a slub tee is, think of the lumpier fabric as almost the opposite of Pima. You're intended to feel the texture, but in a soothing, mushy-oatmeal kind of way, not a rough pavement feel. DeRosa says that this one is a favorite. "Anthony Thomas Melillo launched his brand with 'the perfect T-shirt' made of Peruvian cotton." She says they're an exception pick if you're staying at an under-$100 price point.
The one-size-up
Jackson says these are "pretty soft and you can always find a great deal on them." It's true; when is Gap ever not having a sale? When you find a great undershirt, you want to buy it in multiples; just consider going a size up in these, since they're known to shrink on first wash.
The one for stashing trinkets
For an easygoing tee with some stank on it (see: the pocket), DeRosa recommends this option from RVCA. The shirt has a slim but relaxed fit, and if you do end up buying it in other colors, know that it's pigment-dyed; this means it's dyed after it's made, which gives it a nice vintage effect.
The proverbial vegan of the group
"I originally got into this brand for its boxers," says Finley. "They were so soft, I ended up buying a shirt in the same material." Industry of All Nations specializes in 100 percent organic cotton clothing that's sustainably and ethically made in Tamil Nadu, India — which the brand says is "home to the world's finest organic cotton." The shirts are unbleached and undyed, plus they're preshrunk, so by the time you wear them they feel like a favorite well-worn tee.
Our experts