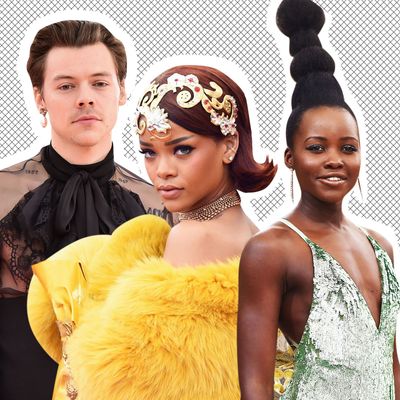 Photo-Illustration: by The Cut; Photos: Getty Images
Spend some time in the archives of Met Galas past and it becomes pretty obvious that while some celebrities merely attend the Gala and take the theme as a suggestion, others use the red carpet as an opportunity to steal the show. Or at least attempt to, anyway. For every celebrity who does their homework and nails the theme, there's an antic that falls short of the mark, making an outfit memorable in a whole other kind of way.
This year, the Costume Institute's theme and exhibit is "In America: A Lexicon of Fashion," and will be co-hosted by Timothée Chalamet, Amanda Gorman, Billie Eilish, and Naomi Osaka. With the Gala quickly coming up on Monday, September 13, we're taking a look at the best Met Gala looks of all time: the good (Rihanna, always), the bad (Nicki Minaj strapping Rei Kawakubo's face to her bodysuit), and the plain weird (Grimes and Elon Musk).
Still have questions? Here is everything you need to know about the Met Gala.
Most on Theme: Harry Styles, 2019
At first glance, Harry Styles's Gucci look left something to be desired next to the more exaggerated looks of the night. You might have asked yourself, Did he even get the camp memo? But take a further look and the singer actually nailed the theme with pointed heeled boots, a sheer-lace top (complete with a pussy bow), painted nails, and, of course, a single pearl earring. Like the Cut's Emilia Petrarca pointed out, "Harry Styles was camp because he went as the most beautiful version of Harry Styles. Like the best parts of camp, you shouldn't have to think too hard about it."
Most Outfit Changes: Lady Gaga, 2019
In true Lady Gaga fashion, Mother Monster arrived in a Brandon Maxwell gown and proceeded to change three times on the red carpet.
Best Lumière Impression: Katy Perry, 2019
Katy Perry rolled up to the pink carpet as a human chandelier, designed by Moschino, and later changed into a cheeseburger costume. As far as "camp" looks go, she understood the assignment. Even Jennifer Lopez was caught off guard.
Best Modern Day Bowie: Kristen Stewart, 2019
Kristen Stewart showed up with two-tone brows, an accidental but campy mistake by the actress's makeup artist. "I originally wanted to pop them out to a white color, but I removed the bleach prematurely and it was this cool banana color," Jillian Dempsey told the Cut. "Instead of toning it down, I just left them raw and punk."
Best Interpretation of a Rainbow: Lupita Nyong'o, 2019
Lupita Nyong'o's Versace look is the definition of camp, a.k.a. "doing the most."
Best Arrival: Billy Porter, 2019
Billy Porter completed his Blonds look with six beefy men. Chic!
Best Accessorized: Jared Leto, 2019
Jared Leto carried a replica of his own head, which is made by Gucci and runs for about €10,000, depending on the color of your eyes and hair.
Second-Best Accessory: Jaden Smith, 2018
After carrying his dreadlocks as an accessory at the 2017 Met Gala, when his sister Willow couldn't make it as his date, Jaden Smith brought his accessory A-game again wearing Louis Vuitton with his Gold "Icon" record.
Third-Best Accessory: Katy Perry, 2018
Not only was Katy Perry forced to squeeze through the museum door's sideways, but the singer almost knocked someone over with her Versace wings.
Best Daggers: Lana Del Rey, 2018
The singer emulated Our Lady of Sorrows in a Gucci dress, and looked like she had just walked out of a Renaissance painting.
Most in Bloom: Frances McDormand, 2018
Frances McDormand's Valentino Couture look didn't quite fit the "Catholic Imagination" theme, but her attitude certainly made up for it. Try to find someone else who had more fun than the actress on this night. I'll wait.
Most Catholic: Cardi B, 2018
Nothing is more Catholic than going as an actual religious icon. In an elaborate Moschino dress, the rapper walked the red carpet alongside Jeremy Scott.
Most Likely to Whip a Horse: Bella Hadid, 2018
Patricia Lockwood said it best. The model's dominatrix look was designed by Chrome Hearts.
Best Interpretation of the Theme: Rihanna, 2018
Rihanna's Margiela "Pope" ensemble was so captivating that some Twitter users even thanked her for inventing religion and converting them into Catholics.
Best Use of Armor: Zendaya, 2018
Zendaya's ode to Joan of Arc in custom Versace set the internet ablaze with praise.
Most Silicon Valley: Grimes With Elon Musk, 2018
Elon Musk and Grimes used the 2018 Met Gala to make their debut as a couple, with outfits designed by Musk no less. Years later, we're still trying to make sense of it and everything that came after.
Best Halo: Janelle Monáe, 2018
Janelle Monaé's wide-brim Marc Jacobs hat is not your run-of-the-mill halo, but then again, she's not a typical artist.
Best Office-to-Night Look: Tessa Thompson, 2018
So you're going out after work tonight? Leave the Thom Browne blazer, and just add a ball gown.
Least Cold: Solange Knowles, 2017
While everyone else wore bare dresses, Solange looked cozy in a Thom Browne coat. Early May can get chilly in NYC, you know?
Most Hydrated: Madonna, 2017
Why bother with a flask when you can accessorize your camouflage Moschino gown with a canteen of rosé?
Shiniest Head: Cara Delevigne, 2017
The removal process for this silver paint could not have been fun, but you have to admire Cara Delevingne's commitment. The suit is by Chanel.
Best Party-in-the-Front, Business-in-the-Back Look: Nicki Minaj, 2017
Nicki Minaj's H&M gown made people reconsider the rules.
Best Goth Tribute: Katy Perry, 2016
The singer wore a full-on Prada look, and you know what? No explanation necessary.
Most Out There: Madonna, 2016
The Queen of Pop's dress, by Riccardo Tisci for Givenchy, left nothing to the imagination. The singer later declared on Instagram: "We have fought and continue to fight for civil rights and gay rights around the world. When it comes to Women's rights we are still in the dark ages … The fact that people actually believe a woman is not allowed to express her sexuality and be adventurous past a certain age is proof that we still live in an age-ist and sexist society."
Most Matchy-Matchy: Kim Kardashian West and Kanye West, 2016
You've reached new heights when you match your Fear of God ripped jeans to your contacts.
Best Hair Game: Lupita Nyong'o, 2016
Lupita Nyong'o's 2016 look was a tribute to her African heritage. After the Gala, the actress took to Instagram to set the record straight after Vogue compared her hairstyle to Audrey Hepburn. The dress was designed by Calvin Klein.
Most Robotic: Zayn Malik With Gigi Hadid, 2016
Dressing for the future … in a Versace suit.
Most Lady Gaga: Lady Gaga, 2016
No one else could compete in this category. The singer, of course, wore Versace.
Most Cosmic: Solange Knowles, 2015
On this night, after walking the red carpet in a custom Giles dress, Solange tweeted: "It's just fucking fashion. Have fun. Take risks. But mostly, have fun. : )" Couldn't have said it better ourselves.
Most Meme-able: Rihanna, 2015
Only Rihanna can look this good with omelettes, pizzas, the cast of The Wizard of Oz, and other breakfast foods Photoshopped on her Guo Pei train.
Most Naked: Beyoncé, 2015
Beyoncé, Kim Kardashian West, and J.Lo all wore naked dresses to the 2015 Met Gala, cementing the rise of the couture body as a post-fashion trend. This dress was designed by Givenchy.
Best Mohawk: Sarah Jessica Parker, 2013
The theme was "Punk: Chaos to Couture." The inspiration for SJP's Giles Deacon look? The Spartan army, probably.
Most Electric: Miley Cyrus, 2013
Ever heard of Van de Graaff generators? A one-of-a-kind beauty look with a Marc Jacobs dress.
Most Memorable Print: Kim Kardashian West, 2013
The year was 2013 and Kim Kardashian West was pregnant with her first child, North West. Almost as quickly as she stepped foot on the red carpet, the memes started flowing in, some comparing her body-hugging Riccardo Tisci from Givenchy dress to the floral couch found on your grandma's house and Mary Poppins's magic bag. Even Robin Williams compared her outfit to Mrs. Doubtfire's dress.
Best Use of Lace: Marc Jacobs, 2012
Marc Jacobs said he wore this sheer black, lace Comme des Garcons dress because he didn't want to "wear a tuxedo and be boring." It caused a small controversy, but the dress eventually sold out on Barneys.
Most Avian: Daphne Guinness, 2011
Daphne Guiness was a close friend of Alexander McQueen, so it was only fitting that she paid homage to the late designer for the Costume Institute's "Alexander McQueen: Savage Beauty" exhibit wearing one of his feathered dresses.