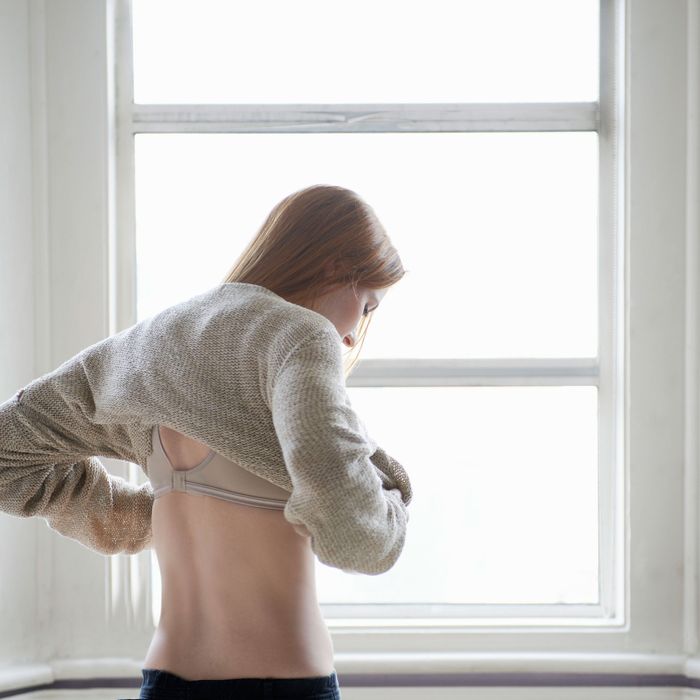 Photo: Tara Moore/Getty Images
In high school, I was a size 38DD bra. It wasn't easy, especially since I played on two volleyball teams and took multiple weekly dance classes. My bounce-containment options were limited — I'd layer regular bras under compression sports bras or leotards with built in bralettes, but it never helped much.
My chest size also made it hard to get dressed. I used to struggle with sweaters, as the heavy fabric made me look lumpy. On the flip side, skimpier pieces were equally tricky since I didn't want thick straps showing. But then I discovered the power of a minimizing bra. A good minimizer will comfortably compress your chest and can take inches off your bust line, creating a smooth silhouette so your clothes fit correctly.
It took lots of trial and error, but my favorite minimizer turned out to be a non-padded underwire bra. Sadly, it's no longer available, so I set out to find others that could fill the void. Scroll through to see my top picks, whether you want something sexy, simple, or sporty.
The Sexy One
This is the closest I've found to my favorite minimizer. Reviewers praised its full-coverage design and soft material. It's stretchy but also offers enough compression to do its job. One satisfied customer wrote, "What I look for in a minimizer bra is support, shaping, and comfort, with prettiness being a plus. This bra has enough of all of the above to make me happy."
A Sleek T-Shirt Bra
For when you need a smooth silhouette under a T-shirt or form-fitting top. Customers confirm its ability to minimize up to an inch and a half without digging into the body.
A Supportive Sports Bra
Long gone are the days of doubling or tripling up on bras for your workout. This sports bra has an extra mesh panel with adjustable straps for bounce control. Customers love it for its compression and coverage, even in compromising positions. Said one reviewer, "When you're bent over in a yoga pose, or planking, you won't feel like the whole world can see down your shirt."
The Comfy One
If you wear a bra to bed or are looking for some support while lounging, you'll want this style. Reviewers are full of praise for the comfortable design and breathability, which makes it good for hot climates.
If You Want Lots of Compression
Want something that really flattens? Try this sports-bra-style binding bra. One shopper said her 36DDD chest resembled a C or D cup with this on, while others mentioned that they purchased this to complement their tomboy wardrobe. It's also popular for those who haven't had top surgery but do want to flatten their chests.
The Best Strapless
For busty women, strapless bras have long been the enemy. Thankfully, this one works — reviewers noted that it lifts, supports, smooths, and minimizes your bust line up to 1.5 inches. It even comes with removable straps that adjust any way you please.
An Option That Clasps in the Front
This lacy T strap is a favorite for fuller figures. One reviewer says, "Struggle to find an awesome T strap that supports, or a front close without quad boob or spillage? Wanna avoid lumps in the back? Welcome to the bra that solves all your problems. It might even fix your credit and make your boyfriend better looking." Sounds like a winner.
If You Hate Padding
For underwire fans who hate excessive fabric, this semi-sheer minimizer is perfect. The wider straps provide extra support, while the cups offer firm support. Plus, it looks pretty. "This is a nice change from the 'usual' 38D bra" comments one customer.
If you buy something through our links, New York may earn an affiliate commission.