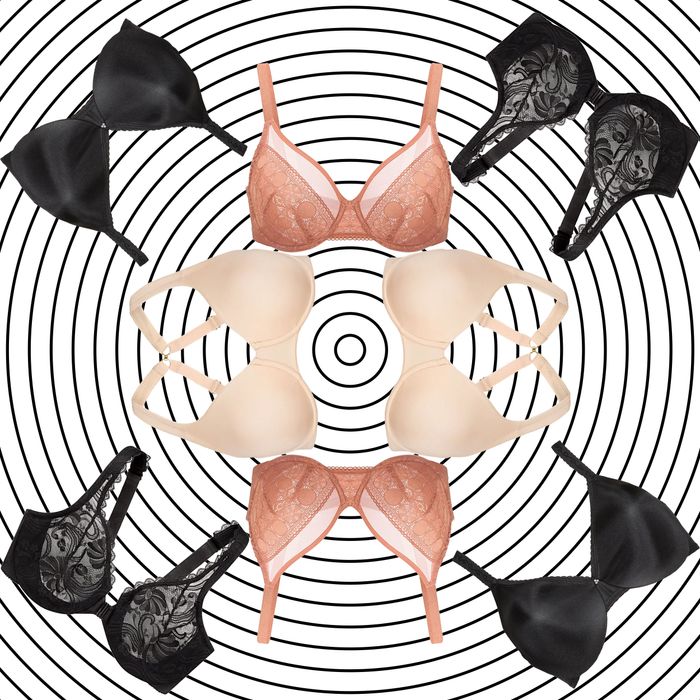 Photo-Illustration: by The Cut; Photos: Retailers
If you have bigger boobs and play sports, you know that good bounce-containment options can be hard to find. (Basic sports bras and bralettes don't always cut it.) It might also be a challenge to get dressed: Sweaters can look lumpy, while skimpier pieces are equally tricky if you don't want thick straps showing. Enter the minimizer bra. A good minimizer will comfortably compress your chest and can take inches off your bust line, creating a smooth silhouette so your clothes fit correctly, and it's a great bounce-containment option.
However, it can take some trial and error to find the best minimizer for you, so we've pored over reviews to round up eleven good places to start.
If You Hate Padding
A Sleek T-Shirt Bra
Fans like how soft this bra is. One brutally honest customer wrote, "I finally don't feel like a walking circus tent," adding, "The straps are padded so they are less likely to cause welts in my shoulders like the ones that are permanently there. I'm so thankful to have taken a chance on this."
The Supremely Comfortable One
This is designed to provide an invisible look underneath clothing while still offering support. One satisfied customer even wrote that wearing most bras is a form of torture for her but wearing this one isn't. Do you need higher praise?
The Lacy Option
This bra is unlined, and reviewers insist that it still minimizes without the padding and has the added bonus of comfort.
If You Want Lots of Compression
Customers love this bra for its comfort levels and and secure coverage. One reviewer explained,"This granny bra is the best thing that ever happened to my huge ta-tas." (If you want something similar that's less of a sports bra, this also seems promising.)
An Option That Clasps in the Front
Comfort meets function in this bra. One customer gave it her sincerest seal of approval and wrote, "I have NEVER loved a bra. I would tell my husband that I wanted a boob job just so I could [keep] the girls where they belonged … Then I found this gem and couldn't be happier."
The Sexy One
Who said a minimizing bra can't be hot? "I am large-chested, and it supports me just right without being tight," writes one pleased reviewer. "It lets my breasts sit [the way that feels] most comfortable. I love love love it."
If You Need Something Simple
You need something for every day, and this is it. The lightweight bra smoothes and shapes without looking or feeling bulky.
The One to Buy in Bulk
A bra you forget you're wearing? Sign us up! According to one reviewer, this bra fits so well that they forget they have it on. Best of all, you can bundle and save, so grab both colors while they're still in stock.
The Best Strapless Option
For busty women, strapless bras have long been the enemy. Thankfully, this one works — reviewers noted that it lifts, supports, smooths, and minimizes your bust line up to 1.5 inches. It even comes with removable straps that adjust any way you please.
A Supportive Sports Bra
This bra offers support without the suffocating feeling of some sports bras, thanks to its breathable open-air mesh bust. Customers gush over its fit and say it is perfect for moderate exercise. One wrote, "No longer do I have to stuff myself into three sports bras, crushing my bosom and my soul, to be able to get a good workout."
This article was originally published June 22, 2020. If you buy something through our links, New York may earn an affiliate commission.
What does it mean to have "good" taste today? Can "tacky" be a compliment? Who decides? We want to hear from you! Please take this short survey and tell us what you think. Answers will be compiled as part of the Cut's "Good Taste Project," which aims to gain a better understanding of how the definition of "good" and "bad" taste has (or has not) evolved over time, and the calculations we make when deciding which is which.