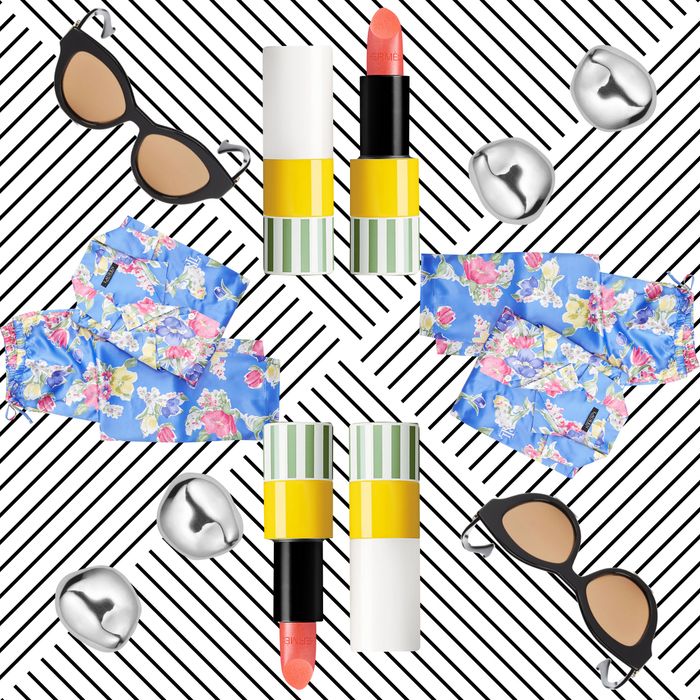 Photo-Illustration: by The Cut; Photos: Retailers
For more of the Cut's favorite fashion, beauty, and home finds, sign up for the weekly Cut Shop Newsletter.
Ahead of Mother's Day, you might be asking yourself: What do you gift the woman who raised you and still answers all your panicked phone calls when you're in a crisis? Luckily, good gifting is available at every price point. While sometimes the best gifts have no price tags, we've looked everywhere for the best Mother's Day gifts under $200. From kitchen essentials starting at $28 to beauty products that are worth the splurge, and everything in between, read on to shop our picks.
For the Mom Loves Flowers
Instead of a bouquet she'll have to get rid of in a week, gift her this pretty orchid that will last forever. The low-maintenance plant only needs to be watered once a week and it doesn't need direct sunlight so she can keep this almost anywhere.
For the Stylish Mom
Stud earrings that are unlike any that she owns. These handmade ones from Agmes are sterling silver, but they are also available in 18-karat gold vermeil.
For the Mom Who Loves Designer
Who said you can't score designer for under $200? Saks Off 5th is the place to go when it comes to great deals on luxe products. Take these Gucci sunglasses, for example. They are a classic shape that your mom will surely love.
For the Mom Who Really Loves Tea or Coffee
This mug keeps hot drinks at drinks at the ideal temp for over an hour and you can even customize settings through the app. She can keep this at her desk and skip microwaving all her drinks to keep them hot.
For the Mom Who Loves to Garden
Gift this to the mom who's always in the garden and she may ever leave. The set includes seven handy tools for tending, a tote to store them all in, and a portable folding seat. Just make sure you also gift her some sunscreen, too!
For the Mom Who's Hard to Gift
This set from Ralph Lauren is super-fun and soft. Plus, it's machine washable, so your picky mom won't be able to find fault with it.
For the Mom Who Carries Everything
A mother's purse is seemingly never-ending. Help her downsize with this luxe, leather bag. Available in five shades, from classic tan to bright orange, this crossbody bag will fit all the necessary items and a few she doesn't need.
For the Health-conscious Mom
This small but mighty blender makes the best smoothies by effortlessly blending ice and all your favorite fruits and veggies. Plus, you can screw on the Drinking Lid + Carry Cap to take your smoothie to-go.
For the Mom Who Prefers Homemade Everything
If your mom has already mastered the art of baking bread, let her try her hand at homemade pasta. This highly reviewed pasta maker easily makes spaghetti, fettuccini, and lasagna. You can also use it to roll super thin dough for ravioli, dumplings, and more.
For the Mom Who Prefers Comfort
These shearling-lined slippers are breathable and temperature regulated so she can wear them well into spring. Reviewers love how cozy and supportive they are, being affordable is just a plus.
For the Mom Who Loves Fancy Skincare
This is a cult-favorite's she's likely heard of. Ease into the luxe brand with this best-selling, deeply hydrating cream, that lifts and firms skin for under $100.
For the Mom Who Loves Wine and Cheese
No doubt mom will get plenty of use out of this picnic basket. It includes all the essentials for a wine and cheese picnic. From wine glasses and a cheese knife to a board and a cork screw, all that's left is to gift her her actual favorite cheeses and wines inside.
For the Mom Who's Always Reapplying SPF
Help them protect their skin even more by gifting them this hoodie from Uniqlo made from the brand's super-lightweight AIRism fabric that has UV protection.
For the Mom Who Loves to Cook
This under $50 set of durable bowls is perfect for kitchen multitasking with sizes ranging from one ounce to three quarts. Use them for serving or cooking and then easily store them away.
For the Mom Who Takes her Skincare Seriously
This cream is a blend of highly effective moisturizers like ceramides and fatty acids resulting in glowy skin. Reviewers love how well it moisturizes dry and combination skin without feeling too oily or heavy. She'll love adding this to her daily routine knowing her skin barrier is getting the protection it deserves.
For the Mom Who Loves a Good Lipstick
Skip gifting her another drugstore lipstick and give her the prettiest lipstick she's seen. Both the formula and the packing are winners in our book.
For the Mom Without a Green Thumb
These succulents will add the perfect amount of greenery to any room and they're so easy to care. Yes, even a beginner can handle it. The plants only have to be watered every seven to ten days and can be kept in indirect sunlight. Perfect for a desk or at-home office.
For the Amateur Photographer
For the mom who's always snapping away, this printer turns the photos on her phone into stickers she can hang and stick anywhere.
For the Mom Who Loves to Nap
If your motherly figure is a side sleeper, she needs this pillow. It's a game changer. Our senior shopping writer, Bianca Nieves, swears by it and already plans on gifting it to her mom this year.
For the Mom Who Loves to Bake
This dishwasher-safe set includes ten stoneware dishes for baking, serving, and storing. It features ramekins, side dishes, and large oval pans with glass and plastic lids for fridge or freezer storage, so all your leftovers are handled.
For the Mom Who Takes Her Beauty Sleep Seriously
Silky, satin sets like this are usually on the pricier side but this one is a steal at just under $40. The set includes a chic marble print pillowcase and scrunchie for reducing damage to hair and frizz and a satin eye mask so she can sleep soundly.
For the Mom With the Perfect Kitchen
SMEG's technicolor appliances don't come cheap but this pretty toaster is a steal. The classic toaster features extra-wide slots for any kind of bread and multiple functions for heating, defrosting, and getting that perfectly toasted slice.
For the Mom Who Loves Coffee
This affordable favorite features five different temperatures settings for the perfect cup of tea or pour-over coffee. The inside is stainless steel and it's available in a sleek matte black or silver.
For the Artsy Mom
If you're looking to gift something very unique, this it it. This kit turns her favorite photo into a work of art that she can paint herself. Just send over the photo of your choice and you'll receive a custom palette of paints to match the photo, paintbrushes, and a linen canvas with easy to follow instructions.
For the Mom Who Prefers Walking
This classic pair of sneakers comes in more color options than we can count and at just under $100 these comfy kicks are perfect for gifting. The lightweight shoe is made for comfort and support so she can wear and walk in these all day long.
For the Mom Who Loves Tea
The perfect set to pair with her collection of mugs. This box features a mix of refreshing teas like chamomile and darjeeling tea she can brew up to suit her mood.
For the New Mom
Help the new mom in your life maintain her self-care routine by gifting her this set from Crown Affair x Oak Essentials. The Renewal Mask will help keep her tresses smooth and nourished, while the Oak Essentials Restorative Mask will keep her skin glowing.
For the Mom Who Needs a Trip
If your mom really needs to take a break, but you don't have the capital to jet her off to a beach in Tulum, consider this book. It's the next best thing and it will look great with her decor.