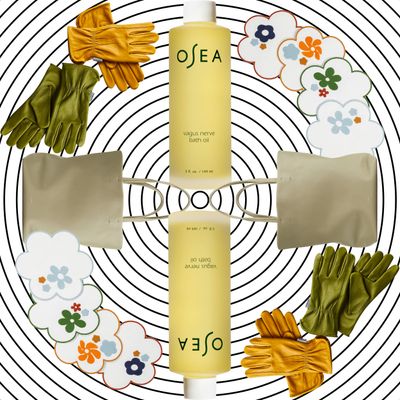 Photo-Illustration: by The Cut; Photos: Retailers
For more of the Cut's favorite fashion, beauty, and home finds, sign up for the weekly Cut Shop Newsletter.
All moms are unique, and the best Mother's Day gifts should be, too. If you're stuck on what to gift your mother, grandmother, or motherly figure, we've curated an in-depth list of the best gifts for every kind of mom — that includes the mom who likes to stay active, the mom who's always baking, and the mom who likes to take on new hobbies. Read on to see our picks.
For the mom who's serious about cooking
If she's always buying fresh herbs, gift her this herb kit so she can grow them herself. These self-watering duos include everything she needs to grow basil, cilantro, parsley, lavender, or mint. All she has to do is find a nice sunny spot.
For the mom who loves to deep clean
Small but mighty, the affordable favorite and best seller is perfect for deep-cleaning furniture and carpeting and even better for spot cleaning. It has a large tank for filling with scented stain remover, and it's ideal for cleaning up after pets and keeping fabrics tidy and fresh.
For the mom who loves earrings a little too much
If decades of fabulous dangly earrings have stretched her lobes down to the point where she's self-conscious or simply can't wear earrings anymore, Jenny Bird's aptly named "Super Solver" Instant Lift earring backs will lift her spirits and her lobes. They'll turn any earring into a lighter one and help close that elongated gap right up.
For the mom who wakes up at the slightest noise
No more waxy single-use earplugs or ineffective foam models that come in one size only: Loop makes earbuds that are comfortable and easy to clean and come in four soft silicone sizes.
For the mom who commutes
Made of Italian leather, this structured tote fits everything — like, everything. All her work essentials can be tucked into this tote, from her work laptop and water bottle to her lunch.
For the mom who wants to carry less
If she's not commuting and simply wants to carry around her essentials (not everybody else's), a small Prada bag is perfect for the mom who is both stylish and loves a great designer accessory.
For the mom who has preached proper sun care to you since birth
She'll appreciate the extra coverage this floppy sun hat provides. It has a UPF of 50 and comes in seven colors if pistachio isn't her thing.
For the mom who didn't take sun care seriously
If sunspots and hyperpigmentation are her worst enemies, these serums could be her new skin-care favorites. SkinCeuticals says its Phloretin CF uses vitamin C and antioxidants to even out skin and fight off the effects of free radicals, while the Discoloration Defense brightens skin and reduces dark spots.
For the mom who loves to travel
It's rare that a carryall doesn't look like a gym bag. This one from Béis is the exception — it's both chic and functional. The bottom is a water-resistant compartment where she can store shoes, and the back has a sleeve to slip the bag over a rolling-luggage handle.
For the mom who loves gardening
Pretty tools for pruning her even prettier garden. This three-piece set covered in the prettiest floral print features a pruner, trowel, and cultivator for tending to or starting a plot.
For the mom who likes to get her hands dirty
If the gardening set isn't enough, these leather work gloves have her hands covered for whenever she's working in the yard. They're available in three sizes and two colors, and she won't mind getting these $25 gloves too dirty.
For the mom who likes to stay active
This reissue of New Balance's classic sneaker slips right on for moms who literally run out the door. With a lightweight foam midsole and extra cushioning, this knit shoe is made for comfort.
For the mom who always has leftovers
If you never leave her house without a week's worth of food, gift her these chic lidded bowls she can use to prep and store meals and leftovers. The bowls are made of recycled bamboo and beechwood, and they're stackable and dishwasher safe.
For the mom who's always cold
If she's always pointing out how cold it is, gift her this cozy cashmere wrap. Available in ten colors, this wrap is soft and easy to throw on at home and chic enough for her to wear to the icebox that is her office.
For the amateur-photographer mom
If she's always snapping away, gift her this instant printer that will print all her favorite photos straight from her phone. Plus, if she's into scrapbooks, she can stick them anywhere with the included Zink paper.
For the mom who takes bathing seriously
Baths should be a luxurious experience, and she knows that. This affordable tray comes with a slot for her wine glass, a stand for a tablet, a phone holder, and silicone grips to keep the tray on the tub and not in it.
For the mom who doesn't need another mug
Retire that "World's Best Mom" mug and gift her this set of latte cups featuring a heart-shaped interior. She'll love drinking coffee and teas out of this dishwasher-safe set.
For the mom who loves her iced drinks
Skip the mugs (again) and gift them these glasses that come with their own lids and straws to make her favorite beverage of choice more appealing.
For the mom who loves your art
Her fridge is a gallery of her children's or grandchildren's artwork, and now her robe can be too. You'll be shipped colored pencils and paper so the little artist in your life can make their own custom design that will be embroidered onto the cozy cotton terry robe.
For the mom who needs extra TLC
This foot massager has racked up over 19,000 five-star reviews for how well it warms and massages achy feet. Featuring settings that roll and squeeze all areas of the foot, this just may make her cancel any future massage appointments.
For the mom who has enough plants
Photo: Courtesy of the Vendor/deirdre lewis
This mushroom-growing kit is a little unconventional, but any mom who loves to experiment with cooking or gardening will appreciate it. All you need is a spray bottle of water to get it to grow, and after a few days, you'll have mushrooms you can cook up and add to your meals.
For the stylish mom
This coveted Coach bag is back in stock and has four color options. The pillowy shoulder bag is just under $500, and it's a gift you'll both love. Who knows — maybe she'll even let you borrow it.
For the mom who wants the best for her fur baby
Stave off the miniature stroller a bit longer with this luxe pet tote from Caraa. It has a leash clip for jumpy pups, a removable (and machine washable!) Sherpa fleece interior — yes, Sherpa — and a chic poop-bag dispenser.
For the mom who won't leave the house without doing her hair
She'll love GHD's almost-too-good-to-be-true styler. It uses a combination of air and heat to straighten wet hair to a frizz-free finish without the damage.
For the mom who needs to wind down
All moms deserve a relaxation session, and this bath oil is like bottled box breathing. It's formulated to target the vagus nerve, which regulates stress and encourages relaxation, so if she's a living ball of tension, tell her to start running the water.
For the mom who doesn't have time for pour-over
All she needs is hot water for a fresh cup. The coffees in these concentrated pods are sourced from revered roasters and actually taste good. Each box comes with 32 days' worth, and you can add decaf or half-caff options to the mix.
For the mom who's always hosting
Help her set the table. This set contains three nested stoneware bowls that are dishwasher safe and the Goldilocks weight. They come with stainless-steel serving spoons, and you can choose which combination of ceramics and silverware Mom would like best.
For the mom who notices the little things
Including water rings on her wooden furniture. These linen coasters from Misette are so pretty guests will want to use them.
For the mom whose slippers have seen better days
Retire her matted faux-fur slides with this velvet pair from the Larroudé and Lingua Franca collab. They make a great personalized gift, but if you're short on ideas, we like the "Love Wins" stitching.
For the mom who had to choose an "American" name
Kinn makes nameplate necklaces in Korean, Chinese, and Japanese as an ode to immigrants who had to give up names in their native language to build a life in the States. You'll want the tissues on standby.
For the mom who needs a nightlight
Trust us: For moms who are constantly getting up to go to the bathroom in the middle of the night, never have their glasses on hand, and have stubbed their toes one too many times in the dark, this portable lantern will make life way easier.
For the mom who wants to build a fitness routine
It's never too late to get it right and get it tight. Mom will love this all-in-one set that includes matching booty bands, a yoga mat, a massage ball, and a yoga strap to help her get started.
For the mom who carefully curates her objects
This pretty place to put her jewelry will look right at home next to her organic vessels and plastered walls. The natural marble pieces are handmade by Mexican artisans, so she's guaranteed to have something unique.
For the mom who likes to sleep in
This pajama set will help her embrace the changing seasons, biologically and environmentally. The organic Pima cotton is supersoft and breathable, and the wide cut of the bottoms and full sleeves of the top will keep things comfortable.
For the new mom
You've heard it before, and you'll hear it again: Breastfeeding is no joke. Prepare the mom-to-be with a set of prep products (plus a library of useful tips) that will help her nips through the process as well as ward off a potential identity crisis, 'cause all moms are kewl moms.
For the mom who keeps losing her AirTag
This AirTag holder looks more expensive than it is, and reviewers love that it's durable, easy to use, and even easier to spot.
For the mom who needs to release some tension
The power of acupressure meets the healing powers of a simple hot-water bottle. Good luck ever getting her head off this makeshift pillow long enough for you to try it.
For the mom who isn't above boxed wine
Juliet makes boxed wines that not only taste good but are pretty enough to be the centerpiece of mom's alfresco table. The boxes carry more than a standard bottle, and the resealable tap means she'll have fresh vino for up to six weeks.
For the mom who craves a creative outlet
This indie publication is made for parents and caregivers who opt for a fun, creative, and colorful approach to everyday food, crafts, and more. There's ample advice on everything from wannabe eco-mom-ness to the difficulty in raising tweens to how to make puppies out of pears. The content runs the gamut, but it's bound to be the happiest magazine in her home.
For the mom with an adventurous palate
Sorry, Mom can't hear you. She has slipped into the rich, syrupy depths of this date-sweetened chocolate. Don't worry — the lime, mango, and chile will bring her back eventually. There really is only one downside: It will ruin all other chocolates for her.
For the mom who plays with fragrance
If Mom prefers variety over a signature scent, she'll love layering these three Ellis Brooklyn perfumes. The rollerballs are travel friendly and range from salty to sweet.
For the mom with legendary bakes
Make sure the recipes are written down for future generations to live by. You can also buy Mom matching tin cases to slip them into for safekeeping.
For the mom who deserves a hotel-worthy bed
It's hard to make a practical Mother's Day gift land with pizzazz, but these sheets have A-list backing. Made of breathable bamboo, these bedsheets are Oprah (and the Cut Shop) approved.
For the plant mom
This pretty plant is suited for a mom with a green thumb because fiddle-leaf figs require constant care and attention. Consider gifting her an extra humidifier or mister as well, so she can help re-create its natural tropical environment.
For the mom who knits a mean beanie
Upgrade her plastic shopping bag or old hat to this beautiful bowl that will keep her yarn untangled and off of the floor.
For the mom who complains about crow's-feet
Show her the (red) light. Renowned dermatologist Dr. Dennis Gross dropped an LED eye mask that's specifically focused on rewinding the clock around the eye area. It promises an improvement in crow's-feet, elevens, and teeny-tiny "crinkles" after just two weeks of use. At the very least, imagine all of the entertaining FaceTimes in your future.
For the mom who has everything
You can't go wrong with jewelry. This minimal gold-plated necklace has a secret message on the back to remind her how special she is.