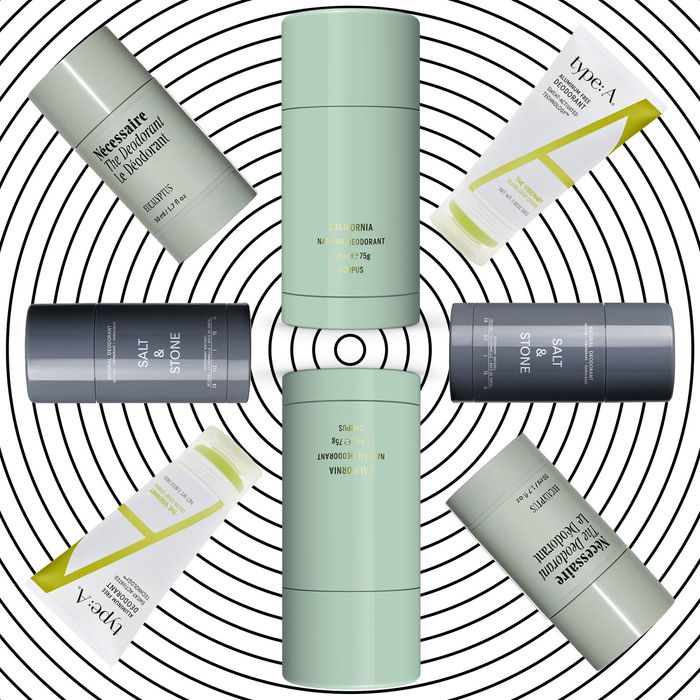 Photo: Courtesy of the vendors
Natural deodorants are having a moment. So many formidable formulas have come out offering protection without aluminum or parabens (many have cut baking soda from the plan, too!) that it's almost hard to choose which ones to try. And many of them come in scents so elevated and unusual, you wouldn't be embarrassed to wear them as fragrance. Read on for some of the best new deodorants that are as clean as they are clean-smelling.
The Best Affordable Natural Deodorant
This sweat-activated cream comes in a tube that you can wipe clean after each use (a nice bonus in these germ-phobic times). Scents include the leafy citrus Visionary, the cedarwood and eucalyptus Maverick, and a white floral–linen fragrance called the Dreamer, which is Ashley Graham's favorite. If you prefer your underarms unscented, there is also a fragrance-free version.
The Best Natural Deodorant From Two Beauty Experts
Baking soda is alkaline, which means it can cause irritation when it comes in contact with skin's acidity. So the founders of Each & Every — a Procter and Gamble scientist and a P&G brand manager — use Dead Sea salt to gently fight odor instead. Should choosing from the 11 scents prove difficult, you could always buy their $30 "minis" offering, which gives you eight different options.
The Best Natural Deodorant that Smells Like Palo Santo
This formidable formula starts out as a gel which is emitted through 25 tiny holes in the top of the applicator. Once on your body, it turns into a powder to keep you dry. It holds up against both stress and sweat, but the best part might be the scents, with interesting blends like Palo Santo Blood Orange. Currently, its full-size 50 gram offerings are sold out, but all three scents are available in this cute, squat 20 gram version.
The Best Natural Deodorant for People Who Are Exacting About Fragrance
On Corpus's site, each of its six vegan-formula scents are broken down by its top four notes, ranked in amounts from one through four. For example, in the Botanist scent, petitgrain's level is three, while geranium leaf is less present, at level one. Anyone who's ever been unpleasantly overwhelmed by the cedar in their deodorant, which didn't even include the word "cedar" in its name (just me?), will appreciate this.
The Best Natural Deodorant in the Form of a Pad
Photo: Courtesy of the vendor
Fruit-based glycolic acid and peptides quell odor in these pads, created by dermatologist Alicia Zalka. Both underarms can be covered with one pad, which are biodegradable. While the formula contains essential oils of rosemary and eucalyptus, it smelled virtually fragrance-free to us.
The Best Natural Deodorant With Colloidal Silver
Colloidal silver is known for its anti-bacterial properties, so it makes sense that the metal is employed in this body spray. Along with cedarwood and vetiver, there's grapefruit and orange, and lemon tea tree and sage. It's also a favorite at the Well.
The Natural Deodorant With the Really Chic Packaging
The minimalist packaging of this brand is so cool, we can hardly stand it. Along with clean sunscreens, face oils, and lip balms, Salt & Stone makes clean deodorants that combine moisturizing hyaluronic acid and odor-preventing probiotics. All three of scent options are excellent, including eucalyptus–pink grapefruit–bergamot (encased in a pale-green stick) and lavender–sage (encased in pale white), but we're suckers for the understated elegance of the gray exterior that houses vetiver–lemongrass–sandalwood.
The Best Natural Deodorant If You're Allergic to Coconut Oil
Hint, the wildly successful flavored-water brand (a favorite of John Legend and Miley Cyrus), first dipped its toe in beauty with sunscreens in 2017. Founder Kara Goldin followed up with this coconut-oil-free deodorant, since she is allergic to the ingredient, which is used in some natural formulas. The eucalyptus lemon scent is very nice, but we'd love to see watermelon come next.
The Natural Deodorant for Fashion People
Nécessaire founders Nick Axelrod (co-founder of Into the Gloss) and Randi Christiansen were hoping to include this deodorant in the brand's original launch, but nailing the formula took a little longer than expected. The finished product is a blend of kaolin, zinc, and silica (to keep pits dry) with lactic and mandelic acids (to neutralize odor), all in a light cream-to-powder formula that bears a lovely eucalyptus scent.
The Natural Deodorant That's Wildly Popular
This is the clean deodorant that spawned an 8,000-person wait list. Reviewers rave about its non-musty, non-patchouli scent (it actually smells good, is the consensus). It does go on a bit wet at first, which can freak people out. But they love that it's nonirritating, thanks to its baking soda–free formula, and works well to stave off odor. The cute packaging is also a plus.
The Natural Deodorant That Comes in a No-Nonsense Spray
A few years after launching a deodorant stick, this Vermont-based brand went old school with a spray. Plants, minerals, and enzymes work to keep its wearers "funk free" in this blend of sage, geranium, sandalwood, and lemon myrtle, and its compact 1.79-ounce size is something backpackers and campers appreciate.
The Best Natural Deodorant Associated With a Good Cause
This brand launched its first deodorant in 2015, with detoxifying kaolin clay and soothing non-nano zinc oxide dominating its formulas. Its newest version is this pink take on the Geranium scent — with 5 percent of sale proceeds going to Lipstick Angels, an organization that provides in-hospital beauty support services to cancer patients.
The Best Natural Deodorant in a Jar
Photo: Colin Thomas/colin@colinthomas.com
The idea of applying deodorant like a moisturizer (except your pits replace your face) might feel odd at first, but fans love this eucalyptus, lavender, and peppermint blend, which also comes in a citrus version. Another similarity to a moisturizer: a little dollop goes a long way.
If you buy something through our links, New York may earn an affiliate commission.