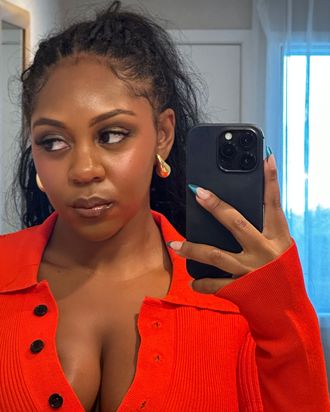 How many times have you excitedly entered a makeup store looking for a nude lipstick only to find that there's not one shade that fits your skin tone? Probably too many times to count.
When I started wearing lipstick, one of the main reasons red became a go-to color was that every time I tried a nude, I found the industry's definition of nude didn't work for Black women. The options were either rosy pink or extremely light taupe — so ashy against my skin that when I put them on, I looked as if I'd just bitten into a powdered doughnut.
Thankfully, things are slowly changing, and brands are creating more products, including nude lipsticks, made with dark skin in mind. Deep browns and caramel-like neutrals — which are the real nudes for darker skin tones — have become more prominent. Whether you prefer a matte, glossy, hydrating, or satin finish, there are more options now than ever before, and below are a few that I've tried and loved over the years.
For the Matte Lover
Photo: Retailer
The Lip Bar is known for its amazing matte lipsticks. This cocoalike shade is a nude made for the deepest complexions, with a matte finish that feels smooth and silky.
The Cult Favorite
Photo: Courtesy of the Retailer
I haven't stopped wearing this gloss since it came out earlier this year, and neither have countless other Ami Colé fans. Created specifically for dark skin, this is a "universally flattering shade" that makes my lips look good even on days when I feel like nothing else does.
If You Prefer a Luxury Lip
Photo: Courtesy of the Retailer
One thing about Dior is it knows how to formulate a lipstick. While I'm usually opposed to rosy nudes, this one surprisingly complements darker skin tones, especially when it's paired with a deep-brown liner. The Dior formula is also super-nourishing, so you don't have to worry about chapped lips.
The Long-Lasting Option
Photo: Courtesy of the Retailer
If "doesn't move an inch" were a product, it would be Fenty's lip paint. Whether I'm out to brunch eating and drinking, or on the run with no time to reapply, this lip color stays put. And in true Rihanna fashion, the chocolate-brown hue blends seamlessly with dark skin and has an incredible pigment. Although the matte formula does dry, it doesn't give the lips a crackling effect.
For the Badass Woman (Literally)
Photo: Courtesy of the Retailer
UOMA's Badass Icon collection was created to pay homage to iconic Black women. This shade is an ode to Nina Simone. The singer's unapologetic embrace of her Blackness inspired UOMA to create an inclusive nude for a range of Black skin tones. From the smooth application to the effortless shade matching sans liner, you can't go wrong with this one.
Subtle But Still Savvy
Photo: Courtesy of the Retailer
Mented Cosmetics was created out of a need for nude lipsticks for Black women when there were few to be found. All shades are made with melanin in mind, from rosy to deep brown. This blend of pink and brown highlights dark skin while leaving a satiny finish on the lips.
The Dewy One
Photo: Courtesy of the Retailer
Dewy, rich, and highly pigmented, this lipstick is a fantasy for anyone who loves a deep nude. It's probably one of the most comfortable lipsticks I've worn throughout the day (and has a way of complementing any outfit I wear with it). The sleek ombré packaging is stellar too.
The $5 Option
Photo: Courtesy of the Retailer
This was the first nude lip gloss I ever bought, which was a sigh of relief because I had finally found something that looked good on me. The Butter Gloss is a creamy, sweet-smelling product formulated for a smooth and shiny appearance. This brown shade melts into the lips for the ultimate no-makeup makeup look.
For a Dinner Date
Photo: Courtesy of the Retailer
Eating dinner and feeling like you need to reapply your lipstick every five seconds is highly annoying. That's not an issue with this long-lasting liquid matte lipstick. Plus, the chocolate-brown shade is a match for almost every undertone.
For the Glossier Fan
Photo: Courtesy of the Retailer
Your favorite brand makes a nude for you, and it's heaven in a tube. This easy-to-apply, lightweight lipstick is a smooth, sheer nude that leaves your lips moisturized and with a hint of pigment. It's also buildable — and lasts throughout the day — for when you want a bit more color.
The OG M.A.C Option
Photo: Courtesy of the Retailer
This formula may have a glasslike finish, but the pigment isn't completely see-through. The best seller has been a makeup-bag staple for years, and whether you like to apply it over your lipstick or wear it solo, this taupe-brown shade sits lovely on brown skin.
The Lightweight One
Photo: Courtesy of the Retailer
I reach for this nude when I want just a little something on my lips; it's my go-to for Zoom. One application and a swipe of lip gloss over it, and I have just enough pigment for a day of working from home.
An Actual Rosy Nude (for Us)
Photo: Courtesy of the Retailer
Rosy nudes can work for darker skin tones, but they have to be pigmented with darker shades like this berry rose. The deepness of the berry balances out the pinks for a contrasting effect that works on melanin.
The One Made Just for Us
Fashion Fair is the OG lipstick for Black women. The rich, pigmented shades are made for deeper skin tones, so there's not a need for a blend of other lip products before or after applying this. The nude shades complement the deepest skin tones all while nourishing the lips with replenishing ingredients like sunflower oil.
If You Prefer a Liquid (and a Little Plumping)
Makeup by Mario's liquid lip color leaves a lustrous shine on lips. The oil-based formula is made to plump them, though some people claim this serum plumps them a bit more. If your lips are on the drier side and you like a wet and extra-glowy finish, this option is for you. Our beauty director-at-large, Maya Allen, swears by it and keeps it in her routine.
The Refillable One
Bond No. 9 is known for its bold New York–based scents, but the brand has lipsticks that are just as powerful as its unique scents. Just like its fragrances, the lipsticks last all day, and a tiny bit goes a long way. The Gramercy Park shade is a bit cool, but to my surprise it complements my darker skin without looking too rosy.
The Viral One
This summer, TikTok fell in love with YSL's Candy Glaze thanks to Alix Earle. The hydrating balm is best known as a lip-gloss stick. It has the pigment and application of a lipstick, the replenishment and hydration of a balm, and the glossy finish of a gloss. I love lining it with a deep brown liner for days I'm on the go (every day). It eliminates the steps of applying lipstick and a gloss on top, and the sheer brown shade is sheer enough to blend into my natural lip color but pigmented enough to have just enough color on my lips.
If You Like a Natural Finish
This is the sheerest lip gloss you'll ever apply; it's dubbed a lip jelly because the application is almost translucent, but there is a slight pigment there and it provides a flawless look. It's for the easy days when your lips need to be soothed and you don't quite want an ultrasheer balm, but you also don't want an overly pigmented glossy lip.
The Comfortable One
I know what it's like to have a favorite matte lipstick, but midday, your lips are cracking. Rare's matte lipstick has a creamy formula that smooths the lips from the instant it's applied. The warm and deep shades are made with undertones of deeper complexions in mind, so whether you prefer a chocolate nude or a warmer nude, there's a shade that works for you. These also pair great with Rare's matte lip liner.