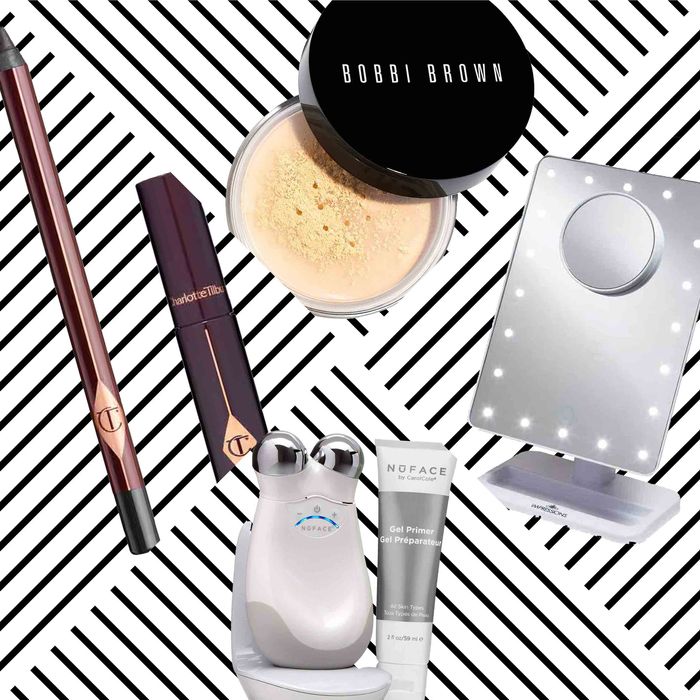 TGIF, or TGIBF — thank goodness it's Friday, and Black Friday. There are plenty of beauty sales through the weekend, including at Nordstrom, which is offering a bunch of select great deals on luxury beauty. Here are some of the best, including some fancy facial gadgets and gizmos, a five-star-reviewed flatiron and curling iron, and a classic foundation that never goes on sale.
The Idiot-Proof Curling-Iron Robot
Before I learned how to use a curling iron, I relied on this — the curling iron for dummies. Put a strand of hair into the clamp, press the "go" button, and watch as the barrel rotates up to wrap your clipped hair around the center. It curls your hair for you and it's magic. This is the closest thing we have to a hairstylist robot, with reviewers praising how it takes 15 minutes to curl a full head of hair for Victoria's Secret–like results.
Original Price: $199

Give this to your friend who brings empty containers to Equinox to fill up on free Kiehl's lotion (no shame). It contains six Kiehl's hero products, including their legendary body lotion, the silky Creme de Corps. It's normally a $66 value, now about 50% off.
Original Price: $66
A makeup mirror that allows you to see everything, which is both good when you're tweezing and not-always-so-great when you've just stumbled out of bed. But it does bathe you in flattering white light, which professionals agree is the best light for doing your makeup.
Original Price: $59
Trust the woman who sleeps in her eye makeup (seriously, Amal Clooney's makeup artist has a cat eye she wears to bed) to create an excellent eye liner. It's very pigmented and creamy, yet long-lasting enough to last all day or all night. For the price of what the pencil normally costs, this Nordstrom-exclusive set comes with her mascara too.
Original Price: $42
This flatiron gets really good reviews (it's at a 4.6 right now). You can use it to straighten hair or, thanks to its curved plates, to do smooth waves à la Emma Stone (see how here).
Original Price: $199
Oprah and Naomi Campbell both swear by Bobbi Brown foundation. The undertones are spot-on, so they blend perfectly into skin. Lots of foundations these days boast of making you look air-brushed or like you're wearing a filter, but this simply makes you look good, polished, and natural-looking. It's the my-skin-but-better foundation.
Original Price: $50
Bonus, Brown's loose powder is on sale too. This powder feels weightless, but makes you look softly matte without settling into pores.
Original Price: $40
The That's-Crazy-But-Works Beauty Gadget
The prospect of rolling needles into your face for beauty is not for the faint of heart (perhaps that's why Angelina Jolie is allegedly a fan). But this strange beauty practice really works to make skin look extra-glowy, stimulate collagen (the protein that makes your skin look bouncy), and ensure that all your beauty products really get into the deep layers of your skin. Call it a crazy beauty gadget or a way to get really serious about your skin-care routine, but you can microneedle yourself at home with this kit. It won an Allure beauty award for best in skin-care rejuvenation.
Original Price: $199
Celebrities like Julianne Moore swear by microcurrent facials, which use a very small amount of electricity (you would need 1 million of them to light a standard lightbulb) to drain excess water from, tighten, and lift and tone skin. It's the facial actresses get done the most before the Oscars. This is an at-home gadget to let you do the same thing, and our reviewer swears it actually removed a forehead wrinkle.
Original Price: $325
The Cold-As-Ice Highlighters
These highlighter shades, in an icy-blue and green, aren't exactly standard or part of the J.Lo glow playbook. But they're fun, and just the thing to play around with if you want to look like you could be a third Frozen sister or celestial ice maiden.
Original Price: $40
If you buy something through our links, New York may earn an affiliate commission.