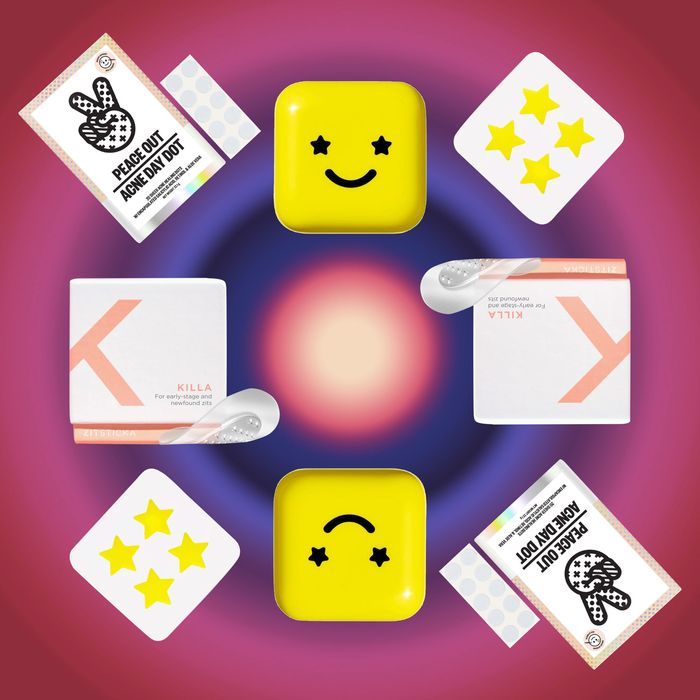 Photo-Illustration: by The Cut; Photos: Retailers
For more of the Cut's favorite fashion, beauty, and home finds, sign up for the weekly Cut Shop Newsletter.
Pimple patches have experienced something of a renaissance in recent years. Not only did the you-know-what tune us into our skin on a deeper level, but the brightly colored stickers from Starface made it cool for post-pubescent adults to rock face décor out in public. And why not? Acne befalls everyone, and as Julie Schott (the brains behind those starry patches) once mused, a change in attitude makes all the difference when combating pimples. There's a bit more to these zit stickers than being adorable, so we spoke to dermatologists to find out exactly what sets a good pimple patch apart from a great one.
What are the benefits of using a pimple patch?
The most obvious benefit of using a pimple patch is preventing you from picking at your acne. Popping, squeezing, and general fussing can exacerbate breakouts and worsen post-inflammatory hyperpigmentation. But they work on a deeper level, too. "[Pimple patches] deliver direct levels of anti-inflammatory ingredients to quickly decrease redness and swelling," says Rachel Nazarian, M.D., board-certified dermatologist at Schweiger Dermatology Group in New York City. She says they often contain ingredients that expedite wound healing and dry up any oozing, effectively speeding up the lifecycle of a pimple. On top of that, Dr. Nazarian says a pimple patch's occlusive properties lead to enhanced delivery of topical ingredients and stimulate healing, with general improvement taking place anywhere from 24 to 48 hours.
What ingredients should you look for in a pimple patch?
The classic pimple patch is usually a simple hydrocolloid dressing, which tends to be used over whiteheads and wider breakouts. Dustin Portela, M.D., a board-certified dermatologist and dermatologic surgeon at Treasure Valley Dermatology in Boise, Idaho says hydrocolloid patches are one of his favorite ways to help heal skin, as they create an ideal (undisturbed, breathable, and moist-in-a-good-way) environment for self-repair.
For hormonal or cystic acne, you may want to reach for a hydrocolloid infused with something a little stronger. "Some of my favorite [ingredients] are salicylic acid, which directly helps fight acne, and niacinamide or arbutin, which can help brighten the skin and fight post-acne dark marks," says Dr. Portela. He adds that pimple patches with those extra-slim microneedles can be helpful in delivering beneficial ingredients to acne at a slightly deeper level.
When should you use a pimple patch?
"It is totally fine to apply pimple patches to all zits, large and small," says Dr. Portela. "I recommend using a pimple patch even if you have popped the pimple." As far as when to use it in your routine, Dr. Nazarian notes: "Ideally, it would be applied as last in your skin care regimen, either in the morning or in the evening while you sleep."
The One That Justin 'Pimples Are In' Bieber Swears By
You know a good pimple patch when you see it on an A-lister, and Starface has proven to be worthy of a myriad of, well, stars. Justin Bieber is perhaps the brand's best-known champion (and champion of normalizing acne, in general). This is the brand's starter pack and hero product; the classic yellow stars are clinically proven to minimize pimples by absorbing fluid and reducing inflammation. They're comprised of one simple thing: hydrocolloid, which is a bandage-like dressing that soothes, heals, and protects the skin. This case holds 32 stars (the pointy ends make it easier to lay flat on any part of the face) plus a handy mirror, but you can opt for the Bieber-loved black color. For something that packs an acne-fighting punch, Starface has blue Hydro-Stars that include salicylic acid.
Hydrocolloid | 32 count | Cost-per-patch: $0.47 
The Nearly-Invisible One
If camouflaging your pimples is the goal, consider these Day Dots from Peace Out your saving grace. You may be familiar with the brand's classic overnight acne dots, but earlier this year they launched a nearly-invisible one intended for daytime use. Peach Out says these patches are 61% thinner than the originals and are ideal for layering under makeup, or just blurring out a big-time blemish. They contain the skin-loving ingredients you'd expect — including hydrocolloid, aloe vera, and salicylic acid — for fighting breakouts in disguise as well as retinol for post-blemish healing.
Hydrocolloid, salicylic acid, retinol, aloe vera | 20 count | Cost-per-patch: $0.95 
The One for Waging War on Cystic Acne
The marketing may be aggressive, but it's not totally overselling the outcome. These "Killa" zit patches are sheathed in micro darts (a euphemism for tiny painless needles) that are intended to penetrate the skin and target those under-the-surface pimples that are in the early stages of plotting a clear-face takeover. As the darts dissolve, they release hallmark acne-fighting ingredients like salicylic acid, niacinamide, and oligopeptide-76, which is meant to interrupt a zit's progression. Note that this is one of the most expensive options on the list, so you likely want to reserve them for those, especially evil cystic or hormonal breakouts.
Hydrocolloid, salicylic acid, niacinamide, peptide complex, hyaluronic acid | 8 count | Cost-per-patch: $3.63 

The One for Big Ass Blemishes
When you've got acne here, there, everywhere — or just one unbelievably massive (and, likely, painful) zit — you'll want to reach for one of these oversized Rael patches. The larger patch will prevent you from picking and exacerbating any sized pimple. Mark our words: future you will be grateful.
Hydrocolloid | 10 count | Cost-per-patch: $1.20
The Derm-Backed Hydrocolloid Patch
COSRX, a Korean skincare line that rose to worldwide fame for its snail mucin products, also makes damn-good acne dots. Dr. Nazarian says these are a great option if you're in the market for a hydrocolloid patch. They not only prevent picking and prevent bacteria from entering the skin, but also degunkify and absorb excess oil.
Hydrocolloid | 90 count | Cost-per-patch: $0.21
The Derm-Backed Salicylic Acid Patch
Dr. Nazarian recommends combining the protective properties of hydrocolloid with the acne-fighting properties of salicylic acid, specifically via these VitaMedica dots. These have tapered edges so they blend in more seamlessly under makeup and on the skin, and they're also on the thinner side to lay as flat as possible over breakouts.
Hydrocolloid, salicylic acid | 24 count | Cost-per-patch: $0.58
The One for Whiteheads
A whitehead's siren song is hard to ignore. They just need a little push, no? Avoid the unnecessary open wound and subsequent scaring, from your moment of weakness with these best-selling patches from Hero Cosmetics. One of the brands to first help demystify the magic of pimple patches, these have one simple rule: put the patch on and peel it off when it turns white.
Hydrocolloid | 36 count | Cost-per-patch: $0.33
The One for Deep Pimples
Another K-Beauty option, this time from Peach & Lilly's sister brand. The brand, known for its dewy for the gods skincare also offers a slew of acne-busting dots, but this one's our favorite. Like the ZitSticka patches, these have painless micro darts that work their magic under the skin to target the biggest and baddest of cystic blemishes. Some ingredients that set these patches apart: centella asiatica extract (a.k.a. "cica") and tea-tree oil to calm the skin and reduce inflammation.
Salicylic acid, niacinamide, centella asiatica extract, tea tree oil | 9 count | Cost-per-patch: $1
The One That's Fit for a dELiA*s Catalog
Breakouts don't age-discriminate (hello, adult-onset acne), and while these patches appear to be marketed for whatever group of youths come after Gen-Z, they're perfect for whomsoever prefers a fun-over-fuss approach to healing their zits. In one pack of these Florence by Mills packages, you'll find dolphins, butterflies, and clouds that will not so much hide your acne as shout that you have them from the stratum corneum (the epidermis' proverbial rooftop).
Hydrocolloid, salicylic acid, tea tree oil | 36 count | Cost-per-patch: $0.42
The Clinically-Tested One
Not all beauty products are clinically tested, but when it comes to acne-oriented ingredients, the science of it all is important. These affordable patches from Neutrogena use the classic blemish-minimizing powers of hydrocolloids and have the studies to prove it. According to the brand, over 90% of participants reported flatter-looking pimples the next day.
Hydrocolloid | 24 count | Cost-per-patch: $0.38
The All-in-One Pack
For those with breakouts that just won't quit or prep for a big event, this three-part Patchology acne dot set has everything you need to keep your bathroom stocked in case of acne emergency. In this set, you'll find hydrocolloid patches for whiteheads, nose strips for blackheads, and salicylic dots for the big bois. Each strip has a dot that's loaded with ingredients tailored to your pimple's specific needs.
Hydrocolloid, salicylic acid, tea tree oil, volcanic ash | 51 count | Cost-per-patch: $0.39
Our Experts: