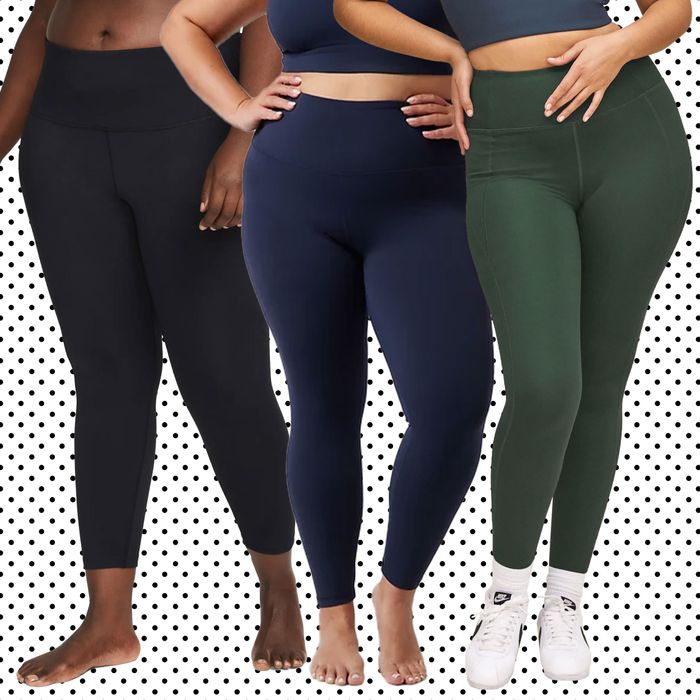 Photo-Illustration: The Cut; Photos: Retailers
The seemingly impossible quest to find the perfect pair of leggings is not unlike trying to find the perfect pair of jeans — and it can feel even more exhausting with inclusive sizing. Waistbands can dig in or will constantly roll down, fabrics can be totally see-through (not a bad thing if you want to wear leggings as tights), and there's a fine line between their being compressive and restrictive or more relaxed and straight-up saggy. Luckily, Cut contributor Sarah Caldwell, writer Tyler McCall, and model Morgan Louise shared their recommendations for the best plus-size leggings, and there are plenty of other top-rated, best-selling styles in the mix based on impressive customer reviews.
Whether you're looking for leggings to work out in, ones that are appropriate to wear to work (or just beyond the confines of your apartment), or ones that double as tights or base layers, keep scrolling to find the pair that speaks to you. Fingers crossed that your journey to find some leggings that feel tailor-made ends today.
Leggings to Work Out In
McCall is a huge fan of Girlfriend Collective's styles. "I literally do not buy leggings anywhere else," she says. "These keep everything feeling secure, and they're thick — you will never once have the issue of bending over and having something go see-through — but they're also very comfortable. The waistband is wide enough that it won't roll or dig, and they always have the best colors. Plus, they're made out of recycled water bottles, and when you're done with them, you can send them back in for upcycling!" McCall's rave review is just one of more than 17,000 on the site.
Available in sizes XXS–6XL.
Louise's all-time favorite pair is this one from Beyond Yoga. "These go up to a 4XL, and the spacedye fabric feels like butter," she says. "I love that they feel so breathable because most athletic leggings have a sort of plasticky feeling that isn't very pleasant." These have a 4.9 rating out of five stars, and the ultrasoft, moisture-wicking stretch material will change the way you think about leggings.
Available in sizes XXS–4XL.
If you're looking for a workout onesie, Louise says this is basically a full-body legging and is the most comfortable thing she has ever worn. "It has become my go-to outfit for almost everything: airport, yoga, errands, and working from home." The adjustable straps ensure that it stays secure through anything.
Available in sizes XS–4XL.
For fans of very high-waisted leggings, opt for this top-rated Athleta pair. It comes in regular, tall, and petite sizing so you can find the perfect length. The 3,000+ five-star reviews say these are soft yet compressive enough to hold you in and stay put — i.e., there's no need to constantly pull up a sagging waistband.
Available in sizes XXS–3XL.
There's nothing worse than feeling moisture trapped between your leggings and your skin, but this pair's sweat-wicking fabric keeps you dry no matter how intense your workout is. Reviewers mentioned doing everything from spin classes to running to yoga wearing these and said the material was thick enough to hold up through it all while still feeling like a second skin.
Available in sizes 1XL–3XL.
Leggings to Wear As Pants
The Universal Standard saleswoman gave Caldwell these when she asked for "work leggings," even though they're officially billed as pants. Caldwell says they checked every box for all the features she was looking for: They're stretchy, light, and not constricting. The side zipper also makes them look professional and not like you're on your way to SoulCycle.
Available in sizes 0–40.
When your shoes are the star of your outfit, a front-slit legging is ideal for showing them off. This top-rated Eloquii style fits like a glove and has strong panels of elastic that grip your waist without suffocating you.
Available in sizes 14–28.
Spanx's faux-leather leggings are a cult favorite for their liquidlike look and feel. They make any outfit dressier even if you wear them with sneakers. A heads-up: Reviewers say they can run small, so just make sure to size up.
Available in sizes 1XL–3XL.
It's hard to beat the price of these popular thick-knit leggings that have stylish seams at the back of each leg. Add a stylish cable-knit sweater or a luxe button-down to bring them from your sofa to your office chair.
Available in sizes 1XL–3XL.
Leggings to Wear As Tights Replacements
Caldwell admits that these are see-through when you bend over, but she insists the comfort makes up for it. "I actually think these did the best job of hugging my calves and making them look strong," she says. "They make my butt look high and tight, and I like how long they are, too, so that they could pass for thick tights with a boot." They come in two lengths — 23 and 27 inches — and you can get them with or without pockets so you have plenty of options.
Available in sizes 0–40.
With more than 12,000 reviews, these pocket leggings have tons of stretch without being see-through. Many customers say they wear these under dresses, and when you pair them with ankle boots, they're like a warm, opaque pair of tights.
Available in sizes M–6XL.
These are some super-breathable leggings thanks to their lightweight material. Yes, they're on the thinner side, but these are a great alternative to regular tights or you can use them as a base layer to stay toasty during the winter. They come in all sorts of fun colors as well as more basic black and navy if that's more your speed.
Available in sizes XS–3XL.
Stirrup leggings will really stay on, and they prevent any bunching at the ankles. These have 200 five-star ratings and come in burgundy and other neutral shades. Go ahead! Throw these on with some cozy socks, boots, and a mini sweater dress for a cute cold-weather look.
Available in sizes XS–4XL.