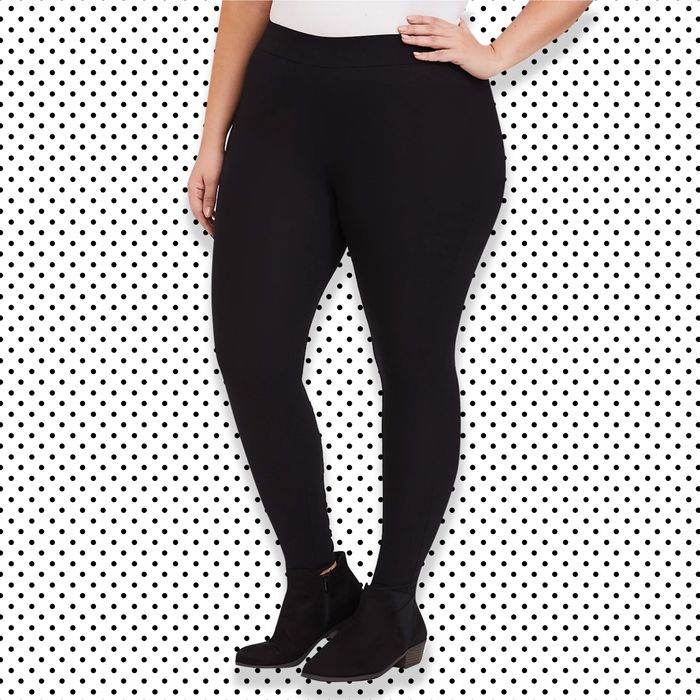 Photo: Courtesy of the Retailer
A month or two ago, when the Cut asked me to research the best leggings from size-inclusive lines, I found myself facing one of life's essential questions: Why do I always wear jeans? After all, I like to work out and I hate to wear tights. Shouldn't I be wearing leggings all the time?
Unfortunately, since then, the context of this question has radically changed. All I do now is shop online and save links for later and eat raw cookie dough and change from one pair of stretchy pants to another. I'm not thinking about how things fit, or going to the gym, or wondering whether a pair of pants is work-appropriate. Imagine doing those things! The luxury!
Still, even if you're just sitting on the couch working from home, with the occasional break to watch YouTube exercise videos, leggings will sustain you. And some day, we will leave the house again, and when that time comes, you're going to want to know your butt is covered, literally and metaphorically.
So here are some leggings to lounge in that will still look great when we all emerge. Think of it as a little escapism, and if you're not up to shopping now (reasonable), just bookmark it for the moment when your legs will once again walk down the street.
Leggings to Wear As Tights Replacements
Every plus-size queen knows that Torrid leggings are where it's at. I wear these so often, I'm finding it hard to describe them because they're a part of my body. They fit my legs like a glove but  don't feel tight on the stomach. The only downside is the band is a little thick on the waist, so I can't wear them with thinner dresses. But again, they're a staple.
Size 10–30
When I tried these on, I thought the salesperson was going to make me sign a contract saying I'd never wear them with a short shirt — that's how much she wanted to emphasize that they're see-through when you bend over. No matter; they're thin but so comfy. I actually think these did the best job out of all of these of hugging my calves and making them look strong. They make my butt look high and tight, and I like how long they are, too, so that they could pass for thick tights with a boot.
Size 0–40
Sometimes you just need a good, cheap legging, and of all the under-$15 options out there, you can't really go wrong with ASOS. These are light, breathable, and oh so soft. They almost feel like sweatpants, but they still hold you in (although admittedly they're less tapered than other options.) The model wears these as straight-up pants. I'd maybe say they're a little too casual-looking for that but, I mean, whatever. Wear any of these as pants! I'm not gonna tell you what to do!
Size 12–28
Because Torrid's Slim Fix Premium Leggings are such a staple for me, I've tried their other options, but I like the looks of these lattice mesh ones. The first review says "lazy sexy," which honestly is everything I want to be. Everyone says they make your butt look great and that the mesh adds a sexy twist without being too revealing or flimsy. One person wrote, "SO HAPPY THAT I FEEL GOOD IN MY BODY AGAIN!" I mean, what more do you want in a legging?
Size 10–30
Leggings to Wear As Pants
I think these are called "miracle flawless" because of the paneling on the stomach, and my waist did look flawless in these (although I wouldn't say it was a "miracle," yeesh). I loved the white stripe on the side, a cute detail that elongated my legs and made the look feel more complete. If you're an hourglass shape, the paneling really accentuates that. It even made my lower back look better through my top.
Size 14–28
I'm kind of shocked by how much I liked these. I'd say they're a little more pant than legging. They don't taper as much at the heel, and they're more proportional across the waist and legs. Still, they're so edgy and sleek! The leather is fun and stylish without looking too fake (although it doesn't look that real, either; mostly, they just look like shiny pants). The band hits you right where you want in the waist and the fit is forgiving —  not bunched up, but also slimming, which is nice if that's what you're looking for.
Size 12–28
Eloquii with the flawless waistline again! One thing you notice when you try on a lot of leggings is that sometimes your legs can just look like one black box from the front. I like that this style broke up all that black with faux-leather panels. It looked modern, but also subtle. Not like that I was in a biker gang, but like I maybe played pool with them sometimes.
Size 14–32
The Universal Standard saleswoman gave me these when I asked for "work leggings," even though they're officially billed as pants. They fulfill what I want out of leggings: stretchy, light, and not at all constricting. And the side zipper makes them look professional. They didn't hold me in like some of these options, but my stomach still looked great.
Size 0–40
Leggings to Get Jacked Calves In
My kickboxing instructor once told me I had short legs (it's cool, we're working through this), but these make them look longer, I think because of the mesh on the side. Also, I love them. They make me feel powerful and resourceful, and the colors are all great. If you're self-conscious about your tummy, just know that it's kinda on display in these. But when you put these on, you feel like a warrior ready to kick down some doors (or at least some heavy bags).
XS–XXL, 1X–4X
I've gotten so many compliments on these; they make you feel strong but also a little sexy. The high waist covers everything, so that even when I'm planking and it feels like my body will fall apart, I still feel sucked in and safe. And these definitely make my butt look higher. Did I think I'd be shopping at Old Navy forever? No, I thought at some point I'd give in to the "Let's buy $150 leggings" lifestyle. But these look just like the fancy expensive ones. When I see the other ladies at rowing or yoga, I'm like "Oh, we look the same."
XS–XXL
If you buy something through our links, New York may earn an affiliate commission.