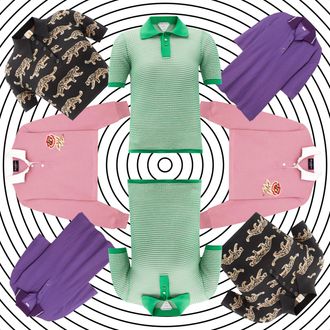 Photo-Illustration: The Cut; Photos: Retailers
I never thought I'd be so happy to see the polo shirt make its way back into my spring wardrobe. I went to a school with a uniform and played golf, so for much of my childhood, polo shirts were mandatory. I had all sorts of tricks for making them reflect my personal style: buying them in colors like neon green or fuchsia, layering a colorful T-shirt underneath to add a little more excitement. Sometimes, because this was the early 2000s, I would even layer two polos on top of each other and pop the collar.
These days, you don't have to work so hard to make a polo seem less dull. The preppy classic has blossomed into a seductive and vivacious staple, as seen on the runways of Miu Miu and Telfar as well as on celebrities like Billie Eilish in Gucci and Selena Gomez in Victor Glemaud. From shoulder-padded classics to cropped rugby styles, wearing polo tops is officially cool. Read on for some of our favorites.
The Color-Blocked Polo
If you're looking for a throwback to the early 2000s, this is the polo for you.
Available in sizes 12 - 22.
The Social Media Polo
Spotted on TikTok and Instagram, this polo stands out for its groovy '70s look.
Available in sizes S - L.
The Relaxed Weekend Polo
Wear it with matching pants for a soothing monochrome look.
Available in sizes 1X - 3X.
The Retro Crochet-like Polo
This slightly '50s polo has an effortlessly sporty look.
Available in sizes XXS - XL.
The 'Do I Look Like I'm Wearing a Uniform?' Polo
There's something very appealing about the way this one mixes a conservative shape with a wild color.
Available in sizes S - XL.
The Poolside Polo
Perfect for going from the pool to a poolside Zoom meeting that requires a collared shirt.
Available in sizes XXS - L.
The 'Flo From Progressive, But Make It Designer' Polo
I can't unsee it, so I must buy it.
Available in sizes XXS - L.
The Cropped Rugby Polo
Between the crop, the pink shade, and the rose, this is the most flirtatious polo shirt we've ever seen.
Available in sizes M - XXL.
The 'Too Hot for Sleeves' Polo
This polo transitions from long-sleeved to sleeveless in a matter of seconds. The cut-out shoulders makes it easy to switch your look up. You can wear it loose or tie it behind your back to cinch the waist.
Available in sizes XS - L.
The Slightly '80s Polo
A polo Grace Jones might wear on her day off.
Available in sizes XS - L.
The Preppy Tricolor Polo
Navy, baby blue, and maroon play so nicely together.
Available in sizes S - L.
The Cropped Animal-Print Polo
Possibly the most fun top on this whole list.
Available in sizes XS - L.
The Sleek and Professional Polo
We all love a Rachel Comey moment, right? This silk whisper-blue polo is a twist on the classic polo.
Available in sizes 12 - 20.
The Dad Polo
This relaxed-fit shirt reminds me of the ones I've taken from my dad's closet over the last couple of years. Pairs perfectly with your favorite mom jeans.
Available in sizes 00 - 12.
The Polo That Knows All the Best Gossip
There's something about this polo that makes me think of a stylish auntie with great taste and whole lot to say.
Available in sizes XS - XL.