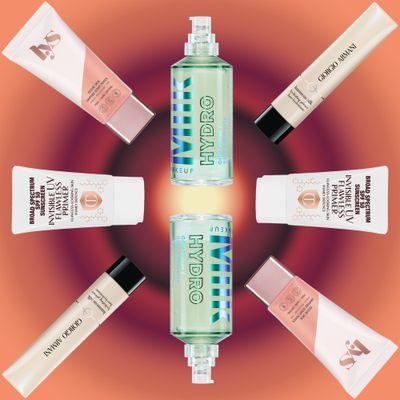 Photo-Illustration: by The Cut; Photos: Retailers
For more of the Cut's favorite fashion, beauty, and home finds, sign up for the weekly Cut Shop Newsletter.
Who doesn't love a little shine? Inner or outer, we all want a little glimmer. However, while appealing, we don't want our face to look like Edward Cullen in Volterra, Italy. As you prepare to perfect your makeup routine, we can all agree that you should battle with unflinching rigor that other sort of shine that can often come from using a primer. Although primers are best known for allowing makeup to last longer, they are also the first step to keeping your face from glistening like a vampire and a vital part of your makeup routine.
After speaking to celebrity makeup artists and conducting an in-depth search and testing, we've rounded up the 13 best primers on the market for all skin types and concerns.
FAQs
A primer is a substance used a preparatory coat. In this case, for the canvas that is your face. However, just like the beauty industry is saturated with tons of different moisturizers, you guessed it, there are just as many primers.
The best tips and tricks for how to use a primer vary based on your skin type. "Is your skin oily, and makeup tends to separate or look blotchy throughout the day? Pick a mattifying primer. Is your skin dry and flaky, and makeup only seems to emphasize the dry patches? Use a highly moisturizing primer," says makeup artist Sandy Ganzer. Depending on your skin concern, Carly Loundenberg, a Bobbi Brown National Makeup Artist, recommends you address it before moving onto applying your makeup.
What should I look for when choosing a primer?
If you're using a silicone-based foundation, then you should look for a silicone-based primer and vice versa, according to makeup artist Katie Mellinger. Same goes if your foundation is water based. "Usually a thicker, silicone-based primer is a better choice for full coverage looks as it helps to smooth out the skin's texture, while a lighter and more fluid primer is better for more natural, sheer, or glowy makeup looks," says makeup artist Jaleesa Jaikaran.
So don't skip over reading the ingredients! We've all gone through finishing a perfect makeup look only for it to be ruined the second you place your phone on your cheek.
How often should I use a primer?
You don't have to always use a primer, but there is definitely no harm in using one everyday — even if you're going for a natural-makeup look. If you're just using concealer, primer can help it blend better on the skin. Plus "primers can do wonders for mattifying or boosting hydration to your skin," explains Ganzer. And according to Adam Breuchaud, "one of the best reasons to use a primer is because it acts as a thin barrier that helps stop your makeup from seeping into your skin. Because of this, I use primer under every makeup I do."
The Best Fast-Acting Primer
If you're the kind of person who likes to get ready at warp speed, then this nifty primer from Paula's Choice is your best bet. Almost as soon as you spread a pea-size amount over your shiny spots, the silicone formula dries to a matte finish. It won't bead or flake under makeup, and it keeps even the brightest forehead shine-free for at least six hours.
Pros: Fast-acting, leaves a flawless matte finish, won't pill under makeup
Cons: May be too matte for people with dry skin
The Best Primer for Mature Skin
For Breuchaud, who uses primer every day, his go-to is this illuminating primer from Chanel. Formulated with hyaluronic acid and blue microalgae, it visibly plumps skin and keeps it moisturized throughout the whole day. It feels light on the face and works to blur the look of fine lines.
Pros: Lightweight formula, effectively blurs and plumps the skin
Cons: Tends to look a bit shimmery
The Best Primer for Acne-Prone Skin
If you struggle with redness, rosacea, or painful breakouts, you need to incorporate this Cover FX primer into your beauty routine. It's gentle, soothing, and cooling, plus the green color instantly neutralizes redness. The silky-smooth formula easily glides onto the skin and helps makeup last all day long.
Pros: Great for sensitive skin, helps soothe irritated skin and cover breakouts
Cons: Some reviewers say it's a bit too thick
The Best Primer for Dark Spots
The Black-owned beauty brand LYS offers makeup products that feature skin-care benefits, and its primer is no exception. For Mellinger, this is one of her favorite primers for longevity. "It's a gripping formula that also contains niacinamide, which is awesome for improving skin texture and controlling shine," she says.
Pros: Affordable, helps reduce the appearance of pores, brightens the appearance of dark spots
Cons: If you love a grippy primer, this one may be a bit lightweight
The Best Affordable Primer
When you're in a pinch for time, a solid drugstore option is a great answer. The Master Prime Blur + Pore Minimizer from Maybelline is under $10 and offers lightweight coverage that manages to blur pores and even skin tones.
Pros: Affordable, helps makeup last longer
Cons: Some reviewers say the texture feels too greasy
The Best Primer With a Silky Finish
Of course, Armani would make a silky primer that spreads as smoothly as butter over skin. The gelatinous concoction acts like a cushion between your face and makeup, smothering oil and grease for the better part of a day. It plays well with any form of foundation — liquid, powder, or cream — but also works nicely on its own as a fancy guard against shine and is one of Ganzer's favorite primers.
Pros: A silky finish that's not overly dewy, smells great
Cons: Some reviewers say you don't get enough product for $44
The Best Luxury Primer
Anyone who has tried Dior's viral lip oil knows the brand could give a master class in the art of glow — and this silky formulation is no exception. It's lightweight and hydrating while providing a smoothing effect to the skin and the perfect amount of glow (without ever looking greasy). It's certainly a luxury option, but reviewers agree it's worth every penny.
Pros: Infused with hyaluronic acid for intense hydration lasting up to 24 hours
Cons: Expensive
The Best Pore-Minimizing Primer
This two-in-one product acts as a pore minimizer and makeup primer, so it's crafted to create an ultrasmooth canvas. The mattifying formula helps fend off oils throughout the day, making it a solid choice for those who are shine or acne prone.
Pros: Minimizes pores, absorbs quickly, sweat resistant
Cons: Not necessarily a hydrating formula for long-wear days
The Best Skin-Care–Primer Hybrid
La Mer is a master of skin care, so it's to no one's surprise that it has an expert-level primer, too. This water-based formulation plumps, hydrates, and smoothes skin texture for a soft-focus effect that aces the test for any skin type. If you're up for a splurge, look no further.
Pros: Helps hydrate, plump, and blur the skin, can be worn alone or under makeup
Cons: Some reviewers say it feels more like a lotion than a primer
The Best Mattifying Primer
If you really hate silicone, consider this mattifying primer from Make Up For Ever, which eschews silicone for silica (a derivative of silicone and a more breathable ingredient, according to some). The opaque white formula feels like a creamy gel, and under any kind of makeup, it was the most impressive in stopping shine — for a full 12 hours.
Pros: Heavy-duty protection against shine, long-lasting formula
Cons: The heaviness was off-putting for some reviewers
The Best Grip Primer
This viral primer is known for it's firm hold that leaves makeup looking perfect all day long. It has a sticky, siliconelike (though it's silicone free) texture that achieves that dewy look you might be striving for.
Pros: Hydrating, lightweight, cruelty-free formula
Cons: The sticky consistency may not appeal to everyone
The Best Primer With SPF
Adding more SPF to your routine is never a bad idea. Makeup artists including Angela Levin love this primer, which offers SPF 50 and hyaluronic acid for the most hydrated and protected skin out there, especially if you're doing a light-makeup look.
Pros: Doubles as a sunscreen; helps smooth, blur, plump, and hydrate the skin
Cons: Those with acne-prone or oily skin may need a more mattifying product
The Most Versatile Primer
"This product does something to the skin that makes me scream," says Amy Chin. "The hydration ingredients are super-beneficial and help draw moisture in and give you a beautiful canvas." For Chin and other artists, the versatilely of this primer is unmatched. It blurs, protects, and enhances the skin all at once.
Pros: Lightweight formula gives a "barely there" feel
Cons: Better for achieving a dewy look rather than mattifying for oil control
Our Experts: