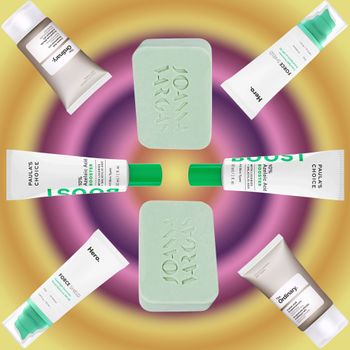 Photo-Illustration: by The Cut; Photos: Retailers
For more of the Cut's favorite fashion, beauty, and home finds, sign up for the weekly Cut Shop Newsletter.
Rosacea is associated with facial redness, but usually it's more than just a "Wow, it's hot outside!" type of redness. (Although hot temperatures can be a trigger, but we'll get into that later.) It most commonly affects the center of your face such as your nose and cheeks, and Dr. Iris Rubin, a dermatologist and the founder of SEEN Skin & Hair Care, says as many as 16 million Americans are affected by rosacea in one form or another.
FAQs
Rosacea is a common skin condition that includes facial redness, broken blood vessels on the nose and cheeks, and acnelike breakouts. How it appears from one person to the next can differ since there are four distinct types. Rubin breaks down them down and their symptoms, below:
Erythematotelangiectatic rosacea: facial redness, flushing, broken blood vessels
Papulopustular rosacea: acnelike blemishes
Phymatous rosacea: skin thickening and a bumpy texture that affects the nose
Ocular rosacea: red and irritated eyes with swollen eyelids
Dr. Tsippora Shainhouse, a board-certified dermatologist at SkinSafe Dermatology in Beverly Hills, says that phymatous rosacea — the thick skin that commonly develops on the nose — almost only affects men. Shainhouse and Rubin also say that rosacea in general is more common in those with lighter complexions, but it can develop for anyone regardless of skin color. People with darker skin can be underdiagnosed because the appearance of redness is masked by the skin's natural pigment.
If you want to pinpoint exactly what the initial cause is, you might be disappointed, as it's not completely understood. Rubin says there could be a variety of factors at play. Potential causes could be that the skin condition runs in your family; there's an overcompensating immune response; your body overproduces cathelicidin, which is an anti-microbial peptide that can cause redness and swelling; or your skin microbiome is unbalanced.
The redness appears more prominent when you have a flare-up, and these can be triggered by a number of things including stress, spicy food, diet, exercise, alcohol, climate, and other environmental and emotional factors. Certain skin-care and makeup ingredients can also cause a reaction. Rubin says to consider avoiding products with alcohol and fragrance, and Joanna Vargas, a celebrity facialist and the founder of Joanna Vargas Salons and Skin Care, says to forgo harsh retinol formulas and physical exfoliants too. You might be tempted to scrub the bumps away, but it will only irritate and create more redness on your skin.
"Unfortunately, rosacea sticks with you through life and cannot be cured," says Dr. Shereene Idriss, a board-certified dermatologist and the founder of Idriss Dermatology in New York City. She notes the most important thing you can do is to understand your skin and learn how to manage the symptoms and minimize any flare-ups: "I cannot stress enough the importance and power of a consistent, targeted skin-care routine with over-the-counter products."
Of course, prescriptions help too if your symptoms are in need of a more powerful treatment. Idriss and Shainhouse says the below categories are common prescriptions for rosacea, but consult with your own dermatologist first to see what's the best option for you:
Topical anti-inflammatory creams can help to reduce inflammation, redness, and the development of new pimples. You'll want products with azelaic acid, sulfur, or topical calcineurin inhibitors like pimecrolimus cream.
Topical antibiotics can help treat and prevent new acne lesions. You'll want products like metronidazole and minocycline.
Oral antibiotics can help block the pro-inflammatory enzymes in the skin. You'll want low-dose tetracyclines like doxycycline.
Topical anti-redness ingredients can help temporarily shrink the superficial blood vessels to reduce redness. You'll want products like brimonidine and oxymetazoline.
Below, we've rounded up 12 powerful over-the-counter skin-care products that can help calm redness, even out bumps, and subdue other rosacea symptoms like dryness and puffiness.
Best Soap Bar for Rosacea
Vargas's Ritual Bar has soothing green-tea extract that rapidly calms inflammation, and it's great for sensitive skin. The avocado oil also keeps your skin consistently hydrated and contains skin-nourishing vitamins A, E, and D. If you're the kind of person who prefers a simple bar to wash your face, this one will do wonders, and it's gentle enough that you can use it each morning and evening without stripping your skin barrier.
Best Night Cream for Rosacea
Shainhouse recommends this gel-like, fragrance-free Eucerin cream that targets redness. She says the licorice-root extract calms skin and it's non-comedogenic, meaning it won't clog your pores. Simply apply a layer on your face before you go to sleep, and you'll wake up with a more even complexion.
Best Gel Cream for Rosacea
Idriss calls azelaic acid "the gold standard" for rosacea. In prescriptions, she recommends it at 15 percent, but this $11 cream still has 10 percent — not bad for the price tag. She says the acid is an anti-inflammatory ingredient, and it also has mild antimicrobial properties to control the growth of certain bacteria on the skin. "The skin may be more susceptible to bacterial colonization with rosacea, and azelaic acid can help reduce the number of bacteria present, potentially decreasing the inflammatory response," she says. The gel-like consistency has a lightweight, non-greasy finish that brightens and targets any bumps or unevenness in your skin.
Best Smoothing Cream for Rosacea
If you're more of a Paula's Choice die-hard, this azelaic-acid product is also a great place to start. Shainhouse recommends this booster that you can wear on its own or mix with any moisturizer or serum. It contains licorice root to fight those flushed cheeks and also has a dose of salicylic acid for a visibly smoother complexion. Reviewers say it performs well as a dark-spot remover, so you can add hyperpigmentation to the list of things this product helps solve.
Best Moisturizer for Rosacea
Rosacea can cause flaky, dry skin with its red patches, so it's important to lock in moisture. Though it's for all sensitive-skin types, Vanicream's moisturizer is ideal for dryness; it does lay it on thick but in a way that doesn't suffocate your pores. It has a 4.6-star rating out of 5 on Amazon, and reviewers say it quickly cleared up irritation and redness.
Best Under-$20 Cleanser for Rosacea
This cleanser is the holy grail of moisture. Even for those who don't have rosacea, it's one you should use. If your rosacea symptoms are easily triggered by anything and everything, this cleanser is super-gentle yet effective and provides all-day hydration with hyaluronic acid, ceramides, and glycerin. On top of all the pros, it'll last you for ages, so for just $15, it's pretty much a no-brainer.
Best Cleanser for Rosacea
For a cleanser that's twice the money and specifically targets redness, Idriss recommends this cleansing lotion. It's formulated with thermal spring water to remove makeup, dirt, and oil without overdrying the skin. If your face feels hot from being flushed, you'll feel instant relief with one wash. (As a side note, she says Avene's entire redness-relief line has great products that soothe inflammation and irritated skin.)
Best Mask for Rosacea
Sulfur helps target flare-ups and acne, so this is a good go-to if you have the type of rosacea that forms those tiny pimplelike bumps across your face. It also contains cooling aloe vera, and the bentonite clay vacuums out your pores so you're left with a radiant glow (an oil-free one, I might add). Waiting five to ten minutes with this mask on your face before washing it off is all you need for a smoother complexion without any harsh scrubs or physical exfoliants.
Best Everyday Sunscreen for Rosacea
Photo: Courtesy of the Retailer
The light-green glossy texture counterbalances any redness, and this also acts as a great primer if you're adding makeup into the mix. The green tint seeps into your skin and leaves a breathable finish that happens to be fragrance-free and reef-safe. Apply this in the morning, and reapply every two hours for sun protection that also feels hydrating and soothing thanks to the green-tea-leaf extract.
Best De-Puffer for Rosacea
Idriss's roll-on serum from her line PillowtalkDerm is her No. 1 pick for flushed skin. It's clinically proven to reduce skin redness, and she says that plant-based antioxidant centella asiatica is an ingredient that plays an essential role in that effect. Plus, the de-puffing roll-on applicator will feel heavenly while distributing the perfect amount of serum to your face.
Best Multitasker for Rosacea
A three-in-one product might sound too good to be true, but the ratings and reviews don't lie. This formula also has that aforementioned magic ingredient centella asiatica to combat a flushed face, and it acts as a cleanser, toner, and mask in one sleek blue bottle. You'll be left with zero traces of makeup and less visible pores; plus, the naturally derived AHA and BHA exfoliants are nice to your skin while giving it a smoother texture. On Amazon, the cleanser has a 4.7-star rating out of 5 if you need more convincing.
Best Retinol for Rosacea
This is a retinol you can use every evening without any annoying peeling or burning sensations. Of course, you should ease into this formula before testing it out on your own skin type, but the milky consistency gives you that glassy complexion. It targets discoloration and uneven texture, leaving your face brighter and smoother by morning. Some reviewers say they even use it in the a.m. and p.m. without the harsh side effects of other retinols.
Our Experts: