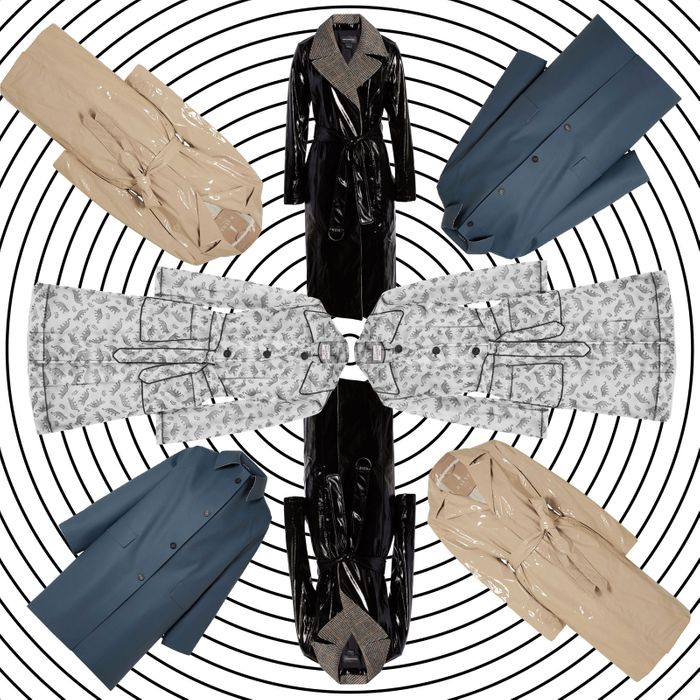 Photo: Courtesy of the Retailers
It started where all great New York missed connections do — in the subway. I was wading out of the Second Avenue F station during one of those huge, drain-clogging New York rainstorms when I saw the perfect raincoat. It was the exact color and texture of a caramel, glossy and almost plush looking, with fat snaps and a generous hood, worn by a very chic woman who'd almost definitely just finished dinner at scene-y Greek restaurant Kiki's.
While I never found an exact match for that butterscotch dreamboat, the sighting did send me down a rabbit hole of all the best raincoat options out there these days. Read on to stay high and dry.
A Shiny Statement Piece
Almost exactly like the one that got away, this reflective cream-colored Rains number takes everything great about a classic trench shape and levels it up with a lightweight, impermeable PU texture in a high-shine finish. It also comes in a few equally exciting other shades.
Available in sizes XXS–XL.
Clearly the Coolest Way to Show Off Your Outfit
A transparent, contrast-seam design lends this jacket a mod appeal that would look right at home on say, Parker Posey's character in Party Girl — a forever presence on our moodboards.
Available in One Size.
The One That'll Fit in Your Pocket
Even Dark Sky is wrong sometimes, and that's where this folds-down-to-nothing number comes in — throw it in your bag for sudden drizzles. Plus, it's available in a range of cute color-blocked options.
Available in sizes XL–5XL.
If You Have Your Hands Full
Lots of pockets on this Levi's classic, including a hidden one on the interior. It's also fully lined, which reviewers note adds some additional warmth if you need it.
Available in sizes XL–XXXL.
For When You're Feeling Fierce
Sure, we can talk all about how this one's made from a very light (biodegradable!) plastic that won't leave you soaked in sweat during warm weather squalls — but we all know the only thing that really matters is the tonal tiger print.
Available in sizes S–XL.
If You're Channeling Brigitte Bardot
There's a certain je ne sais quoi about this patentlike trench with a contrast plaid lapel. The cinch-able waist and shiny finish feel just right for a rainy day movie date, and the vinyl texture is 100 percent waterproof. Teased hair and ennui optional.
Available in sizes XXS–XXL
The Waterproof Poncho That's Still Cute
It's definitely a statement, but if you're into compliments from strangers, this voluminous polka-dot poncho should do the trick. The generous size means you can easily throw it over a winter coat. And reviewers are fans of the zippered pocket and the cute l'il carrying pouch.
Available in One Size.
For an Hourglass Shape
Staying dry doesn't have to mean pulling on a poncho, if that's not your vibe. Ruched elastic adds a waist-defining cinching here, and a high-low hem also makes it feel a little more fashion-forward.
Available in sizes XL–XXXXL.
The Matisse Cut-Out of Coats
Remember a few years ago, when it felt like every single woman owned a drawstring parka in olive drab? Well, that was a great silhouette, and it's been redeemed here in a shade of bold cobalt blue that's currently having a moment, complete with waist-defining ties and an easy-breezy waterproof hood.
For Those Days When It Feels Like a Jungle Out There
A monochrome leopard print adds intrigue to this semi-transparent matte coat, cut in a roomy, single-breasted trench shape.
Available in sizes XS–L.
The Retro Windbreaker
An almost bomberlike design and angled sleeve stripes lend this windbreaker a retro feel that would look great over jeans or even a slip skirt, and it's both water-resistant and quick-drying.
Available in sizes S–XL.
The One That Looks More Expensive Than It is
Which is always a selling point. This ankle-length coat has a deep back vent and a circle hem that's extremely current and would look stellar left open over a trouser look. Plus, it's got only five-star reviews when it comes to keeping you dry.
Available in sizes 14–34.
If You Like a Workwear Look
The burnished coating of this menswear staple is designed to let the rain roll right off your shoulders — and we'd argue that it's actually a unisex cut that's perfect for accommodating thick knits in the cooler months.
Available in sizes S–XXL.
The Slouchy Weekend One
A drapey nylon blend makes this navy fishtail-hem raincoat just right for walking the dog or grabbing a lazy Sunday coffee, even when the weather won't cooperate.
Available in sizes XL–XXXL.
Ideal for a Misty Stroll, Preferably in England
A raincoat worthy of Paddington, the only outerwear influencer who truly matters. In banana yellow, this breathable waterproof winner straddles the line between classic and statement — and the striped lining adds a nice preppy touch.
Available in sizes S–XXL.
If Functionality is Your No. 1 Goal
Lightweight and designed to hit around your hip, this The North Face is a classic for a reason. Well a few, actually, if you count the many pockets, breathable interior mesh, and the built-in pocket at the neck that can hide your hood away. It also comes in dozens of colors, so you can keep things neutral or make a real rainy day statement.
Available in sizes XS–XXL.
If You Like a Swing Shape
Rubberized cotton, a wind-defying high collar, and deep welt pockets pretty much ensure this jacket's well-deserved spot in your regular outerwear rotation. Bonus: the A-line cut leaves plenty of room for a thick sweater or even a small bag underneath.
Available in sizes XS–L.
The Modern Take From a Heritage Brand
Barbour is famous for their olive green barn jackets, which seem to be issued alongside MBA degrees. But they get high marks for this optic white rain jacket with a removable hood and tonal hardware that blends right in.
Available in sizes XL–XXXL.
Just Wild Enough
This A-line jacket keeps the details simple and lets the leopard print take the main stage. It's also weirdly hard to find a well-balanced leopard print, and this one fits the bill.
Available in sizes 10–28.
The Minimalist Investment Coat
Kassl is a German line that exclusively focuses on nailing indestructible, stylish raincoats. This sleek slicker combines old Celine vibes with a matte texture and a cut so good you might want to wear it even when the sun is shining.
Available in size XS–L.
If you buy something through our links, New York may earn an affiliate commission.