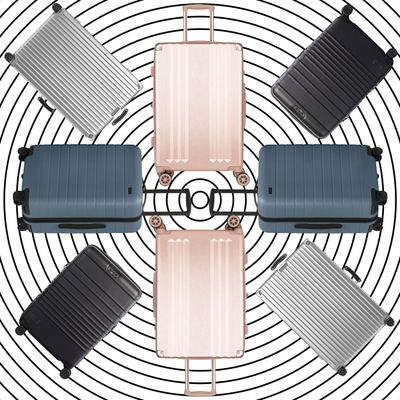 Photo-Illustration: by The Cut; Photos: Retailers
For more of the Cut's favorite fashion, beauty, and home finds, sign up for the weekly Cut Shop Newsletter.
Luggage can make or break your trip. At its best, you don't even notice it's there. At its worst, it's an anchor you have to drag across the airport like a dog that refuses to cross the street. There are many schools of thought when it comes to picking the best rolling luggage (check-in or carry-on, hard shell or soft side, etc.), so we asked frequent fliers for their recs.
FAQs
What to look for in a rolling carry-on?
Never mind that your clothing is rolled up into literal balls of wrinkled cotton or you weren't able to pack deodorant; if it doesn't fit in the carry-on, it's not coming. Thus was the sentiment among most of our frequent fliers. One thread we noticed is that all the experts picked the largest version of each brand's available carry-on. This means anything nearing the maximum size for carry-ons. According to Consumer Reports, that's 22 inches in height, 9 inches in depth, and 14 inches wide at the "big three" airlines: Delta, American, and United.
What to look for in rolling checked luggage?
In general, checked bags value function over form since they'll be heaved pretty ruthlessly across multiple conveyor belts. You won't tend to find exterior pockets on these, and more often than not, they'll be hard-shell for durability. For sizing, you can expect anything from 24 inches to 30 inches; you'll want to stay vigilant when packing the extra-large ones, as you can quickly head into "Oversized Baggage" territory. Our experts harped on the need for a top-tier glide and 360-degree wheels. This roughly translates to what the luggage industry called "spinners." Notably, regardless of size, not a single two-wheel piece of luggage was recommended. (This is of special importance with a checked bag, which will need to carry a heavier — likely, unevenly distributed — load.)
The one for packing pros
When he's not shoving clothes into his Pelican camera case to cut down on checked items, Matthew Tompkins, a cinematographer who lives in upstate New York and Los Angeles, uses this durable Amazon find. "I pack my bag like a game of Tetris — with clothes alongside equipment — so a hard shell is imperative when transporting things safely. This Samsonite rolls smoothly and gets the job done," he says.
Dimensions: 23" x 15" x 10" | Colors: 15
The one for people with down-payment money in their bank account
A former Rimowa skeptic, Lauren Gary, senior strategist at TBWA\Media Arts Lab, is now a full-fledged convert: "My husband is a frequent traveler and has been a Rimowa enthusiast for the last ten years. Once his luggage became a permanent fixture in our travels together, I could see why," she says. "This thing screams "luxury"… as it should with that kind of price tag. The Classic has leather handles, a sleek aluminum body, and latches that click so well it feels like shutting the door on a G-Wagon." The downsides are that the piece is a bit heavier than plastic versions, some of the hardware has been known to be finicky (though if you're within Rimowa's warranty period, you'll be fine), and per Gary, "It's not suited for smaller yachts." You know, relatable travel things!
Dimensions: 30.8" x 20.5" x 10.7" | Colors: 2
The Amazon best seller
We'd be remiss not to include this top-rated pick from Amazon — after all, there are a few of you out there looking at this post because you needed a piece of luggage yesterday. This hard-shell luggage is large, under $100, and has nearly 9,000 five-star reviews. It's not as widely loved as the Amazon Basics Hardside Spinner (we'll get into that), but this one has cool patterns to easily spot your goods on the luggage carousel.
Dimensions: 22" x 15" x 9.5" | Colors: 16
The best plus-one
Being an actual movie star comes with more than the usual human amount of travel, so it's no surprise that Shay Mitchell's brand, Béis, is hype-worthy. Another line of work that can require frequent flying? Public relations. Cathy Jang, a PR specialist at Amazon Prime Video, says Béis gets you the most bang for your buck. "I tried to get my hands on a piece of Béis luggage during Black Friday and it was no use. I ended up getting the carry-on later and it was well worth it, even at full price. I travel regularly, so luggage is far from an afterthought — this thing glides like a dream, and it doesn't hurt that it looks nice too."
Dimensions: 22.8" x 15.7" x 9.8" | Colors: 10
The most popular rolling luggage
Meet the most recommended bag from our experts. As the "Bigger" of Away's carry-on options, this one pushes the limit for what most airlines will allow. Miraculously, it's still light enough to wield safely above passengers' heads and into the overhead bin, a testament to its durable polycarbonate frame. Sarah Raoufpur, a casting director based in Los Angeles, says that beyond work trips, her Bigger Carry-On has traveled around the world ("Over the last several years, it's been to Japan, Spain, and Mexico"). While there's a lot to love about it, Raoufpur says, "It's sleek, chic, and has enough room to be comfortably packed for weeks at a time. My favorite features are the USB external battery (perfect for long travel days).
Dimensions: 22.7" x 15.4" x 9.6" | Colors: 10
The one Siobhan Roy would roll around
Want a bag that's durable — like, throw it across the tarmac and it won't sustain a scratch durable — but feels like you're pushing air? Eugenia Gonzalez de Henn, contributing editor at Vogue Mexico & Latin America, says, "This bag rolls so smoothly, it feels like it can walk on its own." She discovered Rimowa through her husband ("A perfectionist German architect who swears by its design and practicality"). She loves how lightweight the bag is, but even better: "When it opens, the weight is evenly divided down the middle, and these very handy blue dividers hold your clothing down so nothing moves, wrinkles, or unfolds when you open and close the bag."
Dimensions: 21.7" x 15.8" x 9.1" | Colors: 4
The trunk on wheels
July launched a little after Away, but it already has a dedicated following . It's atransatlantic-voyage-level trunk that doesn't cost an apartment security deposit. This is the largest bag the Melbourne-based brand offers and is perfect for families that need to travel with their child's entire room wherever they go.It's made with aluminum bumpers but has a polycarbonate shell, so it stays light, and is probably only rivaled by Away in the amount of color options available.
Dimensions: 30.25" x 19.75" x 12.5" | Colors: 16
The one that just works
Damien Nunes, former director of accessories, partnerships, and collaborations at Gap, travels between the East Coast and L.A., Austin, and Seattle (and internationally to London and Paris) on the regular, and this Patagonia wheeled duffel is the only thing that can keep up. "This bag has to be checked, which is fine with me because it's super-weather-resistant; has smooth, strong wheels; and has a great handle. What I love is that it's just a huge volume of space, without lots of useless pockets and compartments. What's also great is it has a zipped bottom lining that I can shove stinky, dirty clothes under during a trip," he says. And it lasts too — Nunes had the previous generation of the slightly smaller model for 12 years.
Dimensions: 21.6" x 14" x 9.5" | Colors: 2
The one for practical execs
"The last Tumi I had I used for over ten years," says Joe Zee, former editor-in-chief of Yahoo! Style and co-host of FABLife. "That one was so old, it only had two wheels! It's just super-durable. Of course, no baggage carousel treats luggage well, but this has always held up and fits everywhere." Zee says the interior of the bag is especially nice: "It has a separate compartment for dirty laundry, and there are clips for a garment bag in the interior." The only downside? The color you're looking at here is the color you're going to get.
Dimensions: 26" x 19" x 13" | Colors: 2
The Rimowa dupe
Calpak makes one of the Cut Shop's favorite weekender bags (the Luka duffel). So we weren't surprised to find that the brand's luggage is top-qual too. The Ambeur line is a decent dupe of Rimowa's aluminum suitcases and a fraction of the cost. They're also made of aluminum but are shockingly lightweight — an average of one or two pounds lighter than Rimowa pieces. Plus, you can be a little less precious about them when they're haphazardly flung across baggage claim.
Dimensions: 26" x 16.5" x 11" | Colors: 10
The one to keep (price) tabs on
"I bought a Samsonite suitcase from Macy's in 2018 — a big purchase for my first 'big girl' work trip," says Alexa Stoczko, a social-marketing strategist at Disney. She still uses it as her carry-on now, traveling at least two times per month. She notes that this is the updated version, but the bag is incredibly sturdy, has multiple internal pockets to help keep things organized, and has a pleasing but simple exterior. "Plus, those department stores have great sales," Stoczko adds, so you can likely grab one for a legitimate bargain if you find it at a big-box retailer.
Dimensions: 21.5" x 15" x 9" | Colors: 4
The (very tough) softie
Many frequent travelers we talked to said not to discount the persistence of a soft-sided case. They have less of a chance of cracking, but the caveat? You'll need to invest in a top-quality pick like the Thule Aion. It's made of recycled polyester fabric that's coated in a water-repellant waxed canvas coating. That's not the only notable thing about this luggage; there's a sturdy polycarbonate back plate for structure and a removable (and compressive) packing cube in the body.
Dimensions: 21.5" x 14" x 9" | Colors: 2
The one that'll get the job done
In terms of cost per use, it's hard to beat (albeit hard to stomach) the kind of value the Amazon Basics brand offers. This top-selling piece of rolling luggage has over 31,000 five-star ratings. It comes in well under $100, which is significant, considering the average cost of luggage on this list is around $500. Reviewers love that this bag is durable and rolls smoothly, with a hard shell that's low-key but unique enough to spot in a crowd.
Dimensions: 19" x 13.6" x 9.5" | Colors: 4
Our Experts:
Alexa Stoczko, social marketing at Disney

Cathy Jang, PR specialist at Amazon Prime Video

Damien Nunes, former director of accessories, partnerships, and collaborations at Gap
Eugenia Gonzalez de Henn, contributing editor at Vogue Mexico & Latin America
Joe Zee, former editor-in-chief of Yahoo! Style and co-host of FABLife

Lauren Gary, senior strategist at TBWA\Media Arts Lab

Matthew Tompkins, cinematographer
Sarah Raoufpur, casting director
Shanna Shipin, Cut Shop contributor and former commerce managing editor at Condé Nast