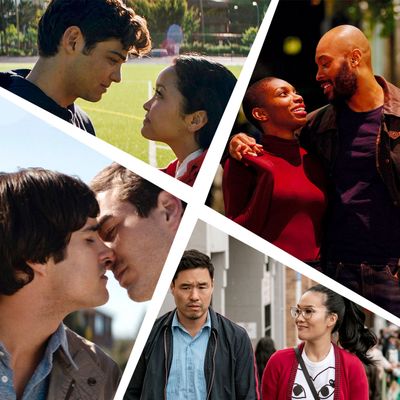 Photo: Shutterstock, Netflix, Everett Collection
Romantic movies run the gamut: There are your classic dramas, like The Notebook, funny rom-coms, like Ali Wong and Randall Park's Always Be My Maybe, and darker, more mysterious fare like the new Oscar-nominated animated film I Lost My Body, or the drama Like Water for Chocolate. Some have happy endings, some have sad endings, and some have Stanley Tucci. No matter what mood you're in, or how long it's been since you've been able to go on a date or stand within six feet of your friends, there's a romantic movie out there for you. To keep you from getting stuck scrolling indecisively through Netflix for hours on end, here are some solid picks that will have you feeling like that one emoji with all the hearts around it.
1. Kate and Leopold (2001)
This flick, starring the high priestess of romantic comedies herself, Meg Ryan, follows a 21st-century woman who becomes entangled with a strapping time traveler, Hugh Jackman, from the 1800s.
2. Dumplin' (2018)
Based on the 2015 young-adult novel, this movie has one of the best romantic plotlines I've seen in a Netflix original; the stakes get high when Willdowdean Dickson decides to enter a beauty pageant run by her former beauty queen mother (Jennifer Aniston). Dickson also forges a connection with the resident high-school hunk, who you might expect to fall for one of her bullies instead.
3. The Incredible Jessica James (2017)
This Netflix original is excellent if you're craving a classic story about a jaded woman in the city who gets a chance to rethink love. Jessica Williams (formerly of The Daily Show) plays a burned-out New York City playwright who ends up falling for a divorced app designer (Chris O'Dowd) she meets on a blind date.
4. About Time (2013)
At the risk of hyperbolizing, About Time is one of the best romantic movies of the 2010s. Rachel McAdams and Domhnall Gleeson star in this sweet tale about a couple that also meets on a blind date. Gleeson's character soon finds out that the men in his family can time travel under very specific rules. Despite this magical realist skill, the film reveals how true love and family are maybe the most remarkable gifts of all.
5. As Good As It Gets (1997)
In this James L. Brooks classic, Jack Nicholson plays an obsessive-compulsive romance novelist, and Helen Hunt plays a waitress and single mother who is the only person who can put up with him. Things, predictably, get complicated, but the film is ultimately about how seemingly broken people are able to find strength in each other. What's more romantic than that?
6. Always Be My Maybe (2019)
Ah, the resilience of young love. Ali Wong and Randall Park star in this recent Netflix original flick about an unhappily engaged celebrity chef. When she moves home to start a new restaurant, an old grade-school fling shows up at her door, and she is forced to reflect on what she actually wants.
7. Julie and Julia (2009)
If you're in the mood for something light and sweet, Julie and Julia might just satisfy your appetite. This film follows two people from different times but who struggle with similar trials and tribulations. In 2002, Julie Powell (Amy Adams) starts a blog chronicling her adventures cooking Julia Child's classic recipes, and navigating her relationship with her husband (Chris Messina). In the 1950s, Julia Child also searches for her life's purpose while wondering when her diplomat husband (Stanley Tucci) might be reassigned from his post in Paris.
8. The Guernsey Literary and Potato Peeling Society (2018)
Period romantic dramas are perfect for a cozy night in with your boo, and this film offers just that. A London writer learns of a secret book club formed during the Nazi occupation of Guernsey island, and falls for a club member while visiting on assignment.
9. To All the Boys I Loved Before (2018)
Want to feel steeped in that feeling of a teen crush? Look no further than this lovely movie starring Lana Condor and Noah Centineo. Daydreamer Lara Jean is given a rude awakening when the secret love letters she's written her crushes throughout childhood are mysteriously sent via snail mail to the boys in question. Peter Kavinsky and Lara Jean end up striking up a deal that works out for them in more ways than one.
10. The Spectacular Now (2013)
This coming-of-age indie drama follows a hard-partying messy guy (Miles Teller) who hits it off with a well behaved, straight-A student (Shailene Woodley) during their senior year of high school.
11. Amar (2017)
Laura and Carlos experience the intensity of first love in this Spanish romance. Perfect if you're looking for something super intense and reflective about the life-changing nature of such a bond.
12. Been So Long (2018)
In this musical film, Michaela Coel (of Chewing Gum fame) plays a single mother living in London's Camden Town who falls in love with a handsome stranger and struggles with her readiness to love again.
13. I Lost My Body (2019)
Magical realism lends a sense of mystery to this romantic Oscar-nominated film. From the writer of Amelie, this animated film follows a man who falls in love and a severed hand making its way through Paris.
14. Sleeping With Other People (2015)
Two former college friends with benefits, Jason Sudeikis and Alison Brie cross paths again 12 years later. Though they both have a hard time staying faithful, by reconnecting they're forced to think about what they actually want out of a romantic relationship.
15. Hitch (2005)
In another classic of the genre, Will Smith plays a smooth and charming man who coaches less smooth and charming men on the best way to date. He's always been ultra-confident about his talent for wooing until he meets a woman (played by Eva Mendes) who takes him by surprise.
16. The Duchess (2008)
If you love corsets, hoop skirts, and some good old-fashioned Victorian adultery, look no further than The Duchess, in which Keira Knightley plays a woman who strays from her unhappy marriage to the Duke (Ralph Fiennes) by starting an affair with a politician (Dominic Cooper).
17. The Mask of Zorro (1998)
For those looking for a blend of romance, action, adventure, and nostalgia, this classic film starring Antonio Banderas and Catherine Zeta-Jones is the perfect fit.
18. Blue Is the Warmest Color (2013)
This French indie darling follows the passionate, complicated relationship between Adèle (Adèle Exarchopoulos) and the painter she falls in love with (Léa Seydoux). It's raw, poignant, and there's a graphic seven-minute sex scene in the middle if you're looking for something a little more steamy.
19. Holding the Man (2015)
One of the most beautiful romantic films on Netflix right now is the story of two Australian teen boys who meet at an all-boys school, fall in love, and begin a relationship that lasts for 15 years.
20. Obvious Child (2014)
In Obvious Child, Jenny Slate plays a stand-up comedian who gets pregnant after a drunken one-night stand with a guy named Max (another impossibly charming Jake Lacy character) and decides to have an abortion. The Washington Post called the film "one of the most startlingly honest romantic comedies to appear onscreen in years."