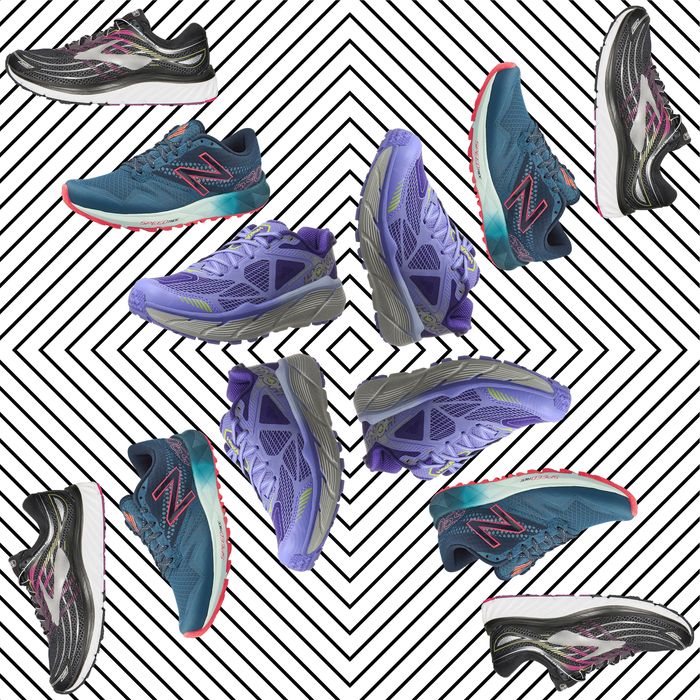 Photo: Courtesy of the Retailers
If you're a runner, you know how hard it is to find the best running shoes for your workout. The tiniest imperfections can make your run uncomfortable, or worse, injure you. You may also have different needs for your feet depending on preexisting injuries and what type of running you do.
We did the research for you and read through thousands of reviews to find the best running sneakers out there. Whether you're a long-distance runner or a trail runner, whether you have pronated feet or chronic foot pain, we found the perfect sneakers for you. Scroll below to shop them all.
These are the sneakers to buy if you want something durable and comfortable without breaking the bank. Because these shoes have a special foam midsole, reviewers mention how supportive they are for running, hiking, and aerobics.
The Most Popular Sneakers on Amazon
Sure, these may not be the most attractive of the bunch, but with more than 5,000 glowing reviews, it's hard not to consider these sneakers. One enthusiastic reviewer writes, "I am a teacher, so I am on my feet a lot! Since purchasing these shoes, I have hardly had any issues with my feet, lower back, or sciatic nerve."
If Your Feet Roll in While Running
If you pronate your feet while running, these are the sneakers for you. The extra-wide base provides stability, while the the special "8mm offset" technology provides cushioning for a comfortable run or all-day wear.
The Best Lightweight Pair
The heathered upper makes these sneakers light, breathable, and extremely flexible, as confirmed by more than 200 reviewers. Customers also mention how cute these are, with 16 different two-tone color combinations to choose from.
When You Need Ultimate Comfort
If you're looking for the most comfortable running shoe, these win the title. One of the 1,000 reviewers writes, "I have fallen arches, narrow heels and wide toes, and a very bad back and hips to boot … these are the only shoes in the world I can wear."
Many of the over 3,000 reviewers mention how supportive and comfortable these shoes are — on the trail and on the road. One customer writes, "I've hiked with these shoes in Aspen, Colorado, Arches National Park in Utah, Glacier Park in Montana, and all through Iceland. I walk/run 25 miles a week in these, and they have last 6 months and still look new!"
These Adidas running shoes are made with "responsive boost" cushioning, where "the more energy you give, the more you get." Of the 200 enthusiastic reviews on the Adidas website, one customer writes, "By far the comfiest pair of shoes I own. The Boost sole is unreal and feels like you're walking on a cloud. Well done Adidas."
The One in the Best Color
The melodramatic purple trend couldn't come at better time with these Persian Jewel purple Hokas. (And the company has made a comeback since partnering with cool-kid workout brand Outdoor Voices.) Reviewers mention that this style is especially supportive for runners with injuries.
When You Want to Wear Your Running Sneakers on a Daily Basis
Reviewers are so in love with the comfort and aesthetic of these shoes that they wear them for running errands, not just for running. Most customers say that they've bought multiple pairs over the years. One writes, "I've worn out seven pairs of these shoes. I absolutely love the feel, look, and performance of these shoes! They are comfortable the minute you put them on."
The All-Around Running Sneaker
If you're looking for a basic pair of running shoes that are comfortable and slick with no extra bells and whistles, this is your best bet. One passionate customer writes, "They have support! Stability! And cushion! How can one sneaker have everything I need? I could have run forever in them! They felt so good that I wanted to cry."
For Long-Distance Runners
Mizuno uses their signature "cloudwave" technology to provide optimal cushioning for long-distance running. One distance runner writes, "I have 100 miles on these shoes so far … I expect them to last a long time because they show no wear yet."
The Ugly Sneaker Running Shoe
In addition to these "ugly" sneakers being on trend, reviewers say that these are the most comfortable running shoes they've worn. One reviewer writes, "I would recommend these shoes to anyone who wants to run without thinking about whether they are running on the road, or a shitty hard gym treadmill." Choose from eight cute color combos to brighten up your workout look.
The Best for Impact-Absorption
The bottoms of these sneakers look weird for a reason — they're for shock absorption, which customers say helps lessen the impact on their knees and feet. One reviewer writes, "The Cloudsurfer hugs my foot and has a sleek look to it, with good structure and support. The difference in impact when running is noticeable."
If You Need Extra Cushioning
Brooks's Super DNA technology provides adaptable cushioning and a plush fit. Customers are clearly loving it, as many say that these sneakers make them feel like they're running on a cloud.
The Podiatrist-Approved Pair
You know these sneakers are the real deal if they have the "American Podiatric Medical Association Seal of Acceptance." One of many enthusiastic reviewers who have a foot injury writes, "I have only been wearing them about a week and my pain, from my toes all the way up to my hip, is almost completely gone! You don't have to be a runner to receive the benefits."
If you buy something through our links, New York may earn an affiliate commission.