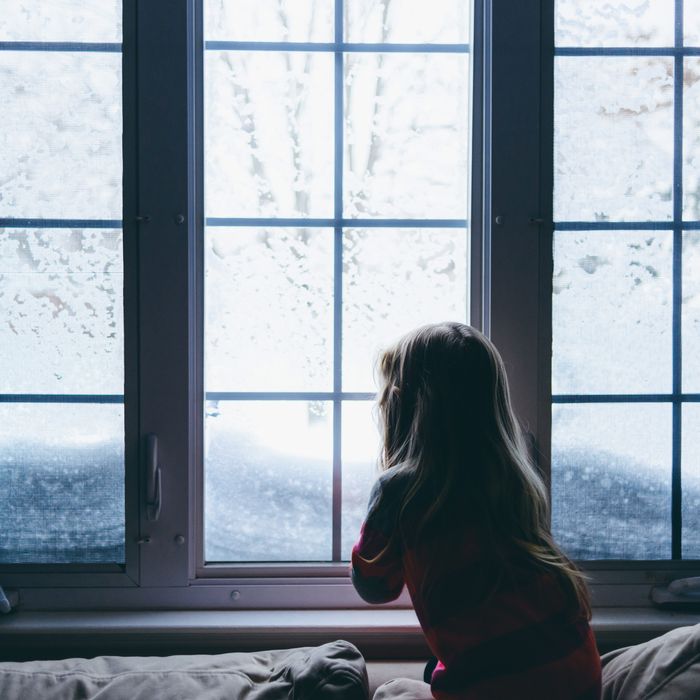 If this looks bleak, you'll want a SAD lamp.
Photo: Francesca Russell/Getty Images
Ah, winter: the time of year when dark, cold mornings outnumber the sunny days on which you actually want to leave your apartment. Unsurprisingly, it is during this season that some people — who might not otherwise suffer from depression — start to feel anxious, sad, fatigued, irritable, and even hopeless. With what is perhaps the most fitting acronym of all time, this condition is known as seasonal affective disorder, or SAD.
To prepare for this upcoming season, we spoke with psychologists to better understand this condition and identify the best ways to treat it.
What Is Seasonal Affective Disorder?
Seasonal affective disorder is a type of depression. New York–based psychologist Dr. Sabrina Romanoff explains that it is "characterized by its recurrent seasonal pattern, with symptoms that typically span about five months, as they emerge in the fall and remit in the spring." However, SAD can strike during any time of year. "Symptoms associated with SAD include those characteristically observed in classic depression, such as loss of interest in activities, low energy, feelings of hopelessness, difficulty concentrating, and alterations in appetite and sleep," says Romanoff.
According to Norman Rosenthal, a professor of psychiatry at Georgetown University School of Medicine who first described the disorder in 1984, approximately 5 percent of the population suffers from SAD, and as is the case with most types of depression, a 2000 study from the American Academy of Family Physicians found that the disorder affects a disproportionate number of women. Dorothy Sit, an associate professor of psychiatry and behavioral sciences at Northwestern University, told the Cut that the disorder likely has to do with the disruption of your circadian rhythm in the winter.
What Causes SAD?
While there's no correct answer for what causes SAD, there are a few key elements that affect it. When it comes to wintertime and SAD, psychologist and founder of the AAKOMA Project, Dr. Alfiee M. Breland-Noble, explains that "shortened days and less exposure to daylight can impact our mood, and for some people, it impacts them so much they find themselves experiencing symptoms of depression."
Another element is the changing of routine. Unlike the summertime, winter forces people indoors and can cause major shifts in your life. You might be used to a daily walk home from work or eating with your friends in a park once a week, and that can all change when the temperatures drop, which, in turn, might affect your mood.
How Can You Treat SAD?
Aside from clinical methods of therapy, one common treatment for SAD is bright-light therapy, which involves sitting or working near a light-therapy box that gives off a recommended 10,000 lux. A 2017 study published in The Journal of Nervous and Mental Disease found that after just a single one-hour light-therapy session, subjects had "a modest improvement of SAD depression symptoms." Per Sit's recommendation, the best way to reap the benefits of light therapy is to sit in front of a SAD lamp for approximately 30 minutes, ideally soon after awakening.
Even if you don't have SAD, most peoples' circadian rhythm is off in the winter, and sitting in front of a SAD lamp can only help. Just be careful if you do have a history of clinical depression or bipolar disorder — psychologists say the lamps can interact with medication or create an exaggerated response, so it's best for anyone with these conditions to consult with a medical professional first.
How Does Light Therapy Even Work?
In simple terms, light therapy is supposed to be like a little sun in your room working to increase serotonin levels in your brain. "This supplemental light source works by mimicking the biological process of natural light and the benefits it has on your brain and body," says Romanoff. "It also works by rebalancing your circadian rhythm in winter months, when daylight is limited."
When it comes to actually sitting down and using it, Dr. Thea Gallagher, a psychologist and assistant professor at NYU, recommends that light therapy be used within the first hour of waking for about 20 to 30 minutes. Instead of it being something you use all day, she explains that you should keep it about 16 to 24 inches from your face and always be sure to follow the manufacturer's instructions.
Whether you've been diagnosed with SAD or you're simply looking to play around with light therapy, read on for the best 10,000-lux SAD lamps on the market.
Best SAD Lamps
The Fancy Option
If you want a therapy lamp that doesn't look like a therapy lamp, this is your best bet. The lamp looks more like something out of the MoMA Design Store. Besides reviewers raving about how beautiful it is, they also enjoy the brightness settings, which you can adjust from the very bright to dim, and there's even three daylight color options.
The Customizable Lamp
With high and low settings, this versatile lamp allows you to adjust the light levels based on how you are feeling. One reviewer would give this six stars if they could. If you're still not convinced, another wrote, "Now I feel like I've been given my life back and am not just half a person for half the year."
The Floor Lamp
Put this next to your couch or your bed so you can lounge in the morning while absorbing light. The lamp stands four feet tall and has a rotating head. One person even uses the lamp in the spring to "sprout seedlings" — a sign this lamp is the next best thing to actual sunlight.
The Classic Lamp
With an adjustable height and angle, this lightweight and easy-to-use light box has a sleek silver design. Reviewers praised its ability to improve their mood in only a few days.
The Mountable Lamp
Create a makeshift sunny window by mounting this lamp on your wall — a welcome substitute when the sky outside is pitch-black at 5 p.m. It also has a sleek design, as well as timer and adjustable light settings.
The Lamp for Multitasking
Not only does this lamp deliver 10,000 lux, but it also features an alarm clock, wireless phone charger, and USB port. Since it's so small, it is better for milder symptoms, but since it takes up less space on a desk or bedside table, it's ideal for a quick serotonin fix.
The Portable Lamp
If you're low on plugs in your room, a portable box light is the answer. It's small and sleek while still producing up to 7,000 lux. While that's a little under the recommended 10,000 lux, it's still a good option if being able to move and transport it easily is important to you.
This article was originally published on February 6, 2020. If you buy something through our links, New York may earn an affiliate commission. This post has been updated throughout.