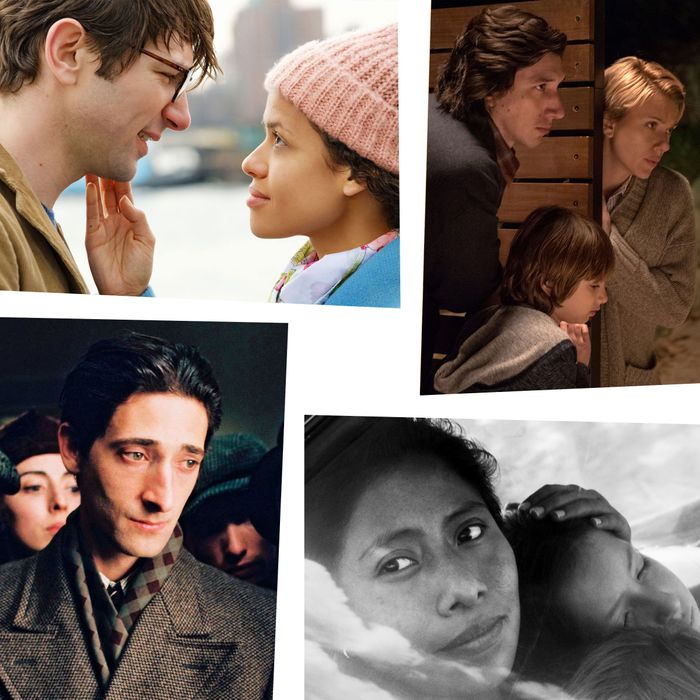 Photo: Courtesy of Netflix
Every once in a while, it can feel cathartic to have a good, long cry. Maybe you have some pent-up frustration that you need to release, or some simmering anxiety that needs to boil over from the comfort of your couch, or maybe you just want to dig deep into your feelings and wallow. Whatever the case and whatever the mood, Netflix has a bunch of great movies available to stream right now to help scratch your sad-movie itch. Here are 15 of the best.
1. Roma (2018)
Alfonso Cuarón's beautiful Oscar-winning film, based on his own childhood, follows a year in the life of Cleo, a live-in maid for a family with four children in 1970s Mexico City. When the patriarch of the family absconds with his mistress and Cleo finds herself pregnant, she and the rest of the family set off on a trip and attempt to adapt to their new lives.
2. A Silent Voice (2016)
A Silent Voice tells the story of Shoya Ishida, a sixth-grade bully, and Shoko Nishimiya, a young girl with hearing loss and a recent transfer to Shoya's school who serves as his primary target. In high school, Shoya, feeling remorseful, attempts to befriend Shoko and make amends.
3. Room (2015)
After being held captive for seven years in an enclosed space, 24-year-old Joy Newsome (Brie Larson) devises a plot to attain freedom with her 5-year-old son, Jack (Jacob Tremblay). Once they emerge, the mother and son have to relearn, and learn for the first time, how to live outside of four walls.
4. Marriage Story (2019)
Noah Baumbach's Oscar-nominated film tells the close-up, messy story of divorce through the eyes of each of the parties. Get ready for a lot of screaming, a lot of crying, and a little bit of singing.
5. Blue Valentine (2010)
Two beautiful people — Dean (Ryan Gosling) and Cindy (Michelle Williams) — trapped in a passionate but wildly fraught relationship in a small Pennsylvania town. A surefire recipe for "success," in a way.
6. The Boy in the Striped Pajamas (2008)
Based on the 2006 novel by John Boyne, The Boy in the Striped Pajamas tells the story of a friendship between the 8-year-old son of an S.S. commander and a boy in the concentration camp of which his father was recently placed in charge.
7. Moonlight (2016)
The Academy Award–winning coming-of-age film follows main character Chiron through different stages of his life in Miami, navigating abuse, sexuality, and acceptance.
8. The Spectacular Now (2013)
An unexpected romance blossoms between a shy introvert and a popular extrovert. Sometimes it can be nice to just watch an easy one.
9. Philadelphia (1993)
Tom Hanks plays Andrew Beckett, a lawyer attempting to hide both his sexuality and HIV status at his law firm. Once a co-worker discovers his secret, he is fired and resolves to sue for discrimination. Lawyer Joe Miller (Denzel Washington) offers to take up his case.
10. The Pianist (2002)
The Pianist is based on the autobiography The Pianist: The Extraordinary True Story of One Man's Survival in Warsaw, 1939-1945. The film tells the story of Władysław Szpilman, a Polish-Jewish pianist, composer, and Holocaust survivor.
11. The Pursuit of Happyness (2006)
In this film, based on a true story, Will Smith stars as Chris Gardner, an unemployed salesman who is evicted with his son (played by Jaden Smith) and left with the task of rebuilding their life. As the two struggle to survive together, Gardner lands an unpaid internship at a prestigious brokerage firm, and somehow unflaggingly keeps his spirits high, for the sake of his son.
12. About Time (2013)
A meditation on the beauty of impermanence, this romantic comedy stars Domhnall Gleeson, Rachel McAdams, and Bill Nighy, and tells the story of a young man who discovers he has the ability to travel through time.
13. Irreplaceable You (2018)
Childhood best friends Abbie and Sam are engaged and looking forward to a life together when Abbie receives a terminal cancer diagnosis. Resolving to make sure Sam has a good life after her death, Abbie comes to terms with the impossibility of getting everything she wanted.
14. Tallulah (2016)
At the onset of Tallulah, the namesake character (Ellen Page) is a young drifter, trying to survive and link back up with ex-boyfriend. After coming across a woman she perceives as a neglectful mother, Tallulah steals her child, resolving to act as though she is her own, and seeks help raising her from her ex-boyfriend's mother. Tallulah is a thoughtful, sometimes dark, sometimes funny look at motherhood and what it means to be a capable parent.
15. The Theory of Everything (2013)
Eddie Redmayne plays Stephen Hawking in this touching portrayal of his early life, the onset of his motor neuron disease, and the sweet and often rocky beginning of his relationship with wife Jane Wilde.