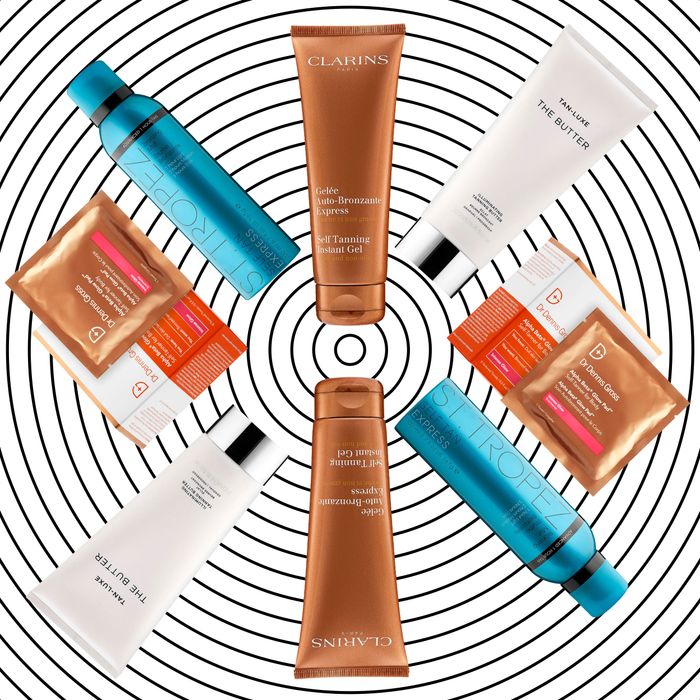 Photo: Courtesy of the vendors
Self-tanner is one of those beauty categories that can make your life either much better or much worse. Traditionally, the process is time-consuming (waiting hours to shower), takes commitment (weekly maintenance), requires patience (splotches, bad odors, and a general mess are far too common), and runs the risk of turning you orange. But the best body tanners promise to develop fast, smell better, and keep your towels, sheets, and bathroom clean — while giving you a realistic faux tan.
Disclaimer: Unlike facial tanners, which often contain pricey anti-aging ingredients, body bronzers are all about covering surface area. Just as you typically use different moisturizers for your face and body, you should do the same with self-tanners. The following products are for below the neck only, unless specifically designed for both.
The Self-Tanner With the Best Smell
There are many things reviewers love about this tanning mousse, but at the top of the list is the scent — a first for self-tanner. Along with its tropical smell are fruity ingredients like mandarin and coconut oils to nourish skin. You can grab the whole kit on Amazon, which includes a velvet applicator mitt and kabuki brush to apply the mousse evenly. Leave on for two hours or overnight for a deeper, transfer-free tan. In addition to the delicious aroma, reviewers (close to 6,000 of them) rave about the natural-looking color.
The Reliable Self-Tanner
While no self-tanner smells as pleasant as James Read's coconut oil, St. Tropez's new continuous mousse is a close second. The company called upon the fragrance noses at Givaudan to create a powdery floral aroma that doesn't make you want to hold your breath until it's time to shower. After misting and blending it with a mitt, you wait one-to-three hours before rinsing it off for a light, medium, or dark tan, respectively. It dries instantaneously, so feeling sticky is never a concern. Eight hours after you apply and rinse, the results are tanned skin without a single streak — like your own skin, only healthier. This is best for when you want to look really tan all over your body, and the mist makes it easier to reach back areas, which are difficult with a lotion.
The Self-Tanner With the Most Range
This tanning mousse comes in five shades that will even suit darker skin tones. Tanned AF, one of the top reviewed shades, promises bronzy skin in just an hour and a deeper color after eight hours (proving the shade lives up to its name). This is also the rare body tanner you can use on your face.
The Easiest to Use
This won't work as quickly as the rest of the self-tanners on this list, but if you want a subtle glow without all the extra steps, this is it. Delivering a bronzier glow in one-to-three days, this is as easy to use as your post-shower moisturizer: Just slather it on and wait for it to sink in. Reviewers note that while you'll have to wait a bit for the stickiness to fade, the formula is transferproof and the fake-tan smell doesn't last long.
The Best Self-Tanner for a Natural Glow
Reviewers — over 3,000 of them — love this self-tanner for its natural color and bearable scent. The nonsticky, non-orange mousse works in two hours, as promised, giving skin a relatively quick bronzy glow sans sun. For best results, reviewers note that skin prep is key (exfoliating and moisturizing), and a mitt for application is a must for non-streaky color.
The Best Drugstore Self-Tanner
L'Oréal Paris's coconut scent is good, and the product delivers quality results at a fraction of the price. The water-based liquid pumps out as a white mousse and sinks in quickly without streaking or sticking to dry skin. It takes about eight hours to fully develop, but you can use it before bed for a subtle glow in the morning. In warm weather, try applying it daily for several days to build up the color.
The Best Easy Self-Tanner
This self-tanner works double duty delivering very gradual color and hydration to skin simultaneously. Apply the moisturizer to wet skin (this is important) before you get out of the shower; once it's rubbed in, gently pat dry and you're done. The formula looks like a moisturizer and feels like one, and you'll recognize the scent if you've used Jergens products before. Don't expect noticeable color until day three, though. If the goal is to take your body a full shade darker, plan on using it for a week. It's definitely more of a commitment, but it's worth it if you're a beginner or have fears of waking up too tan.
The Glittery Self-Tanner
If you're looking for a self-tanner with benefits, this lotion has a buttery texture courtesy of a blend of raspberry-seed oil, aloe vera, and vitamin E. As for the illuminating finish — a slight shimmery effect that you can see in natural light — users either love it or hate it. The results are a subtle shimmer and glow and very hydrated skin after just one use.
The Best Self-Tanner With Moisturizing Powers
Self-tanner junkies who have tried them all rave about Clarins's gel for its natural, long-lasting, streak-free color. Rather than rely solely on DHA, this formula contains another ingredient, called erythrulose. Whereas DHA darkens skin within hours, the latter develops two-to-three days later, helping to prolong a fake tan. The best thing about this gel is that it feels extremely hydrating while you apply it, not sticky like some lotions. And it gets bonus points for being one of the few you can use on your face, too.
The Best Self-Tanner for a Weekend Trip
Coola's self-tanner checks all the boxes: zero mess, no strong odor, no streaks, and noticeable and natural color after just one use. The oil formula is very dry and extremely lightweight, so it absorbs quickly without leaving a slick coating. Unlike St. Tropez's continuous mist, this one sprays out in little bursts and requires blending in circular motions with a mitt. It's best for a short-lived glow, as it lasts only up to three days, but considering the simple application process, reapplication isn't a deal-breaker.
The Best Self-Tanner If You're in a Hurry
New York dermatologist Dennis Gross's wipes are equally travel friendly but specifically designed for use on the body (the brand makes separate ones for the face). They offer exfoliation with the help of lactic acid and willow-bark extract and deliver a believable bronzy color that looks natural on even the palest limbs, like mine. Apply the wipes in a circular motion, and the color begins to develop in an hour. The wipes have other beneficial claims, too, like firming the skin and slowing hair growth. There's a slight DHA smell to them, but that disappears after the first shower.
The Best Self-Tanner for "Color-Correcting"
Reviewers and fans of Isle of Paradise's mousse like to compare it to St. Tropez for its natural color. It's available in three color-correcting shades: peach for a light glow on fair skin, green for a medium tan that counteracts redness, and violet for dark bronze sans sallow tones. If you're weary of color correcting, even the green results in a bronzy, natural tan that lasts for several days, albeit fading a bit unevenly. The only major issue: The cucumber-eucalyptus scent won't remind you of DHA, but it's strong, almost like a Mrs. Meyer's cleaning product you'd use in the kitchen.
The Best Subtle Self-Tanner
If you're already an olive skin tone but want to take your glow up a notch, consider a gradual tanner like this lotion from Neutrogena. Unlike Jergens's gradual option, which you apply in the shower, this one is a traditional lotion used on dry skin, so it's a little less messy. The formula is quick to develop, with coverage you can see in two hours, and it dries in minutes. It's easy to find in your local drugstore, and at $9, it won't break the bank.
The Best Self-Tanner for a Runwaylike Glow
Kristyn Pradas was the pro responsible for giving Victoria's Secret models their bronzed bodies for the brand's annual runway show (RIP). The color develops in one hour for a light radiance and can be left on for up to four hours to achieve a dark tan. It contains caffeine to tighten skin, along with aloe and oils for a glistening boost. Despite being used for the Angels, it doesn't make you overly dark. You may not feel like a V.S. model, unfortunately, but your skin will be a nice glow-y bronze.
The Best Self-Tanner for People Who Prefer Sprays
If you're not into lotions, oils, or mousses, this oil-free misting spray might be more up your alley. On clean, exfoliated skin, spritz this all over and massage the formula into your skin in circular motions using a tanning mitt. Reviewers note that it's easy to apply and dries in just a matter of minutes. The lightweight, mess-free formula adds a subtle color without feeling greasy, and you can choose to add one more layer for an even deeper tan.
The Best Streak-Free Self-Tanner
This top-rated mousse gives a natural tanned look — no orange hues here! — when you apply it with a mitt, and it also nourishes at the same time, so your skin won't be left dry. Reviewers noted that the product went on smoothly and didn't leave any streaks or blotches. Wash it off just one hour after application or wait between four to eight hours before showering to let a deeper color develop.
The Best Self-Tanner Using Natural Ingredients
DHA, or dihydroxyacetone, is the main ingredient in self-tanners (it's also the only USDA-approved substance to tan the skin), and this formula naturally derives it from sugar beets. The cream also includes shea butter, coconut oil, and sesame oil for added hydration, and there's a subtle apricot scent when you apply it. Those with sensitive skin will want to give this a try, though reviewers do note that this is probably best if you have a very pale complexion as the color is lighter.
The Best Self-Tanner Oil for an Even Glow
There are many self-tanning products out there, each with a different way to apply them, and this happens to be one of the best body oils to use. Hydrating coconut water and aloe moisturize your skin, and it's vegan, cruelty-free, and made without parabens, sulfates, phthalates, synthetic fragrances, formaldehyde, and other chemicals. With a rating of 4.5 out of five stars, reviewers love the scent and how easy it is to apply with the mitt — but note that the product does take a bit longer to dry because it's an oil.
The Best Face Self-Tanner With Minimal Work
Okay, I know we said that all these self-tanners were for below the neck only, but what could be better than going to sleep and waking up with a glowing complexion? This mask gives you a gradual tan overnight if you want more color on your face. Use it once or twice a week and make sure you blend the product up into your hairline and down onto your neck so it doesn't leave harsh lines. It has a rating of 4.4 stars out of five. Plus, hyaluronic acid and algae extract give your skin a boost of hydration while you're sleeping. It also absorbs quickly into your skin so the color doesn't transfer onto your pillowcase. And if you've followed TikTok, you know that you can use face self-tanner to contour. We love a trick!
This article was originally published on February 27, 2020, and has been updated throughout. If you buy something through our links, New York may earn an affiliate commission.