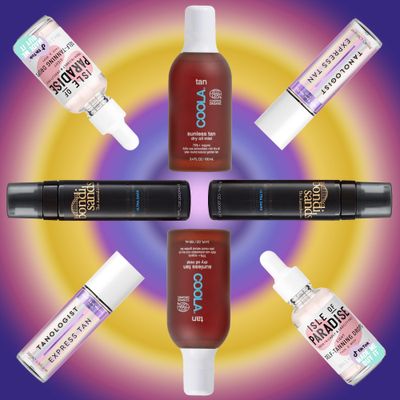 Photo-Illustration: by The Cut; Photos: Retailers
For more of the Cut's favorite fashion, beauty, and home finds, sign up for the weekly Cut Shop Newsletter.
As someone with fair skin who also happens to be extremely scared of the sun, I rely on self-tanners to give me a bronzy glow. I'm practically a self-tanner aficionado at this point. From drugstore staples and tanning foams to gradual-tanning lotions and tan-boosting facial serums, I've tried them all over the years. Now, I'm here to share my all-time favorites for every budget, formula preference, and skin tone.
FAQs
Are self-tanners safe to use?
Like chemical sunscreens, self-tanners have raised a few eyebrows — and there's one ingredient in particular that some people are on the fence about. "Topical tanning products contain dihydroxyacetone (DHA)," says New York City–based board-certified dermatologist Hadley King, M.D., F.A.A.D. She notes, referencing this research on the subject, that DHA is thought to be safe for topical use but should not contact mucous membranes (as in, around the eyes or lips).
Jeremy Fenton, M.D., a board-certified dermatologist at Schweiger Dermatology Group in New York City and Long Beach, echoes this sentiment and adds: "Because the DHA primarily interacts with the cells on the top (which are dead and not the cells and tissue deeper), it is debated as to whether or not we need to be worried about this with a topical application." If you want to be extra-cautious, Fenton says that the safest self-tanning products are actually bronzers since they simply impart color while you're wearing them and don't change your skin.
What's the best way to apply self-tanner?
This is a product with a learning curve when it comes to application. Here are some expert tips to help you fake it till you fake it better:
- Prep. "Skin prep is key!" says Jules Von Hep, founder of Isle of Paradise. He says to exfoliate the skin 24 hours prior to applying self-tanner. ("Paying special attention to dry areas such as hands, elbows, knees, and feet.") Von Hep notes that any other kind of grooming — like shaving, waxing, facial treatments, manicures, or pedicures — should also be done 24 hours in advance.
- Sweep. "Always remember to apply your self-tan in sweeping motions over the body — never circular!" says Von Hep. Sophie Evans, St. Tropez Skin Finishing Expert agrees to never massage it in unless it's a streaky mess that you're after. She also adds that self-tanner should be applied "liberally, with a flat hand and light strokes." A tell-tale sign that you don't have enough? "If you have to pull at the skin, you need to use more product."
- Blend. Von Hep's favorite trick of all is to use a blending brush (he likes the one from Isle of Paradise, naturally) to diffuse any harsh tan lines at your wrists, ankles, or hairline. "If you don't own a blending brush, you can hang a towel onto the back of your door and rub your wrists together!"
How do you prevent your tan from fading?
After-care is crucial if you want to prevent your tan from fading, and Von Hep dutifully reminds us to stay hydrated: "Drink that water. Happy, hydrated skin won't shed and will hold on to the color for longer." Evans adds that moisturizing the skin daily, avoiding heavy oils (which are excellent at lifting the self-tanner off), and being generally gentler with the skin will extend a tan.
Traditionally, the self-tanner process is time-consuming (waiting hours to shower), takes commitment (weekly maintenance), requires patience (splotches, bad odors, and a general mess are far too common), and runs the risk of turning you orange. But the 18 best self-tanners, below, promise to develop fast, smell better, and keep your towels, sheets, and bathroom clean — while giving you a realistic faux tan.
The Best Overall Self-Tanner
This Bondi Sands foam has never let me down. While most self-tanners promise to have a natural-looking olive undertone that won't look orange, this is one of the few products that actually lives up to that claim. It's also very forgiving, so you won't end up with a streaky tan (even if your application skills aren't the best). The lightweight aloe vera- and coconut-infused formula dries quickly, but when I've had to apply it in a rush and run out the door, any product that transfers to my clothes washes out right out. Plus, a little goes a long way, so you'll get your money's worth with this 6.7-ounce bottle.
Available in three shades: light-medium, dark, and ultradark.
The Best Face Self-Tanner
This is one of those game-changing products you'll want to repurchase over and over again. My base routine feels incomplete without it! It's formulated with DHAs to help even out the skin tone and create a natural-looking tan, plus avocado to help hydrate and vitamin C to help brighten. I just add a few drops to my daytime moisturizer, so application is a breeze.

Available in three shades: light, medium, and dark.
The Best Fast-Drying Self-Tanner
This mousse is best for when you want to look really tan all over your body, and the mist design makes it easier to reach back areas, which are difficult with a lotion. After misting and blending it with a mitt, you wait one-to-three hours before rinsing it off for a light, medium, or dark tan, respectively. It dries instantaneously, so feeling sticky is never a concern. Eight hours after you apply and rinse, the results are tanned skin without a single streak — like your own skin, only healthier. It's also one of the best-smelling self-tanners on the market. The company called upon the fragrance noses at Givaudan to create a powdery floral aroma that doesn't make you want to hold your breath until it's time to shower.
Available in one shade.
The Best-Smelling Self-Tanner
There are many things reviewers love about this tanning mousse, but at the top of the list is the scent — a first for self-tanner. Along with its tropical smell are fruity ingredients like mandarin and coconut oils to nourish skin. You can grab the whole kit on Amazon, which includes a velvet applicator mitt and kabuki brush to apply the mousse evenly. Leave on for two hours or overnight for a deeper, transfer-free tan. In addition to the delicious aroma, reviewers (close to 6,000 of them) rave about the natural-looking color.
Available in three shades: medium, dark, and ultradark.
The Best Self-Tanner for Deep Skin Tones
This tanning mousse comes in five shades that will even suit darker skin tones. Tanned AF, one of the top reviewed shades, promises bronzy skin in just an hour and a deeper color after eight hours (proving the shade lives up to its name). This is also the rare body tanner you can use on your face.
Available in five shades: Fake It 'Til You Make It, Love at First Tan, Tanned AF, Too Tan to Give a Damn, and I Want the Darkest Tan Possible.
The Best Long-Lasting Self-Tanner
Reviewers — over 3,000 of them — love this self-tanner for its natural color and bearable scent. The nonsticky, non-orange mousse works in two hours, as promised, giving skin a relatively quick bronzy glow that lasts up to 10 days. For best results, reviewers note that skin prep is key (exfoliating and moisturizing), and a mitt for application is a must for non-streaky color.
Available in three shades: medium, dark, and ultradark.
The Best Moisturizing Self-Tanner
Self-tanner junkies who have tried them all rave about Clarins's gel for its natural, long-lasting, streak-free color. Rather than rely solely on DHA, this formula contains another ingredient, called erythrulose. Whereas DHA darkens skin within hours, the latter develops two-to-three days later, helping to prolong a fake tan. The best thing about this gel is that it feels extremely hydrating while you apply it, not sticky like some lotions. And it gets bonus points for being one of the few you can use on your face, too.
Available in one shade.
The Best Self-Tanner If You're in a Hurry
New York dermatologist Dennis Gross's wipes are equally travel friendly but specifically designed for use on the body (the brand makes separate ones for the face). They offer exfoliation with the help of lactic acid and willow-bark extract and deliver a believable bronzy color that looks natural on even the palest limbs, like mine. Apply the wipes in a circular motion, and the color begins to develop in an hour. The wipes have other beneficial claims, too, like firming the skin and slowing hair growth. There's a slight DHA smell to them, but that disappears after the first shower.
Available in one shade.
The Best Multipurpose Self-Tanner
This tanning mist is safe to spritz on your face without worrying about breakouts, blotching, or unevenness. It doesn't deliver the darkest tan, but if you're looking for a subtle, easy-to-apply color, this is it.
Available in four colors: light, medium, dark, and extra dark.
The Best Self-Tanner With Natural Ingredients
DHA, or dihydroxyacetone, is the main ingredient in self-tanners (it's also the only USDA-approved substance to tan the skin), and this formula naturally derives it from sugar beets. The cream also includes shea butter, coconut oil, and sesame oil for added hydration, and there's a subtle apricot scent when you apply it. Those with sensitive skin will want to give this a try, though reviewers do note that this is probably best if you have a very pale complexion as the color is lighter.
Available in one shade.
The Best Mess-Free Self-Tanner
Coola's self-tanner checks all the boxes: zero mess, no strong odor, no streaks, and noticeable and natural color after just one use. The oil formula is very dry and extremely lightweight, so it absorbs quickly without leaving a slick coating. Unlike St. Tropez's continuous mist, this one sprays out in little bursts and requires blending in circular motions with a mitt. It's best for a short-lived glow, as it lasts only up to three days, but considering the simple application process, reapplication isn't a deal-breaker.
Available in one shade.
The Best Shimmery Self-Tanner
If you're looking for a self-tanner with benefits, this lotion has a buttery texture courtesy of a blend of raspberry-seed oil, aloe vera, and vitamin E. As for the illuminating finish — a slight shimmery effect that you can see in natural light — users either love it or hate it. The results are a subtle shimmer and glow and very hydrated skin after just one use.
Available in one shade.
The Best Self-Tanner Spray
If you're not into lotions, oils, or mousses, this oil-free misting spray might be more up your alley. On clean, exfoliated skin, spritz this all over and massage the formula into your skin in circular motions using a tanning mitt. Reviewers note that it's easy to apply and dries in just a matter of minutes. The lightweight, mess-free formula adds a subtle color without feeling greasy, and you can choose to add one more layer for an even deeper tan.
Available in two shades: medium and medium-brown.
The Best Self-Tanner for "Color Correcting"
Reviewers and fans of Isle of Paradise's mousse like to compare it to St. Tropez for its natural color. It's available in three color-correcting shades: peach for a light glow on fair skin, green for a medium tan that counteracts redness, and violet for dark bronze sans sallow tones. If you're weary of color correcting, even the green results in a bronzy, natural tan that lasts for several days, albeit fading a bit unevenly. The only major issue: The cucumber-eucalyptus scent won't remind you of DHA, but it's strong, almost like a Mrs. Meyer's cleaning product you'd use in the kitchen.
Available in three shades: light, medium, and dark.
The Best Self-Tanner for Improving Skin Tone and Texture
Kristyn Pradas was the pro responsible for giving Victoria's Secret models their bronzed bodies for the brand's annual runway show (RIP). The color develops in one hour for a light radiance and can be left on for up to four hours to achieve a dark tan. It contains caffeine to tighten skin, along with aloe and oils for a glistening boost. Despite being used for the Angels, it doesn't make you overly dark. You may not feel like a V.S. model, unfortunately, but your skin will be a nice glow-y bronze.
Available in one shade.
The Best Gradual Self-Tanner
If you want a subtle glow without the possibility of turning orange, gradual tanners might be best to start with. Reviewers like how quickly this one from Hawaiian Tropic works and how it delivers the coveted glow without the weird self-tanner scent.
Available in one shade.
The Best Self-Tanner for a Medium Tan
This Ulta-exclusive is Evans's favorite from St. Tropez. It's a berry mousse that truly smells good enough to eat (please don't) and "achieves a perfect medium, classic glow," says Evans, who notes it's a lot like the brand's Self Tan Classic Bronzing Mousse but smells like heaven. And she adds it looks great on all skin tones and skin types — and stays strong for ten days with an even fade.
Available in one shade.
The Best Self-Tanner That Comes With a Mitt
Sometimes the most disastrous thing about an at-home tan isn't even the streaking. It's the hot-mess express that's left all over your hands and in between your fingers. For those of us who don't like blotchiness, buying a self-tanner with an accoutrement (like a brush or this mitt) can help you get a truly even situation with less cleanup.
Available in one shade.
Our Experts: