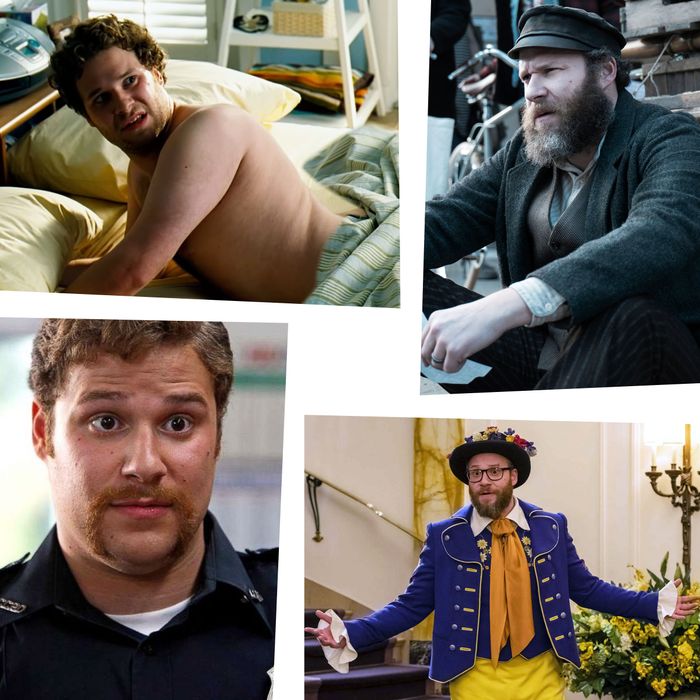 Photo: Courtesy of the Vendor
Lately, Seth Rogen has been making headlines for the variety of interests he has outside of filmmaking, including his work on ceramics and new weed company. While we're all for branching out, to us Rogen will always be, first and foremost, a beloved slob-adjacent actor with some seriously hilarious films. He has just been cast in a new Spielberg movie (and we can't wait to see it), but here is a list of some of his best roles to get your proper Rogen fix until then.
Long Shot (2019)
In this film we see Rogen do what he does best: be the guy who dates a woman way out of his league. Rogen plays Fred Flarsky, a hot-headed journalist who becomes the speech writer for his childhood babysitter and crush, Charlotte Field (Charlize Theron). The film follows the pair's budding (and frowned-upon) relationship through Charlotte Field's presidential campaign. It is certainly his best rom-com.
50/50 (2011)
Inspired by real events and produced by Rogen, 50/50 is my personal favorite of the list. Rogen plays loyal, slightly annoying Kyle, who helps his friend Adam (Joseph Gordon-Levitt) through his experiences following a cancer diagnosis. It is a touching buddy film that displays a genuine friendship going through difficult times, but doesn't take itself too seriously.
Neighbors (2014)
Rogen and the equally hilarious Rose Byrne play new parents who have a fraternity move in next door to their home. The film follows the couple's struggle for dominance over the frat in an absolutely absurd prank war. It is the perfect parody of college life, stars Zac Efron and Dave Franco as frat bros hotter than anyone you saw on your college campus, and offers a refreshing depiction of new parents trying to maintain their coolness.
Neighbors 2: Sorority Rising (2016)
The Rogen/Byrne duo returns, this time with a sorority as their rival. Chloë Grace Moretz enters the cast as the ringleader of a new sorority that is allowed to party. The film follows roughly the same formula as its original, but includes the couple's attempt to sell their house and puts frat-graduate Efron on the parents' side (which creates a hilarious and much-loved bromance between Rogen and Efron). It is also slightly smarter than the original, poking fun at the horrors of post-grad life with Efron's character's burnout, though we can't decide if it is making a quality statement on feminism.
Knocked Up (2007)
Another unconventional rom-com and yet another film that follows the Seth Rogen trope of schlubby-dude-dating-the-pretty-girl (but we don't hate him for it, at least not at this particular moment). Rogen plays deadbeat Ben Stone, who has a one-night stand with news reporter Alison Scott (Katherine Heigl) and ends up getting her pregnant. It is certainly not Rogen's best film (as he put it so perfectly in an interview with GQ: "I look back and marvel at how little self-doubt I had."), but it is a mindless romantic comedy with some pretty funny moments, if you're looking for that kind of thing.
Take This Waltz (2011)
This hidden gem goes slightly against Rogen's typical repertoire. Characterized as a dramedy, this dreamy film follows Margot (Michelle Williams), a freelance writer who feels unsatisfied in her marriage, as she seeks out an affair. Rogen stars as Lou, her impossibly nice husband. He supposedly did more research for this role than any other to prepare for his character's interest in … cooking chicken.
Superbad (2007)
Rogen reportedly started writing this film with childhood friend Evan Goldberg when they were just 13 years old. The plot follows high-school seniors Seth (Jonah Hill) and Evan (Michael Cera) in their pursuit of the Holy Grail of Early 2000s High School Teen Boyhood: to party and to lose their virginities. Rogen cameos alongside Bill Hader (both as young cops) who form an unusual friendship with Seth and Evan's friend, breakout character McLovin (Christopher Mintz-Plasse).
Pineapple Express (2008)
With its title coming from a rare marijuana strain smoked in the film, this prototypical Seth Rogen movie follows Dale Denton (Seth Rogen) and his drug dealer, Saul (James Franco), as they flee from drug lords after witnessing a murder. Described by Rogen as a "weed action comedy," it's a must-see for stoners, at least.
The Night Before (2015)
Rogen and Gordon-Levitt are back together (this time with Anthony Mackie) in a holiday film. The plot follows three childhood friends in the last installment of a long-standing tradition of partying on Christmas Eve. The film includes a hilarious performance of a bad trip by Rogen and a Miley Cyrus cameo.
This Is the End (2013)
Rogen goes meta, parodying himself and skewering show business. The film follows Rogen (playing a version of himself) and every other comedian ever, basically, through their tribulations at the end of the world. It also includes a great moment of Rihanna *really* slapping Michael Cera, so it's a must-watch.
An American Pickle (2020)
If you are really looking to get a Rogen fix, his latest, An American Pickle, gives you a double serving. The film centers around Herschel Greenbaum (Seth Rogen), a Jewish-European immigrant who is brined in a vat of pickles for 100 years and wakes up in modern-day Brooklyn. Herschel meets his only living relative, his great-grandson Ben (also played by Rogen). The film is playful as it follows their unconventional relationship, and is probably one of the most family-friendly of Rogen's movies.