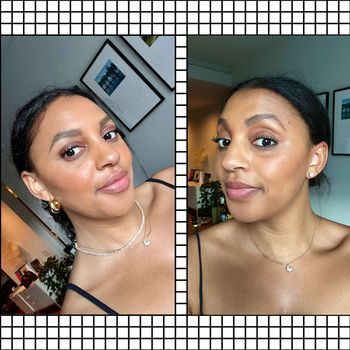 Photo-Illustration: by The Cut; Photos: Morgan Evans
For more of the Cut's favorite fashion, beauty, and home finds, sign up for the weekly Cut Shop Newsletter.
It's no secret that the worst part of summer is the constant perspiration — especially if you're in and out of the pungent sweatbox that is the New York City subways. And when you're sweating nonstop, it feels like whatever makeup you have on for the day is melting right along with you. Fortunately, there's one way to protect that made-up face you worked so hard on: setting spray. Sure, it's an added step in your beauty routine, but once you've witnessed the magic of setting spray, you'll never want to leave the house without it … especially in the summer.
You don't just want any old setting spray, though. Not sure which one to choose? Allow me to help. I'm on a mission to keep my face from melting off in the hot summer months, so I tried seven top-rated setting sprays over the course of 14 days to see which one could pass the ultimate test: the New York summer heat.
Unless you're a former theater kid who still resorts to the old-school stage trick of using hair spray to keep your makeup intact (Did I used to do this? Yes. Effective? Sure. Great for your face? Not exactly.), it's time to purchase a setting spray that suits your beauty wants and needs.
FAQs
To test the setting sprays, I did a full face of makeup every day (which for me includes foundation, concealer, a little contour, blush, brows, eye shadow, mascara, and lipstick). I then went about my daily activities, nighttime events, and one marathon wedding weekend, checking my makeup every few hours to see if my face was staying in place or if it appeared to be smearing, sliding, melting, etc.
What makes a good setting spray?
A good setting spray should do the obvious — keep your makeup smooth and locked in, hopefully for a long period of time — but a great spray can do so much more. It can protect you from the elements with a combination of primer, hydration, and even SPF, ideal for when you're out in the summer sun but want to keep a fresh, made-up glow without burning. You may also like different sprays for different reasons. For example, one might be good at matte-ifying your face or helping to enhance your natural glow, while another may be better for longevity and keeping your makeup defined.
Determining the Best Setting Sprays
Each product below is rated on a scale of natural matte (a.k.a. your makeup is pure, airbrush perfection), glow goddess (your makeup is still there, but with an enhanced dewy complexion), drippy Popsicle (your face is slowly starting to melt), and melted Popsicle — obviously, everyone's summertime pet peeve and the bottom ranking for makeup that didn't stand a chance.
Our top pick:
.

The Best Dewy Setting Spray
Rating: Glow goddess | The Good: Ideal for the summer months, not only for keeping your makeup up intact but for keeping your face cool and hydrated — it was my favorite for that midday refresh or reset and has a divine scent | The Bad: Because it is more of a mist, with lighter coverage, I felt that I needed to use a lot of product to fully set my makeup
Selena Gomez's Rare Beauty Optimist Mist goes one step further than Too Face's three-in-one combination. The fan-favorite spray takes care of not one, not two, but four different steps: It can be used to hydrate, prime, set, and refresh. Yes, Selena thought of all the things — my favorite being that it has a refreshing spalike mist and scent. When I sprayed it for the first time (using it as a primer), I immediately felt more relaxed, as if I were getting a treatment at a luxury spa. It really took me there! I also thought this is the type of product I want with me when I travel, so naturally, I bought the travel size. You can easily throw it in your bag for a mid-flight or mid-vacation day refresher. It's also just great for the summer heat and anytime you need a second to cool down. I used the mist as both a primer and setting spray for a day of back-to-back events, which had me out into the evening.
And while I was concerned about sweat marks on my metallic dress, one thing I wasn't worried about was the sweat melting off my makeup. My glam lasted for a solid eight hours (!). It was only slightly faded, and nothing smudged or smeared. Overall, I still looked acceptable by the time I left my last event at 10 p.m. after leaving my apartment around noon.
The Best Setting Spray for All-Day Wear
Rating: Glow goddess | The Good: Smells like a piña colada due to the fact that it's infused with coconut water and probiotic-based ingredients to help revive the skin for both priming and refreshing | The Bad: Has a more forceful spray and feels very wet; I felt like my face was a little drenched after, resulting in me dabbing off a bit of product as opposed to letting it air-dry
If you're looking to prime, set, and refresh your face, look no further than Too Faced's Hangover Rx three-in-one, a fantastic combination of a reviving primer and long-lasting setting spray. It has a delicious peachy, piña-colada scent, so spritzing this setting spray on your face is a truly refreshing experience. I whipped it out on a 90-degree day to keep my full glam from melting off. First, I used the product as a primer, spraying a light layer on top of my face moisturizer before applying my makeup. Because the formula is more on the wet side (as opposed to a barely-there mist), you automatically get a moisturized complexion to start working your makeup into.
After applying my makeup, I proceeded to spray on a heavier layer to set my face in place. I found the dual prime-and-set claim to be effective. Even after a few hours of being out in the heat, my makeup was still locked in place. That same day, I was pleased to discover that my makeup was still intact after an impromptu neck massage I decided to get during an event. In fact, the masseuse even told me I had "good skin and great a complexion!" (And this was after being on several subways, running around outside, and, of course, sweating.) I honestly didn't even feel the need to totally "refresh" my face with a spontaneous spray during the day … but I did pull it back out just for that yummy scent, which is a great reviving pick-me-up in itself.
The Best Primer-Setting Spray Hybrid
Ranking: Natural matte | The Good: A full-coverage setting spray with true longevity that you can feel working right away | The Bad: Might be a little sticky when you first spray it on and the mist often gets on my shoulders (but as someone who always highlights their collarbone area anyway, I guess that's not terrible?)
For the marathon events, like weddings and anything where you know you'll be out for ten-plus hours, Charlotte Tilbury's Party All Night and Stay All Day setting spray is the one that lives up to its 16-hour-long-wear promise. The spray, which also primes and sets, was my favorite for longevity — and I put it to the test with an outdoor wedding in peak humidity, 90 degrees, and, oh, and some rain. Halfway through the wedding-day extravaganza, after sitting outside during a humid and slightly drizzly ceremony and tented dinner, my makeup was still thriving. Despite the sticky atmosphere, I still had a nice matte finish and my face stayed pretty locked. One girl during the dinner even complimented me on my lasting visage and asked me how my face was holding up in the heat. After several hours of jumping, dancing, and truly soaking sweat, it was pretty inevitable that my makeup was going to fade by the end of the night — at that point, it had been almost eight hours outside.
When I finally got home and looked in the mirror, I was pretty shocked to find that my face had only slightly faded. And, honestly, I was sad that it was time to take it off because I was still feeling it. My eyebrows were actually still pretty fierce, which for me is a big deal and one of the things I always have to fix because I normally fill in my brows with a pencil, so if my eyebrows are still set and haven't smeared, I'm happy and I call that a success.
The Best Matte Setting Spray
Ranking: Natural matte | The Good: Lives up to its mattie-ifying promise; my makeup was locked in with a supersmooth matte finish just minutes after spraying it | The Bad: Similar to the Too Faced, I also found this spray to be very wet and a little sticky upon application
If you want to ensure that your makeup is locked in and smooth as can be, this is certainly the answer to your shine-free prayers. Milk Pore Eclipse is the product that you want to use for that supersmooth finish that almost looks airbrushed. Just minutes after applying the setting spray (despite the somewhat wet texture), I noticed an instant matte-ifying effect — so much so that, after I set my makeup, I went back to try and touch up my brows and it was hard to wipe away my original browline. The product was truly locked. So for its matte-ifying magic, I gave the Milk setting spray a near ten out of ten. As for holding up in the heat? The formula did a pretty solid job of gripping my makeup and keeping it in place. On this particular day, while wearing the setting spray, I was dripping sweat from my forehead to around my nose and the top of the lip area.
And while I felt as if my face were legit melting, I was surprised to discover that my makeup was not. When I did eventually grab a tissue to dab my face, some makeup residue transferred, which is to be expected. However, the majority of the makeup that remained on my face was still supersmooth. It looked completely untouched! Once I relocated back into an air-conditioned room and my face had time to dry, my makeup settled back to a flawless matte finish. You would never know that ten minutes prior, my face had seriously been dripping.
The Best Waterproof Setting Spray
Ranking: Natural matte | The Good: For longevity and winged eyeliner that lasts all night long, this Urban Decay setting spray is your best bet … it's also waterproof | The Bad: Might be too potent for people with sensitive skin, doesn't have the best smell
I admit to being a longtime user of this award-winning lightweight setting and finishing spray, so when it came time to "test" it, I was excited to see how it would compare to the other contenders. The popular waterproof setting spray definitely lives up to its "All Nighter" name, as it's one of the best products on the market for keeping your makeup looking fresh, well, all night. Even if you're planning on taking a little dip in a pool (or just happen to be outside for long enough that it seems like you've been swimming), your glam won't budge if you use this product. It has a lighter mist but a strong grip, similar to the Charlotte Tilbury and Too Faced setting sprays, plus it goes to work right away, so you can feel it tightening on the skin.
When it comes to function, it's similar to the Milk Pore Eclipse with its matte-ifying, defining, and smoothing qualities. Bottom line is this: Whether you're looking to keep your face locked in for hours or just make sure it stays airbrushed and smooth, you really can't go wrong with this Urban Decay spray.
The Best Affordable Setting Spray
Ranking: Drippy Popsicle | The Good: Can't beat the $13 price tag; if you need a reliable setting spray to do the basic tasks (and nothing else), this one's for you | The Bad: Didn't find it to be too transferproof or super humidity-resistant
I'm a fan of Sephora Collection, mostly for its makeup brushes (which are so affordable yet effective), so I figured I might as well try the brand's setting spray. Similar to the Charlotte Tilbury setting spray, this product has a fast-acting formula and claims to work for up to 16 hours. But similar to the Rare Beauty setting spray, it has a more delicate spritz and I felt like I had to apply multiple layers. I wore the Sephora setting spray over a full face of makeup on two separate occasions.
One of the days — after about six hours of wear in a humid outdoor garden, an indoor bar, and some light rain — I felt like my makeup wasn't as sharp and defined by the end of the night. I had some smudging and some under-eye foundation buildup (one of my makeup pet peeves). On another day when I was mostly indoors, my makeup stayed intact a lot better. However, my eyebrow-pencil lines were still not as sharp as when I first applied them, plus some of my foundation transferred onto my white T-shirt. In conclusion, this isn't a revolutionary formula by any means, but it gets the job done.
The Best Setting Spray With SPF
Ranking: Melted Popsicle | The Good: We love any kind of drugstore option that doesn't cost a fortune; infused with SPF 30 | The Bad: While I am here for the added SPF, I think the sunscreen element is stronger than the actual setting-spray element
Sunscreen-infused setting sprays should be on everyone's list, not just for summer but year-round. No matter what the brand is, you need that added layer of sun protection, and if it can keep your makeup on in the process, that's just an added bonus! I have always been a fan of Milani and think it's one of the best makeup brands at the drugstore, especially for women of color. So I naturally gravitated toward its sunscreen setting spray — especially when I realized that most of the setting sprays I already love don't have that added SPF. While the sunscreen element helps protect my skin, I didn't feel like my makeup was totally locked in on the days that I used this spray.
Sure, it helped secure my makeup when I first applied it, but things started to look a little, well, drippy after a few hours of wear. I also didn't feel like the formula could stand up to sweat because when I dabbed my face with a tissue, it was easy to wipe away the makeup that was still on. One thing I will say is that on more dry-heat days, with less sweat, I did feel the spray held up a lot better and helped to block out any UV rays because my face never got burned. I also think if you pair this spray — or any SPF setting spray — with a matte-ifying setting spray and/or a solid primer, you'll have a winning combination.