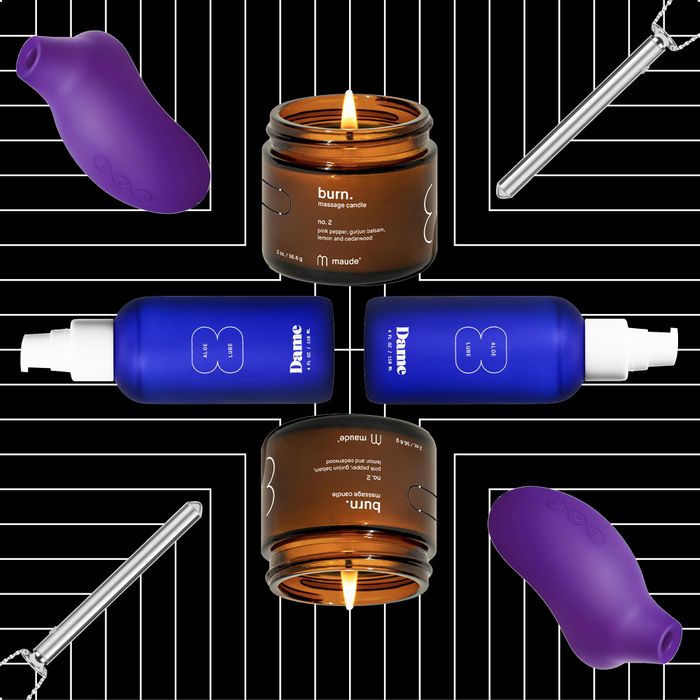 Photo-Illustration: by The Cut; Photos: Retailers
A sexy gift can be both exciting and surprisingly appropriate for a lot of occasions. Whether you're looking to get your partner something spicy for a holiday or wanting to give your friend a fun wedding gift, we spoke with sex therapists and experts to find the best toys and gadgets on the market. Unsure where to even begin?
Sex and dating coach Myisha Battle suggests approaching it as you would any other gift: "Selecting a sex gift for someone can be super fun, especially if you have their desires and taste in mind." However, if you feel a tad awkward asking your partner or friends what type of toys they like, there are plenty of other ways to shop.
"When in doubt, go with something sexy that isn't a sex toy, like a blindfold, massage oils, nipple cream, or oral-sex lip gloss," says sex educator Dirty Lola. If you are specifically trying to buy a sex toy, she recommends keeping it simple with a bullet vibrator or straightforward masturbation sleeve. "These basic styles work for more types of bodies over styles like rabbits or air pulse vibrators."  
Former dominatrix and current lifestyle domme Venus Cuffs says, "I've learned it is not always great to assume what someone would like because you truly would never know," and suggests a gift card to a sex store if you really have no idea what they'd be comfortable with. Above all, our experts recommended making sure it is safe to use for their body before you buy it. (Hint: look out for phrases like "body-safe" or "food-grade silicone.") Below, the 13 best sex gifts to give and get, according to dominatrixes, educators, and enthusiasts.
Vibrators
The Pulsing One
"I recommend this vibrator all the time," says Jimanekia Eborn, a sexual-assault and trauma expert and comprehensive sex educator. "I am a huge fan of the fact that it thrusts and I would give it to someone if I knew they liked internal penetration."
The Wearable One
This sleek vibrator necklace is Eborn's favorite thing to gift because it's the ultimate conversation piece. "When folks find out you are wearing it you are a HIT," she says. While the vibrator is only 3.8 inches long, the 4k gold or silver plating make it a statement around your neck. "I love wearable toys that you can have at your beck and call whenever you are ready."
The Powerful One
"If I knew someone was really into toys with strong vibrations, I would definitely gift them one of these," says Dirty Lola. "I'm a big fan of wand vibrators. I like a lot of power and deep rumbly vibrations, and Le Wand delivers both." And who wouldn't want a hot-pink toy?
The Hyperfocused One
Sex therapist Kate Balestrieri recommends this sonic clitoris vibrator for those who really know what they like, or have never really experienced a clitoral orgasm before. Unlike other vibrators, the Sona 2 uses gentle sonic waves instead of conventional vibrations. With twelve different settings, this may ruin all other vibes for them.
The One That Feels Like Skin
Cuffs loves gifting this toy because of the texture. "It feels like skin and it feels amazing," she says. Made from soft-touch silicone, this vibrator can bend and flex for comfortable stimulation, and has ten different speed options. Plus, it's waterproof.
The Unconventional One
"I love the Tenga Iroha line for vulva-havers, especially those who shy away from vibrators that are more phallic shaped or just like stylish design. These vibes are discreet and could be mistaken for something else entirely," says Battle. "I really like the Tori, which is bird-shaped and can be used for external or internal stimulation, but manages to fit in the palm of your hand."
The One for Couples
"My go to wedding gifts lately have been sex toys and I usually go for one of the fancier couples toys like the We-Vibe Sync," says Dirty Lola. The ten-function couple's vibrator can be worn hands-free during sex, is waterproof, and has a remote control that be used for long-distance partners.
Other Toys and Accessories
For the Anal Newbie
For an anal newbie, Balestrieri recommends this five-piece set. Not only does it include three butt plugs, a lubricant applicator, and an anal douche, but it has an anal 101 educational booklet to help ease any nerves.
For an Extra-Special Massage
"I love gifting massage candles," says Cuffs, along with an array of other accessories that people may not think about incorporating into their sex life. Considering this candle contains skin-softening ingredients like jojoba and soybean oils (not to mention smells like pink pepper, gurjun balsam, and cedarwood), we're pretty sure it'll be something everyone is willing to try once. And if they don't like it, it's another candle.
An Egg Masturbator
For Your BDSM-Curious Friends
"If I really want to shock someone (especially for anniversaries), I love to gift bags full of BDSM toys," says Cuffs. "While keeping it hot and fresh in the bedroom is often thought of as something that will prevent breakups … that is so boring. Keep it hot so you both enjoy the sex you are having."
A Very Realistic Gift
Photo: Courtesy of vendor
While it may not be the sexiest gift on the list, good lube is hard to find — and important. This aloe-based lube from Dame is doctor-approved, pH-balanced, and toy-safe, making it the least worrisome sex gift you could give.
A Beginner Cock Ring
This best-selling cock ring is made with soft and stretchy silicone for comfort, but it still provides enough grip to do the job. This is a great straightforward gift to try it out if the penis-haver on your list is new to toys.
For more from the Cut Shop team, follow us on Instagram and Twitter, where we share our best new finds, favorite styling tricks, and more.