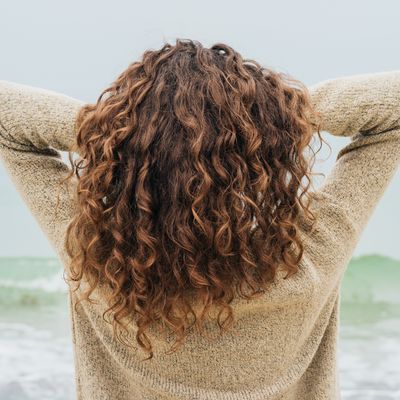 Photo: iprogressman/Getty Images/iStockphoto
For more of the Cut's favorite fashion, beauty, and home finds, sign up for the weekly Cut Shop Newsletter.
I grew up with immense follicular privilege. Thick, lustrous, bouncy curls sprouted from my head in childhood and grew into a mane of carefree spirals in my mid-teens. So effortlessly did this head hedge grow, and so little maintenance did I have to perform on it, that I recklessly took its existence for granted, thinking I'd be top-heavy forever.
Until I wasn't. Over the past few years, my curls have been dying a slow death, dwindling into lanky, lifeless strands. I've tried every curl product ever made, but wearing my hair naturally is a thing of the past, and regular blowouts are now a weekly chore. Besides the added burden of maintenance, I feel a stripping of identity. Curly hair was my signature look. Is my Memoji even me without curls? Of all the varieties of existential crises I imagined being struck by, a lack of hair was never on the list.
In an effort to figure out what was happening, I diligently made my way down a list of known hair stressors: Hereditary hair loss, impaired thyroid function, hormonal imbalances, fad diets, trauma, or severe stress. None of those really applied, but in ruling them out I uncovered a very vital truth: My hair was — no other word for it — aging. I had spent so much time and effort keeping my eyes peeled for the signs of skin aging that I had completely missed the fact that hair was prone to decline, too.
Does Your Hair Actually Age?
"Hair aging is most definitely a thing," says New York dermatologist Dr. Francesca Fusco. She says the four most common symptoms are texture changes, characterized by strands not being as full, shiny, or manageable as they were; thinning or "miniaturizing" in which individual hairs become thinner; overall thinning, where the total number of hair reduces; and lastly, greying. I check off all those symptoms, but strangely, the first three bother me more than the last.
What Causes Your Hair to Thin As You Get Older?
"It's normal for hair to thin over time," says Dianna Cohen, founder and CEO of the hair-care-meets-wellness brand Crown Affair. She adds that each hair follicle has a six-to-seven-year life span, "and it usually comes in thinner each cycle."
"When hair miniaturizes, the hair follicle shrinks more and more, yielding finer and finer hair," says Lars Skjoth, founder and head scientist of Harklinikken, a chain of Danish hair clinics (including a U.S. flagship location in New York City. That's when the blush of youth fades and all the signs of healthy hair disappear — hair is drier and more brittle, with less luster and shine, it doesn't grow long as easily, and curly hair becomes frizzy.
"It's a very gradual process for men and women called androgenetic alopecia," says Skjoth, who by the way, has been studying hair thinning for almost 30 years. Trichologist Anabel Kingsley at the Philip Kingsley Trichology Clinic explains the mechanics of that alarming-sounding phrase — which is a technical way of saying pattern baldness — in more detail. "Men and women both have male hormones and in some people, the hair follicles are overly sensitive to the circulating levels of male hormones, very slowly getting smaller and producing hairs that are slightly finer and slightly shorter."
How Does Hair-Thinning Differ for Men and Women?
Men, in a rare display of universal justice, suffer the consequences more acutely, losing hair at the top until they're left with that horseshoe-shaped swatch at the back of the head. Women experience more of an overall reduction on the top, sides and crown, which doesn't often manifest as balding.
Regardless of gender, there are plenty of other reasons you might notice your hairline slowly moving back, your part widening, or your ponytail shrinking — including medical conditions, physiological disorders, dietary changes, and many more. Given the wide range of potential causes, I reached out to the experts for some help with my dwindling hair.
How Do Genetics Play Into Hair Loss?
Kinglsey and I had an hour-long chat where we discussed my grandfather's hair (he had a full head into his 70s), my red meat-eating frequency (grim, but I'm willing to increase it for vanity) and the state of my body hair (lasered, so no clues there). She went full mad scientist on me for a second when I showed her the truly bleak bloodwork results for my ferritin levels, a protein which relates to how much iron your body stores. "Ooh it's so low, that makes me SO happy," she trilled, as she peered at my scalp with a magnifying device, determining low stored iron reserves as the reason for the thinning hair around my temples.
Similarly, with Skjoth, there was sharing of family history and some more scrutinizing of my hair bulbs under a lighted, magnifying apparatus. Here, however, the pronouncement was more dire: He determined that I have probably been slowly thinning since my early or mid-20s, which, ironically, is the time I look fondly back on as my hair heyday. Just the sheer volume of my hair had stopped me from noticing earlier.
Can You Stop Hair Thinning From Happening Further?
Androgenetic alopecia has two causes: hormones or/and genes. While you can't wage much of a war against your DNA, you can, at least, turn off the hormones from causing greater havoc. Both Skjoth and Kingsley's clinics have proprietary products that help with that. "The future looks good for people with this problem, but early intervention is key," says Dr. Fusco. There's a world of treatments out there that can be experimented with: low-level light therapy, platelet-rich plasma (PRP) injections, supplements like Nutrafol, and prescription drugs such as spironolactone.
Unfortunately, there is no one-size-fits-all treatment; approaches have to be tailored by a professional depending on the cause of thinning, and it could take a bit of trial and error to land on a winning, follicle-stimulating formula.
What Products Can I Use if My Hair Is Thinning?
There's a never-ending stream of marketing that claims to regrow your hair — but don't expect a magic bullet. "Taking care of your hair is a holistic journey," says Cohen, so when it comes to what you can do at home, establishing a supportive hair-care system is crucial.
Food: Eating a healthy diet and taking vitamins to supplement nutritional deficiencies is key. "The first thing I recommend if your hair is thinning is to take a thoughtful look at your nutrition and make sure you're getting enough protein in your diet."
Sleep: Cohen says that if it's feasible, getting seven-plus hours of sleep will improve your hair — and your skin.
Friends: Dr. Fusco suggests recruiting your hairstylist as a lookout. "Ask your hairdresser, 'Is my part getting a little wider? Do you see more scalp?'"
Family: Get to know your roots like I did, since your family tree can give you hints as to where your hair loss is coming from. If your mother or father had hair-density changes, it's likely that you can inherit that predisposition, but it can be traced back to grandparents or even great-grandparents, says Kingsley. Of course, "If you're not able to get to the source of thinning, I recommend visiting a trichologist to get to the root of the thinning," says Cohen.
If you're ready to tackle hair thinning at home, Cohen says to look for hydrating products that don't over-strip the scalp (more on this ahead). And though you may find yourself glaring at your seemingly lifeless hair in the mirror, ease up. "Be gentle and kind to the hairs you have," says Cohen. Below are products that'll do just that.
The Volumizing Shampoo That Smells Like Fanta
This shampoo may smell like orange soda, but with a lot more nutritional upside. The formula stimulates your roots, thanks to a combination of ginger, ginseng, and biotin. It's effective as a temporary volumizer and should leave you with swole (a good adjective for anyone reading this piece) hair.
The Curl-Perfecting Shampoo and Conditioner
This sulfate-free set provides a superior sensorial experience with scents of smoky woods, eucalyptus, rosemary, lavender, and lemongrass. The conditioner is light enough to co-wash with but has enough heft to satisfy thirsty ends. You can credit that to the Omega 9-rich Amazonian Rahua oil that it's enriched with. There's good volume post-air-drying, but most noticeably, you can expect beautifully formed curls (we're talking spiral upon spiral in a perfect Fibonacci sequence.)
An Ayurvedic Spa Experience With Long-Term Promise
Before you get into this one, know that it's intended for long-term commitment and not meant as a temporary Band-Aid for thinning hair; users typically see results after 12 weeks. The shampoo and conditioner duo is enriched with ingredients like turmeric and amla (a Vitamin C-rich Indian gooseberry that's supposed to promote hair growth). Reviewers state that it does appear to thicken hair with consistent use, but warn that the formula does not work into a lather, which is offputting for some people
A Vegan Volumizing Duo
This California-born vegan brand aims to coddle color-treated hair. This shampoo and conditioner tag team is another long-term therapy that uses natural scalp fortifiers to stop the absorption of DHT (that's the androgen responsible for miniaturization).
A Curly Hair Mask for Hydration
Volumizing conditioners tend to be less dense so as to not weigh the hair down, enabling it to have lightness, lift, and hence, volume. But if you have thinning curly hair, as much as you want it to pouf, you also need to give it sufficient hydration. This pre-shampoo mask helps fill in nutritional gaps, much like vitamins do. Pop on a glob of this mask before washing with a volumizing shampoo and conditioner and emerge on the other side with the best of both worlds: A cumulus cloud of hair, and curls that have great definition and spiralization.
The Spray That Gives the Mother of All Zhuzhes
I deployed this spray in an emergency — I had a last-minute party invitation and my very flat Day 4 hair needed a zhuzh like you won't believe. I hit my roots with this spray liberally, making sure to lift sections of hair at the crown and spray underneath, then flipped my head over and blasted it with some heat. The result were voluminous, wavy bangs that started out like a Something About Mary–esque pouf, but settled into a nice bouncy S-curve. It felt a little gritty to the touch, but held great for several hours, even when the party extended way past my bedtime.
The Buzzy Hair Serum
Your search history doesn't lie, and if you're here, it means you've probably seen (or will shortly see) ads for Vegamour. The brand, which is exploding in popularity and is now sold at Sephora, is loved for its plant-based approach to bulking hair back up and reducing the dreaded swirl of hair death at the bottom of your shower. The brand's first GRO iteration (the regular Hair Serum) is it's most popular, but some reviewers say to go ahead and upgrade to the improved, albeit more expensive, GRO+ Advanced Serum that uses CBD to stimulate hair follicles.
The Luxury Hair Serum
Another as-seen-on-social item is Act+Acre's supercharged hair serum. Since it's pricier than other plant-based options on the market, we asked Act+Acre founder and celebrity hairstylist Helen Reavey to explain what sets the product apart. She said it's all about the science of Swiss Apple Stem Cells, "which have been clinically proven to show less shedding within one month of use." Reavey adds that in addition to anyone suffering from forms of alopecia, this hydrating serum is helpful for anyone combatting female pattern baldness with a product such as Minoxidil (a.k.a. Rogaine), which she says can be extremely drying and irritating to the scalp.
The Soft Support System
Photo: Crown Affair
If your hair's thinning, you know the mama-bear level of protectiveness you feel toward the strands you have left. Cohen gets it and notes that it's important to incorporate merciful supporting actors into your routine, like a supersoft microfiber towel when drying after wash day, a wide tooth comb to avoid tugging, and a non-aerosol dry shampoo to add volume and texture without heat.
The Circulation Booster
Sorry to the rest of the products in this list, but they'll be useless if they can't even reach your scalp. A massager or in-shower comb like this from Ceremonia will exfoliate product build-up, while the gentle pressure and circular motions will boost blood circulation, opening up your follicles so they're primed for nutrients.
Our experts: