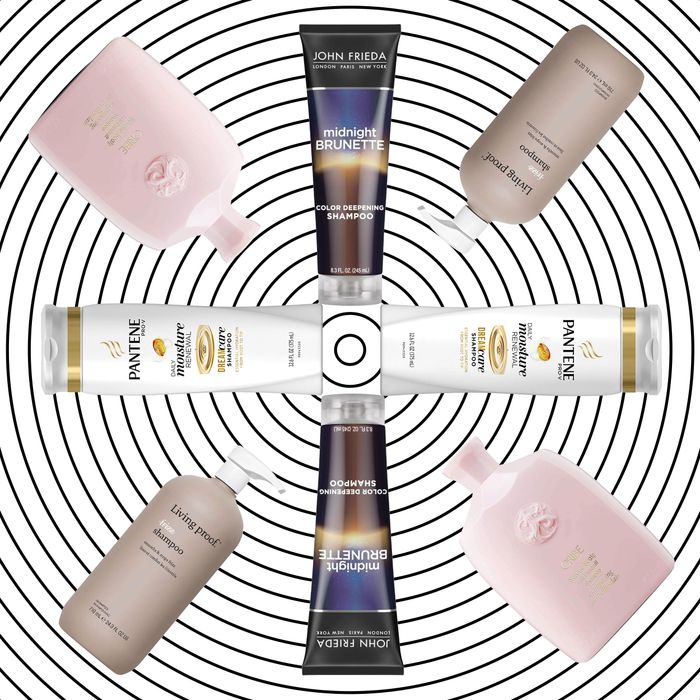 Photo-Illustration: by The Cut; Photos: Retailers
How you wash your hair can be a surprisingly divisive topic. Some say you should do it every day; some say go ahead and put it off for as long as humanly possible. For some, it's the perfect excuse for karaoke rehearsal; for others, it's a tedious task as annoying as removing makeup. Regardless of where you fall on the spectrum, shampoo is the first step in a quality hair-care routine, so it's important to find one that will set you up for success.
How often should you shampoo your hair?
The best broad answer is "as often as you need to," says Colin McCarthy, a hairdresser at Mark Ryan Salon in New York City. "The vast majority of people will likely want to wash their hair a few days a week, giving themselves days off in between, but there are people on either side of that spectrum who either need to wash their hair every day or can go a full week without even rinsing it." McCarthy says that fine hair and thinner strands can appear greasy in just one day while thick, coarse, curly, processed, or natural hair can last longer between washes, because it better absorbs any naturally occurring oils. If he had to give a number, he suggests once a week at minimum.
Ali Sherry, a hair stylist and colorist at Serrano Salon in Los Angeles, agrees that the number depends on many factors but says that you should definitely wash your hair if there's a buildup of sweat or you've been in, say, the ocean or a pool and need to get debris or chlorine out of your strands.
Is it possible to wash your hair too frequently?
Much like with cleansing your face, it's important not to overdo it when it comes to washing your hair. Sherry explains that over-washing will throw off the natural balance of healthy oils that moisturize the scalp and hair. "Without them, you can dry out and irritate your scalp, causing your hair to be dry, brittle, and dull," she says.
Which ingredients should you look for in a shampoo?
McCarthy says ingredients vary and each has its own benefits. If you're looking for some detangling action, seek out shampoos with fatty alcohols that can provide extra lubrication — like stearyl and cetyl alcohol. If you need moisture, glycerine and panthenol will deliver results. For hair reconstruction and damage control, opt for formulas with keratin or soy proteins. And for shine and smoothing, shea butter and jojoba oil are your friends.
Now that you have the lay of the (shampoo) land straight from the hair experts, here are 24 of the best shampoos for every hair texture, style struggle, and scalp issue. Even the laziest among us will look forward to lathering up with these.
The best hairdresser-approved shampoo
McCarthy and Sherry both recommend the brand Shu Uemura, so you know it's worth a try. This specific formula cleanses and moisturizes just the right amount, according to Sherry. She says it's great for fine hair, thanks to its lightweight nature, but that it works for those with average to thick strands. It contains moringa and red-algae extract for a boost of hydration and protection from outside pollutants. The 4.4-star rating (out of five) on Sephora means our beauty-loving peers can't get enough of it either.
The best pH-balancing shampoo
Lest you forget that your scalp is a microbiome, this shampoo is all about balancing that environment to promote healthy hair growth. It's ideal for those who go a little heavy on products as well as those who have average to dry hair. Mustard-seed oil is the key ingredient that evens out pH level, and the formula is dermatologist-tested if your scalp needs a gentle yet effective cleanse that both Sherry and reviewers love.
The best shampoo for frizz-free hair
This rich, silicone-free shampoo not only smoothes, it lays the groundwork for a magical, humidity-proof shield on every strand. If you're using it, you can safely live your life without worrying about looking like someone rubbed a balloon all over your head.
The best luxury shampoo
The value proposition for using this very expensive shampoo, as Jean Godfrey-June once said, is to ask yourself, "Well, do I need to look especially good today?" If the answer is yes, consider this shampoo, which has the texture and feel of very rich honey and gives you simply much "better" hair. It's been a secret favorite of beauty editors and rich ladies for years.
The shampoo that feels weightless and moisturizing
Shampoos that say they're "hydrating" can be heavy and weigh hair down. This light formula is super-mild, hydrates in a weightless way, and helps add shine to hair thanks to macadamia nut oil.
The best shampoo for dandruff
Hidden inside this eye-pleasing, millennial-pink bottle is a nice dandruff shampoo. If you're afraid of having unwashed sugar or salt granules in your hair, you'll be pleased to hear that this formula, thanks to its 2 percent salicylic acid, gently lifts flakes so you don't have to slough them off. The accompanying conditioner is pleasing and very moisturizing. And it all smells very nice.
The best shampoo for natural hair
This nourishing shampoo is the perfect companion on long and winding natural hair journeys, which can be filled with damage from heat styling, perms, dyeing, and so on. It combines the power of things you hear about in home remedies, like omega-rich Jamaican black castor oil and repairing shea butter, conveniently mixed with a touch of peppermint to get your scalp amped for all that new hair growth that's down the road.
The best drugstore shampoo for shiny hair
This is a classic drugstore shampoo with almost 5,000 five-star reviews on walmart.com. Reviewers praise the shampoo for doing exactly what it says it does: moisturizing and making hair look super-shiny, all for a great price.
The best shampoo for brunettes
If you're worried your brunette hair is becoming as brassy as a doorknob, this shampoo will help with that. With each wash, it gently deposits a tiny bit of pigment using a mix of cocoa and primrose oil, deepening and making your color look more rich without staining your hands. The before-and-after reviews on Amazon offer compelling proof.
The best shampoo for a deep cleanse
If you've ever felt the desire to shave your head and start all over again, try this first. This sea-salt scrub gently and deeply cleans your hair, especially your roots. The granules dissolve quickly and won't leave your scalp feeling stripped. It will be the closest your hair comes to feeling weightless — unless you decide to pick up that razor.
The best shampoo for dry hair
If touching your hair throughout the day reminds you more of straw than silk, you may need something that does a little more than cleanse. While you're singing in the shower, this nutritive shampoo infuses each strand of hair with glucose proteins and nourishing lipids so you get that soft, slo-mo shake shine even before you move on to conditioner.
Best vegan shampoo
Earlier this year, Aveda reformulated every single one of its products to be vegan. That includes the rosemary mint shampoo, the brand's longtime best seller. It has long been praised for the "clean" feeling it gives to hair and for its extraordinarily real smell.
The best strengthening shampoo
Damaged hair isn't a concern anymore for Olaplex devotees. Made with patented bond-builder technology that actually relinks the broken hydrogen-sulfur bonds causing hair damage, this products bring real results and really work on all hair types no matter the texture. It restores the pain your hair has felt from heat to bleaching to chemical treatments.
The best shampoo for smooth hair
The shea oil in this creamy, pearlized shampoo formula hydrates and fights frizz, while the macadamia oil nourishes hair. Bonus: The citrusy, woodsy fragrance just oozes fanciness.
The best shampoo if you have really thick hair
For thicker hair, it can sometimes be hard to ensure it is being thoroughly cleansed from root to end, but this shampoo assuages those fears. The marshmallow-root extract in this formula provides proteins that soften and moisturize thick hair, while the shea butter helps to lock in the moisture. And it's topped off with a signature fresh Ouai scent.
The best for serious dandruff
This is a better bet if you have really serious dandruff but don't want to get a prescription quite yet. It contains the same active ingredient found in many doctor-prescribed dandruff shampoos but in a smaller dose. It has a big fan base on Reddit.
The best affordable shampoo if you're not sure what you need
When your hair simply requires a hearty cleansing and you don't have any specific issues you want to address, this is a very pleasant $5 choice. The fragrance is beachy, but not in a way that will make you feel like you're washing your hair with sunscreen.
The best shampoo for itchy scalps
With its rich, whipped formula, it feels and looks like a mask, but it's a shampoo. Massage it in thoroughly, enjoy the slight tingling sensation, then rinse off. It soothes itchy scalps, reduces flakes, and hydrates scalp and hair. And it smells sort of like a Thin Mint cookie.
The best non-stripping shampoo for natural hair
This non-stripping shampoo, dade specifically for natural hair, won't deprive curls of their naturally produced oils. Made with avocado oil, which prevents damage, this cleanser removes buildup and cleanses each curl and coil while still leaving hair shiny and moisturized.
The best shampoo for detangling
The Mane Choice creates intentional hair treatments that treat everything from growth to strength. This shampoo caters to detangling even the kinkiest curls. It not only helps to loosen knots but softens hair. Plus, with its blend of biotin and vitamin E, it will stimulate your scalp.
The best shampoo for curly hair
Curls are notoriously fickle when it comes to product, but there's a good chance even the pickiest high-maintenance textures will enjoy this well-rounded shampoo. It leaves curls feeling clean but not stripped, hydrated but not weighed down. It is very lightly scented (of jasmine, bergamot, and sandalwood) but never overly perfumed, which is the last thing you want when cocktailing multiple styling products.
The best shampoo for fine curls
If you have finer hair that happens to spiral, you're always feeling like Goldilocks, looking for the right amount of product that keeps curls plump and hydrated but not heavy and limp. This oil-infused formula is moisturizing enough to prevent fine curls from frizzing yet gentle enough that it won't completely sabotage your hair by weighing it down.
The best shampoo for cool blondes
A grocery basket of natural pigments (blueberries, purple sweet potatoes, purple carrots) steer blonde hair away from Brassy Land. They make up the "Violet Botanical Complex" that gives the shampoo its violet color. Meanwhile, beta-carotene and collagen help keep color-treated hair resistant to breakage. Just be sure to wipe any purple residue from your shower walls and curtain.
The best shampoo if you wear protective styles
If you wear wigs, weaves, braids, or any protective hairstyles, you know protecting the hair underneath is just as important as maintaining the extensions. Formulated with herbal tea, this shampoo deeply cleanses and purifies hair while penetrating the scalp to clean any buildup that may form under styles. It's a game changer for protective style wearers, and it can be used on extensions.
If you buy something through our links, New York may earn an affiliate commission.