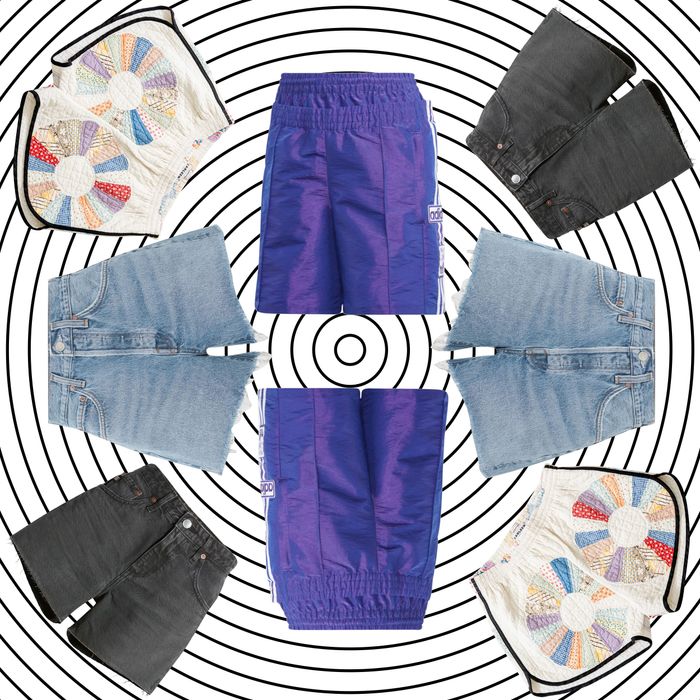 Photo-Illustration: by The Cut; Photos: Retailers
For more of the Cut's favorite fashion, beauty, and home finds, sign up for the weekly Cut Shop Newsletter.
I am without hesitation team shorts over team pants. I grew up in Florida, so sue me. It is embarrassing when I get a little too optimistic about the weather and try to make shorts work. Then the cloud cover changes in an instant or a frigid wind suddenly picks up, and I feel like a shivering, bare-legged dummy in a sea of more competent, pants-wearing people. The seasons are turning (however slowly it feels), and I feel that this is now an appropriate time to at least think about wearing shorts — if you're not already out donning them. Goosebumps be damned!
Below, I rounded up some of the best shorts for those warm summer days. Remember those? The criteria for great shorts is that they're comfortable, won't chafe your legs, and will fit you correctly — i.e., there shouldn't be that annoying gap in the back of the waist, but they also shouldn't dig into your sides.
From high-rise to low-rise styles and Bermudas to short shorts, there are plenty of options out there no matter where you're going. And contrary to what my mother has told me my entire life, you can even wear shorts to a very fancy occasion.
Let your legs breathe with these 19 pairs below.
Best Denim Shorts
If you ask any fashion editor, they'll most likely agree these are the gold standard of denim shorts. From the way the waist fits just right to the inseam length, you'd be wise to invest in a pair. They do run big, though, so definitely size down.
Available in sizes 23–34. 
Best Under-$100 Denim Shorts
Many reviewers state that they loved their shorts so much, they bought a second pair. There are tons of other washes to choose from — and, again, they're under $100, so you better stock up before summer rolls around.
Available in sizes 23–30.
Best Patch-Pocket Shorts
These best-selling shorts have a great silhouette and would go with any of your striped tees and loafers. They can run a bit narrow in the hips and have zero stretch (seriously), so size up.
Available in sizes 23–34.
Best Knit Shorts
Gimaguas rules the summer-knitwear scene. These sunny yellow shorts have a groovy design and a ruffled hem, and will look even better with the matching one-shoulder tank.
Available in sizes XS–XL. 
Best Gorpcore Shorts
Cut blogger Danielle Cohen loves these outdoorsy shorts made of organic cotton. Walking stick, Merrell hiking boots, and Nalgene bottle sold separately.
Available in sizes XS–XL. 
Best Cargo Shorts
We love a good pocket. These happen to have eight. Live out your sk8er-girl dreams in this pair from BDG — a favorite brand of Cut shopping writer Chinea Rodriguez.
Available in sizes 0–14. 
Best Black Shorts
When your blue denim gets tiring, there's always black. This raw-hem pair from AG will become an instant hit in your warm-weather rotation.
Available in sizes 23–33. 
Best High-Rise Shorts
Zipping up this pair might be one of the most satisfying feelings. The legs are a bit roomy, too, so there's no dreaded chafing. Reviewers say they can run large, so your best bet is to size down unless you prefer a more baggy fit.
Available in sizes 23–33. 
Best Low-Rise Shorts
Presenting the perfect pair of slouchy, low-rise cuffed shorts. Throw on a belt and a blouse, and you'll look pulled together in no time.
Available in sizes 23–34. 
"Best for a Fancy Occasion" Shorts
Asia Milia Ware raves about Andrea Iyamah's standout shorts, like these pleated ones that play that "Wait, is it actually a skirt?" mind trick. The corset back ensures these fit exactly to your waist, and the color screams "indie-sleaze" comeback.
Available in sizes XS–XL.  
Best Faux-Leather Shorts
The wide, stretchy waistband, the drawstring, and the breezy silhouette make these shorts comfortable, but the leatherlike material keeps you looking pulled together.
Available in sizes XS–5XL.  
Best Pleated Shorts
Tuck a basic white T-shirt into these and slide on some ballet flats for an easy outfit formula this season.
Available in sizes 23–31. 
Best Linen Shorts
This up-and-coming Los Angeles–based brand nails minimalist basics, including these linen suit shorts that hit your knee just right. Cut senior shopping editor Bianca Nieves recommends this pair.
Available in sizes 2–10. 
Best Crochet Shorts
Since Doen's spring collection dropped, these crochet shorts (and the matching top) have been haunting my Instagram feed, reminding me of their utter perfection. They're almost sold out, but the brand is restocking soon to keep up with demand.
Available in sizes XS–XL. 
Best Long Shorts
Slvrlake's contemporary aesthetic makes it easier to embrace the divisive Bermuda look. The fit is relaxed, but you can dress things up with heels or loafers.
Available in sizes 23–32. 
Best Patchwork Shorts
Based in Los Angeles, Carleen designer Kelsy Parkhouse creates upcycled designs using vintage quilts so no two items are exactly the same. The quilted track shorts are definite standouts.
Available in sizes S–XL. 
Best Throwback Shorts
OshKosh B'gosh, but make it modern. Still Here's "Ames" shorts have that nostalgic factor to them thanks to the scrunch waistband, so you'll feel good wearing them around the house or out and about.
Available in sizes 23–32. 
Best Utility Shorts
A pair of army-green shorts will become your new neutral. This 4.8-star-rated Madewell pair comes in both standard and plus sizes, has deep pockets, and is high-waisted without riding up.
Available in sizes 14–22W. 
Best Sport Shorts
Even if you don't plan on using them to participate in any type of sports, these track-pant-inspired shorts from Adidas are also a favorite for Nieves. She wore a similar vintage pair for Coachella and plans to re-create that outfit all summer long.
Available in sizes 2XS–XL.