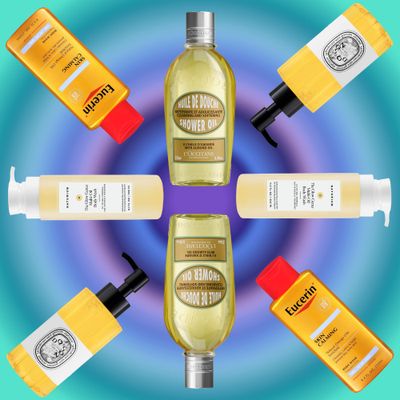 Photo-Illustration: by The Cut; Photos: Retailers
For more of the Cut's favorite fashion, beauty, and home finds, sign up for the weekly Cut Shop Newsletter.
If you've ever wondered what the deal is with shower oils, we can assure you that you are not alone. It's clear that they're for showering, but do they actually clean your skin? Should you use soap and then follow up with the oil? You might also be asking, "Why would I want to put oil on my body in the first place when I'm trying to rinse off?" Because the very concept of shower oil raises more questions than answers, you likely ignored using one in favor of your usual gel or bar soap. But the confusion ends today. We tapped some skin-care experts to explain everything about shower oils and why you might actually benefit from using them.
FAQs
Dr. Lily Talakoub, a board-certified dermatologist and fellow of the American Board of Dermatology, says shower oil is a soap-free cleanser made without a surfactant, which works like an emulsifier. Most are formulated with an ingredient that allows the oil to transform into a milky texture as soon as it hits water, and you can use it in lieu of soap or body wash. Though they may seem indulgent (and some are), they are also a handy tool in stopping dry, itchy skin before it starts, which is especially important during colder fall and winter months.
Los Angeles–based esthetician Cynthia Franco says they help build a layer of moisture on your skin and maintain its natural oils. (Hello, skin barrier.) For these reasons, many are great for those who have eczema or have other dry-skin conditions. Dr. Talakoub agrees, and says those with sensitive skin would also benefit, although she suggests avoiding shower oils if you have body or back acne. Instead, it's best to use body washes with salicylic acid and hyaluronic acid that are specifically formulated to target breakouts.
Is shower oil the same as body wash or soap?
Shower oils do not usually whip into a lather like soaps and body washes, but they still cleanse without stripping the skin of moisture. According to Dr. Talakoub, soap is an alkaline salt that lathers with water (basically a detergent for your skin). It effectively removes grime, but can also leave you dry and tight — or even damage your skin barrier. A shower gel or body wash is a water-based cleanser and is usually less stripping than bar soaps.
Can a shower oil actually double as a shaving cream?
That's actually Dr. Talakoub's pro tip. Shower oils happen to be a great alternative to shaving cream. "I love to use shower oils instead of shaving foams and gels on my legs, particularly in the winter," says Dr. Talakoub. "It helps shave my legs without causing my skin to dry out." Franco also recommends applying Saint Jane's Nourishing Body Serum post-shower for even softer skin.
What time of year should shower oils be used?
Maya, here! The Cut's Beauty Director-at-large here with some added advice: What's great about shower oils is that the formula is versatile enough to be used year-round, so it's best suited for every season. However, if you're prone to dry skin, you should definitely reach for this formula more during the summer and winter months. Why? Well, the harsh weather during that time of year tends to take an extra toll on dry skin types. Shower oils function as an occlusive, which means they create a protective barrier on the skin for added hydration. So during summer heat strokes, when your skin is dried out from sun exposure and chlorine during pool days, this barrier keeps dehydration at bay. And when you face all of the elements in brisk and cold winter months, shower oils replenish the skin with ample amounts of moisture when used daily.
Here, we rounded up 15 of the best shower oils — according to Franco, Dr. Talakoub, online reviews, and our very own Cut Shop favorites — that are worthy of your dollars.
The Best Shower Oils
The Overall Best Shower Oil
Franco and Dr. Talakoub both recommend this oil that's hypoallergenic and dermatologist tested. It's also non-comedogenic, meaning it won't block any pores, and the healthy amount of glycerin restores your skin barrier so your body feels clean without being stripped of moisture. With the big bottle, you really get the most out of your purchase — this will last you ages before you even think about needing a restock. 
Pros: Gentle enough to be used on face and body
Cons: Has a strong scent
The Vegan Shower Oil
Formulated with natural ingredients like coconut, avocado, and hibiscus-seed oil — and without silicones, parabens, and phthalates — your skin will feel so soft after using this oil-to-foam wash. It's also packed with vitamin c, which helps brighten, hydrate, and even out your skin tone. Moisture is maintained all day long after using this shower oil, and reviewers especially love the light coconut scent.
Pros: It has a lovely sweet coconut scent
Cons: It doesn't sud up much and leaves a milky texture on the skin 
The Eczema-Approved Shower Oil
Lather this product in your hands before washing in the shower for a soothing cleanse that nourishes flaky, dehydrated, and irritated skin. If you and fragrance don't get along, this has zero scent, and it's also approved by the National Eczema Association. According to reviewers, it also works as a gentle cleanser for your face that effectively removes makeup without leaving behind any dryness.
Pros: Soothes dry skin, fragrance-free, doubles as a cleanser
Cons: The pump can break easily
The Extra-Foamy Shower Oil
Creme de Corps shower oil is definitely worthy of praise. It's got a smooth vanilla-and-almond scent that is grown-up but not boring. The fragrance didn't last, but that makes it perfect if you don't want to be draped in one particular scent for eight hours straight. Your skin will also feel very soft post-shower — no surprise, as there are close to a dozen different oils in each bottle.
Pros: It has powerful ingredients like castor oil and squalane
Cons: If you like a fragrance to last all day, this is not the oil for you
The Subtly Scented Shower Oil
This Jo Malone shower oil smells so good — like a field flush with roses. Similar to a candle, it can scent your entire apartment after a morning wash, and yet the fragrance isn't overwhelming on your skin. Like most of the others, the oil doesn't foam; it simply lathers into a creamy lather. Reviewers on the website have said it's "luxury in a bottle" and "simply divine" if you needed any more convincing.
Pros: It's been described as "luxuriously silky"
Cons: The scent is strong, so make sure you like before purchasing
The Floral Shower Oil
This shower oil is the most "liquid-y" of the bunch thanks to an apricot seed oil that lathers into a milky broth. Its tuberose fragrance is so intense that we guarantee people will inquire about your perfume. If you're a tuberose fan, you'll love the scent-clinging factor, but if you prefer a less fragranced experience, you've been warned. You could also try Diptyque's L'Ombre dans l'Eau, which the brand helpfully describes as "the story of daydreams, a calm river, a summer slumber under a weeping willow." (Hou loves this one too, especially in the Philosykos or Fig scent.)
Pros: You can layer this with other Diptyque products for a cohesive smell
Cons: It's on the pricier side for a smaller bottle
The Skin-Softening Shower Oil
This oil isn't too runny, so it's easy to maneuver in the shower, and it smells like almond cookies. If you don't mind smelling faintly of dessert in the morning, there's no better shower oil to plop in your cart, especially for the results of super soft skin. (Former beauty Director Kathleen Hou is a longtime fan too).
Pros: The sudsy lather makes you feel squeaky-clean and supersoft
Cons: It's easy to go through
The Semi-Sudsy Shower Oil
This shower oil was so good we already wrote a separate review, so here are the Cliffs Notes. The fragrance is subtle, yet tinged with an adult, baby-powder scent. You can whip up a few small bubbles, but it mostly emulsifies into a milk. Of course it feels good and isn't drying, but have you checked out its bottle? Put it in your shower, and you'll want to leave the curtain open when guests come over.
Pros: It's great to shave with
Cons: It doesn't come in their famous "You" scent, which many people wish it would
The Luxe Shower Oil
Talk about a centerpiece for your shower. Like a jumbo version of the J'adore perfume, this fancy Dior shower oil has the same scent without being overbearing. Reviewers note that this leaves their skin incredibly smooth without drying it out or leaving residue. Most say they use it in their bathtub for a more luxurious, relaxing experience, but it does lather in the shower if you're not a bath person.
Pros: The bottle is absolutely gorgeous, can be used in the shower or bath
Cons: Not usually in stock
The Citrusy Shower Oil
Calling all citrus lovers. The mandarin shower oil from Le Labo is perfect for anyone who loves an easy, yet elevated routine. The fragrant shower oil gently cleanses and moisturizes all at once. Once applied, it lathers up to a milky texture and leaves your skin smelling like fresh oranges.
Pros: The lathered texture is milky and a little goes a long way
Cons: It only comes in a squeeze bottle, where some prefer a pump
The Shower Oil to De-Stress
This luxurious oil turns any shower or bath into a soothing spa experience. The warming scent of rosemary, black pepper, lavender, and ginger work as you add it to your bath or lather it over your body to ease all your muscle tensions from a long day of work or an intense workout. Not only is the scent divine, but the oil is said to help relieve pain and stiffness, stimulates circulation, and soothes your muscles.
Pros: You can use in either a shower or bath
Cons: It's a small bottle
The Oil-to-Gel One
This oil-to-gel shower wash formula is one that TikTok users can't stop raving about. Our own Asia Milia Ware recommends it, too. With its ingredients including glycerin and squalane it will leave your skin soft and moisturized as soon as you hop out of your shower. Plus, coming under $20 it's one your wallet will also appreciate.
Pros: It's affordable and has powerful ingredients 
Cons: The smell has been described as "popcorn butter," which can be a hit or miss (unless you're into that!).
The Calming Body Oil
This oil is perfect for anyone looking for something clean, simple, and fragrance free (especially for those with eczema or sensitive skin). Senior shopping editor Bianca Nieves uses hers whenever she has a flare-up. Plus, the mild cleanser contains natural omega oils that relieve itchy skin and moisturize.
Pros: Fragrance free
Cons: It does not lather, easy to go through
The One That Feels Like Silk
Get ready to feel like you're wrapping your skin in pure silk after applying this luxurious formula, which features the plushest texture that feels like a moisturizing hug. The gentle oil nourishes all skin types with its soothing ingredients: white tea and jasmine extracts, glycerine, and surfactants. The botanical blend is safe for sensitive skin and will not strip the skin barrier of any natural oils. It feels weighty and luxe, but not too heavy. And if you're dealing with any inflammation or irritations, the calming ingredients will settle and relax flare-ups.
Pros: If you use this at night, the calming ingredients will put you right to bed
Cons: The fragrance is described as "delicate," so this scent will likely fade throughout the day
The One Rooted in Ayurvedic Rituals
This shower oil emulsifies easily once blended with water, making it an easy swap in your shower routine if you're used to a traditional body wash. The Ayurvedic ingredients, which are Indian Rose, moringa, coconut, and sweet almond oil really shine through in this scent. Trust, it fills up the entire room. If you love a foam, you'll love this oil-to-foam formula, which transforms once it comes in contact with water.
Pros: It's a two-in-one formula featuring oil and foam for a double-duty experience
Cons: The nozzle applicator makes it tricky to control how much product you're using and easy to waste product
Our experts: