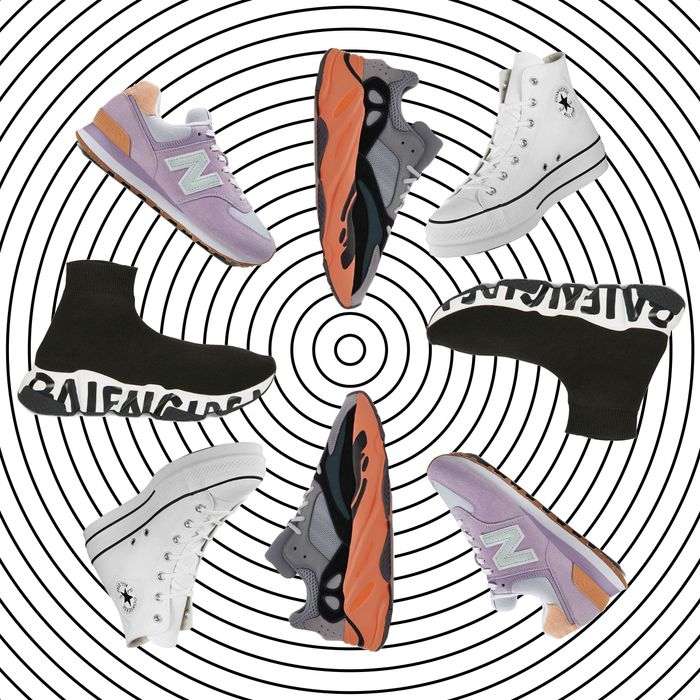 Photo-Illustration: by The Cut; Photos: Retailers
It's time to put our winter boots up and start to break out our best sneakers for the warmer weather. If you're like me, and you've gotten used to 24/7 comfort over the past two years, then sneakers will continue to be your best friend this season.
If you need some help to discover which is the right pair(s) for you, StockX, the notorious reselling retailer for cult favorites recently shared a report that showed the top global brands, products, and trends by city.
For example, the beloved classic Nike Dunks are still having a moment, specifically in Milan, Italy. Whereas Berlin, Germany loves to rep the Adidas ZX. However, the biggest takeaway of the report is that designer collaborations are currently being traded at high volumes and restocking constantly.
Read on to see which kicks you should wear while you live on this floating rock.
The Best Sustainable Sneakers
No matter where you are in the globe, according to StockX, demand for sustainable sneakers began to build in 2020, when customers spent over $10M on sustainable footwear thanks to major releases like the Nike Space Hippie collection. In 2021, this trend accelerated, and trades of sustainable footwear on StockX increased more than 4x year over year, according to Jesse Einhorn, StockX senior economist.
Everlane's ReLeather Court sneaker is made of recycled leather scraps requiring no new tanning or dyeing. "Leather reimagined," the brand dubs it.
French brand Veja has really cornered the sustainable-sneaker market (with a little help from Meghan Markle). This white pair is made from ethically sourced materials like wild Amazonian rubber for the soles and responsibly produced leather for the upper.
The cotton lining, leather, and rubber outsoles of these colorful dad sneakers are made from recycled materials. They also have a cloud-lift insole for an extra comfy fit. New everyday sneaker, is that you?
These soothing seafoam-green vegan sneakers are made from recycled ocean plastic. And for every pair sold, the brand donates 10 percent of profits toward protecting and conserving sea life.
Madewell's sustainable slip-ons are made of recycled cotton canvas and naturally sourced rubber.
The Best Classic Sneakers
Fact: A pair of Chucks, Vans, or New Balances will never go out of style. They're even cool when they're all beat up, because that just shows you've had them for ages. And the best part about them is that they'll never break the bank.
While the New Balance x Casablancas are a Parisian fave, according to StockX, you can never go wrong with the New Balance Classics. They are a little bit nerdy, a little bit cool, and still give out that simple and chic, French-aesthetic.
Whether you wear them sparkling clean or tossed around in the dirt, they are an unmatched classic.
Just add jeans and a T-shirt.
You're not just a mom. You're a cool mom.
Stan Smiths look good with literally everything.
The Best Trendy Sneakers
Whether they're remixed classics or a completely new style, these are the styles that feel especially of-the-moment.
Adidas's collaboration with Bad Bunny has been one of the highest traded sneakers on StockX, specifically in Mexico City. The Puerto Rican rapper's fanbase almost immediately sold out these low black triple leather and suede sneakers. Even Bella Hadid is a fan of this collaboration.
New Balance's rebrand is not to be played with. The same classic silhouettes with trendy colors and designs have been everywhere lately.
Nike Dunks have stood the test of time and proved to us that they'll be trending forever. StockX says Nike continues to restock them numerous times and they sell out each time. We get it. The colorways are unique, the style is classic, and they can be styled with almost anything.
Whether you're running as a workout or running errands, these mesh trainers have a cloud-like feel and will surely outlive their moment.
Yeezys have been trending for a few years and according to StockX they are a fave Down Under in Sydney, Australia. The Boost 700 always have contrasting tones that are easy to style and they're one of the most comfortable shoes I've ever owned.
Air Force 1's have been around since the '80s, but the pastel colorway and the "pixelated" chunky sole make these feel totally contemporary.
You don't have to be a hypebeast to wear these. They're chunky and playful without being too in your face, thanks to the pastel color palette.
I didn't know love at first sight with sneakers until I saw these. "Bold '90s-inspired style meets premium construction," is how Nike describes them. From the colors to the silhouette, they're the coolest pair of kicks I own right now.
The Best High-Performance Sneakers
The ultrasleek, futuristic-looking sneakers do double duty, combining well-researched performance technology and a street-style aesthetic. They're breathable, flexible, and just really cool looking, whether or not you're actually exercising in them.
When I fractured my tibia a few years ago, these sneakers nursed me back to health to get me back to my love of running. I've had no bad runs ever since switching over to these and to top it off the colorways are vibrant and fun. Einhorn says these utilizes ZoomX technology, have created an added level of hype around performance runners.
Reviewers rave about Hoka sneakers, saying that wearing these sneakers feels like walking on clouds. They're comfortable and light and have a unique design.
Ultraboosts are known for their functionality and breathability. This blush colorway gives them a stylish makeover.
Asics's "GEL" technology gives you protective shock absorption and comfortable cushioning, and these come in a variety of color options.
This version of Nike's popular Flyknit has it all: style, function, comfort, and breathability.
Nera is a sneaker brand that combines craftsmanship, performance, and modern style. They're also handmade in Italy, so if you're a "material girl" activewear woman then these are made for your feet and closet.
These shoes are so lightweight that you'll almost forget you're wearing something that looks cool, too.
The Best Fashion Sneakers
Last but not least, here are the sneakers for anyone who wants a little luxury on their feet.
We can see why this collaboration is a fan favorite in StockX and is seeing 4x normal trading numbers in Paris. The juxtaposition of the green and orange make this the perfect spring shoe.
Balenciaga's sock-like shoes have been having their moment to shine for a few years, but their track shoes are just as comfortable and come in pretty colors like this bubblegum pink. I don't know if I'd work out in them, but they are surely a perfect weekend pair of kicks.
These Loewe sneakers offer a comfortable spin on a retro style and some loopy "L" branding.
Classic Bottegas with laces, you can't really go wrong here.
The British brand updated its ubiquitous sneaker with an exaggerated, translucent sole. It comes in a ton of color options.
A subtle Gucci flex on some otherwise unassuming platform sneakers.
No one blends streetwear and cool luxury like Off-White. These sneakers are proof of that.
These Rick Owens have been everywhere lately. I get it though. They have everything you'd want in a stylish shoe: a platform, laces, hightop, , and colors that match everything.
The OG Balenciaga sock sneaker. It's still a closet staple, I don't think I have a better pair of sneakers to run errands in.
These funky sneakers have fun laces and construction that makes sneaker heads remember why they fell in love with kicks again.
Valentino sneakers are sleek and classic. The signature studs are the simplest detail that does all the talking one these shoes.