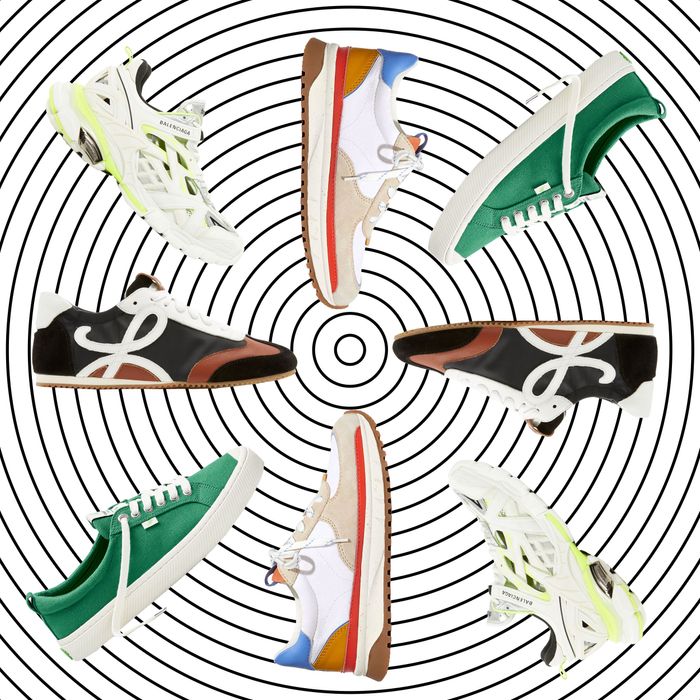 The sneaker craze that's dominated the last few years is showing no sign of dying down. What's changed for 2020 is the variety. In our post–Stan Smiths, post–dad sneakers world, there's no one sneaker trend that feels overwhelming or obligatory. Right now, there are so many styles out there that you can easily find one that speaks to your own individual taste.
Below, we've rounded up the 30 best sneakers to buy right now, no matter your style. Scroll down for everything from new ecofriendly sneakers to puffy platforms and old-school throwbacks.
The Best Sustainable Sneakers
We're seeing more and more sneakers made from more environmentally-friendly materials, like post-consumer recycled polyester and responsibly produced leather.
Everlane's Court sneaker is made of leather from a gold-certified tannery that promises its practices are environmentally friendly. The sole is almost 94 percent free of virgin plastic, and the lining is 100 percent recycled polyester.
Madewell's sustainable slip-ons are made of recycled cotton canvas and naturally sourced rubber.
French brand Veja has really cornered the sustainable-sneaker market (with a little help from Meghan Markle). This white pair is made from ethically sourced materials like wild Amazonian rubber for the soles and responsibly produced leather for the upper.
The cotton lining, outer nylon, and rubber outsoles of these colorful dad sneakers are made from recycled materials. Plus, the leather is sourced from a tannery that achieved a Gold Rating from the Leather Working Group, an organization that promotes sustainable environmental practices in the leather industry. So even if they're blue, red, and beige, they're pretty green.
These tropical-inspired sneakers are made of fair-trade cotton and natural rubber in ethical factories in Brazil. Even the shipping process is carbon-neutral.
The Best Trendy Sneakers
Whether they're remixed classics or a completely new style, these are the sneakers that make it clear you're paying attention to trends.
Air Force 1's have been around since the '80s, but this silver metallic colorway feels totally contemporary.
Leave it to Victoria to create a chic shoe in collaboration with Reebok.
These add a fresh twist to the dad sneaker trend. And in the age of Instagram, bright colors make a big impact.
The Vista Lite's sole is unconventional enough to stand out, but the muted colorway keeps it from being too over-the-top.
If you love color … and texture … and patterns … these maximalist mesh, suede, calf hair, and leather Nikes might be for you.
You don't have to be a hypebeast to wear these. They're chunky and playful without being too in-your-face, thanks to the white color.
The Best Classic Sneakers
Fact: A pair of Chucks or Vans will never go out of style. They're even cool when they're all beat up because that just shows you've had them for ages. And the best part about them is that they'll never break the bank.
Whether you wear them sparkling clean or tossed around in the dirt, they are an unmatched classic.
Just add jeans and a T-shirt.
You're not just a mom. You're a cool mom.
Stan Smiths look good with literally everything.
A little bit nerdy and a little bit cool.
The Best High-Performance Sneakers
The ultrasleek, futuristic-looking sneakers do double duty, combining well-researched performance technology and a street-style aesthetic. They're breathable, flexible, and just really cool looking, whether or not you're actually exercising in them.
Reviewers rave about Hoka One One, saying that wearing these sneakers is like walking on clouds. They're comfortable, light, and have a unique design.
Ultraboosts are known for their functionality and breathability. Here, Stella McCartney gives them a stylish makeover.
Asics's "GEL" technology gives you protective shock absorption and comfortable cushioning, and these come in a variety of color options.
This version of Nike's popular "Flyknit" has it all: style, function, comfort, and breathability.
Approved by marathon runners, Saucony's newest shoe features "speedroll" technology to ensure maximum comfort and durability for runners.
Have you ever seen a workout sneaker in leopard-print calf hair before? Just try not to drip sweat on them when you're on the treadmill.
The Best Fashion Sneakers
Last but not least, here are the sneakers for anyone who wants a little luxury on their feet.
Both the Balenciaga Triple S sneaker and the ones that look like socks had the spotlight for a long time, but it's time for them to make room for this more performance-focused sibling.
Margiela's signature "Tabi" toe lends an edge to these otherwise simple sneakers.
The British brand updated its ubiquitous sneaker with an exaggerated, translucent sole. It comes in a ton of color options.
Designer Daniel Lee has been making Bottega Veneta a designation for cool accessories, and his sneakers are some of the most coveted among industry insiders.
These Loewe sneakers offer a comfortable spin on the ballet flat and some loopy "L" branding.
Classic high-tops get an edgy upgrade.
Golden Goose is beloved by fancy Europeans and those who want to look like them. These are made in Italy and combine retro track shoes with a chunky dad-sneaker sole.
If you buy something through our links, New York may earn an affiliate commission.