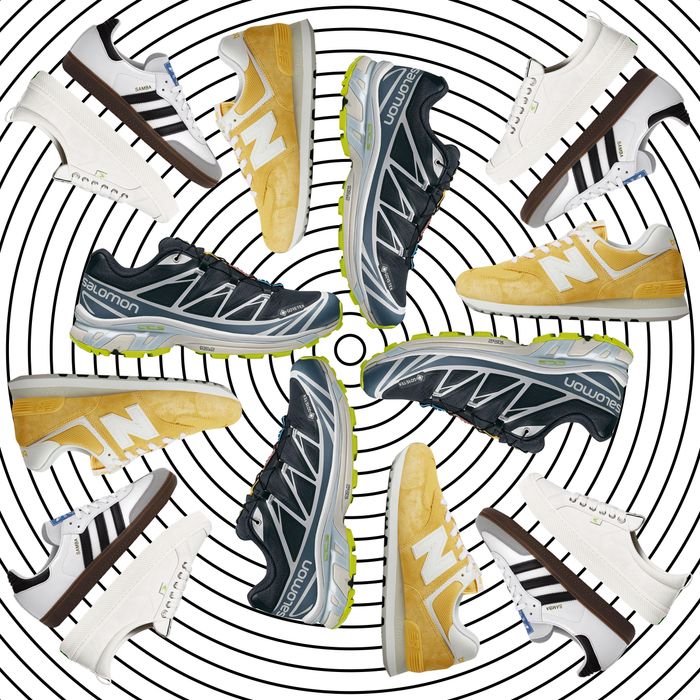 Photo-Illustration: by The Cut; Photos: Retailers
Our heating bills would agree that it's fully winter right now, and while you might already have some of your favorite warm snow boots ready to go, there is one type of shoe that is seasonless: sneakers. Whether or not you're really into streetwear and know all the hot new collabs, we spoke to our friends at StockX — one of the go-to resale marketplaces for high-demand fashion — to round up the best pairs to buy, backed up by all the latest data.
Its most recent report identifies the record-setting brands and products that made waves in 2022 and predicts what will be trending come 2023. By crunching the number of searches, the figures provide a full picture on which sneaker silhouettes had the biggest spikes compared to the previous year (cough, cough Adidas Samba).
With extra insight from Drew Haines, director of collectibles and sneakers at StockX, we gathered all the trending sneakers — plus some other top-rated ones — in a bunch of different categories.
The Best Sustainable Sneakers
Demand for sustainable sneakers first began to build on StockX in 2020, and interest has remained strong throughout since. Haines says that the Nike Dunk Low Next Nature, which is made with 50 percent recycled materials, and the Adidas Samba Vegan White Gum were among the best-selling sustainable sneakers on StockX this year.
The cotton lining, leather, and rubber outsoles of these colorful dad sneakers are made from recycled materials. They also have a cloud-lift insole for an extra comfy fit. New everyday sneaker, is that you?
These soothing seafoam-green vegan sneakers are made from recycled ocean plastic. And for every pair sold, the brand donates 10 percent of profits toward protecting and conserving sea life.
French brand Veja has really cornered the sustainable-sneaker market (with a little help from Meghan Markle). This white pair is made from ethically sourced materials like wild Amazonian rubber for the soles and responsibly produced leather for the upper.
Everlane's ReLeather Court sneaker is made of recycled leather scraps requiring no new tanning or dyeing. "Leather reimagined," the brand dubs it.
Half of the materials in this style are recycled, and the Samba was basically the shoe of the year. According to StockX, searches for the style increased 485 percent year over year.
Ever heard of corn leather? Now you have. Other materials that make up these sneakers include natural rubber, wood chips, and certified organic cotton.
You can't mention sustainable sneakers without bringing up Cariumas. The vegan insole is made from cork, the canvas is organic cotton, and any plastics used for the laces and labels are actually from recycled water bottles.
With an upper made from recycled leather and an insole made of recycled rubber, the whole shoe is made with sustainable practices in mind. When you get as much wear out of them as you possibly can, the brand encourages you to mail them back so it can reuse the materials, and you'll get $20 toward your next pair as an incentive.
The Best Classic Sneakers
Fact: A pair of Nikes, Chucks, Vans, or New Balances will never go out of style. They're even cool when they're all beat up, because that just shows you've had them for ages. And the best part about them is that they'll never break the bank.
You can never go wrong with the New Balance Classics. They are a little bit nerdy, a little bit cool, and supercomfortable, of course.
Stan Smiths look good with literally everything.
Whether you wear them sparkling clean or tossed around in the dirt, they are an unmatched classic.
You're not just a mom. You're a cool mom.
If they're good enough for Forrest Gump, they're good enough for me. This style has been around since the '70s, and it's still just as fresh today. Haines said the average resale price for this silhouette increased in 2022, so it's a solid purchase that won't lose its timeless appeal.
The Best Trendy Sneakers
Whether they're remixed classics or a completely new style, these are the styles that feel especially of-the-moment.
Air Force 1's have been around since the '80s, but the pastel colorway and the "pixelated" chunky sole make these feel totally contemporary.
When Rihanna stepped out wearing this sneaker, that pretty much cemented it into Hall of Fame status. After dropping in June, it sold out lightning fast and is available only on resale sites.
Again with Adidas! The brand's collaboration with Bad Bunny has been one of the highest traded sneakers on StockX, specifically in Mexico City. The Puerto Rican rapper's fanbase almost immediately sold out these low black triple leather and suede sneakers. Even Bella Hadid is a fan of this collaboration.
Even if you're not into a gorpcore look, you can't deny the pull you feel when looking at a pair of Salomon shoes. The stylish color variations, thin laces, and sleek design are hard to resist; plus the Gore-Tex material will keep out any water and withstand harsh weather.
New Balance didn't mess around with its rebrand. Its classic silhouettes are infused with so many fun, refreshing color combinations.
Nike Dunks have stood the test of time and proved to us that they'll be trending forever. StockX says Nike continues to restock them numerous times and they sell out each time. We get it. The colorways are unique, the style is classic, and they can be styled with almost anything.
You don't have to be a hypebeast to wear these. They're chunky and playful without being too in your face, thanks to the pastel color palette.
From the contrast swoosh logo to the netted mesh upper, these deserve a top spot on the list of best sneaker collabs this year.
The Best High-Performance Sneakers
The ultrasleek, futuristic-looking sneakers do double duty, combining well-researched performance technology and a street-style aesthetic. They're breathable, flexible, and just really cool looking, whether or not you're actually exercising in them.
Haines says Hoka was the No. 1 fastest-growing sneaker brand on StockX in 2022 with a whopping 3,606 percent trade growth year over year.
The support you get from the Vaporfly is unlike any other sneaker's, and the cushioning also comes in handy if you're recovering from a leg injury. The reviews say the shoe lives up to the hype if you're the training type, so don't wait any longer to snap it up.
Ultraboosts are known for their functionality and breathability. This blush colorway gives them a stylish makeover.
Asics's "GEL" technology gives you protective shock absorption and comfortable cushioning, and these come in a variety of color options.
This version of Nike's popular Flyknit has it all: style, function, comfort, and breathability.
These shoes are so lightweight that you'll almost forget you're wearing something that looks cool, too.
For the regular runners out there, the Glycerin is a favorite for its stabilizing effects and cloudlike footbed. Your toes are going to fall in love with the slightly wider (read: non-suffocating) toe box.
The Best Fashion Sneakers
Last but not least, here are the sneakers for anyone who wants a little luxury on their feet.
These mint-colored Loewe sneakers offer a comfortable spin on a retro style and some loopy "L" branding.
Classic Bottegas with laces. You can't really go wrong here.
The British brand updated its ubiquitous sneaker with an exaggerated, translucent sole. It comes in a ton of color options.
No one blends streetwear and cool luxury like Off-White. These sneakers are proof of that.
These funky sneakers have fun laces and construction that makes sneaker heads remember why they fell in love with kicks again.
Valentino sneakers are sleek and classic. The signature studs are the simplest detail that does all the talking for these shoes.
That classic high-top look but with more height — and a zipper at the back for easy on-and-off.
For fans of the iconic GG jacquard, these shoes are for you.
Getting an already-worn-in look without putting in the time will cost you, but Golden Goose sneaks are for those who are impatient.