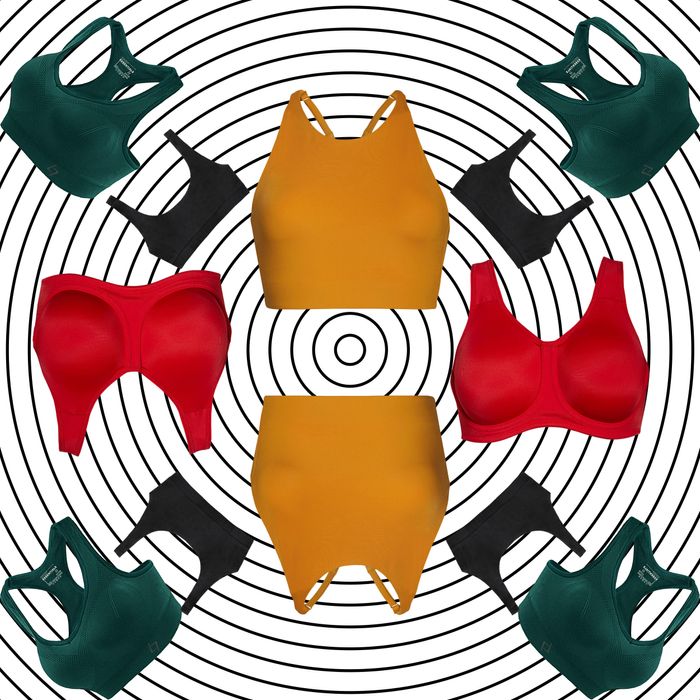 Photo: Courtesy of the Retailers
After years as an athlete and fitness instructor, I've worn many bad sports bras, and paid for it with sore shoulders, angry red marks under my arms, and insufferable boob sweat. For the longest time, I thought I hated cardio, but I really just hated running and jumping in terrible bras with zero support. Now that I know which sports bras fit me best, I'm not exactly a cardio lover, but I no longer dread it, either.
Shopping for sports bras can be surprisingly hard. There are so many different shapes, tiers of support, and fabrics, and as with any workout gear, the wrong combination of fit and fabric can spell disaster. Even reading reviews to find a bra can be tricky, since the fit depends so much on your body — two people doing the same workout might reach for completely different sports bras depending on breast size or personal preferences.
To minimize the guesswork as much as possible, I've rounded up the 20 best sports bras for every purpose and fit. Scroll down to see them all.
The Amazon Favorite
This simple racerback sports bra has nearly 7,000 ratings on Amazon, with more than 4,000 five-star reviews. The nylon and polyester construction moves with you, but won't stretch out and lose its shape. The bra comes with light, removable padding and provides ample support in low- and medium-intensity workouts. One reviewer said that she normally has to wear a regular bra under her sports bra for adequate support, but not with this one. If you're looking for the most compression, size down.
Available in sizes S to 2X.
A Stylish Yoga Bra
The Warrior Mesh bra has a number of thoughtful details that make it more fun than your average sports bra. Wide mesh straps give support without looking clunky or dooming you to harsh tan lines. The neckline keeps everything in place while the mesh panels offer a playful peek of cleavage. This bra is in the medium-support range, meaning you can do pilates or yoga in it, but it won't minimize bouncing from running or jumping.
Available in sizes XS to 3X. 
The High-Intensity Bra for Hardcore Workouts
We've previously raved about this bra as one of the best for big boobs, and for good reason. This sports bra is heavy duty — it has ten front hook-and-eye closures and strong fabric for a comfortable fit with little to no bouncing as you work out. The only downside is that getting into the bra is almost a workout in and of itself. The top-rated review on Amazon gives step-by-step instructions, which are both informative and hilarious.
Available in sizes 0-8. Enell uses its own measurement system, which can be found here. 
The Best Sports Bra for Running
Brooks's most popular running bra is easy to customize for your body. Rather than wrestling the fabric over your head, you can create the perfect chafe-free fit with an adjustable clasp closure and adjustable straps. "It fits snugly but isn't so tight that I can't breathe properly," writes one reviewer, "and I don't feel any discomfort or bounce while I run."
Available in sizes 30C to 40E
The Best Sports Bra That's Also a Shirt
Sometimes I only want to wear one layer when I work out, but feel a little naked wearing just a sports bra. This longline tank offers the best of both worlds, plus you can wear it with high-waisted jeans on the weekend. The reviews tend to be rapturous, but do note that the fit can run small, so you might want to size up if you don't need as much compression.
Available in sizes 2 to 12.
If You Love Animal Print
I'm not usually an animal-print person, but when I tried on Outdoor Voices' leopard sports bra and legging set, I saw an alternate future for myself — one where I was decked out in spots. Outdoor Voices describes this bra as "low support, high coverage," meaning it won't minimize bouncing but you won't have to worry about revealing a ton of cleavage. If you don't end up going for the full leopard set, it'll look good with a black or neutral-toned legging, and the fabric wicks away sweat even during the most humid workouts. I once wore my Tech Sweat crop for a full day of hiking and climbing in 90-degree West Virginia heat and humidity. The cotton tank top I wore over the bra was soaked by noon, but the bra stayed comfortable well into the evening.
Available in sizes XS to XL. 
If You Like a Strappy Silhouette
If you've gone to a yoga studio in the last six years, you've probably seen someone wearing this bra. If you don't need too much support, the Energy Bra can work for higher impact activities like running and boxing, but it really shines as a beautiful medium-support bra for activities like spinning, yoga, or lifting. It keeps everything in without constricting, and it looks cute under slouchy tees or sweaters with the straps peeking out.
Available in sizes 2 to 14.
A More Affordable Strappy Option
This sports bra offers the same strappy back and stretchy material as the Lululemon Energy bra, but at a fraction of the price. The bra wicks away sweat, but not as much as some of the other powerhouse bras in this list.
Available in sizes XS to XXL. 
The Best Sporta Bra for Ultra-Sweaty Workouts
This bra is made with Outdoor Voices' "TechSweat" material, which I'm convinced is woven from strands of angel hair. Like the Tech Sweat Crop top, this one wicks away sweat in even the most humid conditions, but it offers a little more support for higher intensity workouts like choreographed spin classes or HIIT. The best part about this bra, however, is the way it doesn't stain or darken no matter how sweaty you get. Writes one enthusiastic reviewer: "I didn't realize how much most of the sports bras I was wearing sucked, until I put this one on."
Available in sizes XS-XL.
The Best Low-Impact, Sustainable Bra
Like their signature leggings, Girlfriend Collective's Topanga bra is made from recycled plastic water bottles. The top has a high neckline and a low back, with adjustable crossed straps. Girlfriend's recycled material feels buttery soft against the skin, making this bra a great pick for either working out or just hanging out at home.
Available in sizes XS to 3X. 
A Great Post-Mastectomy Bra
This bra from Athleta can be fastened with a front zipper or hook-and-eye enclosures on the back of the band, giving you several options if you have limited shoulder or arm mobility. Reviewers who've undergone mastectomy, reconstruction, or breast-reduction surgeries say this bra helped them regain confidence afterward. Writes one buyer, "I appreciate Athleta developing a bra for women with breast cancer that was designed so carefully." Athleta also sells individual mastectomy inserts that are compatible with the Empower bras, in sizes ranging from an A cup to a D cup.
Available in sizes XS to L. 
For When You'd Rather Not Wear a Bra at All
If you're into minimal support and maximum comfort, the Athena crop fits snugly without pinching, and the Textured Compression fabric is more durable than most performance fabrics out there. The only downside is that this bra, unlike the other Outdoor Voices bras on this list, does show sweat, so just keep that in mind.
Available in sizes XS to XL.
The Best Sheer-Back Bra
My stance on mesh panels in activewear is that they're more aesthetic than practical. And that's okay! Sometimes you want to show a fun peek of skin in an unexpected way. This sports bra from Prismsport does just that, with black and gold iridescent sparkles on the front and a sheer back panel. The bra is lightly padded and made with lightweight jersey, so it's probably best for less bouncy activities.
Available in sizes XS to L.
A Supportive Underwire Sports Bra
This sports bra from Elomi is great if you have larger breasts and want to avoid uni-boob. A hook on the straps allows you to convert the bra into a racerback if you want a little extra snugness and lift. One reviewer said this bra was life-changing, writing, "If you have a large frame and/or big boobs that have never had the right sports bra in their life, try this one."
Available in sizes 32GG to 44DDUK.
Another Great Underwire Option
Wacoal's underwire sports bra offers the support and separation of a regular bra with the minimizing and movement-reduction features of a sports bra. Note the wider straps, which won't dig into your shoulders. Reviewers wrote that this bra is a dependable staple for a variety of workouts. Wrote one, "Ran five miles in this bra several times and still zero chafing around the band. That's huge!!!"
Available in sizes 32C to 40G
If You Really Just Want a Snug Bralette
Sometimes you want something that falls between a piece of performance athletic wear and a flimsy bralette. Everlane's Tank bra is a perfect solution, keeping you comfortable enough to move around, but not so tight or athleisure-y that you feel weird wearing it under normal clothes. It's the perfect moving-day bra, because it's not straight-up performance wear but you can lift things and get sweaty without absolutely destroying it.
Available in sizes XXS to XL.
The Best Sports Bra for Nursing
The wide straps on this sports bra provide evenly distributed support, and they open from the front for easy(-ish) nursing access. The straps don't stretch, meaning that they can keep everything in place even during the most aggressive workouts. One reviewer wrote that she uses this bra while horseback-riding to prevent bouncing, and then simply unhooks the strap to breastfeed. And if it works for someone who may or may not be breastfeeding on horseback, then you know it's good.
Available in sizes 32B to 44DD
If You Want to Shine Bright Like a Diamond
The material on this galaxy-inspired sports bra is great for a dark studio workout like Barry's or a spin class. The tiny iridescent polka dots will bright up your mood enough to keep you going for one more set. And the scoop neck and dainty straps work well to provide coverage without impeding the neckline of most shirts.
Available in sizes XS to XL. 
The Crowd Favorite
This strappy sports bra from Icyzone has more than a thousand reviews, most of which are raves. The design is a slight twist on the classic strappy sports-bra silhouette, which reviewers found surprisingly supportive when working out. Reviewers say it's perfect for workouts like hot yoga or barre class. The only complaint was that the sizing chart provided on the listing runs a bit large, so make sure to size down.
Available in sizes S to XXL. 
The Workhorse Bra
It's been a long time since I've worn most of the sports bras from my days as a student athlete, but I'll never get rid of the Old Navy racerback bra. I've sweated through it during countless workouts, but it never stained or smelled after washing, or lost its bright-blue color and snug fit. This is an updated version of that bra, with an adjustable back and a reinforced band. With more than 1,000 five-star reviews, it's clear that people love it just as much as I adore my original one.
Available in sizes 32 C to 38DD.
If you buy something through our links, New York may earn an affiliate commission.