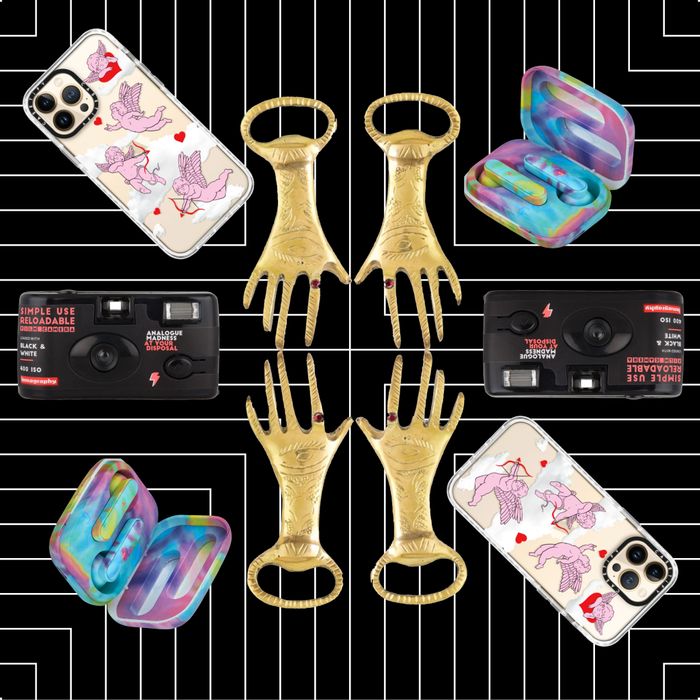 Photo-Illustration: by The Cut; Photos: Retailers
Little gifts might be, well, little, but they can have a big impact. Consider stocking stuffers — a great catch-all category for small, relatively inexpensive gifts that that tick the "this made me think of you" box. They're a bit random, sometimes cute, sometimes practical, and they'll make the life of the receiver just a bit better in the days to come.
We've already rounded up the gifts our editors are giving this year and the coziest gifts to buy, so here's a list of small, funny, practical, and delightful gifts for anyone left on your annual list.
For the Cozy Knitwear Enthusiast
An analog sweater shaver is a must for anyone trying to keep their knits free of pills, pet hair, and lint. This wood-handled version looks nice and is slim enough to slide in a pocket or a purse for touch-ups on the go — the soft scraping motion is also kind of addictive.
For Your Stressed-Out Friend
Journaling is a low-pressure creative outlet and one way to cope when you "just can't." This one has a series of writing prompts based around the phases of the moon.
For the Skin-Care Fanatic Who Has Everything
These ingenious eye masks can be layered to turn any cream or serum into an eye mask without creating any waste. When you're done with them, you just rinse, dry, store, and repeat.
Your TikTok-Obsessed Niece or Nephew
Introducing the gel pen that took TikTok by storm. Lauded for its extra-smooth glide, this pedestrian pen became the unlikely obsession of thousands of users over on office-supply TikTok (yes, that's a thing). Also applies to the crossword enthusiasts in your life.
For the iPad Kid
Gift these tie-dye earbuds to your favorite tech-loving kids and tweens. The kid-friendly alternative to pricier wireless earbuds get up to three hours of listening time per charge, enough time to watch their favorite movie. Twice.
For the Person Who Loves Spicy Foods
Developed in Chengdu by chef Jing Gao, you'll want to put this savory, tongue-numbing condiment on everything from dumplings to noodles to veggies.
For Your Favorite Remote Co-worker
This mini-kit contains work-from-home essentials like earplugs, a webcam cover, and an acupressure ring to get your co-worker through Zoom calls until your next IRL happy hour.
For the Crafty Kid
Make a play against the slime industrial complex and introduce the tween in your life to the joys of DIY pom-poms. This brilliant little plastic device makes it even easier to wind and slice their way to pom-adorned shoelaces, backpacks, necklaces, and jewelry.
For the Amateur Photographer
Film is having a moment, so impress a TikTok-loving teen or your artsy best friend with this reusable black-and-white-film camera. The point-and-click cam makes it easy to capture every unfiltered holiday moment.
For the Lip-Gloss Lover
This glossy duo from clean-beauty brand Tower 28 features the best-selling clear Chill and a new, semi-sheer Chestnut great for pairing with brown lip liner. The nourishing formula contains oils including apricot kernel, raspberry seed, and rose hip, giving high shine without the stickiness.
For the Holiday Host
Form and function: This golden-hand bottle opener from Justina Blakeney's Jungalow is as boho-chic as it is useful. This is one tool that won't end up in a junk drawer.
Note: the Jungalow Golden-Hand Bottle Opener is now sold out, but we found a similar (and cheaper!) version here at Madison's Niche.
For the Frequent Sanitizer
They're stuffing sanitizer in their car, bags, and backpacks, so it should at least be cute. Avoid the hand-sanitizer smell with these scented mists housed in Pop Art–inspired Mickey Mouse bottles.
For the Minimalist
The '90s are back! And so are hair clips. This one is minimalist and easy to pair with any look.
For the Person Who Hates Having Hair in Their Face
Bread's mission is to simplify your natural-hair routine; for example, this supersize satin scrunchie, is made for easy, no-damage updos. While it's ideal for curls and coils, it's also perfect for quick updos with braids and twists. The puff can handle even the thickest hair.
For the One Getting a New iPhone
Give them the gift of peace of mind with this trendy but practical case. These cheeky cherubs will also upgrade their mirror selfies. (Pro tip: Be sure to add on the screen protector.)
For Your Friend With Pristine Sneakers
Let's keep them that way. This kit includes a synthetic-bristle brush and nonabrasive cleaning solution that will keep their sneakers like new all year round.
For the Natural-Wine Connoisseur
These wavy, reusable bags roll up small enough to pack into a stocking — which means they fit perfectly in pockets for a walk to the local wine shop, too.
For the Obsessive Online Shopper
Ripping boxes open with scissors and keys is a great way to cut yourself. This keychain slides open to reveal a short, sturdy steel knife that's perfect for all kinds of slicing tasks, without all the weird unnecessary extras of a multitool — and stows safely away when they're done.
For the Dutiful Dishwasher
For the gifted host or anyone who has rediscovered their love of cooking and baking over the last year or so, there's likely to be a sink full of dishes around. Reward yourself with this elegant, ergonomic brush designed to give their hands a break.
For Your Friend Who Can't Find Their Glasses
This ingenious cast brass perch makes a perfect resting spot for easily accessible, scratch-free specs.
For the Friend Who Loved Euphoria
Danessa Myricks makes arguably some of the best, most highly pigmented, and longest-lasting eye shadows out there, especially when it comes to vibrant liquid textures that won't smudge. Her Twin Flames product delivers opaque iridescence worthy of any Euphoria beauty look.
For a Hard-to-Read Sister-in-Law
At-home manis are the norm these days and this dreamy lil set of J. Hannah's luxe lacquers come in a modern — but crowd-pleasing — array of warm neutrals that even that family member you can't quite crack is sure to love.
For the Reformed PSL Fanatic
There are lots of ways to get a hit of crisp seasonal flavor without having to succumb to public scrutiny (though for the record, you do you!). This blend of aromatic black tea, spices, and dried apple is a more sophisticated way to scratch the cozy beverage craving.
For Outdoorsy Caffeine Fiends
Made to pack flat for road trips and backpacking excursions, it'll brew the perfect cup of coffee even in the middle of the wilderness.
For the Fire-Escape Gardener
There's something inherently hopeful about gifting seeds in the dead of winter, especially these jewel-like micro tomatoes. Plus, Baker Creek ships their seeds in charmingly old-school, heavily illustrated craft paper packages that are so pretty, they don't need to be wrapped.
For the At-Home Esthetician
These colorful hydrocolloid stickers curb the urge to pop zits and are the ideal gift for skin pickers of any age. Plus, the cute case is refillable.
For the No-Quitter Knitter
If they've stuck with knitting long enough to learn how to make things people want to wear, they deserve the ne plus ultra of yarn. Spun from a well-loved flock of Icelandic sheep in upstate New York, Saipua's supersoft, ethically produced wool comes in several natural hues.
For the Person Who Loves a Hot Beverage
Soothing sips are the name of the game with Golde's powdered drink blends, delivered here in three antioxidant varieties that deliver glow-boosting nutrients in easily transportable, single-serving sachets.
For Your Picky, Stylish Friend
Block-printed on a soft combo of cotton and rayon, these vibrant bandanas have an endless array of uses from hair wraps to neck kerchiefs to belts.
For Your Sister Who Finally Embraced Her Brows
Less commitment than microblading, lamination has been taking over as the go-to brow treatment of the moment. It's a temporary perm that's surprisingly easy to do at home and makes for easier grooming and some extra oomph. This kit comes with enough for a few applications — plus instructions for trying out a lash lift, too.
For Your Niece or Nephew
The post office has continuously been put to the test — but emerged as the true pandemic and vote-by-mail heroes we needed last year. Give the little ones in your life a toy mail van that'll last through snow, rain, heat, and gloom of night … or at least a few years.
For the Doom Scroller
We've never been more dependent on our phones — which means they've never been more streaked with fingerprints and whatever else. This easily pocketable spray cleaner makes getting a sparkling screen the matter of moments.
For the Comfort Eater
Modeled after ramen spoons, these ingenious enameled numbers feel great in the hand, are practically indestructible, and do a phenomenal job ladling up everything from soups to mashed potatoes to even cereal. Choose from six vibrant colors, or get the whole set.
For the Anxious Sleeper (a.k.a. Anyone)
Cannabis culture has never been more necessary for the stressed and sleepless — this tincture by Xula is designed to help them wind down. The non-psychotropic "Lights Out" blend is formulated from high-quality CBD and herbs like lemon verbena to help them relax and rest easy — a holiday gift that might actually be priceless.
For the Indoor Gardener With Everything
Super-stretchy and knit in colorful stripes, these planter cozies can dress up even the most boring, bought-it-at-the-bodega pot in seconds. They're the ultimate gift for the friends in your life who won't blink twice at putting a sweater on their pots.
For the All-Weather Runner
Hydration is key even in winter and this compact, ergonomically designed bottle is designed to sit easily in their hand. It also offers a little slot for their goo packs, because you also need proper nutrition for long runs.
For the Home Hairdresser
Have a loved one who's mastering the art of at-home cuts this year? Level up their styling game with this minimal pair of scissors. Added bonus: They look good on the vanity and can be sharpened when they dull.
For the Merch Lover
Small biz–supporting merch continues to be one of the best ways to help keep your local institutions afloat. No New Yorker in the know would be sad to find this beanie that's a tribute to West Village mecca Casa Magazines tucked into their stocking this year.
For the "No Gifts Please" Person
Any kind of charitable gift actually makes a great stocking stuffer — write out a short note explaining where you sent funds in their name. The Free BlackWomen's Library is a perfect pick for New Yorkers. Founded in 2015 by OlaRonke Akinmowo, it's a mobile library accessible to all also that hosts readings, workshops, author talks and so much more.
For the Multiple-Pierced
Flat-back earrings are surprisingly hard to find, but they should be everywhere—they snag less and are extremely comfortable for sleeping in. Introduce this tiny, life-improving pearl innovation to your friend who never leaves home without an ear party goin' on.
For the Stylish Sipper
This gorgeous bronze bottle opener looks exactly like an oyster half-shell, but it does a brilliant job of popping open everything from an IPA to an ice-cold Coke.
For the One Getting Candles from Everyone
Scented candles' grip on the gifting market isn't going anywhere anytime soon — lean into it without doing what's expected and slide this delightful brass candle snuffer into your loved one's stocking. It's a timeless tool worthy of that fancy Diptyque candle.
The One Holding it Together With Lists
Some of the best felt-tip pens in the game, these Uchido Le Pens are a crowd-pleasing gift for pretty much anyone in your life — and if you have a big family, you could even break the pack up and spread the colorful love around.