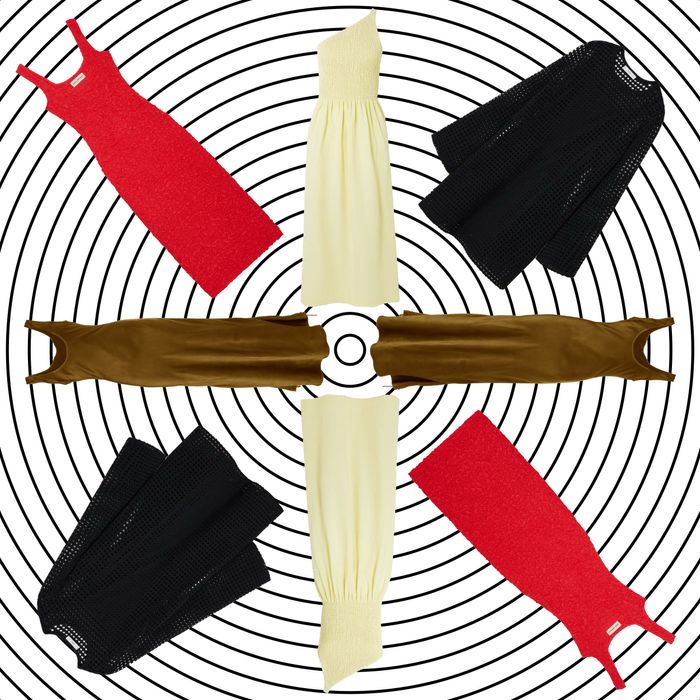 Photo-Illustration: The Cut; Photos: Retailers
The appeal of a light summer sundress is eternal. Even if it's still 50 degrees in early May in New York City, you can bet I'm rounding up the best summer dresses. Do I need all of these dresses? No. Do I have the money to buy all of these dresses? No. Would they even fit in my closet if I had replied "Yes" to those prior questions? Also no.
Since you most likely gave the same responses to the above, I invite you to peruse my summer-dress mood board of sorts. By categorizing the silhouettes, fabrics, and trends I want to wear this upcoming season, I'm able to take a step back and see what I already own that checks off these boxes and what I can actually find while I'm scrolling my afternoons away on Poshmark, Etsy, the RealReal, and eBay. Take it as an exercise of self-control (or derangement), if you will.
Whatever the reason you ended up clicking in this story, read on to see the 37 dresses I've rounded up for our mutual window-shopping pleasure. From linen dresses that are essentials on the sweatiest of days to exercise dresses that will blend right in on your Instagram feed, there's a dress for all occasions.
Best Linen Dresses
My mom has ingrained in me that linen is a superior fabric. It's breezy, it's comfortable, and it's the one fabric in which wrinkles are welcome.
Reformation sizing is always hit or miss when you're not a size 0 or 2. However, I recently was gifted one of there linen dresses and was pleasantly surprised on how well it fit my body.
A dress that will be worn to its last thread.
For all my bigger-budget folk.
A spaghetti-strap linen dress is great since you can layer it up when the season changes.
Don't sleep on Target fashion.
Simple and lightly Bridgerton-reminiscent, this delicate button-front cami dress would look excellent with Vans or could be worn to a graduation with a pair of nice sandals.
Best Sporty Summer Dresses
Whether it's for your hot-girl walks, errands, or practicing actual sports, these dresses have you covered.
A Cut reader fave for a reason, OV's Exercise Dress works into your wardrobe perfectly when it's too hot to wear leggings.
Channel the '90s with this simple minidress from & Other Stories for under $60.
The way I would make this whole dress my personality. Sorry, I have brunch at noon and a private tennis class a 4 p.m.
Just like your favorite soft cotton tee, but no pants required.
Any polo-esque garment is considered sport in my books.
TikTok made me try Halara out, and honestly, I'm not mad. The quality is great and the shorts don't ride up my thighs.
Best Body-con Summer Dresses
I like the idea of body-con dresses. Something about having a layer of fabric close to my sweaty skin doesn't sound appealing to me. But I have to admit these would look great with all my summer sandals.
You have to click on the link and see the back of this dress.
Yes, this dress is actually very flattering.
A swimsuit and a dress in one … kind of.
A crossover skirt adds some body-hugging appeal to this otherwise basic dress, which gets loads of great reviews for flattering all shapes.
Mara Hoffman knew what she was doing when she designed this dress.
Why not give in to the Y2K trend with this number from Maisie Wilen?
Best Modern Prairie Summer Dresses
From your go-to white cotton dress to more modern silhouettes, you will still want to wear the dresses for frolicking.
You might have a go-to white dress in your closet, but here's this one from Nordstrom's brand for consideration.
I may or may not have already bought this one.
You might be eyeing Chopova Lowena skirts, but let us introduce you to their dresses. Sorry, we had to share.
Best Slip-on Summer Dresses
Slip-on dresses are my favorite one-and-done garments. Minimal effort. Minimal sweat. It's a win-win situation.
Give your miniskirts a break with this mini satin slip from Asos.
Thanks to the drawstring at the bottom of the dress for optional ruching, you basically get two dresses in one.
Nobody does pleats better than Issey Miyake. Hoping to score this number at the next SSense sale.
Any dress that Fe Noel designs, I will covet.
With over 10,000 reviews on Amazon, this dress has become a beloved option for weddings and events.
Best Knit Summer Dresses
Switch your heavy knits with lighter ones like crochet for the ultimate summer looks. Do they remind me of the people who used to show off that they'd gone to a tropical destination during vacation in elementary school? A little bit. Regardless, they are great.
Dress this mini down or up with the right pair of shoes.
The only way you'll catch me wearing a dress with long sleeves during the summer is if it has tiny little holes.
Imagine lounging around the pool in this dress. The odd tan lines will be worth it.
A full blown crochet dress is not your thing? Consider this dress from Rixo, which has some subtle crochet details on its sleeves.
If you want to give Gen Z a try, consider this elevated frock from 3.1 Phillip Lim.
My type of bathing-suit cover-up.
I would gladly sweat in this sweater dress.
Best Cutout Summer Dresses
Give that Cult Gaia dress a break (you know the one I'm talking about) and consider the options below.
Between the color blocking and the cutout details, this dress is a keeper.
Here for the subtle cutout detailing in this minidress from For Love & Lemons.