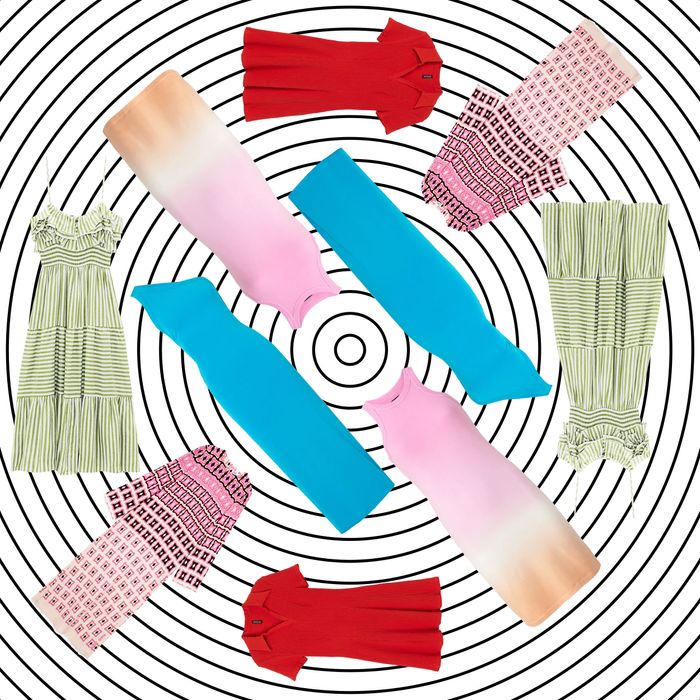 Photo-Illustration: by The Cut; Photos: Getty Images
To wear shorts or not to wear shorts will always be a deeply personal preference, but the appeal of a light summer sundress is eternal. On the sweatiest of days, when going to the bodega for more ice cream feels like crossing the Sahara, a barely there dress will always be the easiest, breeziest option.There's a whole world of workout dresses, floaty caftans, and body-skimming tanks out there to take you from afterwork drinks to full-on beach days — we've rounded up 37 of them for your summer-dressing pleasure.
The Best Romantic Sundresses
With smocking and a light floral print, this sweet dress combines the best spring trends without feeling too, you know, trendy.
Available in sizes XS to XL
This cutout lace dress would be perfect for a summer wedding once that's a thing again — but it's still chill enough for brunch.
Available in sizes XS to XL
Simple and lightly Bridgerton-reminiscent, this delicate button-front cami dress would look excellent with Vans or could be worn to a graduation with a pair of nice sandals.
Available in sizes 00 to 16
With a cute tie front and voluminous sleeves you can pull up or down, this printed option just screams summer picnic.
Available in sizes 14 to 28
Speaking of picnics, this gingham chiffon number truly understands the assignment. Sometimes there's nothing cuter than sticking to a theme.
Available in sizes XS to XL
This linen-viscose-blend dress has a fun flouncy feel that's perfect for soaking up the sun (and is well suited to going braless, if you're in the market for that).
Available in sizes XS to XL
How pretty is this abstract silk slip dress? Sure, it's an investment, but you could definitely keep it in heavy rotation for everything from summertime turn-ups to more casual events, where you might wear it layered over a tee with a belt.
Available in sizes 4 to 14
The swingy shape, floral print, and leg-baring skirt make this feel flirty without trying too hard.
Available in sizes 14 to 24
Is this technically a nightgown? Yes. Could you 100 percent pull it off as an innocent/sexy daytime look? Also yes.
One size
In bias-cut crepe and '70s-inspired floral, you couldn't find a better slip dress for finally seeing a live show again.
Available in sizes XS to XL
Not into a floral print? Try this graphic mini, which still gets plenty of flirty appeal from tie straps and flounced hem.
Available in sizes XS to XL
Big, wrist-length balloon sleeves and a crisp poplin stripe lend a modern Little House on the Prairie energy to this bold Ganni midi.
Available in sizes 32 to 44
This stunningly draped, hand-printed dress has a dramatic one-shoulder design that's just right for an extra-special date night — or just anytime you're feeling extra.
Available in sizes XS to XL
High femme doesn't have to mean florals. This candy-colored button-up pairs menswear detailing with undeniably escapist vibes that can work in the office if you need it to.
One size
The Best Sporty Dresses
Just like your favorite soft cotton tee, but no pants required.
Available in sizes XXS to XL.
This iconic tennis dress is designed in a fully functional sweat-wicking fabric — but it would be totally understandable if you wore it for eating soft serve instead of working on your serve.
Available in sizes XS to L
This one toes the line between activewear and sun dress, which is sometimes exactly what you need.
Available in sizes S to XL
In simple pink, this strappy exercise dress with built-in shorts has dance-class energy.
Available in size XS to XL
In shades of sorbet, this cotton tank dress is an easy option to throw on for an iced-coffee run, but it offers enough range of movement for whatever you want to get up to.
Available in size XS to 2X
The Best Body Con Dresses
This rust-colored number hits the three C's of sultry summer dressing: cool, comfy, and curve-hugging.
Available in sizes 12 to 26
Fun details — like a high leg slit and pale lavender shade — update a timeless cotton tank dress. This one would look super-cute with an unbuttoned oxford and sunglasses.
Available in sizes 1x to 3x
A crochet tank dress worthy of the steamy summer to come. Bonus: It's perfectly designed for capturing even the slightest of breezes when you're overheating.
Available in sizes 2XS to L
A crossover skirt adds some body-hugging appeal to this otherwise basic dress, which gets loads of great reviews for flattering all shapes.
Available in sizes S to XL
In crinkly, small-scale Japanese gingham, this tank dress fits snugly without feeling like clubwear. Just right for a sunny day out that turns into a long summer night.
Available in sizes 2XS to XL
A delicate lettuce edge adds a dreamy '90s vibe to an otherwise simple ribbed sundress.
Available in sizes XXS to XL
Polka dots and a bodycon cut mean this dress is truly doing the most. And after a year inside in our PJs, isn't that what we've all been missing?
Available in sizes 14 to 28
Y2K fashion is back in full force, and this stretchy tube dress captures the moment without feeling costume-y. Extra points for being reversible.
Available in sizes S to XL
Mod cutouts and a short A-line skirt add breezy appeal to this minidress without making it feel saccharine.
Available in sizes XS to XXL
A maxi designed for maximum comfort, with a dramatic back that needs no accessorizing.
Available in sizes XS to XL
The Best Caftans and Beach Cover-ups
Vibrant and voluminous, this midi has cool-aunt overtones and is begging to be taken on vacation with you. Belt it, or leave it loose if you really want to feel free.
Available in sizes 14 to 28
A luxury caftan this good is an investment that will pay off one summer after another. This one is giving socialite-yachting-on-the-Dalmation-Coast vibes.
One size.
Patterned in leafy green and transparent enough to show off your new summer suit, this caftan still offers enough coverage for a run to the boardwalk taco stand.
Available in sizes XS/S to M/L
This forgiving shirtdress is an easy way to add some color to whatever you've got planned, and would make a very chic cover-up.
Available in sizes XS to XXL
Perfect for cramming into a carry-on for that girls getaway, this cotton caftan is hand block-printed in Rajasthan, India, for a folksy print that's truly timeless.
Available in sizes XS to L
Psychedelic and Palm Springs–esque, this dress is the perfect blend of easygoing and edgy.
Available in sizes XS to L
Capture the essence of the ocean and wear it around town. This light-as-air dress is what you'll be reaching for on those sweltering summer days.
Available in sizes XS to XL
Glowing orange and generously cut, this is a statement dress designed to help you make a major entrance — or unforgettable exit.
Available in sizes XS to XL