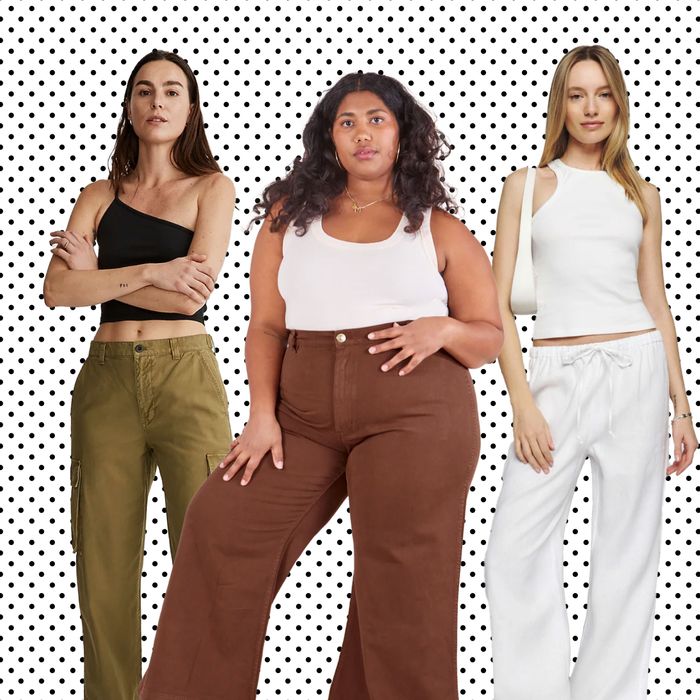 Photo-Illustration: by The Cut; Photos: Retailers
For more of the Cut's favorite fashion, beauty, and home finds, sign up for the weekly Cut Shop Newsletter.
We know what you're thinking: Summer and pants. Those two words don't go together. We all know that summer is shorts and dress season, but sometimes you want a break from showing all that leg. Enter lightweight pants you won't sweat through profusely.
Below, the 18 best pairs of pants to wear while vacationing, beaching, gardening, skating, biking, or whatever else you plan to do all summer long.
Best Linen Pants
The OG- Linen Pair
Linen pants are what summer is all about. Like many of Reformation's basics, these are worth the price tag. Be warned: They are very long, so get out your platform sandals or consider having them hemmed if you're more of a sneaker girl.
Available in sizes XS-XL.
The Under-$30 Linen Option
If you want a pair of linen pants that you can throw in your beach bag without fretting over sand and whatnot ruining them, these are your best bet. And they come in four other colors.
Available in sizes XS-4X.
The Trouser
The Embroidered Pair
Just be sure not to spend too long in the sun (unless you want some funky tan lines).
Available in sizes XS-XL.
Best Cropped Pants
The Breathable Denim
If you're a jean person, consider yourself lucky these exist. Instead of sweating through every pair you already have, try these wide-leg gardener jeans from Everlane. They're equal parts functional and flattering.
Available in sizes 23-33.
The Hemp Pair
A cropped pair you could sleep in … if you really wanted to.
Available in sizes XS-2X.
The Pink Pair
How can you say no to hot-pink pants that are 50 percent off?
Available in sizes XS-L.
Best Statement Pants
The Pair for a Night Out in Mexico
Nothing says summer vacation like a pair of floral-printed pants. Made from linen (a.k.a. the breeziest fabric), these feature a flattering high waist, a wide-leg silhouette, and a comfy fit.
Available in sizes XS-XL.
The Pair Made for an Italian Vacation
These jeans deserve to parade around the Italian countryside and sip all the wine in the world. Feel free to tag along.
Available in sizes 0-20.
The Pair for a Special Occasion
Nothing says special occasion quite like shiny pants? These breathable, pleated ones come in six different colors.
Available in sizes XS-XL.
The Pair That's the Main Attraction
Like a Creamsicle, but for your legs.
Available in sizes 14-28.
The Satin Pair
These black-and-white-printed pants from Topshop are essentially elevated pajamas that are meant to be worn outside the house. They're comfy, cute, and available to purchase as a matching set.
Available in sizes 2 (shop 2-12 here) to 22.
Best Staple Pants
The Lightweight Cargos
These lightweight, low-rise cargos scream "street style." They're the coolest pants of the summer. No skateboard required.
Available in sizes 23-33.
The Chinos
Wide-leg pants are not just a winter staple — they're great for summer as well. I mean, who wants sticky thighs that can't breathe because they're stuck to skinny jeans? Not us. That's why these barrel-leg chinos are the perfect summer pant for any day in the office or beyond.
Available in sizes 2-14.
The Bell Bottoms
Big Bud Press is known for inclusive sizing, comfortable pants, and fun colors — these bell bottoms are no exception. They'll make any summer date night outfit ten times better.
Available in sizes XXS-6X.
Best Breezy Pants
The Pair That's Also a Skirt
A pair of pants that double as a maxi skirt? They are hands down a great conversation starter.
Available in sizes 0-14.
The Mesh Option
Mesh might stick to your body, but it is breathable, making this teal pair from Find Me Now a summer must-have.
Available in sizes XS-XL.
The Pair That Doubles As a Swimsuit Cover-up
Whether you're headed to the pool or want to test out the no-pants trend, these knit ones are the right move.
Available in sizes XXS-4X.